COVID-19 has rocked cities from coast to coast. Though the pandemic has ravaged large metropolitan areas such as New York and Chicago, the virus can bring a different set of challenges to smaller communities.
At press time, Door and Kewaunee counties reported nine and eight COVID-19 cases, respectively. Steve Jenkins, the recently named executive director of the Door County Economic Development Corp., says the virus has sown chaos in a county that's built largely on tourism and small businesses.
"We talk to people that are crying on the phone because they don't know if their business is going to make it, and that hurts," Jenkins says.
With the passage of the CARES Act, Jenkins says he expected to see the floodgates open for businesses seeking assistance and guidance. The DCEDC's top priority is to communicate what's in the relief package, who it applies to and what it means, he says.
COVID-19 presents an unprecedented situation with repercussions that will make the Great Recession look like "child's play," Jenkins says. He anticipates a reset of social systems, health care systems and the economy.
The pandemic also has exposed other flaws, he says. "Let's face it. This crisis has pointed out something that we need to pay attention to, and that is all the financial programs that we've had both in the state and in the nation have been geared to attracting or locating businesses, not saving businesses," Jenkins says.
The fallout from that failure of planning has led many people and organizations to scramble to figure out how to put effective tools in place to help businesses survive and get through this time and then to start rebuilding the economy, Jenkins says. In Door County, that includes looking at long-term ways to stabilize and diversify the economy, he continues.
"We should not go through this and not learn some valuable lessons, and then put those lessons to work," he says.
Jenkins also expresses concern about the virus's potential to tax the county's health care system. While Door County Medical Center has done a good job of planning and preparing, tourists visiting and bringing COVID-19 into the county's midst could quickly overwhelm the small health care system. To prevent that, it's vital for people to realize how contagious the virus is and stay at home until it's safer to travel.
The strategies the DCEDC had been pursuing on issues such as affordable housing have been shelved for now, Jenkins says, and the priority is helping see businesses through the crisis. He anticipates rethinking strategies that had been in place after the threat has passed.
Despite the major disruption, one prominent project in the county is proceeding on schedule. The 47-room Dörr Hotel in Sister Bay, the county's first new hotel in nearly two decades, is on track to open in spring of 2021, says Christopher Schmeltz, owner of Jaco Management, the developer for the property.
Bayland Buildings is serving as the general contractor for the project, and the Nordic-inspired boutique hotel will feature a firepit at the front of the property as well as a large central lobby that includes a bar and guest lounge. With the tagline "gateway to the seasons," it will be open year-round.
Though times remain uncertain, Schmeltz says he foresees promising prospects for people wanting to visit the county and hotel. "They're not (going to be) traveling abroad. They're traveling domestically, and everyone wants to get away. Door County is just a unique experience," he says.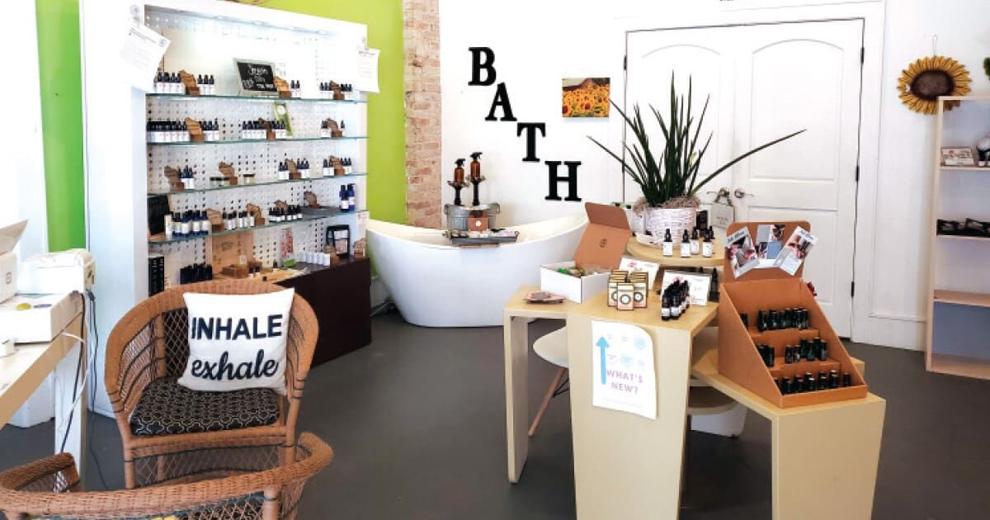 Kewaunee County businesses pivot
Organizations in Kewaunee County, including the Kewaunee County Economic Development Corp. and Algoma Chamber of Commerce, are mobilizing to help businesses hurt by COVID-19.
Kay Smith, executive director of the Algoma Chamber of Commerce, says the city is home to many small businesses and sole proprietors, many of whom are worried about needing to close their doors. The city, one of the largest fishing ports in the state and a popular site for charter fishing trips, also relies heavily on tourism.
The chamber has set up a webpage with business resources as well as Facebook groups. It's making resources available for businesses, whether they're chamber members or not. It has also put together a dining guide for the city, and Smith says the community is rallying to support the city's small businesses.
Smith says she's encouraging business owners to strategize as they navigate an uncertain future. "They're getting creative. We're encouraging them at this time to work on their business while they don't have to be working in their business," she says.
Small business owners, such as Stacy Deprey-Purper of Native Roots Hemp, say they're doing just that. Deprey-Purper runs a full-service business that offers a variety of hemp products such as hemp oils and pain creams.
Native Roots Hemp, which also has an extraction plant, traditionally had done most of its business at its retail store. When the Safer at Home rule went into effect, Deprey-Purper mobilized quickly to change focus. She began offering free same-day delivery within 30 miles, added a free shipping option and reduced prices on all products by 20 percent.
Deprey-Purper doubled her company's marketing spending, hired someone to do telemarketing and contact past customers, launched an email campaign, and is pursuing radio, direct mail and Google Ad Word advertising. The efforts have resulted in a nearly 40 percent increase in sales.
"I always say the blessing and the curse of a small, growing business is your ability to pivot on a dime, but just because you can doesn't mean you should. In the case of COVID-19, it's definitely a necessity in order for us to diversify quickly and make sure that we maintain without losing too much income in the short term," she says.
Lynn Truckey owns Steele Street Trading Co. & Gallery, an Algoma flower shop and art gallery. A musician, Truckey says she's been pleased to see the artist movement in the city continue to grow.
In response to COVID-19, Truckey shifted her focus to the floral side of her business. While Truckey has seen a decline in sales of flowers for events such as funerals, she hopes people will turn to flowers as a way to stay connected from afar.
"The silver lining in all of this is with families not being able to get together or friends concerned about each other, maybe flowers will bring a little stronger comeback," she says.