Sometimes a higher calling comes as a gentle reminder. Other times, it's a bit more of a shock to the system.
Dave Voss Jr. certainly remembers the latter. By his account, he was having a horrible morning at the office and decided he would escape those tribulations with a visit to a job site. He didn't really need to go but saw an opportunity for a temporary reprieve from the challenges dogging his day.
A trip to the job site always invigorates him, he says.
As he walked through the site, Voss saw a superintendent he knew feverishly working in the bowels of the project that would eventually be a new church. Out of reflex, he asked how things were going. "Great," came the reply. "I'm working on a building for God."
Suddenly, Voss's problems didn't seem so overwhelming. He got back into his car and returned to the office ready to tackle the challenges that had him down just a few minutes earlier.
"This guy was just loving his work because he was building a building for God," recalls Voss, current CEO and third generation of family to guide Miron Construction Co., Inc. "These guys have a tough job and it can be dirty. But you see how hard they work and the pride they have — I need to make sure I handle my business so we can make sure they are taken care of."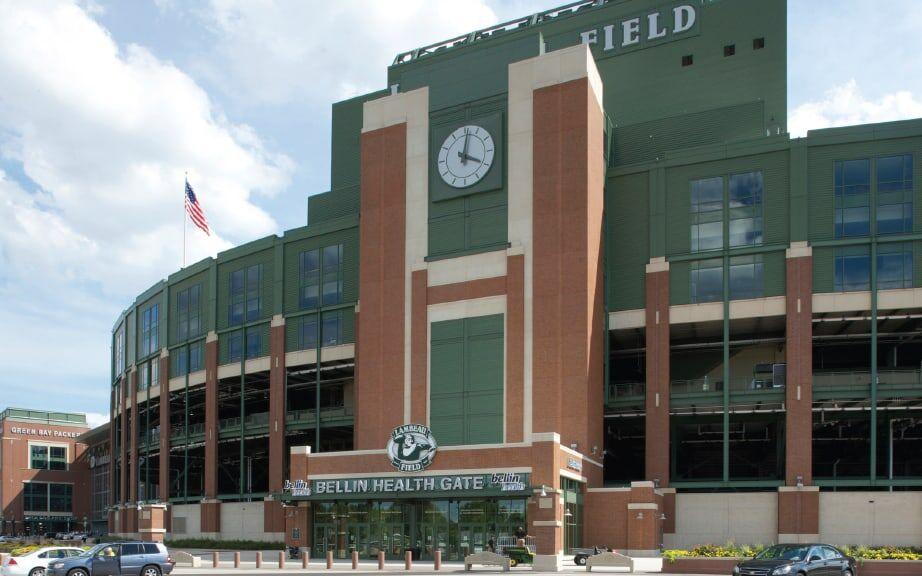 For Voss, the story is one of many lessons and anecdotes he has collected over a career rising through the ranks and guiding the growth of Miron. But it also encapsulates a culture the company has worked so hard to nurture and instill.
Built on foundational concepts such as passion, dreams and commitment, "The Miron Way" has shaped and guided the company from its origins as a local firm specializing in masonry to a multifaceted, nationally known firm celebrating milestones of 100 years in business and $1 billion in revenue.
Taking care, like family
It's quite simple, Voss says.
"It's really about family," he says. "Be kind and take care of each other. The rest comes easy."
It sounds simple, and to Voss and co-owner Tim Kippenhan, it really is that simple, though they confess it can take longer for employees to grasp the true meaning.
"I think it takes people probably five years, 10 years maybe to understand what that means to us," Kippenhan says. "When Dave and I say what quality means and taking care of the client, I think that's just being around people and understanding, you know, not everybody has the same vision and same definition of certain things."
It's a culture that evolved from the company's very founding by Patrick G. Miron — Voss' maternal grandfather — in 1918 as a local masonry shop. In those early years, including a reorganization with additional family investors in the 1950s, the business was run out of the Miron home in Appleton.
The family atmosphere that created endured, even as the company grew, building its first office and garage space in the Town of Menasha in 1956 and the construction yard in 1982.
At the end of each day, as the crews would come in from the job site, they would often enjoy a cold beverage and a snack — Voss vividly remembers smoked fish being a staple of the event — while sitting on overturned buckets talking about how the day went. Often, after working out challenges from the job sites, the conversation would turn personal, from challenges with kids to plans to add on a garage, and the group would offer help and advice.
As he got older and went to work for the company, Voss recalls reflecting on the importance of that family atmosphere to the company's success, both in terms of company growth and the welfare of its employees.
"I can remember looking around and saying to Greg (Kippenhan, Tim's father), 'This is important. This is unique. We have to make sure we never lose this,'" Voss says.
Today, with a company of 1,500 employees working on projects across the country, the company culture created sitting on a bucket while enjoying a cold beverage still permeates everything the company does. Each quarter, all new employees take part in an orientation program that includes a section on the Miron Way corporate culture delivered by none other than Voss and Kippenhan.
"The fact the company owners take the time to deliver this personally to all new employees speaks volumes to the importance of the message," says Steve Tyink, vice president of business innovation at Miron, who often takes advantage of the presentation to hear the story again.
Of course, given the company's current size, it would be nearly impossible to find a garage big enough — not to mention enough buckets — for the daily end-of-day meetings that first bred the culture.
Now, in addition to the first presentation by Voss and Kippenhan, department heads and project managers are empowered to hold their own such meetings to foster a culture that takes care of both clients and employees. The buckets have been replaced by nice chairs, but it's not uncommon to see groups such as the estimating department knock off a bit early on a Thursday afternoon, pass around the snacks and beverages, and chat with each other about a wide range of issues.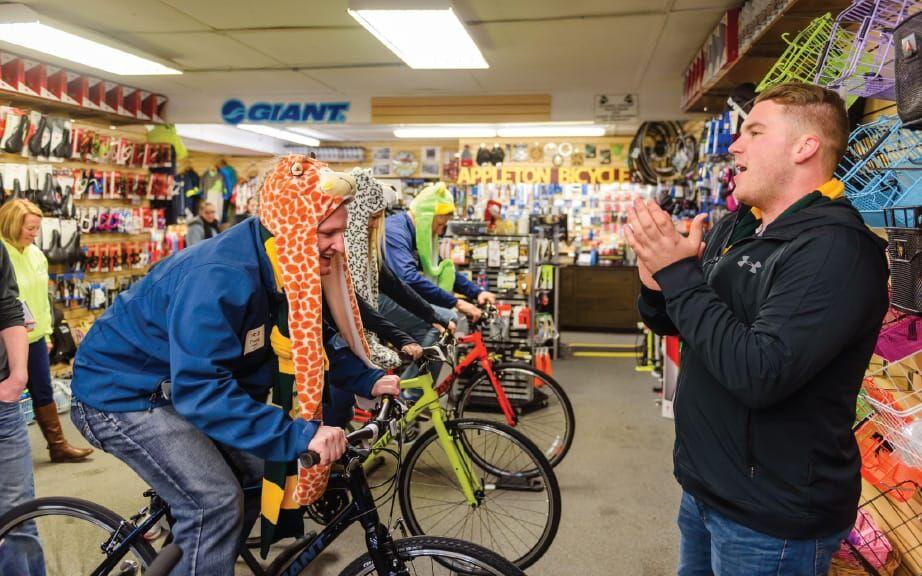 To further reinforce the culture, team-building and bonding events have been built into the company retreats it holds each year. In January, teams of Miron employees could be seen scurrying about downtown participating in an "Amazing Race" style event where randomly assigned teams had to go to different locations about town and participate in various challenges.
It's all part of keeping the culture top of mind for everyone who works for Miron, because in many ways, the company's success is tied to following it every day, says Kippenhan.
"It gets harder to do, sometimes, as we grow bigger," Kippenhan says. "But it's important because we know that people look at construction now as a commodity. The culture is something that differentiates us from other construction companies as well as a lot of other industries. I think that's really one of the unique things behind our success."
That success is never taken for granted, though.
Big or small — Miron does them all
For much of its history, Miron was not the large player folks tend to think of today, with its projects such as Titletown, the renovation of Lambeau Field or the new Oshkosh Corp. headquarters.
For a majority of its history, Miron was a smaller contractor known mostly for its masonry work, and even though it has a 100-year history, the company did not break $100 million in sales until the 1990s, the same decade it opened its first remote offices in Wausau in 1993.
Indeed, the 1990s marked the beginning of a torrid pace of growth for the company, in which it would increase its footprint and sales. The seeds of that growth were sown in 1979, when ownership was consolidated into the Voss and Kippenhan families. At the same time, additional services were expanded to include construction management, design-build, millwright, crane and equipment-setting.
These moves would give the company the resiliency for some of the bumps and bruises it would experience as a result of growth and economic downturns.
Growth, it seems, can create a whole new set of problems.
As new services and opportunities — offices in Iowa and several other locations opened during this time — fueled its growth, Miron entered a sort of awkward, in-between stage of being perceived by some as too big to care about small jobs and yet not quite big enough to take on the largest of jobs.
"Sometimes people perceive big as expensive," Kippenhan says. "We lost jobs both ways and learned it was really important to have the conversation and explain to them how we work. Every job is important to us, and we understand that job is important to them."
A couple of key projects during this time helped to cement the company's reputation for tackling large jobs.
The first was Horace Mann Middle School in Wausau, which at one time was the largest middle school in the state. Building on time and within budget not only cemented the company's external reputation, it helped it refine internal processes for handling such large projects.
Another key project was the Resch Center in Ashwaubenon, a project in which Miron had bid so low that some industry observers speculated it might break the company. Instead, the company deployed several innovative processes to bring the project in on time and under budget, including a cost-saving move of assembling the roof in its entirety on the ground, then lifting it into place.
"A lot of folks in the industry thought that was the end," Voss says. "But we had a plan and we had looked at it pretty closely before even bidding on the job. It inspired us to bring our best, and in the end, it worked."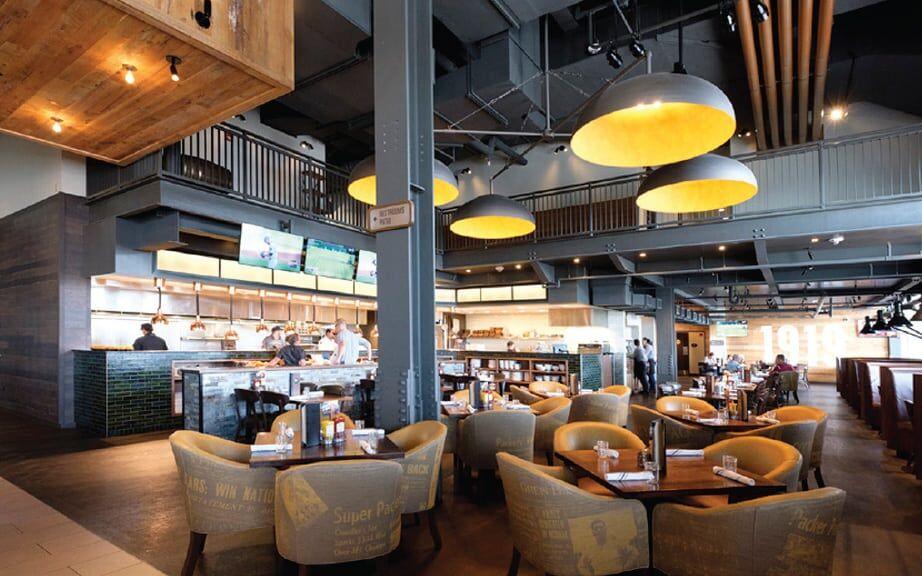 Miron's work caught the attention of several high-profile clients, including the Green Bay Packers. In 2000, Miron was hired as a subcontractor when the NFL team began a series of expansions at Lambeau Field. Now, Miron is the Official Provider of Construction Services for the Packers and was the primary contractor for Phase 1 of Titletown. Work for the Packers raised both Miron's profile and its bottom line, as the company has worked on more than $350 million in projects for the team the past several years.
"Clearly, this was much more than another job to them," Mark Murphy, president of the Packers, says. "They are part of the community and we really wanted to make sure we hired somebody who understood how important community is to the Green Bay Packers."
As much as it has grown, company leaders never consider Miron too big for a job, either.
"We still need to make sure we take care of the person who needs a $250 sidewalk pour," Voss says.
The logic is simple — you never know who, or what organization, that person is connected to that could lead to additional work. Plus, it was the small jobs of the millwrights — workers that provide onsite maintenance in manufacturing facilities to keep them up and running — that kept the company going during the Great Recession.
"Some companies will say they don't like millwrights or don't want to fuss with the jobs they do," Kippenhan says. "Dave will tell you he loves millwrights and that they are why we are still here."
In touch with technology
There are lessons that can be learned from each job, and both Voss and Kippenhan say one of the most important is to continue to refine the processes that enable the company to deliver projects on time and within budget — again, an important part of its culture of taking care of people.
Technology has become a key component of that effort and can be seen in the company's Construction Innovation Lab, where technology and construction management have merged to bring buildings to life, familiarize clients with how they will function and detect and resolve potential conflicts before a single shovel of dirt is turned.
On one recent project, by utilizing the BIM technology, which creates a virtual version of the building that can be examined in detail, more than 700 potential conflicts were discovered and resolved. Some were simple, where pipe might intersect with a beam, but if not discovered beforehand, could have resulted in delays and expensive change orders if discovered on site.
Another important feature: giving clients an idea of how the building will look, and function, before construction gets underway.
"There was an occasion where we were showing a client their brand-new building and the reaction was 'this isn't really what I wanted,'" Voss says. "We are going to make sure that never happens again."
With client and subcontractor conflicts resolved up front, the company is able to meet the increasing demands to build ever faster and more efficiently.
That became a key element in the recently completed Fox Cities Exhibition Center. Facing an incredibly tight timetable — one that included two cycles of winter — and the challenge of building into the side of a hill, Miron used its technology to perfect the designs and the scheduling, enabling it to deliver the completed building on time for its first scheduled meeting and under the approved budget.
That was a relief to those who were getting nervous when there was very little activity on the site the first three to four months.
Pam Seidl never doubted the project would be completed on time.
As the executive director of the Fox Cities Convention and Visitors Bureau, Seidl worked with Miron during the initial planning phases of the exhibition center and on plans for a Grand Chute sports facility that's in the works.
"It would have been easier to take the approach of essentially building a box for the exhibition center, which is the approach many of the initial firms took," Seidl says. Instead, Miron developed the plan to build the facility into the hill, creating unique spaces on the site.
"I really felt like they had a different approach that was much more modern and forward looking," she says. "Many construction firms can check all the boxes for experience and quality work, but (Miron's) approach is much more about solving the challenge of 'what can we build this building to do for you?'"
The exhibition center would test Miron's capabilities and culture with its unique design and tight timetables, not to mention the 30-year history of its development. By following through on those simple axioms of working to understand what the client wants, and working the technology up front, Miron was able to deliver.
Still, it made plenty of folks nervous when the site was idle in the project's early months, or when logistical challenges resulted in key materials being delivered days, rather than weeks, before the big grand opening.
"This is where the culture and the lessons came into play," Kippenhan says. "It was a lot of pressure, but with the work we do and how we do it, we knew we could do it. We made the right decision by not rushing to work at the site and working things out. It was tight, but we are pretty proud of it."