If it's true that a mighty flame follows a tiny spark, think of TitletownTech as the match.
The mighty flame is taking hold. Less than 18 months after opening its offices in the hallowed shadow of Lambeau Field, TitletownTech has proven it has come onto the scene to make impactful and lasting change through investing in cutting-edge startups.
In its first year alone, TitletownTech invested in more than a dozen startups, most of those based in Wisconsin. Beyond that, the organization has established that a moderately sized Midwestern city can earn serious cred as a startup powerhouse.
"Outcome No. 1 is impact. These startups are building new products, hiring people and creating value," says Jill Enos, who serves as one of two managing directors of TitletownTech alongside Craig Dickman. "The second outcome is awareness. There are still people who have this notion that innovation only happens on the coasts or in major metro areas. Great ideas come from everywhere, and when you show that you can support new ventures, this attracts more innovators."
TitletownTech opened as a partnership between the Green Bay Packers and Microsoft in July 2019. The two powerful players came together to foster economic expansion by bringing world-class digital innovations and expertise to the greater Green Bay area.
Dickman says each organization brings its own set of unique strengths. The Packers organization is an entity that's well-known, beloved and brings people together, while Microsoft combines thought leadership and "arguably the best technology company in existence.
"To have them come together with a shared purpose, that's what makes it work. It's two very different companies that bring different skills and talents with a shared purpose to try to create something meaningful. That just unlocks so many different opportunities and just creates such an expansive network," he says.
The organization includes an innovation lab, a venture studio and fund, and a portfolio of companies it works with. It carries out its work across five verticals — advanced manufacturing; agriculture, water and environment; sports, media and entertainment; supply chain technology; and digital health.
TitletownTech leaders put a lot of thought into choosing the five verticals. The areas of focus represent assets within the region, and each has seen strong investment activity thus far, Enos says.
"Each of these five verticals has an impressive history and capability in this region as established businesses and innovators. When we invest in a startup in digital health, for example, we have health care partners in the region who may help vet an opportunity, may be potential pilot customers, may provide talent and expertise, or may even be a future acquirer of a needed innovation," she says.
lifelong love
Enos' path to startup champion is a story that speaks of Midwestern grit and work ethic paying off, much like the founders of many of the companies she now helps. A native of northwestern Illinois, Enos grew up on a farm in a family of seven in which everyone shared the work.
After earning an undergraduate degree in political science at Michigan State University, Enos moved to inner-city Atlanta to work in affordable housing. The role was with an organization that was akin to a domestic Peace Corps. Enos lived and worked in a low-income housing community of about 250 families, helping to convert it to a resident-owned entity, expanding access and enabling residents to build equity toward home ownership.
"My first job was all about connecting and empowering people and serving as a catalyst for change. It was the foundation for what ended up being a theme for me throughout my career," she says.
Following that experience, Enos began working for the Federal Reserve Bank of Atlanta. She traveled to a different bank every week across the southeast, evaluating lending practices and how these institutions provided credit within the communities they served.
Through working with the Fed, Enos was particularly motivated by the impact of access to capital and the power of entrepreneurs and businesses to affect the economic trajectory of their communities. She decided to pursue her MBA and attended Harvard Business School, which she says presented an extraordinary opportunity to learn with people from all over the world.
After finishing business school, Enos moved to Washington, D.C., and joined a young venture-backed tech company. As is common in startups, she took on many roles, from business planning to mergers and acquisitions to sales to product management. Hard work and riding out a tumultuous pre-Great Recession market paid off when AT&T acquired the startup.
All three of Enos' children were born in Washington, and eventually Enos and her husband wanted to move back to the Midwest to be closer to family, which brought them to the Fox Cities. Enos became involved in the community immediately, consulting for businesses and serving on the Menasha Joint School District board as well as working closely with the local library, civic organizations and nonprofits.
"I feel like that's where the lifeblood of the community connects, and that really was insightful for me to be able to see," she says.
As Enos began to explore the startup community in the region, she discovered "a whole community of entrepreneurs who weren't well connected or supported." That led her to found the NEW Venture Foundry in Green Bay, which helped launch six companies and provided capital, support and mentorship to entrepreneurs. She also established Fox Connection, a consortium of regional colleges and universities working collaboratively to advance entrepreneurship and innovation education for students on campus and beyond.
It was through this work that Enos and Dickman, the founder of Breakthrough, an inventor and innovation thought leader, connected and eventually co-founded StageThree, a venture and partnership organization focused on corporate innovation. The work of StageThree and the NEW Venture Foundry and pulling together investors and understanding what they were seeking, as well as working with corporate innovators, laid the foundation of what TitletownTech does now, Enos says.
"That's what TitletownTech is about. How do you make those connections? How do you create this catalyst for change to bring really significant partners together and do so much more with that?" she says.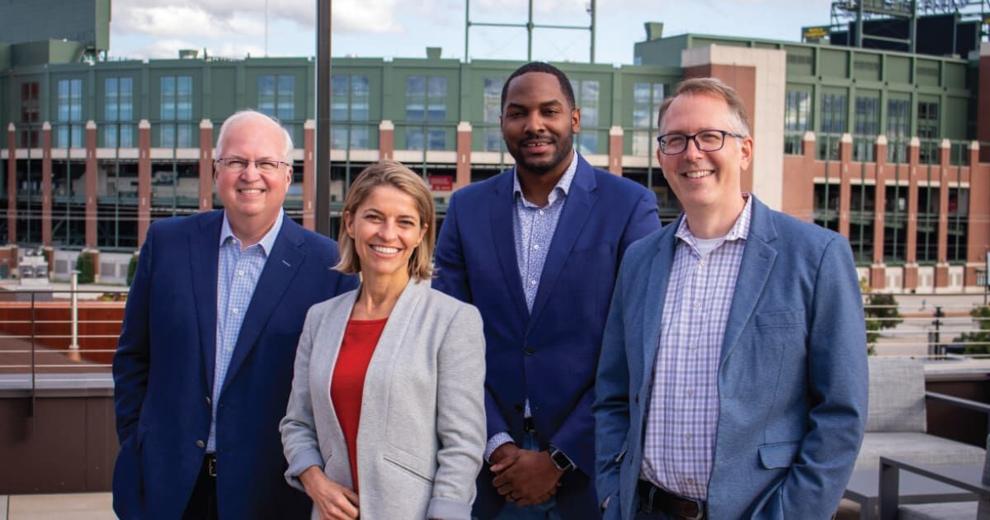 Immense impact
In its first year in operation, TitletownTech invested in 14 companies, several of which moved their operations to the TitletownTech headquarters and two of which — ChemDirect of California and Quantum Radius of Colorado — relocated to Green Bay. Since that time, the organization has not slowed down, increasing its roster to 20 companies and counting.
Tyler Ellison, founder and CEO of ChemDirect, launched the company to create solutions to inefficiencies of traditional distribution within the chemical manufacturing industry. Manufacturers don't have access to customer data and are relegated to using distributors to access the end market. Furthermore, they don't have accurate forecasting to conduct operations planning and are precluded from building a brand, he says.
ChemDirect's digital platform allows manufacturers to engage and sell directly to the end market, which gives them a huge economic advantage. Manufacturers also get data and insight on who's buying and why and what companion products they're seeking.
Having already built a successful career in two industries — logistics and specialty chemical manufacturing — Ellison says finding investors for his company was not the difficult part. Instead, he was seeking support, collaboration and expertise when he began working with TitletownTech.
"It's the shared vision. It's the style in which they choose to support the business, taking a long-term view, not a short-term sprint," he says. "From a founder standpoint, values really matter. When you have shared values, it's just a comfort level."
A similar objective drew Rosina Samadani, president and CEO of Oculogica, to TitletownTech. Samadani founded Oculogica with her sister, neurosurgeon Uzma Samadani. The company's EyeBOX is the first and only Food and Drug Administration-approved concussion diagnostic tool that doesn't require a baseline test.
EyeBOX measures eye movements and correlates that with cranial nerve function to diagnose a concussion. It offers a four-minute test that works for anyone between the ages of 5 and 67, regardless of level of cognitive functioning, and it doesn't matter what language the individual speaks.
People can get a concussion in many ways, not just from playing sports, and there's no gold-standard definition or diagnosis. Samadani says when someone goes to an emergency room for a concussion, the questions they get asked are subjective — whether they have nausea, dizziness, fatigue or memory loss — and any of those symptoms also can happen with other conditions.
EyeBOX represents a sea change in concussion diagnosis, she says. "There's going to be a whole new era of objective diagnostics that are going to come up."
Tools like EyeBOX mean people can get appropriate help more quickly and recover more promptly. They also can give patients and their loved ones the peace of mind that something is actually going on because it may not look, on the surface, like anything is wrong, says Samadani.
Samadani, who's always "worked at the intersection of health care and technology" and launched three startups prior to Oculogica, says the support she and her team have received at TitletownTech has been like nothing she's ever experienced. Through working with TitletownTech, Samadani connected with many sports medicine physicians working in both professional and college sports.
Early on in the working relationship, Samadani met with a large group of athletic trainers and physicians at TitletownTech. She brought the EyeBOX device and tracked everyone, and they were able to look at the device and give feedback to help Samadani and her team identify improvements that could further enhance the product.
"We never had that before that," Samadani says. "The type of access we get, it's a step change."
Samadani, who grew up in Beaver Dam and is a huge Packers fan, says TitletownTech serves as an adviser and pushes the companies it works with to do better. Beyond that, TitletownTech is itself a startup, she says. "The more people you have in that community, with that experience, the better."
Enos says companies like ChemDirect and Oculogica are delivering real-world and timely impact. That includes Oculogica providing faster and more accurate concussion diagnosis and ChemDirect working with the University of Wisconsin-Green Bay to get it the disinfectants and sanitizers it has needed throughout the pandemic at a lower cost and with a shorter lead time.
"A company that can start here can have impact in so many ways and adapt so quickly," she says.
TitletownTech's investments also include Fork Farms, which tackles the issue of food sustainability with its indoor, vertical hydroponic system, and Allergy Amulet, which has raised $3.3 million in seed funding for the development of a consumer food allergen sensor. StormSensor, a climate technology startup, uses sensors, data and software to prevent stormwater pollution, sewage overflow and flooding.
Dickman says TitletownTech's investments demonstrate that it's possible to build something meaningful in Northeast Wisconsin. "They're showing that you can create something large and scalable here. There's really no limit, and I think that's an important lesson."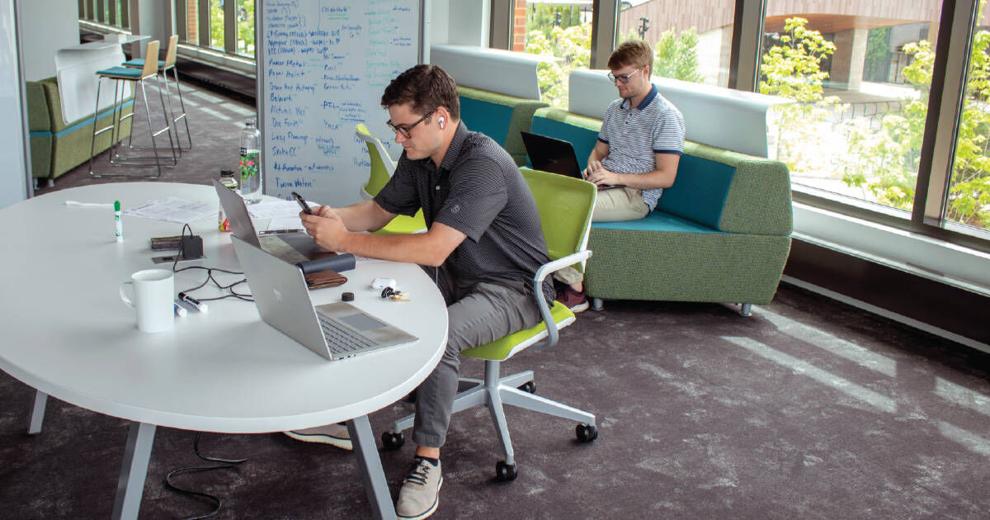 Only the beginning
In the not-so-distant past, people needed to go to one of the coasts to build a scalable technology business, but that's no longer the case. The democratization of technology is becoming more prevalent, and all anyone needs is a laptop and connection, Enos says.
"There's a whole new level of what we can build from places where we want to be without feeling like we have to go live in a congested community or something that's different from what we would naturally choose," she says.
Dickman, a lifelong Green Bay resident and champion of Northeast Wisconsin, wanted to deliver positive change to his community and bring something here that didn't exist before. That transformation is already happening, and as it does, it will bring with it ripples of impact. Each of the companies TitletownTech has invested in is growing, Dickman says, and as they do, they'll also get more involved in the community and become the new job creators and philanthropists.
"I think it will be really fun to look back in five years and see what kind of impact the companies have had. Also, the impact of TitletownTech will be shown in the companies that are part of it now," he says.
Enos says that moving forward, she's most excited about bringing change that will help the region draw talent and become stronger and more vibrant. As that happens, she has never lost sight of her long-held desire to create equality of opportunity.
"The power of innovation enables us as a society to solve most any problem, but if our full community is unable to participate in that innovation, we all lose," Enos says. "We are committed at TitletownTech to be part of the force for change, and I'm excited about what we as a community can do together."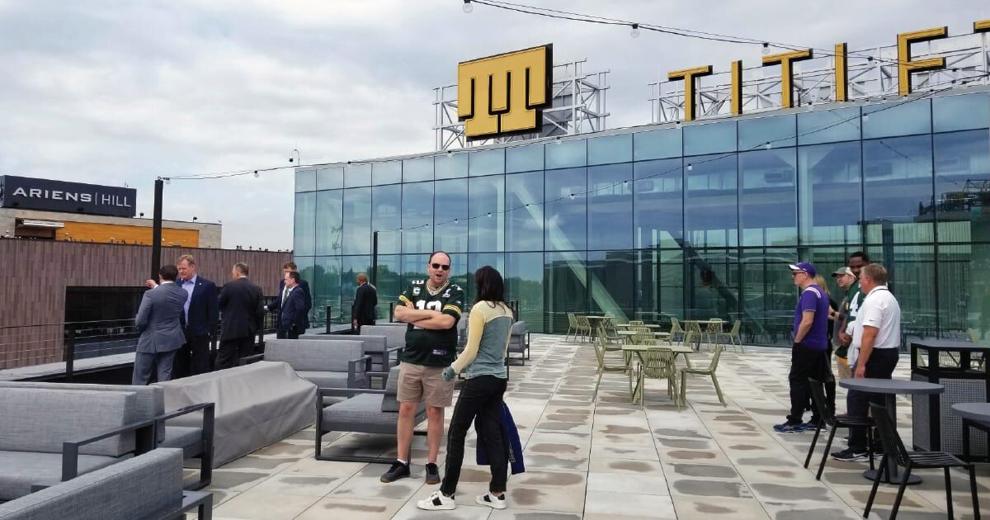 Dream team
Beyond co-managing directors Jill Enos and Craig Dickman, the TitletownTech team includes two partners who each bring a set of distinct assets and experiences — Cordero Barkley and Neil Mix.
Enos says she and Dickman were deliberate about building the team. "I'm just a big believer in finding people who are not like you and think differently to make you better," she says.
Barkley, a University of Wisconsin-Green Bay alumnus, played Division I basketball for the Phoenix and worked in the banking industry for several years before joining TitletownTech. He says a desire to remold the region and state led him to take the role with the organization.
He serves on the boards of two companies TitletownTech has invested in: Boost Technology, an early-stage tech company that brings machine learning and data analytics to college sports, and Strive MedTech, a company that created FDA-registered wearable technology that allows for remote patient monitoring. Its telemedicine system gives patients a direct, two-way communication channel with their doctors and care professionals from the comfort of their home.
"We're certainly not a sit-and-wait type of group. We have a healthy combination of wit and competitiveness," Barkley says of the team.
Mix got his start helping launch music streaming service Pandora. By the time he left the company, it had grown into a $1 billion-a-year business.
When entrepreneurs work with Mix, they get the benefit of his firsthand experience as well as his tech savvy and analytical skills. "Entrepreneurism can be very lonely a lot of times. A lot of times, just being able to share the experience, the fellowship … can mean a whole bunch," he says.
In addition to Barkley and Mix, Matt Adamczyk of Microsoft serves as technologist in residence, Noodles & Co. founder Aaron Kennedy serves as the UW entrepreneur in residence, and Peter Romenesko, co-founder of gaming company Demiplane, is the entrepreneur in residence. Associate Chloe Pahl and digital media coordinator Madilyn Heinke round out the team. TitletownTech also recently announced the creation of a Council of Chief Advisers, a group of seven industry experts who support and guide early-stage investment and provide key insights to the team.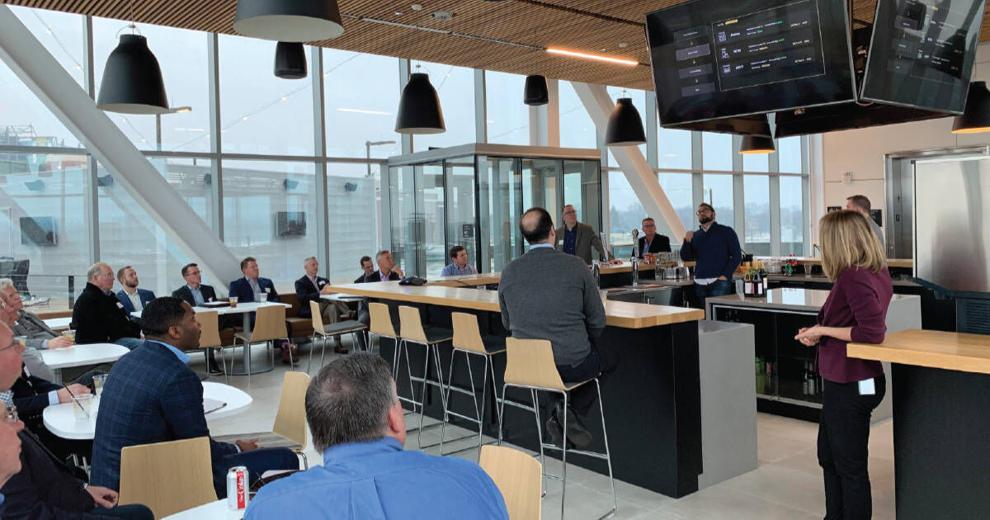 TitletownTech
What it does: A partnership between the Green Bay Packers and Microsoft, it includes an innovation lab, a venture studio and fund, and a portfolio of companies it works with. It carries out its work across five verticals — advanced manufacturing; agriculture, water and environment; sports, media and entertainment; supply chain technology; and digital health.
Founded: 2019
Headquarters: Green Bay
Number of employees: Nine
Website:titletowntech.com