When Jon Drewsen and his wife drove their electric car to the north shore of Lake Superior recently, they experienced some moments of worry about their vehicle having enough charge, especially between Eau Claire and Superior. 
While electric vehicles only make up about 2 percent of passenger vehicle sales today, Drewsen, communications director for the nonprofit Clean Wisconsin, says that's poised to change quickly and it would be a mistake not to prepare for it now. 
"We're significantly underinvested in electric vehicle charging," he says. "This is something that's coming, and we're really missing out on a lot of opportunities if we're not thinking about that adoption going forward."
Already, Wisconsin lags behind other states in the Midwest on the number of EV charging stations it offers. According to the U.S. Department of Energy's Alternative Fuels Data Center, Wisconsin has 819 charging stations, compared to more than 2,100 in Illinois, 1,100-plus in Minnesota, 1,500-plus in Michigan and 1,600-plus in Ohio. On his road trip, Drewsen says once he and his wife arrived in Minnesota, they could feel a difference, with charging stations located at least every 50 miles or so. 
That confidence of having access to charging stations is vital to increasing EV adoption. People see the benefits of owning an EV — including lower cost of operation, less maintenance and better performance, not to mention reduced environmental impact — but "feel that tension" about not being able to get where they're going, Drewsen says. 
The signs of the move away from internal combustion engines and toward EVs are unmissable. In January, General Motors announced it aimed to phase out gas and diesel vehicles by 2035, and President Biden's proposed infrastructure initiative calls for adding 500,000 EV charging stations. 
In Wisconsin, Gov. Tony Evers' 2021-23 budget calls for taking $10.7 million from the remaining Volkswagen emissions settlement funds to establish additional EV charging stations. The settlement stems from the automaker's violation of the Clean Air Act through using software designed to cheat federal emissions tests. Wisconsin received a total of $67.1 million to use over 10 years toward efforts to offset pollution emitted by affected VW vehicles.
Drewsen says it's important to invest in EV charging stations for several reasons. From an impact standpoint, vehicle emissions contribute to poor air quality, especially along travel corridors, which disproportionately affects low-income and minority communities. The transportation sector represents the second-highest source of carbon emissions in the state, making up about 24 percent.
Beyond environmental and health impacts, Drewsen says providing adequate charging station infrastructure touches talent attraction and tourism. Many young people, who the state wants to attract, want to see states investing in areas including EV charging stations. From a tourism standpoint, access to charging stations could be a deciding factor for certain visitors when choosing a destination.
"The missed opportunity extends way beyond the state's borders for the state of Wisconsin when you think of tourism," Drewsen says.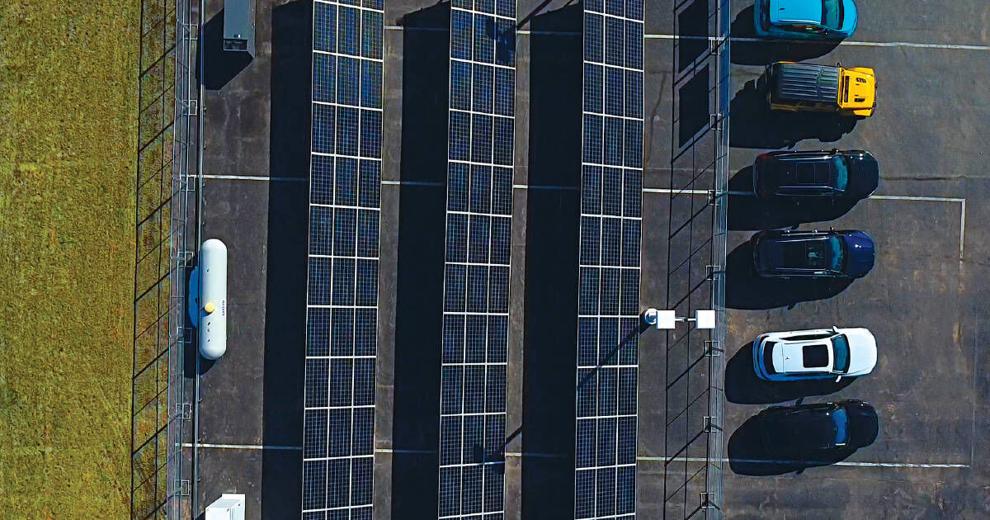 Leading locally
While EVs reduce tailpipe emissions, charging them moves the emissions "to the smokestack," Drewsen says. That's where clean energy, such as wind and solar, comes in, and that's exactly the issue EnTech Solutions is addressing.
EnTech, a subsidiary of Menasha-based Faith Technologies, recently designed and installed a clean-energy EV charging system at Bergstrom Automotive in Neenah. Bergstrom became the first dealership in the area to invest in the technology, and increased interest in EVs drove the company's decision, says Mike Collom, strategic account director with EnTech Solutions and Faith Technologies.
"When you're buying an electric vehicle, oftentimes you're buying it to reduce carbon emissions. Yet when you charge it, you're still emitting half of the carbon emissions. You're eliminating half by buying the vehicle, but you're still getting that half," Collom says. 
The Xcape solar-powered microgrid EnTech installed for Bergstrom addresses that issue through charging vehicles using solar energy as much as possible — the system includes a backup natural gas generator. With solar as the primary power source, the dealership can reduce carbon emissions by nearly 50 percent compared to charging vehicles from the traditional utility grid. The off-grid system can be monitored remotely and takes less than a week to install.
The Bergstrom Automotive location now offers EV charging stations in its front lot and service bay. The system collects energy from solar array panels, which in turn charge batteries. The driver simply pulls up to the charger and plugs in the vehicle. Those who aren't Bergstrom Automotive customers can swipe a card and get billed for their charge time. 
EnTech is now looking at ways to tie the system into Bergstrom's building, which would allow the company to harvest all the solar energy the arrays produce. Right now, there aren't a lot of EVs — Bergstrom currently sells six electric models — so there are reserves that could help offset other energy use within the facility, Collom says.
Bergstrom Corp. Chairman and CEO John Bergstrom says transitioning to EVs in the long term is a "critically important part of environmental sustainability." He says the move toward electric motors is progressing quickly and the company is preparing for it now.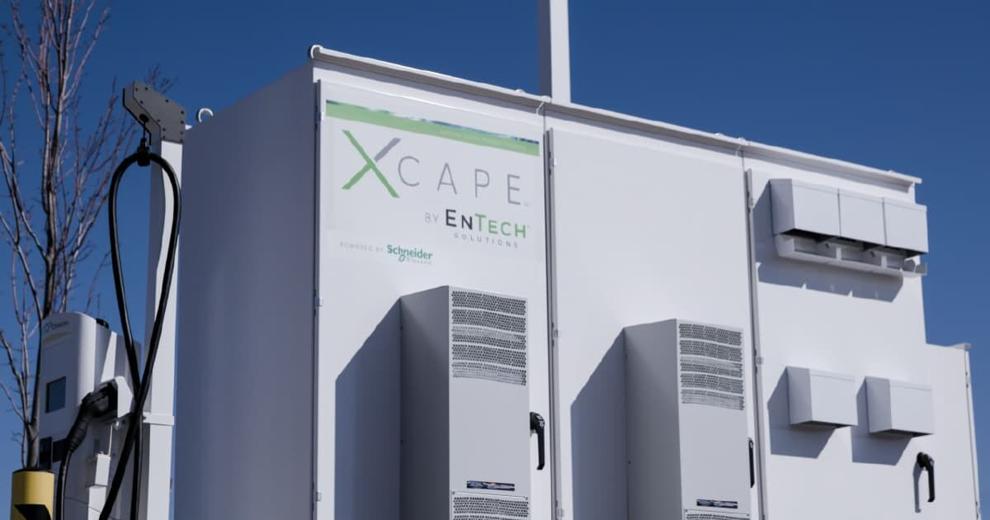 "This is going to be the biggest single transformational thing in our automobile business, in fact in any automobile business, in 50 years," he says.
Bergstrom admits the automotive industry is a top polluter behind only commercial airlines and commercial diesel trucking and says he wants the company to do its part to mitigate that. He knows people still need to see the value proposition of owning an EV and that right now it's faster and cheaper to fill a vehicle with gas — charging an EV can take up to eight hours.
If it's cheaper to buy a car with an internal combustion engine and to fuel a car with gas, most people will choose that option, Bergstrom says. Changing minds will take education, altering laws and continuing to offer incentives to motivate people to buy electric. 
The effort to get the whole country moving in the right direction will be a massive undertaking, Bergstrom says. Bergstrom Corp. is working with its manufacturing team and employees to encourage people to look at EVs, and Bergstrom says one of the easiest solutions is to install an in-home charger. 
Beyond that, the public will need to have confidence that there's a plan to address EV shortcomings. In time, the cost of the vehicles and infrastructure will decrease as scale increases. Convenience will come with the availability of more charging stations, and Bergstrom Corp. seeks to be at least a small part of the solution. 
 "I believe everyone in society has a responsibility to do their part where they can to make the world a better place for the people that follow them," Bergstrom says.