Like many guiding principles in her life, Bridget Krage O'Connor's dedication to community began in the halls of St. Norbert College. There, as an undergraduate, she first learned about "localitas," a commitment to serving the needs of the communities to which one belongs.
The concept resonated with O'Connor and has gone on to guide her throughout her career and as she launched first one business and then another in her beloved De Pere.
"The term localitas is an expression (of) how you can apply your gifts to the community of which you're a part," she says.
Whether she's applying the principle to developing a strategic communication strategy for nonprofits and businesses, serving on a board, helping elevate women business owners or acting as a leader in advancing downtown De Pere small businesses, localitas continues to inform O'Connor's work.
Since launching O'Connor Connective in 2013, O'Connor has dedicated herself to helping businesses and nonprofit organizations cultivate and share their stories. Strategic communication uses marketing, public relations and creative elements to help organizations craft consistent, clear messaging to achieve organizational growth, O'Connor says.
"Often, an organizational leader knows where they want to take an organization, but how they communicate that to the outside world and to their internal teams isn't always clear. I love helping provide leaders that clarity," she says.
As O'Connor's business has grown, so has her connection to her community, especially her downtown De Pere neighbors. O'Connor Connective is one of more than 70 women-owned businesses in De Pere's Business Improvement District. That realization, in part, spurred the idea for O'Connor's newest venture, The Connective.
O'Connor purchased a 10,000-square-foot office building on Main Avenue in De Pere across from O'Connor Connective and opened her second business in March. The Connective: A Place for Women in Business, which O'Connor calls the social entrepreneurial arm of O'Connor Connective, is dedicated to advancing talent through leadership development, coaching and connections.
The Connective offers co-working, shared office suites and taps preferred providers to share their expertise and partner with emerging leaders to help them further grow their organizations.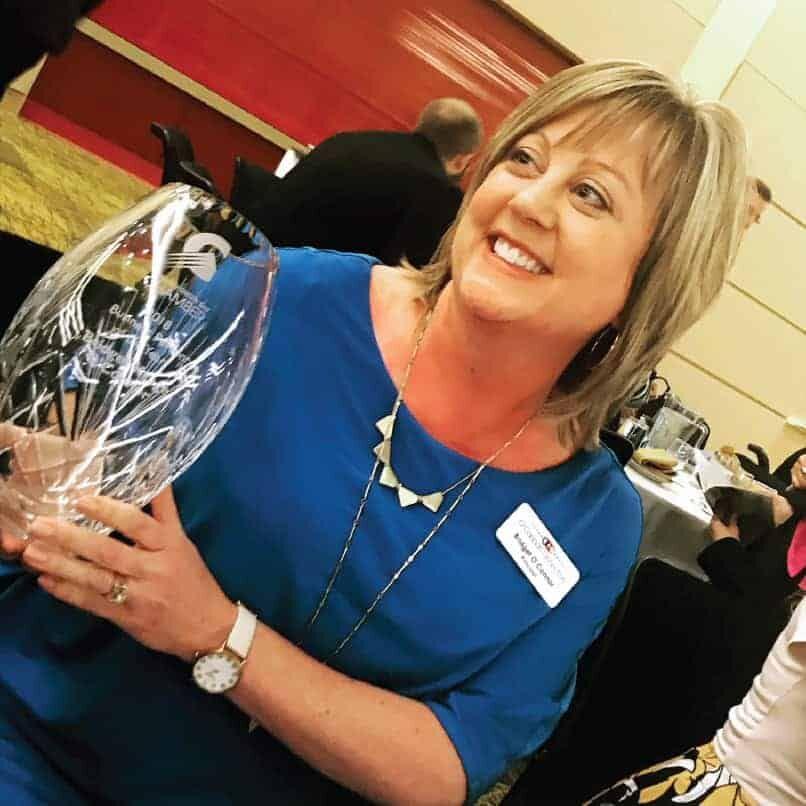 Evolvingambitions
After being born in Minneapolis, O'Connor spent her elementary school years on a fourth-generation family farm in a small town in southeastern Minnesota and attended middle and high school in Winona. That combination of an urban and rural upbringing, as well as living through the farming crisis of the 1980s and seeing her family's farm auctioned off, influences her to this day, she says. 
Growing up, O'Connor envisioned becoming a television news anchor or photojournalist, but when she started college at St. Norbert, she began to realize her childhood dream likely wouldn't be as glamorous — or lucrative — as she'd originally thought. She shifted her focus to public relations and sharing the stories of people and organizations.
O'Connor, who earned her bachelor's degree from St. Norbert and a master's degree from the University of Minnesota, cites her college education as one of her proudest accomplishments.
"Going to college wasn't necessarily a foregone conclusion where I grew up, but for me, it really opened so many doors and created a lens to a world that really had no limits," she says. "I think education is really the way, the truth and the light."
O'Connor began her career at a Madison PR firm and then spent the next seven years in Minnesota, first as a marketing specialist for an architecture firm and then as a communication specialist for the University of Minnesota Foundation. Her next move, in 2002, brought her full circle to St. Norbert, where she worked in various roles, including vice president for enrollment management and communications and senior adviser to the president for strategic initiatives.
O'Connor's tenure at St. Norbert coincided with a time of enormous transformation and millions of dollars of investment in new facilities. She helped execute the vision for the Ariens Family Welcome Center, which allowed most of her department to come together under one roof while creating "an intentional first-impression experience for prospective families."
Dave Wegge, president of Wegge Strategic Research Inc., first met O'Connor when she was a senior at St. Norbert working for him as an interviewer in the school's survey center. He says her outgoing and persuasive communication style made her an excellent interviewer.
When O'Connor joined the staff at St. Norbert years later, she helped him rebrand the school's survey center into the Strategic Research Institute. Wegge, who served a stint as interim dean of St. Norbert's Donald J. Schneider School of Business & Economics, has gone on to serve as a mentor for O'Connor, and her success hasn't surprised him.
"I think Bridget is really good at connecting dots of what might appear to be somewhat disparate operations or ideas," he says.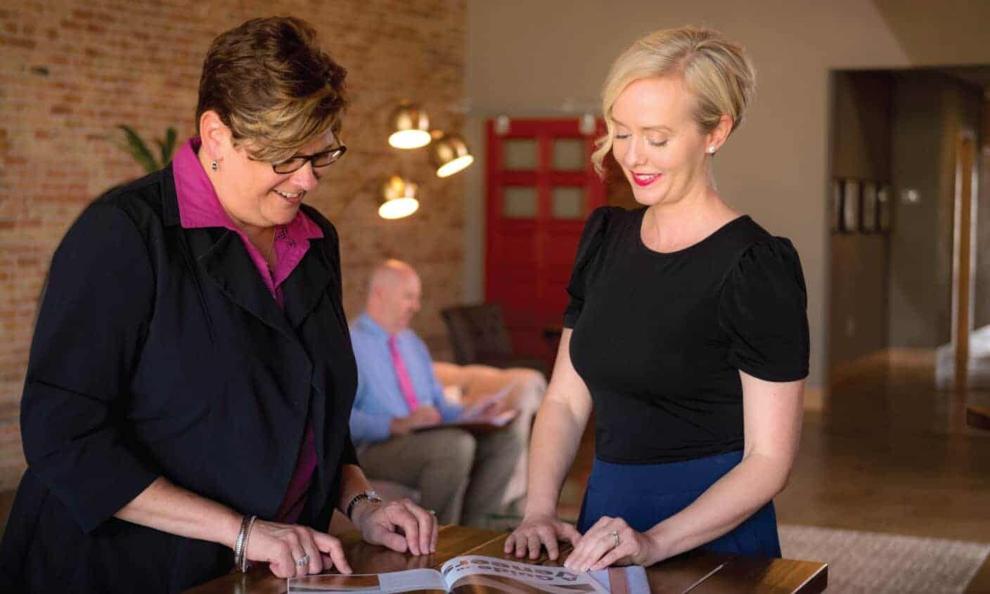 Findinga home
In 2012, O'Connor reached a transition point. She and her husband, Jeff, a teacher, had a son and a daughter, and O'Connor thought she'd accomplished what she'd set out to achieve at St. Norbert. She'd long entertained the idea of consulting and began to consider it more seriously.
"I hit one of those milestone birthdays and thought, 'If I don't do it now, I could very easily stay at St. Norbert for another 20 years,'" she says.
O'Connor Connective started small. O'Connor spent the first year as the company's only employee, discerning whether consulting was what she really wanted to do. It didn't take long for her to realize she loved it and had made the right decision.
By 2013, O'Connor was ready to move into her own space. When she began searching for the location, she first looked to downtown Green Bay, but eventually her gaze fell upon downtown De Pere.
Chris Renier of C. Renier Architects Inc. in De Pere, and O'Connor's friend and mentor Ed Thompson of Thompson Management Associates had collaborated with O'Connor in the past on the Ariens Family Welcome Center at St. Norbert. She credits both with helping her decide to launch her business in De Pere.
As O'Connor searched for a site for her business, Renier introduced her to a space on Main Avenue across the street from his office. He insisted the building, which dates to 1914, was full of potential, though it would need massive renovation.
O'Connor, who was raised by a father who wasn't afraid to knock holes through walls, was up for the challenge, but little did she know what she was taking on. Studded with fluorescent lights and three layers of false ceilings, O'Connor and her team began tearing apart the dilapidated space in late 2014.
"Through that process, there were moments of complete panic. I've basically purchased a bomb shelter, is what it felt like, and there was a moment when I came in here and thought, 'What did I do?'" she says.
Persistence and vision paid off when original brick, 20-foot ceilings, concrete floors and wooden beams finally emerged, and the space was ready for occupancy in June of 2015.
From her time working at Cunningham Group Architects in Minneapolis, O'Connor developed an appreciation and understanding for how space influences the way people function. Since then, she's modified every space she's worked in.
O'Connor used her keen eye to develop a visually stunning home for O'Connor Connective. The space features exposed brick, soaring ceilings, modern chandeliers, abundant natural light and a multitude of special design touches. Some of those include a set of church doors she purchased at Greater Green Bay Habitat for Humanity ReStore — now a client — and transformed into tables.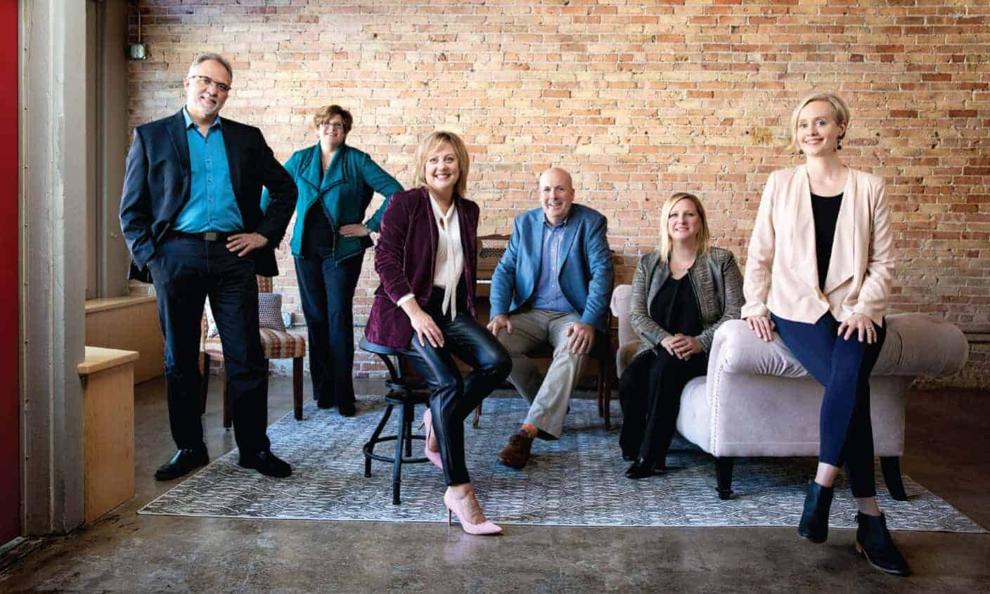 Cogentcommunication
New home in place, O'Connor began adding to her team and building a roster of clients. Today, O'Connor Connective includes a team of seven dedicated to helping organizations and their leaders tell their story.
"They are experienced, senior-level strategy and communication professionals who bring their 'A' game every day, and it is an honor and a privilege to partner with them," O'Connor says of her staff.
O'Connor says strategic communication plays a vital role for organizations, whether it's a company completing a merger or acquisition, a nonprofit looking to enter a fundraising campaign or an employee recruitment effort. O'Connor Connective increasingly fields requests for the latter.
When working with organizations to develop talent strategies, O'Connor Connective conveys the importance of aligning the culture and brand with the vision of the CEO. If team members are on board with the mission, vision and values, they can become brand ambassadors for the company. The way an organization communicates with prospective employees is critical, she says.
"We all want to be part of something bigger than ourselves. We all want to know that we're making an impact. We all want to know that we're fully utilizing our talents," she says.
Michelle Dejno, vice president of O'Connor Connective, says it can be difficult for companies to know whether their strategies are working. Strategic communication can help them peel back the layers to make sure they are creating a message that resonates — whether with customers, donors or prospective employees. The
O'Connor Connective team is passionate about helping organizations achieve success, she says.
"I think the differentiating element to working with Bridget is that she inspires action in others to help achieve that vision. It's not, 'Oh, you should do this.' It's, 'You want to do this. Here's how we're going to do it,'" Dejno says.
Brad Toll, president and CEO of the Greater Green Bay Convention & Visitors Bureau, would agree. O'Connor Connective helped the organization structure a fundraising promotion for   its new visitor center and complete some strategic planning work. In addition, Toll and O'Connor served together on the board of  Better By the Bay.
Whether O'Connor is helping an organization develop messaging or sitting on a board, she can help the group cut through distractions, Toll says, which make her an invaluable champion for greater Green Bay.
"Some of these projects, when you get so involved in them, you could talk about the thing for three days, but you need three points from it that are effective, deliver the message and that you don't cloud it with all this other stuff. Bridget is phenomenal at being able to go in and provide clarity, and she's done that with every project," he says.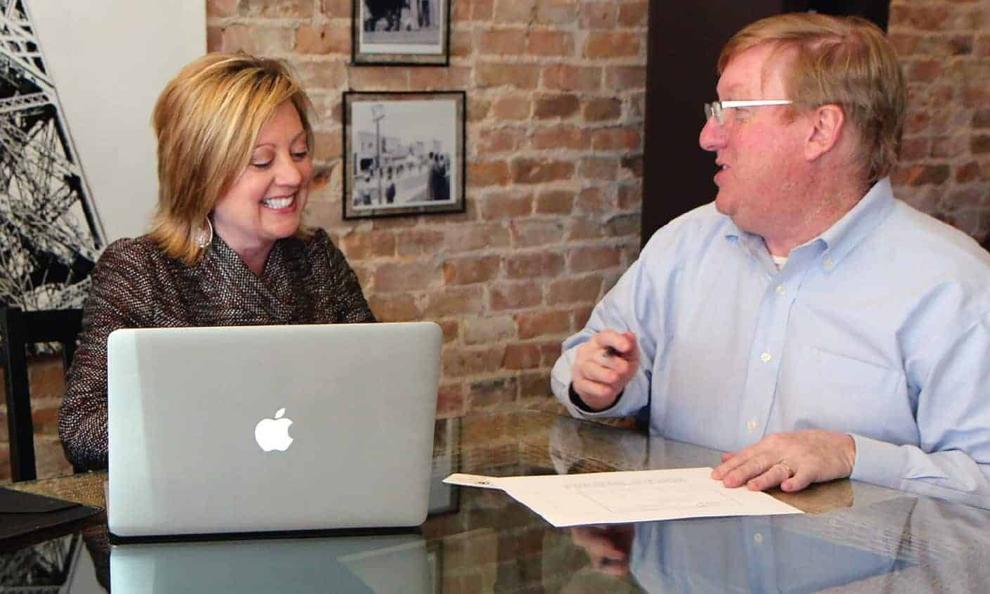 Elevating women
When O'Connor discovered hers was one of more than 70 women-owned businesses in De Pere, it both surprised and galvanized her. After digging in more, she learned that the trend wasn't confined to De Pere.
In 2016, Errin Welty, community and downtown specialist for the Wisconsin Economic Development Corp., wrote a report in which she surveyed 27 Main Street communities throughout the state and discovered that women-owned businesses account for 39 percent of all businesses. It further found that in the past two decades, openings of female-owned businesses have outpaced openings of male-owned businesses by 150 percent.
In reading Welty's report and through her observations of what was happening in her own community, O'Connor saw an opportunity. Opening The Connective represented her dedication to two issues about which she's passionate: helping fellow female professionals and continuing to promote economic development in Northeast Wisconsin.
"The blessing and the curse of my brain is that it is always looking at additional ways of doing more, making an impact, extending our services. How can we do more? What does that look like?" she says.
The Connective brings together educational partners, corporate leaders and business mentors to help advance women in business. It provides women-focused programming, a trusted network of business services, co-working professional office space, a hub for research and a place for business-to-business referrals. It offers solutions for individual leaders, entrepreneurs, executive teams and organizations.
O'Connor says The Connective is not just about startups, and it's not just a co-working space. She wants it to serve as a conduit for conversations and a springboard for advancing organizations and their leaders. Workshops led by preferred providers include topics such as gender communication in the workplace, women and wealth, and cultivating listening skills.
Women often behave differently in the workplace, O'Connor says. For example, they're less likely than their male counterparts to apply for a position unless they check every box. They're also more likely to apply for advancement if someone within their organization taps them on the shoulder and encourages them. O'Connor would like to see organizations go about helping women advance in a more intentional way.
The next steps for the business include seeking corporate sponsors of high-achieving women employees to join The Connective, delivering programming to businesses through continuing education offerings and partnering with St. Norbert's Strategic Research Institute to do a study evaluating the status of women in business in the New North region.
What's not in the plan? Stopping anytime soon. O'Connor plans to continue to find ways to do more.
"We're not done. There is more to come. Stay tuned for the sequel," she says.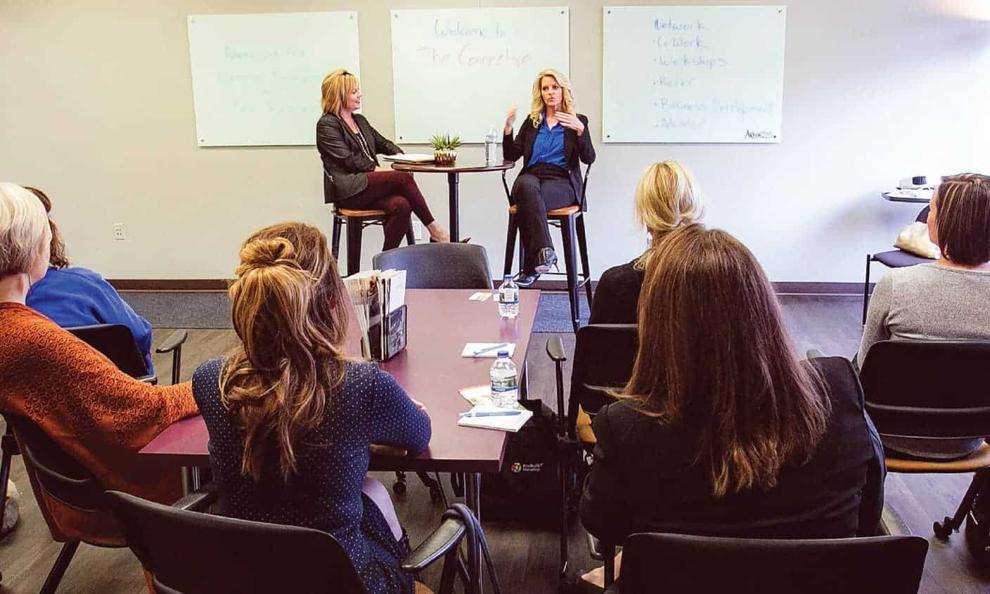 O'Connor Connective & The Connective
Location: De Pere
Year founded: O'Connor Connective – 2013,
The Connective – 2019
What it does: O'Connor Connective provides strategic communication solutions to businesses and nonprofits. The Connective is a collaborative professional office space that caters to the needs of female professionals.
Employs: 7
Major clients making the news: Mulva Cultural Center, Greater Green Bay Convention & Visitors Bureau's Experience Center, Habitat for Humanity/ReStore's new campus.