The beginnings of Fond du Lac-based Wisnet.com can probably be traced back to when founder Rick Kolstad was a 10-year-old boy fixing his friends' broken electronic gadgets.
"I'd take them apart, and usually take parts of my things to fix them, and then my things wouldn't work," Kolstad says. "When we got a computer, I was just glued to that for weeks at a time."
Kolstad still helps people today — although instead of taking parts from his own computer, he uses his creative and technical skills along with those of his employees to help a range of clients.
Since founding the web design, app development and marketing firm in 1996, he's grown the company to about 15 "geeks and creatives" who often are hired without having a defined role. Not only are those employees dedicated to building websites and helping clients define their brand, but also to adapting workable aspects for the organizations they serve.
Wisnet's award-winning company culture includes daily bike rides, a "no vacation day" policy (you just take off when you need to), Taco Tuesdays and a dedication to serving the community. It has been recognized twice in the last few years as being a great place to work for millennials, winning two Bubbler Awards from NEWaukee, a Milwaukee-based talent recruiting organization.
"When people come through the office and meet the team, they talk about how cool it is," says Joe Truesdale, marketing account manager. "They ask if they can stay here and work for the afternoon."
Kolstad agrees. "We get that a lot." 
"I think that's indicative of what Rick has done so well in crafting that culture," Truesdale says. "Because of that, we as a team understand what it takes — it's not necessarily that we have a Pac-Man machine. It's more about facilitating more conversation and stronger connections between team members."
Dialing into the future
Kolstad has always been a bit of an early adapter. While still in grade school, the car lover created and operated a dial-up bulletin board system for automotive inquiries until his parents figured out why so many people were calling the house. Of course, this was way before there was an internet in place to help connect people with similar interests.
Later, still fascinated by how things worked — particularly cars and car design — Kolstad went to Michigan Tech for mechanical engineering.
"I think that's maybe where the culture element came in," he says. "I was looking at those big corporate jobs and thought, 'If I'm going to work for GM, everything is very structured. This is your role and what you do.' I knew I would get bored in that environment pretty quickly."
In the 1990s, Kolstad began working for Star Cable in Fond du Lac, which eventually added an internet division. "You knew (the internet) was going to change the way people communicated, worked and played," he says.
But Star sold that division, and "the web business was where my interest was," Kolstad says. "I just liked the application development and the programming side of things."
In 1996, he teamed up with a Fond du Lac print shop and two years later took Wisnet independent.
"We just grew from there," Kolstad says. "We always had a strong focus on the application side, the database orientation side of things. We really liked making the web do things. It was just neat to see the challenges our customers would come in with, and we found the solutions for them."
The application development side of things allows Wisnet to create tools for a company internally and externally. That might include a scheduling tool to help an organization keep track of multiple job sites or class scheduling for an educational facility.
But programming is just one aspect of Wisnet's offerings.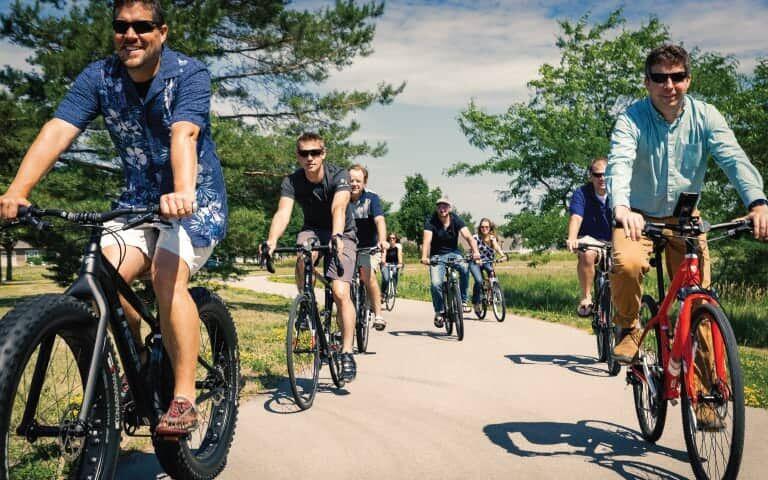 Creative boost
Websites are integral to businesses and organizations, so putting one together that captures the client's brand is essential, Truesdale says. As clients come on board, they go through a branding process so Wisnet's crew can learn more about who they are and how to bring that message alive online.
"There needs to be that emotional connection, and when we build that up for a client, we do that in such a way that it is not just about the website," he says.
That's why Wisnet calls its employees "geeks and creatives" — because it's not just about function, nor is it only about making a statement, but about blending those two aspects for the best result, Truesdale says.
"Our geeks are very creative in the way that they come up with their solutions, and our creatives are geeky about finding the right font or finding the very specific color palette that gets to the emotional connection," he says. "That fine detail that can sometimes be overlooked and they geek out about that."
Kelly Norton, president of St. Mary's Springs Academy in Fond du Lac, brought Wisnet on in 2017 for a rebranding project. The catalyst for the conversation was the need for a new website, "but when we sat down and talked, their focus was really on understanding what makes St. Mary's Springs Academy unique and special, and then to capitalize on creating a brand that really fits that."
Not only was the school able to present a message to the community through its new website, but the branding also was tied into its overall creative campaign, including radio, billboard ads and internal signage.
"It has, No. 1, allowed us to really fully understand who we are as an institution and where we're headed, but it also has allowed us to share our brand a little differently with the community," Norton says.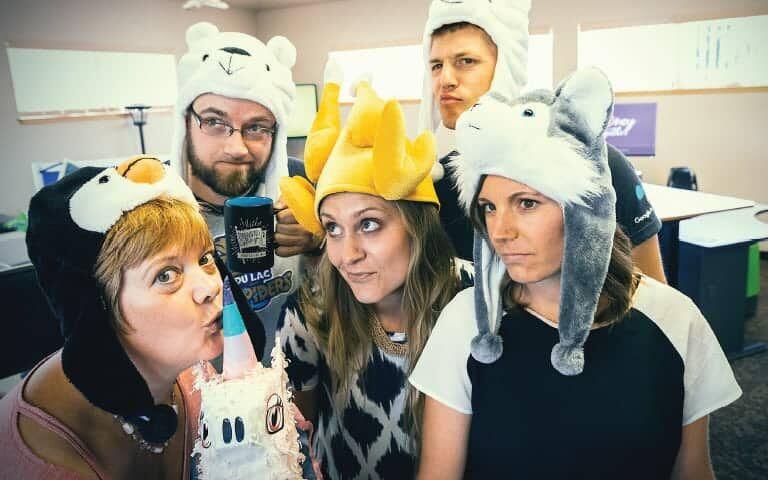 Company culture
Kolstad works at a modest stand-up desk with the account management and creative team, poised near a spiral staircase where he can keep an ear to the lower floor where the programmers (geeks) work. Within the Wisnet facility, a visitor finds a "beach area" complete with piped-in ocean sounds, a comfortable lounge area that doubles as a lunchroom and a place for meetings, a fitness room, a patio grill, numerous life-sized character cutouts and "a flux capacitor in case we need the job from last week," Kolstad quips in a reference to the 1985 time-travel film "Back to the Future."
The atmosphere at Wisnet is collaborative, and the business looks to bring that kind of connection to its clients as well, Truesdale says.
"It's exactly what Rick has been doing … We're helping you with this external brand, but there's also this internal brand that will help your employees really make a connection to who you are and where you're going," he says.
The Wisnet team has a few fun offerings in its toolbox on that front, including a digital sign product that welcomes guests, shares employee photos or advertises company events. The company also is working with some voice applications that tie into Amazon's Alexa or Google Home, but "we're not exactly sure where that's going yet," Kolstad says.
"We're hoping (clients) can take these (products) and make connections within offices stronger," he says. "We're really focusing on the culture aspect of these products. I think that's going to be our focus as we go forward with any digital products we put together."
For example, the team is working with a fitness app that connects to Fitbit and the social fitness network Strava.
"The idea is to bring the team together in healthy competition and have some challenges throughout the week or month or year just to get team moving," says art director Jenny Knuth. "That's a huge part of our culture as well. Rick and everybody are really supportive of getting out and getting moving, taking a break to recharge and come back and get the endorphins moving."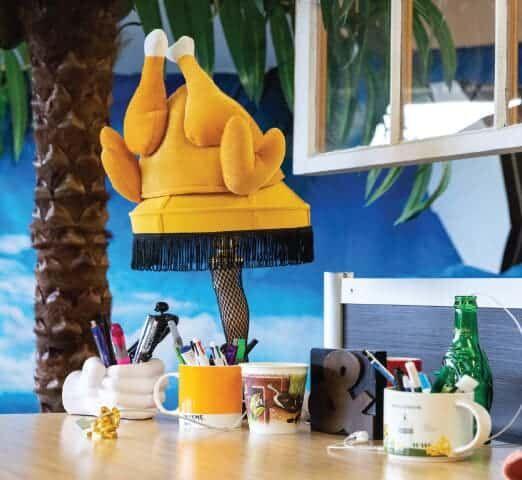 The bikes are stored in a rack inside Wisnet's main office area, where a simple paper "Employee of the Month" reserved parking sign rotates daily. Traveling in a group is kind of the way Wisnet rolls. It hires people who connect well with the rest of the group.
"We're looking for a drive, a spark and attitude that people have," Kolstad says. "Educational levels don't matter at all — just that they have a passion to do something and learn how to do it, and they can mix in well with the team."
Those who are hired to certain roles aren't limited by them. "If they want to learn or do other things, or if they want to try support or programming or design, if they get an idea for a product, we want to encourage them to spend some time on it," Kolstad says. "It may be the next big product we have."
Wisnet, whose clients represent industries such as print shops, tax attorneys, construction, tourism organizations, workforce development and education, also is committed to making stronger connections with the community. The business participates in North Fond du Lac High School's INCubatoredu program and is working on a new community co-working space called The Hub, which provides a way to help combat brain drain and serves as an extension of Wisnet's culture.
"We're working toward different environments that people can think differently in and interact with different people from the community," Kolstad says. "We'd love that to be a business incubator, a networking facility, a hangout place — something that you want to go to on a regular basis and share ideas."
While Wisnet is active in the community, Kolstad also encourages employees to get involved with different initiatives and projects depending on their interests.
Knuth says that thinking not only provides her with a way to give back, but also helps her build stronger networks locally. She points to Wisnet's day-to-day scheduling flexibility and how it benefits both employees and the company since it helps eliminate distractions and increase focus.
"This morning, I showed up late because I've been overwhelmed with a house project, so I painted," Knuth says. "It's really nice to have that flexibility and autonomy to say, 'This is what I need to get it done.'"
Wisnet employees say they feel a sense of ownership of their work because of that company culture.
"I think that's true for everybody that's here," Truesdale says.  "That they own their role and they run with it as opposed to feeling like they have to go through red tape or an approval process. Rick believes that they will do the right thing for the team, the community, the clients and themselves." 
Paying tribute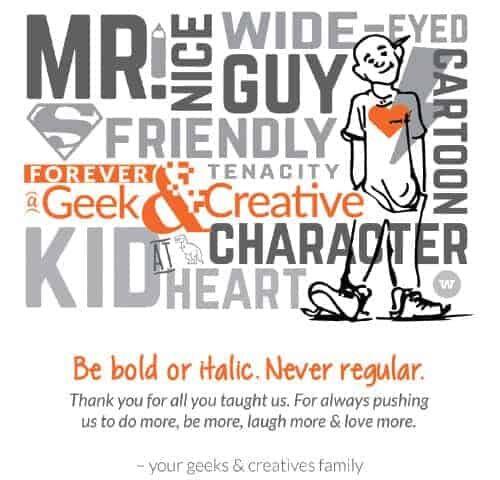 "As Wisnet's creative director, Scott helped implement an agency/client collaborative branding process called the 5&5 that helps clients figure out who they are and what makes them different from their competition by arriving at five words or phrases that are unique to them. Then, Scott worked with the creative department to bring it all to life," says Wisnet owner Rick Kolstad.
"Each geek and creative at Wisnet went through their own personal 5&5 workshop to help us explore our own personal brand. Scott's five words ring so true today, just as they did the day we met him. Each one brings a story laugh, and memory to mind that we'll hold onto dearly."
Headquarters: Fond du Lac
Year founded: 1996
Number of employees: 15
What they do: Help businesses and organizations with their marketing, hosting and application needs.