Most of us don't spend much time thinking about what's in the dirt beneath our feet. That's not the case for University of Wisconsin-Green Bay students studying soil samples to discover previously unknown bacteria, which could lead to the development of new antibiotics.
The students are part of the Tiny Earth project, a global network of educators who teach a research course aimed at discovering new antibiotics that started at UW-Madison in 2018. The course provides students with the opportunity for original thinking and scientific discovery and can inspire them to pursue STEM careers. About 10,000 students are enrolled in some version of the Tiny Earth course throughout 45 U.S. states and 15 countries.
"The students get their own soil sample to test. They isolate bacteria, conduct gene sequencing and do a lot of other interesting things," says UW-Green Bay biology professor Brian Merkel. "The students realize they are part of something that's bigger than them and they're contributing to an international effort."
The program's global reach and goal of discovering new antibiotics caught the eye of Microsoft. The Seattle-based company provided UW-Green Bay's Tiny Earth project with an AI for Earth grant that places Microsoft's cloud and AI tools into the hands of students, says Michelle Schuler, manager of Microsoft TechSpark Wisconsin.
"By providing access to our cloud platforms, Tiny Earth will be able to increase the impact and the efficiency of their participating undergraduate students as well as high school faculty and students," she says, adding the Microsoft tools will support Tiny Earth's efforts to build a predictive model of the soil environments most likely to contain antibiotic-producing bacteria in Wisconsin.
Merkel says pharmaceutical companies no longer conduct a lot of research into new types of bacteria and potential antibiotics, so the Tiny Earth project fills a key need. About 70 percent of the antibiotics used today come from soil bacteria, but the discovery of new ones has slowed dramatically, he says.
"New antibiotics are needed since antibiotic resistance has become a global health issue," Merkel says. "The use of the AI technology will hopefully allow us to come up with better places that we should look in the soil for new bacteria. We have access to a global database, which allows us to be more successful."
Microsoft's AI for Earth grants provide access to resources to support projects that change the way people and organizations monitor, model and manage earth's natural systems, Schuler says.
"Through Microsoft TechSpark, we advocate for local communities like Green Bay, focusing on issues including education and skilling," she says. "As a student-sourcing research initiative, Tiny Earth empowers students to develop STEM skills while actively discovering new antibiotics in soil."
Schuler says organizations are trying to solve many environmental challenges but contend with limited resources and technological experience. "(Microsoft) supports projects like Tiny Earth to help bridge that technology gap, empowering the AI for Earth community with Microsoft tools and training to leverage AI in the race against climate change," she says.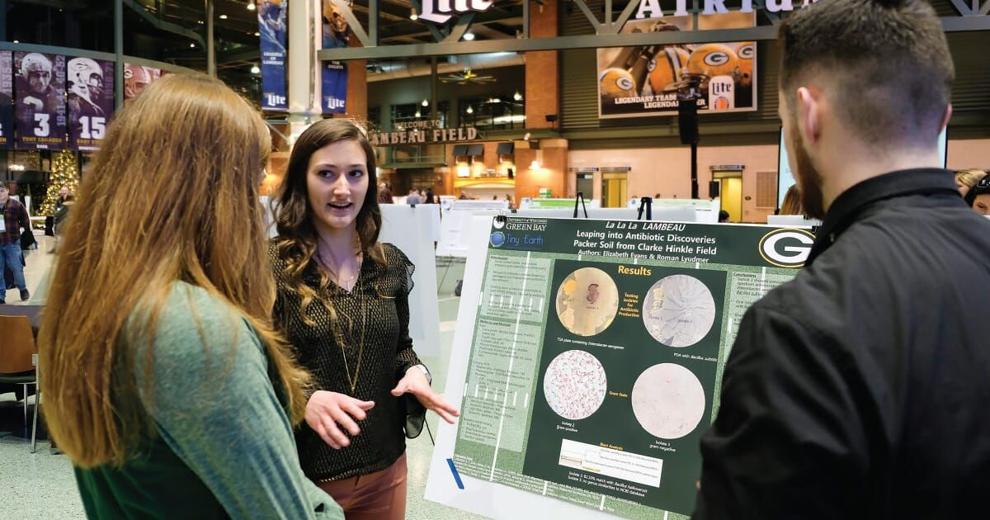 The Tiny Planet grant is just the latest link between the software giant and the region. Microsoft has several connections to Green Bay, including its partnership with the Green Bay Packers on TitletownTech to help the region grow new businesses and nurture talent, and deploying its Technolog Education and Literacy in Schools (TEALS) program in area high schools to get more students interested in pursuing a career in computer science or another STEM career.
UW-Green Bay, along with the UW System, provides an entrepreneur in residence at TitletownTech who educates and provides guidance in business development and operational areas.
Sharing research is an integral part of the Tiny Earth initiative. The AI tools provided by Microsoft will allow UW-Green Bay students to do that more easily, Merkel says.
Last December, students from across Wisconsin presented their research findings about antibiotic resistance at the Tiny Earth Symposium at the Lambeau Field Atrium, which was attended by health care, biochemistry and education professionals. Bringing together the students from multiple schools allowed them to share their research and ideas, Merkel says.
"Having the event at Lambeau created a lot of energy and excitement around the project," he says. "The more we can get students excited about scientific research, the better, since it helps increase overall interest in science and STEM careers."