Students have an opportunity to learn in-demand skills and earn college credit while still in high school thanks to Ahnapee Automotive, an educational initiative through the Luxemburg-Casco School District.
Students from Luxemburg-Casco, Denmark and Kewaunee high schools can earn an automotive maintenance technician technical diploma from Northeast Wisconsin Technical College at the same time they are finishing their high school careers. After graduation, students can then begin working or continue their schooling. If they want to pursue additional automotive technician education, they can enter year two of NWTC's two-year automotive technician diploma program or the second year of NWTC's associate degree in automotive technology.
"The students actually walk across our graduation stage (to receive their technical diplomas) before they walk across their high school graduation stage," says Gene Francisco, associate dean of trades and engineering technologies at NWTC.
The students not only earn the technical diploma, they get on-the-job experience and can get their foot in the door at a potential employer, he adds. "Employers are looking to hire them as soon as they start in the program," Francisco says. "There's a big demand out there for auto technicians." 
He points to the website carcareers.org, which predicts the industry will require an average of 75,900 new auto technicians annually through 2026 to replace those who retire or leave the profession.
Luxemburg-Casco School District's program started last fall. School officials had approached NWTC about creating a program using the automotive maintenance technician curriculum where a college instructor would come onsite and teach the necessary classes to interested students. The college already has a similar program at Green Bay East High School and Northwoods Regional Technical Academy in Wausaukee.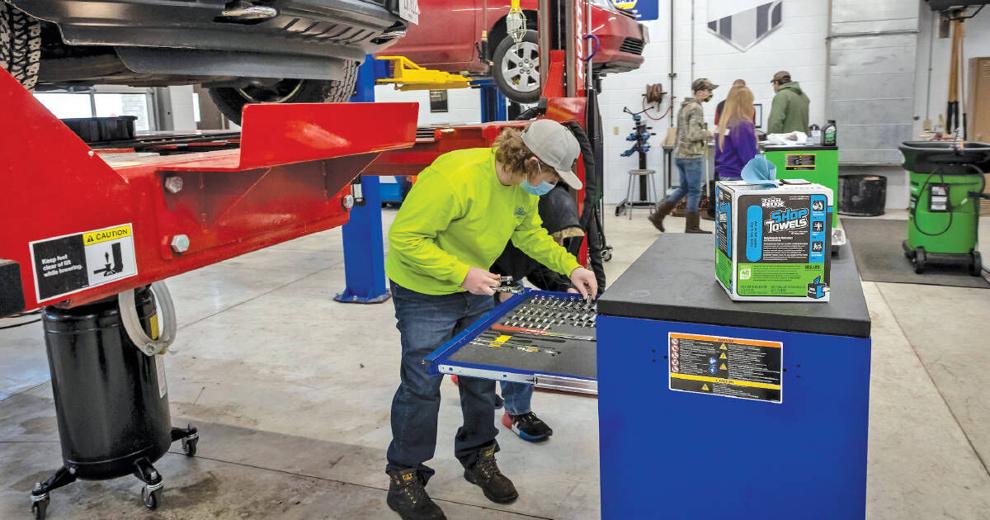 The automotive program is a consortium of area schools, while the youth apprenticeship program is a consortium of Kewaunee and Door County high schools.
"Ahnapee Automotive is a great example of what partnerships between business, K-12 institutions and higher education can do. This really is a unique opportunity for students," Francisco says.
While NWTC hired an instructor — Brent Westlund, a former local automotive technician with 20 years of experience — Luxemburg-Casco raised $100,000 in donations to help purchase needed tools and equipment for the program. The auto shop includes four fully equipped automotive bays with new lifts, a tire machine and balancer, equipment to perform brake maintenance, a set of tools for each station, and a new automotive lab with exhaust system.
Getting buy-in from businesses looking for auto maintenance technicians was crucial to getting the program off the ground, says Jen Johnson, Ahnapee Regional Youth Apprenticeship coordinator. Businesses, including Dorsch Ford, Broadway Automotive, Gandrud Automotive Group, NAPA/Clover Auto Parts, NAPA/Ball Auto and Truck Parts, Phase III Service Center, Pilsen Auto Service, Auto Aces, New Franken Sales and Service, and McClure's Service, stepped up to provide funding, a place for the students to work or both. 
As part of the youth apprenticeship program, students work 450 hours and are assigned a mentor at a local facility to learn more about the career. 
"Students in the program are aligned with a work-based learning experience in the area of automotive repair," Johnson says. "These opportunities position students well for the future in that they receive hands-on, paid experience and the employer can help shape the future of their workforce by having exposure to these students at a younger age."
While participating in the automotive maintenance technician program at Luxemburg-Casco, students complete 26 credits in several courses, including transportation service operations, auto service operations, brake systems, steering and suspension systems, engine repair and transportation welding.
"We couldn't have done this without the help of the many great partners who stepped forward," says Mike Snowberry, the district's director of learning services, who is spearheading the program. "One of the things that I tell people is, if you invest in us, we're going to invest back in you. What gets me excited every day is helping students find their purpose."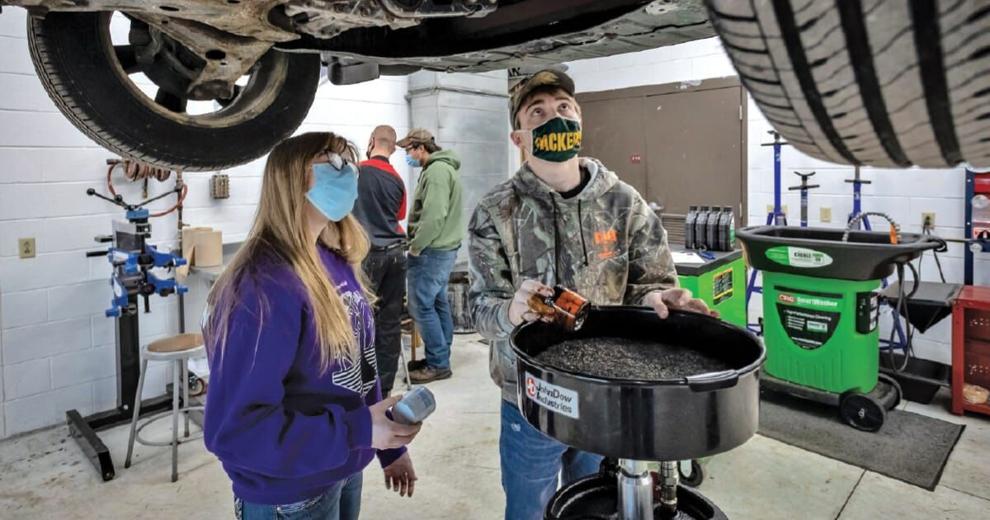 Although Luxemburg-Casco's automotive technician program is less than a year old, the district plans to launch a diesel maintenance technician program this fall. Working again with NWTC, the program will be the first of its kind in Wisconsin, Snowberry says. 
"The program is similar but is geared toward working with diesel vehicles, so trucks, and this too is another in-demand skill," he says.
Johnson is excited for the program. "I already feel the energy and interest for the diesel program next year and anticipate the demand for the program to grow in this area," she says.
When students finish the diesel technician program, Francisco says they can either enter the workforce or pursue additional education. "There is such a high demand for these jobs. It's definitely a unique partnership between the school, higher education and industry," he says.
Francisco praises Luxemburg-Casco for allowing students to explore careers before graduating high school. 
"They have been very forward-thinking and progressive in realizing that not every good job requires a four-year degree," he says. "Auto techs are highly trained and use a lot of technology."