When Jesse Falls finished his time serving in the military, he knew he wanted to pursue a career in manufacturing. His military work prepared him well for the job he took four years ago as a materials distribution coordinator at CMD Corp. in Appleton.
Falls says his role, which involves coordinating the receipt and disbursement of purchased and fabricated parts for the company's manufacturing operations, leaves him with a sense of satisfaction, and he's formed close relationships with his fellow team members.
"Every day, it's always exciting to come into work. The culture is great," Falls says.
The leaders at CMD care and make looking after employees' wellbeing a priority, he says, and that's been especially true during the challenging time of the pandemic.The adversity has brought his team closer together than ever before, he says.
Falls also sees himself taking on bigger roles in the future and knows the company's leaders will support him in that. "There are always going to be opportunities to excel and also to (look at) exactly what you bring to the table. They've never shot anybody down with ideas," he says.
Attracting young talent like Falls has become a major focus for many manufacturers as they look to replace retiring baby boomer workers.
While the pandemic brought a new set of challenges to manufacturers, an old one — attracting and retaining workers — never went away. In WMEP Manufacturing Solutions' latest Economic Crisis/COVID-19 Manufacturer Pulse Survey, 18 percent of respondents cited finding and keeping employees as their No. 1 concern, trailing only the 21 percent who identified a decline in sales as their top concern.
"Recognize that structurally in our economy, the whole search for not just finding people with the right skills but finding people in general and then keeping those employees was a concern that's being driven by demographics. We're starting to see this concern, which was there all along, begin to reemerge," George Bureau, vice president of consulting services at WMEP, said during a webinar at the Manufacturing First Expo & Conference.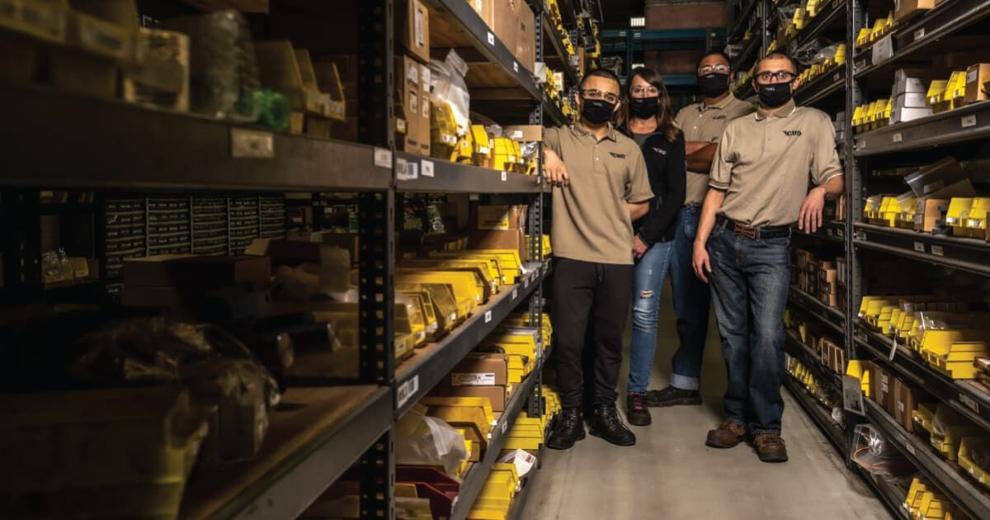 Winning formula
CMD President Ricardo Abud says the company, a maker of equipment that produces bags and pouches that also has an energy equipment division, has hired 39 new workers since the beginning of 2020, most of those being younger workers.
CMD thrived throughout the pandemic and is headed toward a record year. The manufacturer makes around 90 percent of draw-tape trash bags sold in the United States, and Abud says more people staying at home means they're consuming more food, and thus more trash bags as well.
The company, which employs about 200, has a good mix in terms of age, Abud says, with a makeup of about 30 percent Generation Z or millennials, 45 percent Generation X and 25 percent baby boomers. To head off losing that baby boomer expertise, CMD has created training cells that pair seasoned workers with new talent.
To attract new talent, CMD partners with the University of Wisconsin-Madison, UW-Milwaukee and the region's technical colleges to offer internships. It also enjoys many employee referrals.
When selling the company to prospective employees, Abud says CMD emphasizes its commitment to advancing technology. It also offers competitive benefits, work-life balance, a good number of holidays and allows some positions to work remotely.
The company culture, however, is the most important piece when it comes to attracting workers, Abud says. That shines through in activities like taco salad or popcorn sales with the proceeds benefiting a charity and paid time-off to volunteer.
"That participation, that sense of belonging is extremely important to attract employees," he says.
A strong company culture is also what makes Melissa Hudson and Michael Keenan, both coating operators, enthusiastic about working for Heartland Label Printers in Little Chute. Both Hudson and Keenan were named 2021 NEW Manufacturing Alliance All Stars.
Hudson started her career as a diesel mechanic but wanted to get into production, which led her to Heartland. "I like that it's different every day. There's always something new going on," she says of her work.
Beyond the work, Hudson says she likes the people she works with and enjoys the gratification of starting with raw material and transforming it into a polished finished project.
Business is also going strong at Heartland, with the company making labels for industries including pharmaceutical, grocery and food ordering businesses like EatStreet.
Keenan began working at Heartland during the summer while he was attending college and liked it so much, he changed his career path. He says he benefited from the help of mentors and now has become one himself. "It feels good to be able to move people in the right direction," he says.
Andy Preissner, human resources manager for Heartland, says the company has a philosophy of finding the right type of people and then helping them succeed. It's also developing training programs to help workers increase their skills.
As long as employees have a strong work ethic, Heartland can train them, Preissner says. In the year he's been with the company, Heartland has hired people with prior printing experience, a car mechanic, retail workers and fast-food workers who like the fast-paced and ever-changing environment that Heartland provides.
"I'm a firm believer in taking care of those who take care of us. Individuals who do right by us, I want to make sure we take care of them," he says.
That includes offering flexible schedules, fair compensation and opportunities for advancement. Heartland's facility also has LED lighting, creating a well-lit environment, and air conditioning. In addition, it offers engaging work that's not repetitive.
Preissner says Heartland is not facing a large exodus of retiring workers, as most of its workers are younger to middle-aged. The company is most in need of production workers.
"You're going to come to work, you're going to get your fingernails dirty, but you're going to be challenged. As long as you like challenges and troubleshooting, you're going to have fun," he says.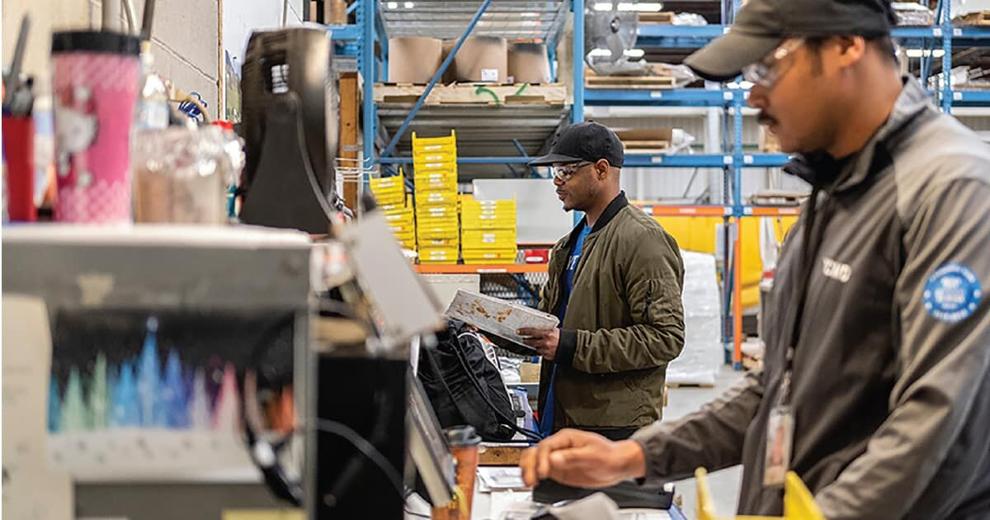 All hands on tech
Carly Kroll, director of education for New Resources Consulting, says the manufacturing industry needs to work on marketing the high-tech career opportunities it offers.
New Resources Consulting, which specializes in finding and placing talent as well as improving, innovating and customizing software, recently presented the results of a Dell study to the NEW Manufacturing Alliance as well as sharing other ideas for recruiting young talent. The study found that millennials are more likely to stay at a job if they feel the technology is cutting edge.
A person with a technology background may not think of manufacturing as a top option, but plants increasingly offer positions at all levels the chance to work with technology such as robots, artificial intelligence and Internet of Things, she says.
"It has everything people are looking for in a job. They just don't think manufacturing when they think dream job," Kroll says.
To catch the attention of younger workers, it's wise for companies to focus on innovation and emerging technologies they work with and to word role descriptions thoughtfully, emphasizing ongoing opportunities and support for career advancement, she says.
Given the state of the economy, manufacturers may also have the opportunity to attract workers from other sectors that are suffering, such as the hospitality and service industries. The window to reach these workers may be brief, so Kroll says the time to act is now.
To attract workers from other industries, manufacturers should find ways to connect people's current skill sets to manufacturing roles. A hotel front-desk worker could transfer those skills to an administrative assistant role at a manufacturer, or a restaurant manager could manage workers on a factory shop floor, for example, she says.
"This is an entire labor market that we can tap into and try to shift them into manufacturing," she says.
What workers want
In late 2019 and early 2020, Element, a De Pere-based advertising and content marketing firm, conducted research for NEWMA. It completed focus groups that led to a survey that was given to 18- to 30-year-old workers at NEWMA member organizations. A nationwide control group took the 31-question survey, along with 119 young workers from around the region.
The survey revealed that young people living in Wisconsin have a positive perception of manufacturing jobs and enjoy the benefits of living in the Dairy State. While people outside the state also had positive perceptions about manufacturing careers, their sentiments toward Wisconsin were a little more tepid, with "cheese" and "cold" topping the list of word associations.
People living in Wisconsin said they most value the state's outdoor and recreational opportunities, while those outside the state placed top value on Wisconsin's low cost of living. That insight can help companies tailor messages to specific audiences, says Mike Dockum, an account strategist for Element.
When it comes to getting people to look at a company, Indeed was the No. 1 resource respondents looked to, coming out far ahead of Glassdoor as well as LinkedIn and other social media sites. Therein lies an opportunity, Dockum says, as many companies haven't optimized their Indeed presence.
"How are you showing your audience that you understand them if you're not optimized in the place they're looking first?" he says.
Optimizing an Indeed page is neither complicated nor time-consuming, Dockum says. It starts with the company claiming its own Indeed page and taking steps such as posting pictures and answering both positive and negative reviews openly and honestly.
A company's website came in as the No. 2 most credible resource for candidates. Dockum advises businesses to assess their website through a candidate's eyes.
If a business can't afford a complete website overhaul, which can bring a cost on par with a capital expense, creating a dedicated careers page within the site is a good first step, he says. The careers page should send an aspirational message that the company is the kind of place someone would be proud to work.
"It's a change of mindset for people to start thinking of digital property being just as valuable as a physical one, but in a lot of ways, it is providing that value to you in ROI and your bottom line in the same way that capital investments can," Dockum says.
As for making the workplace itself appealing, the survey showed that after compensation, young workers prize flexibility above all other benefits, including health care and 401(k) matching. Providing a little flexibility can be a big differentiator that doesn't carry a big price tag. Offering a little more vacation time, for example, is less costly than many other benefits, Dockum says.
In addition to flexibility, workers want to see opportunities for advancement. Companies can share they have both management and non-management tracks.
"(People) definitely want to see multiple career paths for themselves," Dockum says.