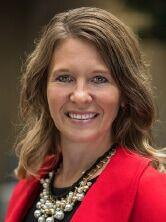 It was just over a year ago that Microsoft launched TechSpark in six rural and smaller metropolitan communities nationwide, including Northeast Wisconsin, and already it has accomplished much. The national civic program is designed to foster economic opportunity and job creation through community partnerships. Michelle Schuler, manager of Microsoft TechSpark Wisconsin, connected with Insight reporter Jessica Thiel to discuss why the company chose Northeast Wisconsin, progress it's made toward its goals and partnerships with organizations ranging from the Green Bay Packers to Appleton's Riverview Gardens.
Insight: What factors led Microsoft to create TechSpark?
Michelle Schuler: Microsoft created TechSpark to help foster civic opportunity and job creation in communities across the United States. Our economy is changing due to automation and cloud computing, for example, and today's jobs increasingly require new skills. According to the Markle Foundation, there are 7.3 million fewer jobs in the United States today for people with high school degrees, compared to the number of jobs in 1989. At the same time, 6 million jobs in our country go unfilled due, in large part, to the shortage of skilled workers. In addition, approximately 19.4 million Americans who live in rural communities lack access to the economic, educational and health opportunities that broadband internet provides. These are some of the challenges we are helping address through TechSpark.
Insight: Why is Microsoft TechSpark investing here in Northeast Wisconsin?
Schuler: TechSpark is in six regions around the United States, and each region is unique. Northeast Wisconsin was chosen because of the collaborative nature of the community. It's why we have seen success bringing programs like TEALS (Technology Education and Literacy in Schools), which puts technology into classrooms to "team-teach" computer science, and teacher training from Code.org, into the Northeast Wisconsin ecosystem. The community came together to facilitate these programs.
Insight: How did Microsoft go about identifying its initiatives, and what progress has it made?
Schuler: Microsoft TechSpark has five pillars: digital transformation, digital skills/ computer science education, career pathways, support for nonprofits and rural broadband. Here are some examples of the work we're doing in Northeast Wisconsin. First, our digital transformation work is about helping startups, young companies and established businesses use technology to digitally transform and have an even bigger impact. For example, TitletownTech is a partnership with the Green Bay Packers and the University of Wisconsin System that works with new startups, growing companies and established businesses in traditional industries to develop their own digital technology advancements and foster economic growth. We're excited that TitetownTech will open next year.
Our digital transformation work also is integrated into the support we provide to nonprofits. For example, Microsoft has partnered with Riverview Gardens, a "no fail" job training program for people who have faced homelessness and other barriers to employment. We are helping the Appleton-based nonprofit use technology to increase the efficiency of its programs, which include an emphasis on learning farming techniques, so they can serve even more clients.
Our career pathways work helps ensure all workers are empowered to gain relevant skills, no matter where they are in their careers, to succeed in our new digital economy. In Northeast Wisconsin, Microsoft partners with Bay Area Workforce Development and the NEW Manufacturing Alliance to enable people to acquire new skills and connect with jobs that require less than a traditional four-year college degree. This partnership is working on defining what new jobs exist and how to skill people for technology-related jobs.
Regarding rural broadband, Microsoft's Airband Initiative is helping close the rural broadband gap across the United States using TV White Space technology, which leverages unused broadcasting frequencies and other technologies. In February, Airband partnered with Packerland Broadband to provide broadband internet access to approximately 82,000 people living in rural regions of northern Wisconsin, along with the Upper Peninsula of Michigan, over the next four years. There also has been a tremendous amount of work done helping students gain access to digital skills. Our goal is to learn about local challenges and partner with the community to find solutions. Our initiatives evolve over time, based on what we have learned, to continually ensure we are supporting the community to the best of our ability. We plan to share what we've learned more broadly to help others who are working on these issues around the country.
Insight: What's new with the TEALS program and other education initiatives?
Schuler: When it comes to digital skills for young people, Microsoft partners with nonprofits and schools to strengthen their ability to offer computer science education. There is a national shortage of computer science teachers, so we've brought in programs like Microsoft TEALS and Code.org to help provide training and other support for teachers. We are also working with the NEW IT Alliance, a group of local industry leaders concerned about the widening gap in the supply of technology talent, to bring more access to digital skills and computer science education to schools in Northeast Wisconsin.
Insight: Insight Publications has launched a magazine devoted to technology, and Microsoft created this program to foster economic opportunity and job creation. Why is technology an important focus right now?
Schuler: We now live in a digital economy, and the skills needed to succeed in that economy are changing faster than ever before. The jobs of tomorrow don't exist today because of technology such as AI and the cloud. As we see society moving to be more and more technical, we believe it is our responsibility to help people benefit from the change it brings.