It's almost unimaginable — the Green Bay Packers playing in an empty or nearly empty Lambeau Field — but it looks like that's how the upcoming season will go for the Green and Gold. For all of the businesses across the Green Bay area that rely on fans to stay in the black, there is no question it will be a challenging fall.
Each Packers home game generates an estimated $15 million in direct and indirect economic benefit in Brown County, so a loss of the 10-game season would top $150 million, with hotels and restaurants taking the biggest hit.
The Packers announced a maximum of 12,000 fans will be allowed inside Lambeau for each home game and that number may go lower. Fans will need to practice social distancing and wear masks.
While tourism officials wait to calculate the economic fallout of limited fans at games, they already know local businesses will be hit hard by the Packers' decision to keep fans away from this year's training camp and Family Night. Many hotels and restaurants rely on fans from across the state and nation who travel to Green Bay to watch practices and soak up the atmosphere.
The Greater Green Bay Convention and Visitors Bureau estimates training camp and the Packers Family Night have about a $9 million to $10 million impact on the area. As for the preseason games being played at Lambeau Field without fans, that would be a loss of $15 million in spending at local businesses, from restaurants and hotels to gas stations and retailers. In short, it would devastate the Green Bay tourism economy.
Green Bay is not alone in seeing its tourism income decline. According to the Wisconsin Department of Tourism, the state tourism industry has lost more than $1 billion due to the COVID-19 pandemic.
Events are a popular summer tradition in Wisconsin, but this year has been a different story as the COVID-19 pandemic canceled nearly all community events, including EAA AirVenture and Mile of Music. Many prospective visitors are opting to stick closer to home.
The cancellation of popular events is not only an emotional struggle for many, but it also creates an economic challenge for the communities that host them.
Oshkosh has been hit hard with large annual events including EAA AirVenture, Country USA, Rock USA and Lifest all taking the year off.
"UW-Oshkosh did a study two years ago that looked at the economic impact of AirVenture on Winnebago County and surrounding counties," says Amy Albright, executive director of the Oshkosh Convention and Visitors Bureau. "They found that the impact of that one event — which is seven days and draws 600,000 people — is $170 million."
In Sheboygan County — another highly anticipated event — the 2020 Ryder Cup was postponed to 2021. The tournament, which brings together the best American and European golfers, was to be played at Whistling Straits in Haven next month. The Kohler Co.-owned course will now host the rescheduled tournament in 2021, which is expected to deliver a $135 million economic impact to the region.
The Fox Cities also experienced a dip in tourist dollars, although not quite as extreme since it hosts events on a smaller scale. The area does experience an economic benefit from EAA and other major Oshkosh events as visitors look outside the city for a place to stay as hotels fill up.
"We've lost 13 convention events with an estimated impact of just under $1 million," says Pam Seidl, executive director of the Fox Cities Convention and Visitors Bureau. "We do a lot in the sports market and, from that group, we've lost 40 events with $2.2 million in economic impact. As we go into fall and the pandemic continues, and we keep losing things, those numbers will grow."
Jon Jarosh, director of communications and public relations at Destination Door County, is waiting on data on this summer's tourism numbers, but said, anecdotally, travel has been slower than what he's see in a typical season. Many weekend celebrations, such as Fyr Bal Festival in Ephraim, have been canceled, and the stage remains dark for the Peninsula Players Theatre and the Northern Sky Theater, which recently canceled its fall season as well.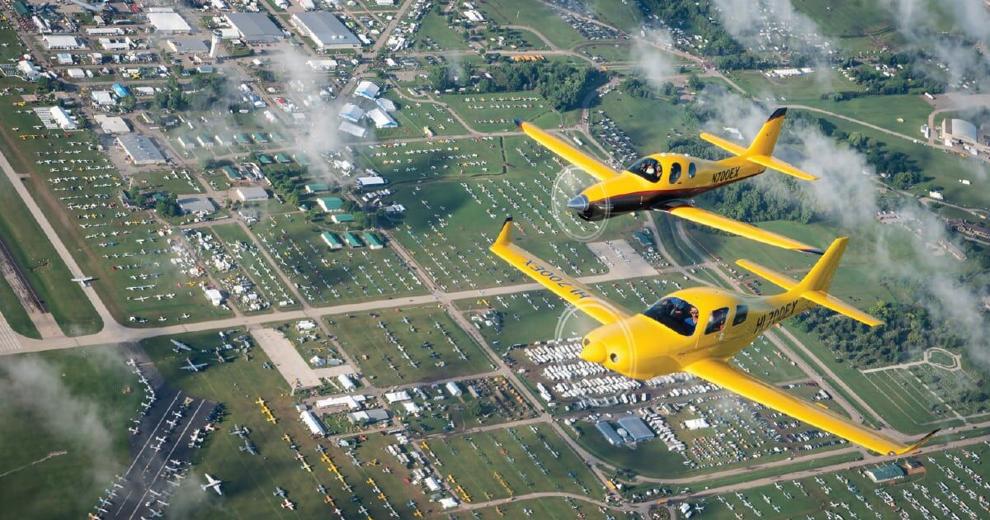 Looking for answers
Leaders in the tourism and hospitality industry don't sugarcoat it: There's no quick fix for making up the millions of dollars lost due to canceled events and reduced travel.
However, that doesn't mean they're ready to write off the entire summer — which is typically the state's peak travel season. Promoting travel in this climate is tricky, but convention and visitors bureaus have risen to the creative challenge.
"We know that people are still willing to jump in their car, so we've really been focused on a three-hour-drive market," Albright says. "We're talking about Oshkosh as a great day trip."
Jarosh touts Door County's natural beauty and outside activities including hiking, biking, fishing, boating and even outdoor dining.
"We're promoting a lot of outdoor recreation," he says. "We're well-positioned here in Door County to be able to provide a destination that has options for people to keep distance from others."
The Fox Cities is implementing similar strategies, while also being mindful of its messaging. "We've tried to support messaging about healthy versus safe," Seidl says. "The Fox Cities has always been a safe place to visit. Now, it's about staying healthy while you're here."
Jarosh says Door County businesses have made a commitment to making their premises as safe as possible for guests, which means wearing masks, social distancing in restaurants and limiting the number of people inside a business. The area also offers a lot of outdoor dining options, helping restaurants make up the difference for tables left empty inside due to social distancing.
With concerns about travel, more consumers are opting for a staycation. "If you live here but want to get out of your own house, we're promoting things people can do — from spending a weekend at a local hotel to getting takeout from a restaurant to enjoying some of our outdoor recreation locations," Seidl says.