When Immel Construction owners were looking to move on, they were faced with a couple of options about what to do next: Sell to another company or sell the business to its employees through an Employee Stock Ownership Plan. As the leadership team learned about ESOPs, they became more intrigued by the idea, says Paul Martzke, director of business development for Immel Construction.
"It allows for the culture of Immel Construction to continue. If we were sold to another firm, that culture and legacy would be lost," says Martzke, who was involved in the discussions. "We also saw other construction companies go this route and thought it would be a successful endeavor."
On Oct. 23, Immel Construction announced its transition to employee ownership. Martzke says Immel will continue to operate under the same business model and structure to ensure customers' needs are met.
Immel is part of a growing trend of businesses turning to employee ownership.
"More business owners are taking a look at ESOPs, and their popularity is on the rise," says Aaron Juckett, president and founder of ESOP Partners in Appleton.
Juckett says the two main reasons for the increase are transferring ownership without losing the company's culture and the realization that ESOPs are a powerful tool to attract and retain talent — something many companies are interested in.
"ESOPs are another benefit that can be offered to employees," he says. "This isn't something to replace your 401(k); it's a wealth builder."
While Immel is just beginning its ESOP journey, Keller Inc. in Kaukauna has been owned by its employees for 33 years.
"We're a mature ESOP. We're one of the oldest ones around here," says Keller President and CEO Wayne Stellmacher. "The ESOP has been a win-win for employees and customers. For employees, they get a piece of ownership, so they tend to be more productive, which means customers win since they're getting more value."
Sharing ownership
Just as no two businesses are the same, the same can be said for ESOPs and how they are structured. For the most part, ESOPs are another wealth-building option for employees to have in addition to their 401(k) accounts. The number of shares employees own may differ based on their role in the company and how long they have been there.
The stock price is determined by a third-party expert after looking at the business's finances and its outlook. The stock price then stays the same for the entire year. The time when an employee qualifies to be part of the ESOP also varies from business to business.
When employees leave — whether it's retirement or a move to another opportunity — their stock is repurchased by the business, but Juckett adds it's usually not an immediate payout.
"You may have to wait until the stock price is set. For example, let's say you leave in November, but you may not get your payment until the stock price for 2019 is settled in April or May of 2020," he says. "It's still a quality investment for employees to have."
Stellmacher says "ESOPs are the greatest example of American capitalism. You graduate from high school, take a job with us and you have the opportunity to earn ownership in where you work."
While any type of business can become an ESOP, Juckett says they need to meet several standards. First, the company should be in a good financial position and employ at least 10 to 15 people to make all the numbers work.
"The IRS has some compliance testing, and there are state standards in place, but the consultant you're working with — and you need help to navigate the process — will be a big help," he says.
Greg Linnemanstons and his wife Meg Hoppe, the majority owners of the Weidert Group in Appleton, turned to a consultant to help them determine if an ESOP would work for their company. After several years of strong growth and retirement inching closer every day, Linnemanstons viewed an ESOP as a way to start seeing some of the financial benefits of their hard work while maintaining a leadership position. In the case of the Weidert Group, the ESOP is self-financed, so the ESOP trust pays back the sales price to original owners over a 10-year period.
"As long as you stay profitable, everything will go well," says Linnemanstons, who serves as Weidert's president. "We put a lot into this company, including taking out a second mortgage on our house to keep it going during the lean years. Profits were plowed back in. We were looking to get some of the equity we put in without causing a disruption, which normally happens when a new owner comes in. We also wanted to still work for a while. The ESOP offered the best option."
For employees — now owners — the ESOP provides increased motivation to grow the company, he continues. "If the business grows in profitability, the value of their ESOP accounts will grow. It makes everyone think like a business owner in the way they treat clients, protect the company's assets and price their services," Linnemanstons says.
For a small business like Weidert, Linnemanstons says having an ESOP in place will help when it comes time to transition leadership. "Employees are really doing their best to grow the business, and when the time is right, leadership will be handed over to the next generation."
There's another benefit for employee-owned businesses — provided they meet several rules, the company no longer needs to pay federal income tax, so the company can retain its earnings and put them right into the ESOP, Linnemanstons says.
"The tax savings can help fund the costs of running the ESOP," he says.
ESOPS vary in their structure. For example, OwnersEdge Inc. is unique in that it's a holding company for other ESOPs. Headquartered in Waukesha, it got its start when CC&N — an ESOP in its own right — had a lot of cash in the bank and sought to diversify its employees' retirement plan, says CEO and Chairwoman Lisa Reardon.
"The holding company helps us drive growth and value for our employees — as well as for the employees with these other companies," she says.
Reardon is selective in determining if another ESOP can join OwnersEdge. She looks for businesses from varied industries and backgrounds. Those businesses benefit from shared resources, including ESOP administration and some back-office duties. Right now, OwnersEdge consists of five affiliates, including Baycom in Green Bay and QComp Technologies in Greenville.
"Selling the business to our ESOP holding company can mitigate some of the pitfalls some businesses run into when creating an ESOP," Reardon says. "And as one company grows, all the employees at these businesses benefit."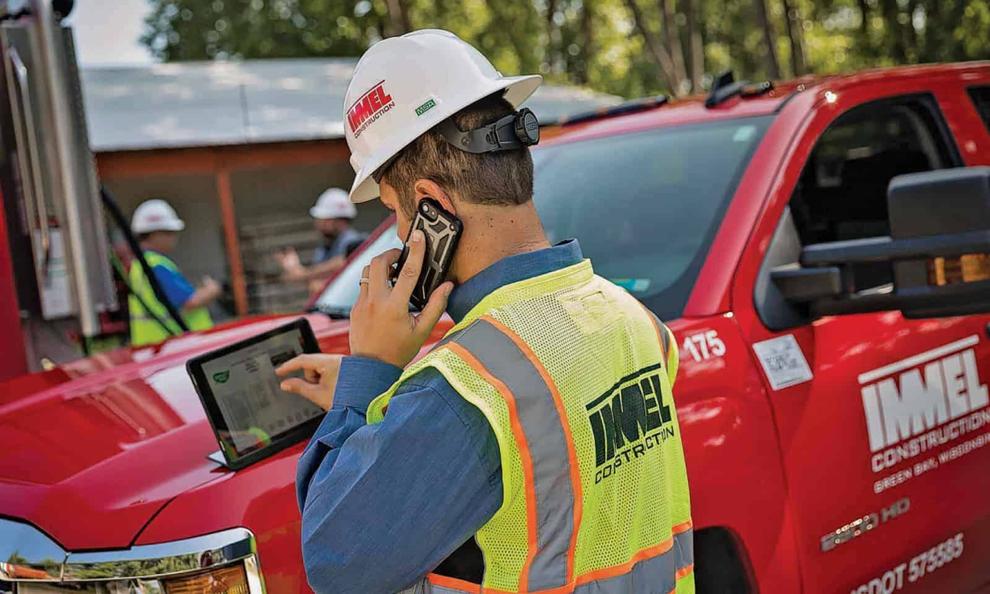 Intangible benefits
At a time when employers struggle to attract and retain workers, being an ESOP can be a real asset, Stellmacher says.
"People knock on our doors (at Keller) to work here," he says. "They hear about our culture, plus the benefit of being an ESOP. It's definitely an excellent attraction and retention tool."
Linnemanstons agrees with Stellmacher's assessment that an ESOP can help attract new workers and keep them once they're aboard.
"An ESOP provides employees with sustainability, especially in a small business," he says. "We have some younger workers who may worry about a smaller business's vitality and if it will be swallowed up by a larger company."
With the ESOP in place, Linnemanstons immediately noted an impact in the hiring process. "Those coming in see they can begin to accumulate wealth being a shareholder in the business," he says. "That's especially attractive to younger talent."
After going through the ESOP process, Martzke and other Immel leaders are excited about what it will mean for the company's future. "We're just getting started as an ESOP, but getting here has been a great process," he says.
Considering an ESOP?
For businesses thinking of becoming an ESOP, Immel Construction's Paul Martzke says it's something a company needs to plan and prepare for. For example, there are extra costs since special consultants need to be hired to help develop and execute the plan.
"This is something that takes time," says Martzke, adding that planning began in January 2018 and took more than 18 months to finalize. "We did a lot of research and talked with other ESOPs. We joined an organization for ESOPs before we became one so we could attend conferences and informational sessions to help us in our path."
Aaron Juckett, president and founder of ESOP Partners, agrees businesses need to connect with consultants as they consider becoming an ESOP. In addition, the ESOP will need to hire a third party to administer the ESOP as well as bring in someone each year to go over the business's records and determine its stock price for the coming year.