A year from now, the corner of Oneida Street and Armed Forces Drive in Ashwaubenon will have a completely different look as the new Brown County Exhibition Center opens.
The $93 million center will bring a whole new dimension to the Green Bay area's convention and meeting space, says Brad Toll, president and CEO of the Greater Green Bay Convention & Visitors Bureau. While the area has the KI Convention Center and the Radisson Hotel and Conference Center, the Resch Center and the Lambeau Field Atrium to host large events, there was no space clearly designed for exhibitions, he says.
"We're excited about having 125,000 square feet of flat floor space," Toll says. "It's really a unique space and opens up a whole new market for us. We'll be able to host huge trade shows as well as some sporting events."
The second floor of the exhibition center will include six rooms that can be used for planners or for smaller presentations. The space also offers a bar that can be used during receptions.
"The building is very flexible. We can divide the expo space," Toll says. "Outside, there will be a deck that overlooks Lambeau Field that can also be used."
The exhibition center will be connected to the Resch Center, so there's a possibility of using both spaces for a single event. PMI will sell the building, and the convention bureau will search for leads.
"We already have some events lined up and the interest has been high," Toll says.
The new building replaces the old Brown County Arena and Shopko Hall, which both had some structural issues. "Those two spaces weren't designed as big expo spaces," Toll says.
The exhibition center, which will open next January, is being funded through the county's room tax.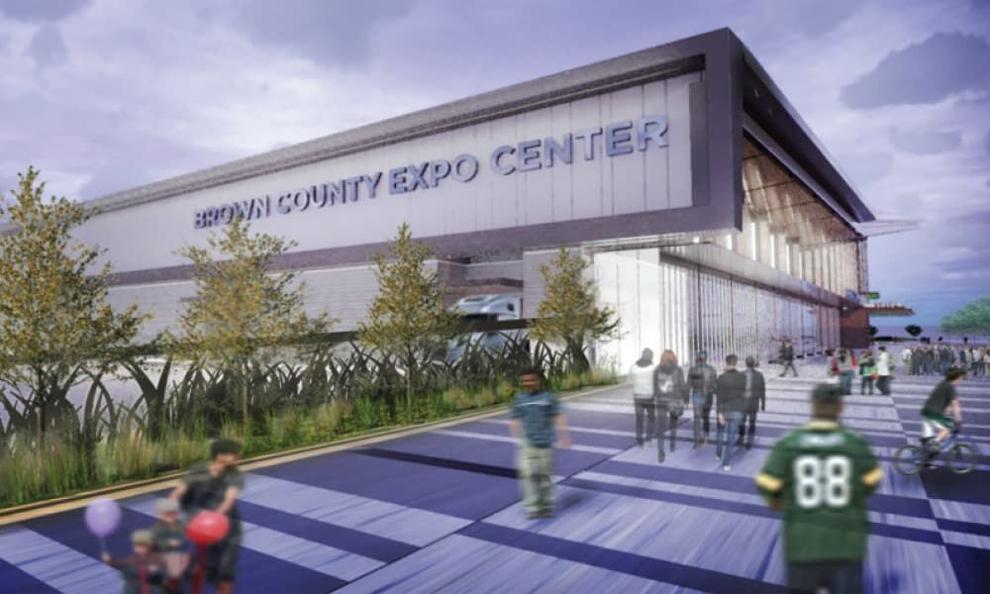 Window to the world
Austin Straubel International Airport continues to see growth in passenger traffic and the number of flights. In the past year, the airport welcomed a new carrier, Frontier Airlines, which added seasonal flights to Denver and Orlando, says Airport Director Marty Piette.
"It was great being able to add that fourth carrier. It's a big deal to bring in a new carrier. They do a lot of research to see what the potential support could be," he says. "Now that these flights are here, we need to support them so they continue."
Piette says most of the flights to Denver were at or near capacity, and the Orlando flights, which recently started, also seem popular among area residents.
"Our goal is to get more people to start their trips here rather than driving to Milwaukee or Chicago," he says. "It's more convenient — no long drives, don't need to worry about getting a hotel or paying a large amount for parking."
United Airlines, one of four commercial airlines at Austin Straubel, recently started operating the CRJ-550 aircraft at the airport. The airplane seats 50, including a first-class section, and has plenty of storage for carry-on bags.
In addition to offering commercial flights, Austin Straubel is home to two fixed base operators — Jet Air and Executive Air — which provide maintenance to private airplanes, airline and general aviation fuel, charter services and pilot training. Piette says a lot of private planes fly in and out of the airport, with home Green Bay Packers games and the Experimental Aircraft Association's annual AirVenture each July providing the highest traffic levels.
The airport recently completed a ramp expansion project to provide more parking space for planes.
"We easily have 200 to 250 extra planes here for every Packers game," says Piette, adding the airport expects more private planes than usual this September when the Ryder Cup comes to Whistling Straits in Sheboygan County. "We have an onsite customs site that our private planes can use. They can fly in here, use our customs service and then stay here or fly on to their final destination. That makes us attractive to some travelers."
Passenger traffic increased 9.9 percent in 2019 from what it was in 2018, with 710,742 passengers flying in or out of Austin Straubel, Piette says.
"We want to match what the community is asking for," he says. "We talk to businesses about their needs and then talk to airlines about possible flights that could be added to meet those needs. It's an ongoing endeavor."
During the next few months, Piette says the airport will begin working on the terminal's "front door" area to make it more welcoming to travelers.
The airport recently added a designated marketing person, who Piette says will focus on increasing Austin Straubel's visibility among area residents and educate them about all the available options.
Room to grow
Several Brown County businesses outside of the City of Green Bay are adding on to their space or building new locations to better meet the needs of their organizations.
In Howard, Nouryon Pulp and Performance Chemicals LLC is expanding its manufacturing facility in a project worth $99 million. The project, which has the potential to receive up to $850,000 in tax credits from the Wisconsin Economic Development Corp., is expected to create 56 new jobs.
UnitedHealth Group is leaving its current headquarters in Howard and relocating to a new $35 million, 174,000-square-foot building in De Pere. The move, which is expected to be complete next year, will provide UnitedHealth Group with a smaller footprint, as more of its employees work from home, while also creating more flexible spaces. With more than 1,000 employees, UnitedHealth Group is one of the county's largest employers.