Secura Insurance's nearly$100 million new headquarters in Fox Crossing features the latest technology and employee amenities, including a cafe, outdoor walking trails and onsite health clinic. But for President and CEO Dave Gross, his favorite aspect is its multipurpose room, complete with basketball hoops, that can be used for exercise classes, trainings or meetings.
"One of the things I love most about that space is we will be able to have all our associates in one room at one time for presentations," he says. "I'm really going to appreciate having all of our associates under one roof again. It's been hard having some of the team located elsewhere."
During the past five years, Secura has experienced tremendous growth, with its surplus soaring to a new high of $461.5 million in 2018 and its total assets surpassing $1.3 billion — another record. That continued growth has meant additional employees, and in 2015, the company began renting space in a building a few blocks away from its then-full headquarters on Memorial Drive in Appleton.
Gross says the new 300,000-square-foot headquarters on County CB strikes a balance between providing a comfortable place where employees will want to come to work every day and a highly productive workspace using technology and industry best practices, allowing the insurer to continue its growth.
"Balance is a part of our culture and critical to our organization's success," says Gross, who became CEO in 2014 and is only the company's fifth CEO in 119 years. "A balanced employee is a happy employee. We want to be more than just a place to get a paycheck."
That focus on balance underwrites everything Secura does, from finding the right mix of policyholders to how the organization treats its employees. And, according to Gross, that singular focus will help Secura stay successful in a tough industry that's seeing increased competition from online rivals.
"We've had tremendous success in the past five years. I think the next five years are going to be even more exciting," he says.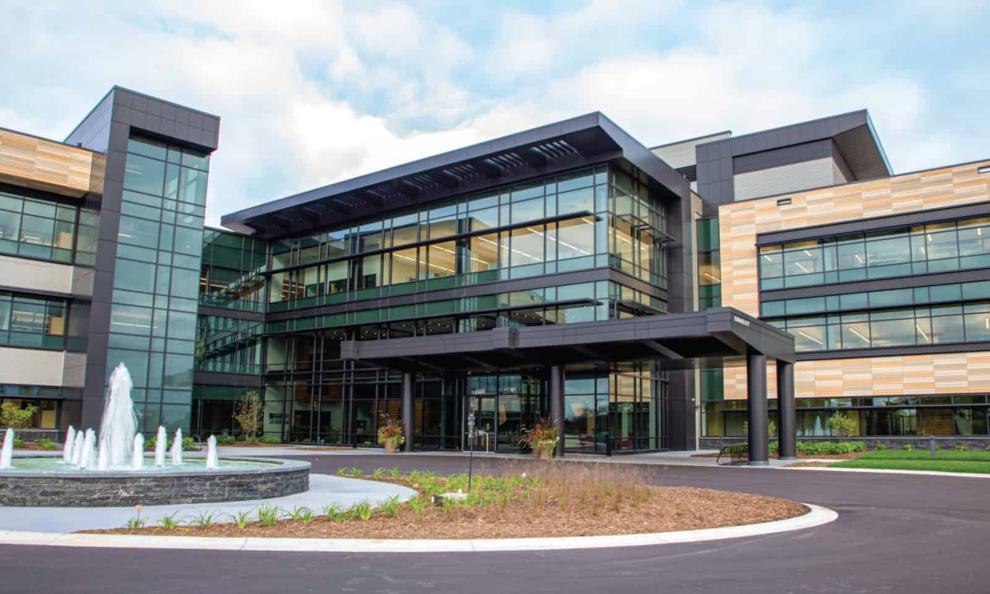 Focused on employees
Research shows happy employees are more productive — something Becky Doell, Secura's director of human resources, sees daily at Secura.
"One of our core principles addresses the balance between work and personal life," she says. "Employees who are healthy — not only physically, but also emotionally — are more productive. Creating a place where employees can be their best selves is not only good for the employee, but also good for Secura."
Secura's new home features several amenities designed to improve worker health. Its larger onsite cafe includes an outside patio eating area, and the facility offers internal and external walking paths, a yoga studio, a larger wellness center, collaborative work areas and the aforementioned multipurpose room.
Secura's commitment to wellness — including helping employees create work-life balance — flows down from the top, Doell says. "Our CEO and executive team are very supportive. Here, it's OK to take time for yourself if you need it."
And the company's new headquarters even has a special place for that.
Secura's reflection room provides employees with a chance to step away from their workstations to relax and take some time for themselves. The room offers a quiet, calming environment with comfortable chairs.
"The reflection room is a special place where an associate can get away for a few minutes. Maybe they're going through something challenging in their life and they need a place to just center themselves before going back to work," Gross says. "It's not only about having a healthy body, but a healthy mind, too."
Cathie Tierney, president and CEO of Community First Credit Union and a member of the Secura board of directors, says the organization realizes it's the whole person who comes to work each day.
"Secura has a true and genuine commitment to their employees, agents, policyholders and community," she says. "Secura is a successful company, and that doesn't happen by accident. They are incredibly well run."
The focus Secura puts on its employees hasn't gone unnoticed. For the fourth consecutive year, the company was certified as a Great Place to Work, which is determined by an independent analysis based on employees' anonymous surveys. The Wellness Council of America also named Secura a Platinum Well Workplace Award winner.
"Ninety-four percent of our employees rate us as a great place to work. We don't take that for granted," Gross says. "It's important for us to be real to each other. We work hard, but we also have a lot of fun team activities."
The Secura leader admits when he hears peers in the region as well as in the industry talk about having trouble attracting talent, he stays quiet. "It's really not too big of an issue here," says Gross, adding the company has a 2 to 3 percent voluntary turnover rate. "We definitely grow from within. If we find talent, we can keep them."
Gross is a product of that "grow from within" philosophy.
He joined Secura in 1997 as vice president of sales and marketing, before later being named senior vice president
of underwriting operations. In 2013, Gross was named president and chief operating officer and stepped into the CEO role after John Bykowski's retirement. "I added to what I do here by putting up my hand and saying, 'Yes, I'll try that or take it on,'" he says.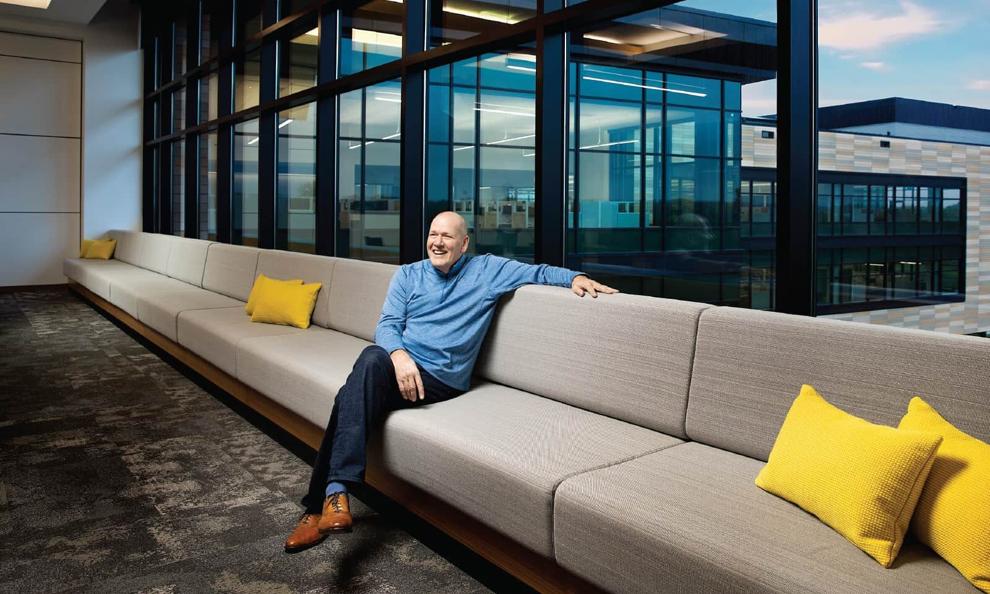 Deep roots
The company now known as Secura was founded in 1900 when Julius Bubolz and other Outagamie County farmers banded together after a devastating windstorm to create the Farmers Home Mutual Hail, Tornado & Cyclone Insurance Co. (the name was changed in the 1980s). Through the years, the company continued to grow and eventually expanded beyond ag-related products.
"The Bubolz legacy is alive in our new campus," Gross says. "Our building sits in a living, breathing landscape. There's walking trails and a stream running through the property. It's tremendously exciting to be in a facility that I believe our founding fathers would be proud of."
The company's long history has led to strong community ties. When Gross first arrived at Secura more than 20 years ago, one of the first qualities he noticed was the organization's commitment to the community.
"I could see right away that this was a special place with how the nonprofits were supported," he says. "It's really important for us as an organization to give back to the community, and it is definitely part of our company culture."
The United Way is the largest nonprofit Secura supports, and Gross says employees really "open up their hearts during the campaign."
In addition to employee donations, it holds several events to raise funds. One of those is Gross' legendary cookie sale.
"I love to bake, and I put in way too many chocolate chips," he says. "I love being able to connect my love of cookies to doing something nice for our employees."
During the United Way fundraising drive, he'll bake 1,000 cookies and sell them for $1 each.
"When they go on sale, they go fast," says Kristin Heiges, Secura's director of marketing. "There will be an announcement that the Buck Truck is coming around, and people are ready and want to make sure they get theirs."
This past year, Gross also made about 600 cookies for the United Way Annual Report to the Community.
"It all got started when I brought cookies to my first meeting as CEO and it just grew from there. I see it as an extension of my servant leadership philosophy — it's the least I can do."
Community First built a new headquarters just a few years ago, and Tierney says she and her team were eager to share what they learned through the process. "We were happy to provide that just as others were kind enough to provide that to us," she says. "The design of Secura's new building has such a focus on wellness. Everything, whether it's the water features or the prairie outside, is designed to what feeds our soul."
Today, Secura is sold in 12 states with nearly half (47 percent) of Secura's business related to its commercial lines, with its personal lines making up 26 percent. The remainder is divided between ag insurance and specialty insurance — for example, insurance taken out related to events.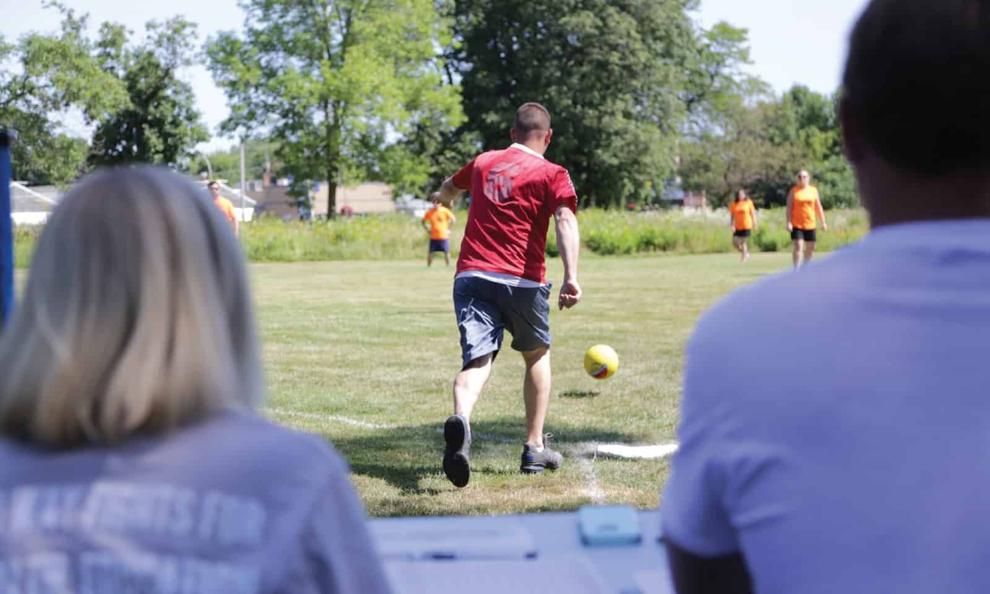 Customer-focused
There's more than one way to sell insurance, with options ranging from using a lizard in commercials to drive people online to buy a policy to working face-to-face with an agent. That agent may sell one company's products or policies from a portfolio of products. Secura's model is the latter, as it works with approximately 550 independent agents to sell its commercial and personal insurance lines.
"The model we have is the best way to connect with customers," Gross says. "With our distribution base, you need to be selective on who sells your products and services. We don't want to be on every street corner. We want agents that look and feel like us: community leaders and supporters."
Those agents are Secura's initial face to its customers. When something goes wrong — a fire, an accident, a severe weather event — that's when Secura's employees in the field and at the home office swing into action.
"In insurance, you buy a piece of paper as a promise that we'll be there when something goes wrong," Gross says. "When something goes wrong, that's when we mean the most to our insureds. When the wind blows, it's an opportunity for us to shine and to make people whole after a loss."
It's no secret climate change has led to more extreme weather events, but Gross says Secura is insulated from taking the entire financial hit by taking advantage of reinsurance. (Yes, an insurance company purchases coverage from another provider to limit its exposure risk.)
"We've had several years of bad weather, but with reinsurance, we don't always take all of the loss," he says.
One of the biggest industry changes, Gross says, is the use of technology. The company not only needs to be aware of how technology may require changes in its products — such as the kind of insurance product required for an autonomous vehicle — but also is investing in technology to help customers as quickly as possible, especially when disaster strikes.
"We have a series of tools for use by our risk managers and underwriters, including Go Pro cameras and infrared cameras," says Todd Thiel, Secura's vice president of information technology. "These tools allow us not only to underwrite risks more effectively, but to proactively warn the policyholder of potential risks they may not be aware of."
The new facility uses the latest in-office technology to help employees work as efficiently as possible, Thiel says. For example, conference rooms have standardized equipment, so employees don't have to worry about learning multiple systems, and all are equipped with bulb-less projectors and in-ceiling surround sound. Secura also has a 10-channel broadcasting system, so different meetings can be livestreamed into different rooms.
And if an employee can't make a meeting? Secura invested in a robot to help offsite workers feel more engaged during meetings. Employees dial in and their face is placed on an iPad screen that's situated on a moveable stand.
"Instead of being a bodyless voice on the phone, your co-workers can see you and you can see them and there's some ability to move around, so it's just like you're sitting there in the meeting," Thiel says.
Secura also has virtual desktops, allowing its employees to log in wherever they are, Thiel says.
"They can be on a laptop in the field — or at their home — and log in, and it will be just like they were working in the office," he says, adding the system uses the latest security measures, knowing how vital it is to keep customers' information safe.
The flexibility to work anywhere fits well with Secura's goal of helping employees find balance.
"When I come in every day, I know I'm here to do my best and earn my role as CEO," Gross says. "But we also keep it fun. We work hard, but we play hard, too."
Move-in ready
Secura's success in recent years led the organization to outgrow its longtime home on Memorial Drive in Appleton. The company moved its IT staff to a nearby building, and Secura President and CEO Dave Gross knew it was time to find a new home.
"We were bursting at the seams and so we began searching for a place to build not only the building we need now, but the building we'll need in the future," he says.
The company found the ideal location in Fox Crossing. It not only meets its current demands but provides additional space to grow.
As for its former building, it will not stay empty for long. When Secura employees complete the move, Fleet Farm will move its corporate offices into the 192,000-square-foot building. Secura sold the building to the retailer, which plans to make some subtle changes to what the insurer left behind.
For Fleet Farm, the building allows it to bring workers from six separate local sites under one roof.
"We looked at a lot of locations, including some in other cities and states, and the current Secura location is perfect," Fleet Farm CEO Derick Prelle said in a statement announcing the sale. "It allows us to stay in the Appleton area, and the Secura facility answers our needs. It is a perfect size for us and has been beautifully maintained."
Gross is pleased Fleet Farm is moving in. "Our big concern with moving was what would happen to this site, and we are so excited that another business is moving here and utilizing it for all of their needs," he says.
An estimated 500 Fleet Farm employees will move to the new headquarters, including 70 jobs being transferred from a company office in Brainerd, Minn. The move should be finalized by March.
Secura Insurance
Headquarters: Fox Crossing
Year founded: 1900
What it does: Sells a broad range of commercial, personal and nonprofit insurance products in 12 states through its network of more than 550 independent agencies.
Employs: Approximately 900 between its home office in Fox Crossing, an office in Middleton and employees who work from home.