It's impossible to neatly sum up the scope of the self-sacrifice and dedication front-line health care workers have displayed during the COVID-19 pandemic, but individual stories can give a glimpse.
It's Ascension nurse Amy Barth going into work on Thanksgiving to treat one of her COVID-19 patients to a haircut and spa day. It's Bellin Hospital emergency room physician Paul Casey, an Army veteran, summoning a wartime mentality to fight the virus alongside his team. It's Holy Family Memorial Chief Nursing Officer Tom Veeser watching people from every echelon of the hospital's ranks come together to innovate and adapt to the ever-changing situation.
For Barth, a registered nurse in the intensive care unit at Ascension St. Elizabeth in Appleton, the pandemic has upended every facet of her daily work — and personal life. Typically, an ICU nurse focuses on the patient's needs, but with the restrictions of COVID-19, that extends to the needs of the whole family because they can't be there for the patient. Video and phone calls with family members have become routine.
Veeser says caring for patients in a new way also brings other implications. "Families are one of the most important supports to not only the patient but also the health care team," he says. "Now you have an incredibly sick person without a soul next to them and the nurses and the doctors and the respiratory therapists have to not only do their job but they have to tend to those little things 24-7."
Barth and other health care workers also must don extra personal protective equipment and take steps to keep themselves safe. For professionals who are accustomed to moving quickly, the extra steps are cumbersome, Barth says. But the greatest toll has been the emotional impact, as she has seen more death in the past year than she has in her entire nursing career.
The exhaustion hasn't stopped Barth from going above and beyond. In addition to kind acts like the beauty treatment the former cosmetology student gave to her patient, Barth decorated patient rooms for the holidays and goes out of her way to keep family members connected to loved ones who are on the unit.
Barth's precautions don't stop when she leaves work after her 12-hour shifts — she's also taken on many extra hours and shifts during the past several months. Part of her routine has become changing clothes before returning home and showering before she can hug her kids and tuck them into bed. Barth also worries for her parents, who watch her kids while she and her husband are at work.
"We see the very real possibilities of what this could do to our family and not just us in our house," Barth says.
It's hard for Barth to see the effects of COVID-19 fatigue setting in among people in the community and she says she hopes people will find the resolve to do their part to see fighting the virus through to the end.
"If people could just see somebody who's truly sick and suffering, there's a point where we really can't do anything for the patient except for be there for them, and it's heartbreaking to us to watch them just struggle to breathe and beg to be done with it," she says.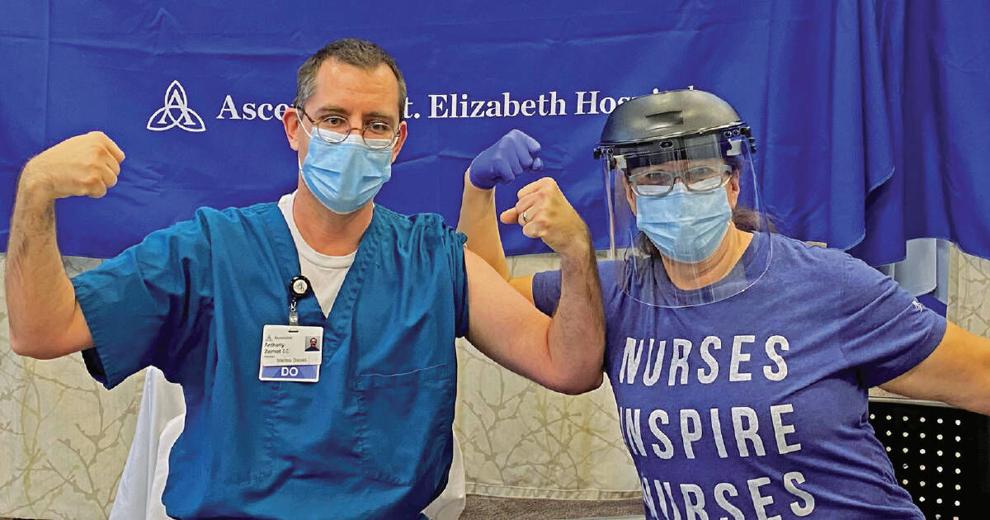 Coexisting with COVID
As a veteran who was finishing his medical residency in 1990 when Saddam Hussein invaded Iraq and who went on to serve in Saudi Arabia, ER doctor Casey is used to working tirelessly. When he was in the Persian Gulf, he and those he served with had a mission and were prepared.
"Same with this pandemic. We were faced with a challenge, we pulled together and we just dealt with it. That's what you have to do," he says.
Health care professionals have learned a dizzying amount about the novel virus in a short period of time. In the spring of 2020, health care systems including Bellin shut down elective surgeries and clinics. Casey says the move affected the way Bellin cared for patients and brought considerable downsides, so in May the organization opened everything back up and adopted a coexisting strategy.
Throughout this time, it's been vital to "let the science play out and guide treatment," Casey says. Doctors and caregivers have identified strategies that can lead to better outcomes, including having patients lie prone and avoiding the use of ventilators early on during treatment. Ventilator use is common for those with low levels of oxygen, but doctors saw from what was happening initially in New York City that using them soon after admission was hastening people's deaths, Casey says.
Drugs such as dexamethasone and Remdesivir, convalescent plasma and monoclonal antibody treatments like Regeneron also have emerged as tools to improve outcomes. They can help keep patients out of hospitals, and for those who do need to be admitted, fewer are winding up on ventilators, Casey says.
The biggest triumph, however, has been the development of several safe and effective vaccines in record time, says physician Anthony Zeimet, infectious disease specialist for Ascension Medical Group Wisconsin — Fox Valley Region.
Infectious disease specialists work at the forefront of pandemics, and Zeimet says the United States and the world have "dodged a bullet" several times in recent years with outbreaks such as H1N1, SARS, MERS and Ebola. He likens COVID-19 to the 1918 influenza pandemic and says pandemics typically are once-in-a-generation occurrences that take a couple of years to bring to heel.
"A vaccine is going to help us get out of this pandemic and get back to what is more normal," he says.
While Zeimet says many people worry the vaccine development was rushed, that's not the case. In fact, a lot of the research that led to COVID-19 vaccines started years ago with development of a SARS vaccine. When COVID-19 emerged, scientists "dusted off" the SARS research to help develop COVID-19 vaccines.
The Moderna and Pfizer vaccines use human biology and messenger RNA. The human body transcribes that and makes the spike protein without the rest of the COVID-19 virus, ultimately making antibodies to which the body responds, says Zeimet, who was the first health care worker in Appleton to receive the vaccine in December. "I think the science behind it is so phenomenal," he says.
Barth says receiving the vaccine was exciting and helps take away some of the worry she feels for her family. She says she hopes when the vaccine becomes widely available, people will trust the science and take it.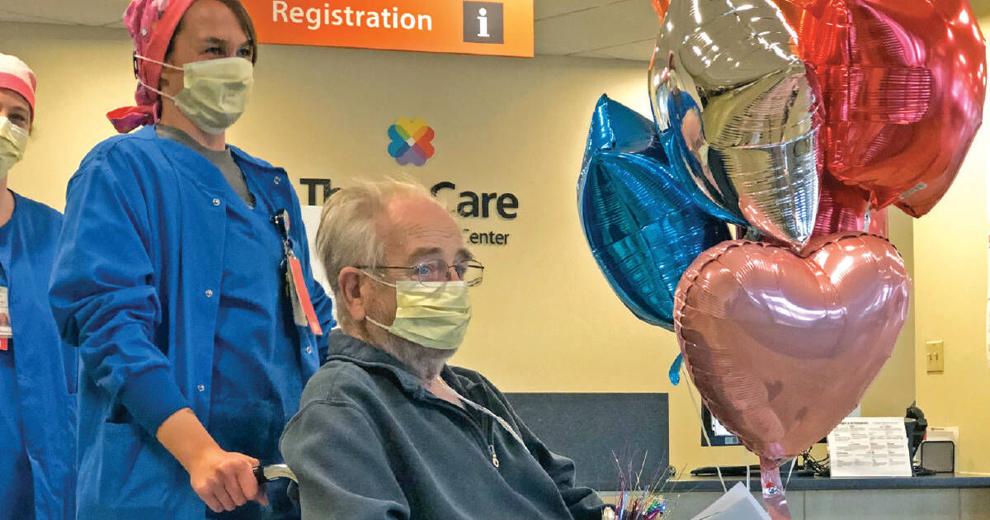 Concerted efforts
Last March, Agnesian HealthCare found itself in the position of being one of the first health care organizations in the state to deal with a coronavirus outbreak. Leaders had been hearing about the virus, but "we really did not expect to be the first health care organization in the state to experience this," says Katherine Vergos, president of SSM Health St. Agnes Hospital in Fond du Lac.
In mid-March, 11 of Wisconsin's 47 confirmed coronavirus or COVID-19 cases emerged in Fond du Lac County. Soon after, a team from the Centers for Disease Control and Prevention visited to assist and learn how Agnesian was managing the situation and implementing infection prevention measures.
"That was an honor to be able to host them and we were able to share some of the practices that we created with the rest of the country,"Vergos says.
With the pandemic widespread, Agnesian now faces the same struggles as other health care organizations: staff members who are emotionally and physically exhausted. At the same time, Vergos says her team has performed exceptionally well. They meet daily to create plans A, B and C and try to manage what's going on "with a not very long view."
It's much the same at ThedaCare, where President and CEO Imran Andrabi stresses that while the vaccine is good news, challenges still lie ahead. "It ain't over yet, by no means," he says.
In addition to the virus still spreading, supply chain issues have dogged health care systems throughout the pandemic, first with access to personal protective equipment, then testing and now vaccine distribution. Virus variants also are continuing to take hold, and the South African one is particularly concerning, Andrabi says. It's already in the United States, making it a matter of when, not if it spreads.
Throughout the pandemic, ThedaCare has led virtual community leader conversations. Andrabi says it is vital to tap the resources and expertise of everyone in the community, including business leaders who can influence their employees' behaviors.
It's a strategy that's worked. When Shawano experienced a surge in cases, ThedaCare led a community leader forum specific to that community.
"If I showed you a graph of the before and after, it's stark in terms of how the community then rallied behind that, with the physicians, with the hospital, with the community leaders to really have an impact," Andrabi says.
ThedaCare Chief Nursing Officer Jackie Anhalt says it's heartening to see the business community's support. "This is not a hospital issue, and it's not solely a health care issue. It is a societal issue right now," she says.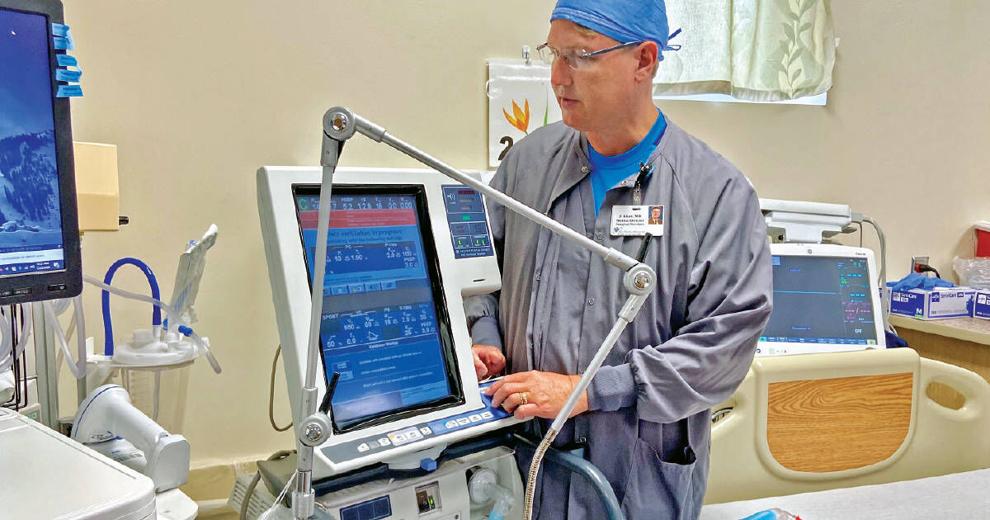 Dr. Tom Nichols, vice president of medical affairs for Ascension St. Elizabeth and surge section chief for Ascension Wisconsin, says collaboration both within his organization and with other health care systems has been vital during this time. That's especially true for the surreal several weeks in late fall in which Northeast Wisconsin became the epicenter of the COVID-19 crisis.
"There was a period of time in November when we had the highest COVID rates in our community in the entire world," he says.
Each day, he and his team devised creative solutions to meet immediate needs and tried to anticipate what might come next, all while maintaining optimism and hope for both staff members and the community.
"We didn't have any kind of crystal ball to know, is today the worst it's going to get or is it going to keep getting worse?" he says.
Throughout the pandemic, Ascension solved problems internally using an "all-hands-on-deck" approach. Externally, Ascension has worked closely with ThedaCare, Aurora Health Care and public health organizations on several fronts, including setting up vaccination sites.
Nichols says gratification and solace come from seeing the positive outcomes. "I've been reminded about the good in humanity. You don't always see that when you turn on the TV, but when you work with people all day long, you're constantly reminded of that," he says.
Throughout the pandemic, Prevea Health President and CEO Dr. Ashok Rai has taken a leadership role in the community, getting out the word about the virus and what steps people need to take to stay safe. Now as the Green Bay-based health care provider has several large vaccination centers set up, Rai is turning his attention to encouraging people to get vaccinated.
"After seeing so much pain and suffering during the past year of this pandemic, our dedication has never been more galvanized," he says. "We all have experienced loss over this time and now it's time to turn that loss into focus."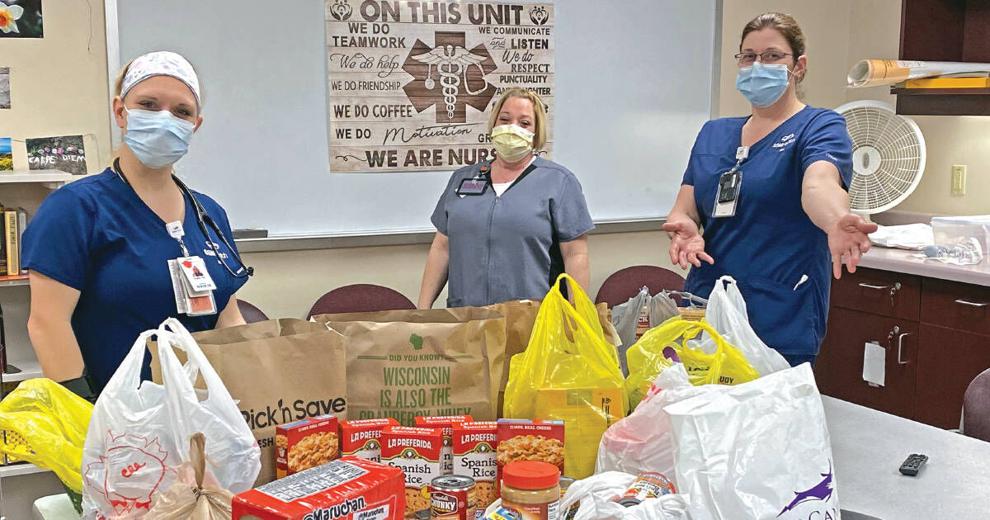 Leading with care
HFM's Veeser says the long-term nature of the pandemic is taking a toll on caregivers. They're not only busier than ever, they also have had to help many patients through the dying process without their families present.
"If you went into health care, you've got a big heart. A big heart gets hurt worse than a regular heart. They've suffered," he says.
At the same time, Veeser says he's been inspired to see how everyone, from physical therapists to environmental services workers, has pitched in to help. HFM is an older hospital and didn't have enough negative pressure rooms to safely treat COVID-19 patients. The hospital's biomedical engineers converted half of the ICU and a third of the medical-surgical floor into negative pressure spaces to expand the number of rooms to protect staff.
At Bellin, President and CEO Chris Woleske says the system was ready to deal with a crisis thanks to the emergency preparedness drills it conducts regularly. At the same time, they've never had to maintain an incident-command situation as long as they have during the pandemic.
"I give the team an incredible amount of credit and praise for their resilience and commitment to this cause and showing up every day and being willing to learn," she says.
Health care workers have had to confront COVID-19 in both their work and personal lives, Woleske says, and that's been taxing. Like all health care systems, Bellin has dealt with many illnesses and quarantines among staff members.
"I look at this team and feel like one of my jobs has been to be the cheerleader who sprinkles some good things and some fun and some joy any chance that I got to try to help ease those burdens. I tried to be the chief predictability officer from a sense of what they could expect," Woleske says.
Dr. Mary Bartel, medical director and hospitalist at Children's Wisconsin — Fox Valley, says the pandemic has been a life-altering event for the organization.
"It completely changed how we do things. Some things are the same, but really the process flow and the need to adapt so quickly and with such urgency is pretty unusual for medicine," she says.
Kristi Seibert, director of patient care services for Children's, says despite the adversity, the team rose to the challenge of developing new strategies and protocols. "In a way, it felt good," she says. "I think the biggest thing I felt was getting comfortable with the unknown, and that kind of became the norm."
Bartel sees some other positives that have emerged during this time, including increased embracing of telemedicine. In addition, with most people masking and distancing, cases of illnesses that normally would be prevalent among children during this time of year, including RSV and influenza, have plummeted.
Even as vaccines get into more people's arms, Bartel says it will be vital to maintain vigilance for what she calls the 4 Ws of working when well, watching your distance, washing your hands and wearing a mask.
"That's the key. These seem like simple things to do, but they are key elements of how we are preventing the spread of COVID in our communities," she says.