Approaching Oshkosh Corp.'s new global headquarters in Oshkosh, you'll be reminded quickly about the variety of products manufactured by the company that invented four-wheel drive: There's a Pierce Manufacturing firetruck, a McNeilus garbage truck, a JLG mobile elevated platform, and right inside behind a door that allows it to move outside — Oshkosh Defense's Joint Light Tactical Vehicle designed for the U.S. military.
"Putting the vehicles out front was intentional. You come in every day and you are reminded of the great products our company makes, and there's pride in that," says Oshkosh Corp. President and CEO Wilson Jones. "We want our employees engaged and empowered. We are better when we work together."
The four-story, 191,000-square-foot building design focuses on the strong Oshkosh brand and highlights the company's People First culture and values. The building's open design — all offices are on the building's interior away from the massive windows overlooking Lake Butte des Morts or the surrounding greenspace — inspires collaboration among employees. The space offers a variety of seating arrangements, whether it's a table surrounded by chairs, couches and chairs around a gas fireplace or armchairs overlooking the lake.
"We really wanted to foster a collaborative environment here," Jones says. "Before, we were scattered all over Oshkosh in different locations, and it's great to be under one roof. We have people meeting in person rather than picking up the phone. The energy is amazing."
Jones adds that since 550 employees moved into Oshkosh's global headquarters, email volume has decreased, replaced by face-to-face conversations. The various work areas — away from their workstations or offices — can also inspire employees working on a project.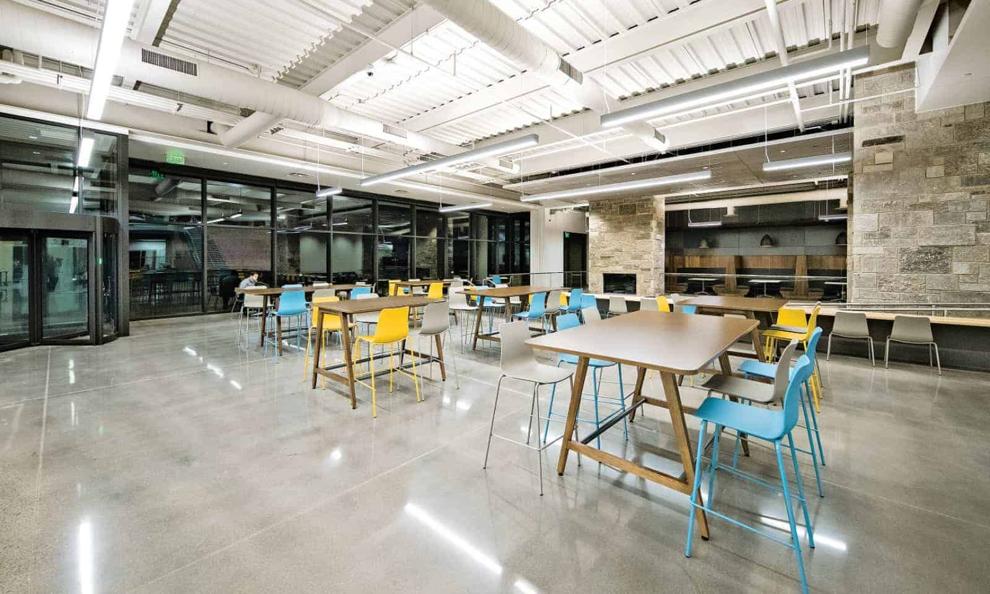 "I recently worked on a speech, and I went to one of the small conference rooms with a couch in it and worked there. It allowed me to concentrate and got me away from the distractions in my office," says Jones, adding all offices in the building are the same size.
Jones, who became CEO and president in 2016, developed Oshkosh's People First culture and wanted to ensure the new building was an outgrowth of that. Employees were part of the design committee, for example, and a first-floor art installation uses the photos of workers from around the globe along with the company's new branding colors and its People First messaging.
Katie Hoxtell, marketing manager for Oshkosh Corp., says the building incorporates various aspects of the company. For example, stair-like seating in front of the three-story screen display in the building's atrium contains a variety of reds used by Pierce on its firetrucks, and firetruck grilles make up some of the ceiling tiles. Concrete trucks made by Oshkosh poured the concrete flooring on the first level.
Beyond the different work environments, the headquarters includes a wellness center with a variety of exercise equipment, a cafeteria, which not only provides healthy food options, but also a space for employees to gather, rooms to house Oshkosh U, and the Advancement Center on the first floor, which can seat up to 300. That space will be open to community groups starting in 2020.
Prior to the construction of the new building, Oshkosh's corporate offices were scattered around Oshkosh, whether it was in strip malls or office space carved out of a manufacturing facility. The new building brings multiple departments, including talent development, digital technology, global branding and communications, finance, human resources, safety and supply chain, under one roof.
"This building is fitting for a global corporation, which is what we are," Jones says. "With our previous location, we had people say they drove three times around the block because they couldn't believe it was our corporate office."
The new headquarters with its multiple amenities, including the latest technology, and employee-friendly design, will help Oshkosh Corp. attract and retain talent, Jones says.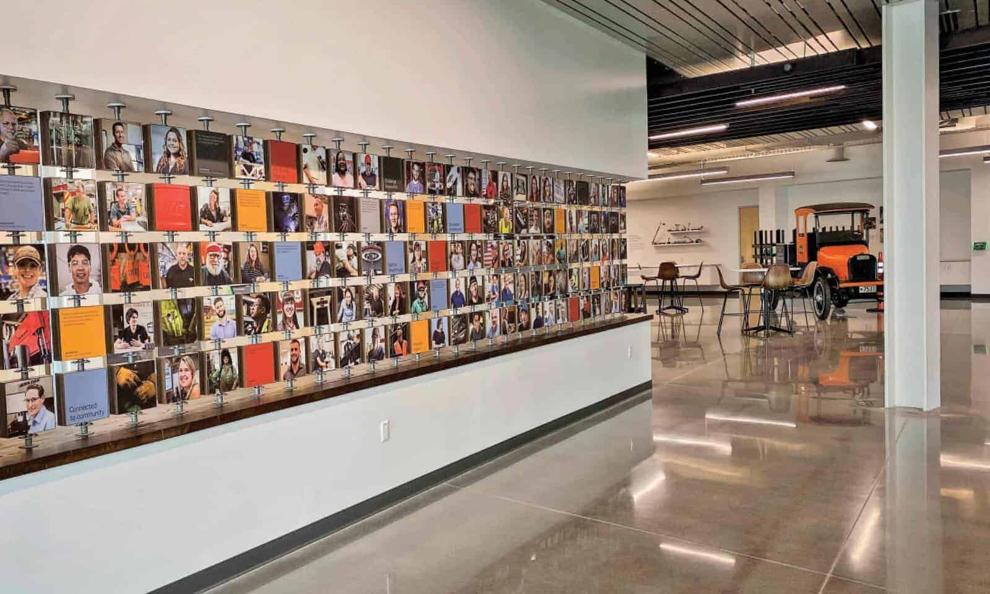 "For professionals in some careers, they're thinking of places in much larger cities where they want to work, but if they come here and see this building and we can show them the wonderful community — Oshkosh has a lot to offer — we think that will help us in talent recruitment," he says.
Sustainability is another key value for Oshkosh, and that was considered when designing the new building. Not only are there plenty of windows to bring in natural light, each floor has two kitchenettes where employees and guests can get water or coffee using real glasses and mugs to cut down on waste (yes, there's a dishwasher) and two areas where employees can bring their trash, recycling or leftover food or waste that can be composted. The company also planted additional trees and perennials on the headquarters' expansive grounds.
Outside the building, Oshkosh Corp. donated $600,000 to the City of Oshkosh to construct a lighted trail adjacent to the building that connects to the Oshkosh Riverwalk, Hoxtell says. With the section complete, the trail connects the Interstate 41 bridge and the Oshkosh Avenue bridge, completing a loop around that portion of the lake.
Keeping it close to home
As Oshkosh Corp. was making plans for its new global headquarters, President and CEO Wilson Jones says it was important to use as many businesses as possible in its construction. Performa Architects of Green Bay designed the building; Miron Construction of Neenah was the general contractor; the massive amounts of glass used in the building came from Omni Glass and Paint in Oshkosh; and stone was provided by Fond du Lac Stone Co.