Oh honey, bees make the magic at Egg Harbor's Hatch Distilling Co.
In her celebrated book "A Book of Bees: And How to Keep Them," the late author and beekeeper Sue Hubbell wrote, "I like pulling on a baggy bee suit, forgetting myself and getting as close to the bees' lives as they will let me, remembering in the process that there is more to life than the merely human."
No doubt, Chris Roedl could relate to the sentiment. The Hatch Distilling Co. founder launched the Egg Harbor craft distillery in 2018, and while he loves all aspects of his work, the quiet, reserved part of him savors the time he spends outside with his hives and the bees that produce honey for many of Hatch's spirits.
"That beekeeping time is kind of that introverted time for me. There's not a whole lot of people who'd like to come along and help, so it's my time alone outside," he says.
Hatch uses 100 percent raw honey to distill its clear spirits, including its vodka, gin, limoncello and Harbor Dog, a Caribbean-style spiced honey spirit. Its lineup also includes an apple brandy made with Door County apples and a straight bourbon whiskey distilled by Death's Door Distillery in Middleton and bottled at Hatch.
Roedl says Hatch is one of only a few companies using honey to distill spirits and the only one doing it on such a large scale. "Making it from honey isn't the most economical ... but it adds a really neat flavor component and gives us an opportunity to differentiate ourselves," he says.
Honey isn't Hatch's only differentiator. The company also forages for all its own gin botanicals locally, and it turns to organic farms in Door County to grow its whiskey grains and brandy apples. The distiller takes working with farmers a step further, providing its farmer partners with heirloom varieties of corn, rye and barley to grow for its products.
Beyond that, each bottle of Hatch spirits looks like a small work of art. The bottle art is designed to inspire people to "take a little bit of time to appreciate what's going on," Roedl says.
"We sell spirits and we sell an experience here. I think the next layer behind that is really our values and how we approach making our products, and I think that's our value proposition to our customers: doing things local and transparent," he says.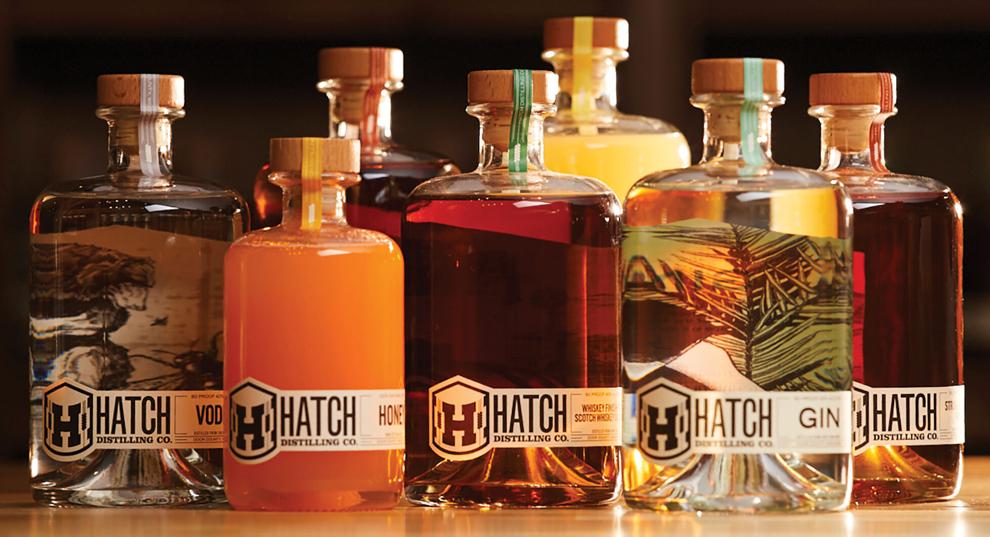 Taking flight
Roedl grew up working on his family's poultry farm that raised laying hens in the small Jefferson County city of Lake Mills. Later, his family bought egg-breaking machines and switched its focus to selling eggs in liquid form, eventually selling the business to a larger firm.
After studying agriculture at the University of Wisconsin-Madison, Roedl went to work as production program manager for Daybreak Foods, the company that had purchased his family's business. He stayed with the company for 10 years, and by the time he left, it owned 20 million laying hens across Wisconsin and employed 400.
Throughout his time working in the corporate world, Roedl longed to get back to his roots and more hands-on work. That desire led him to take a role as chief operating officer for Door Peninsula Winery and Door County Distillery, where he worked for three years before launching Hatch.
In what has become a theme in Roedl's life, he learned distilling on the job at Door County Distillery. "That's kind of always been the case. When I tell people about my background in poultry, there's no school for that. You have to learn as you go and problem-solve along the way. It's been the same with distilling," he says.
That learning included the ins and outs of making vodka, which often is made from the most affordable sugar source. For example, Russian vodka is most often made from potatoes, a simple starch that's economical for the country to grow, whereas in the United States, it's frequently made from wheat. Vodka must be distilled to over 190 proof, which is deemed the "magic number" to make it tasteless and odorless, its defining characteristic.
Hatch's honey-based vodka is designed to create a "smooth, viscous mouthfeel that hits the taste receptors at the tip of your tongue, creating a perceived sweetness."
Roedl also taught himself the art of beekeeping. What started as a hobby and a few hives in his backyard quickly blossomed into a full-blown passion. He now maintains between 25 and 60 hives at any given time, all kept in Door County. In addition to producing his own honey, Roedl works with a central Wisconsin beekeeping outfit.
In his previous roles, Roedl had gotten away from the animal husbandry work of his youth. Beekeeping gave him a newfound way to pursue that and stay connected to agriculture.
"What's really cool and what I'm passionate about is that I get to go back to my agriculture roots and figure out a way to bolster that industry," he says.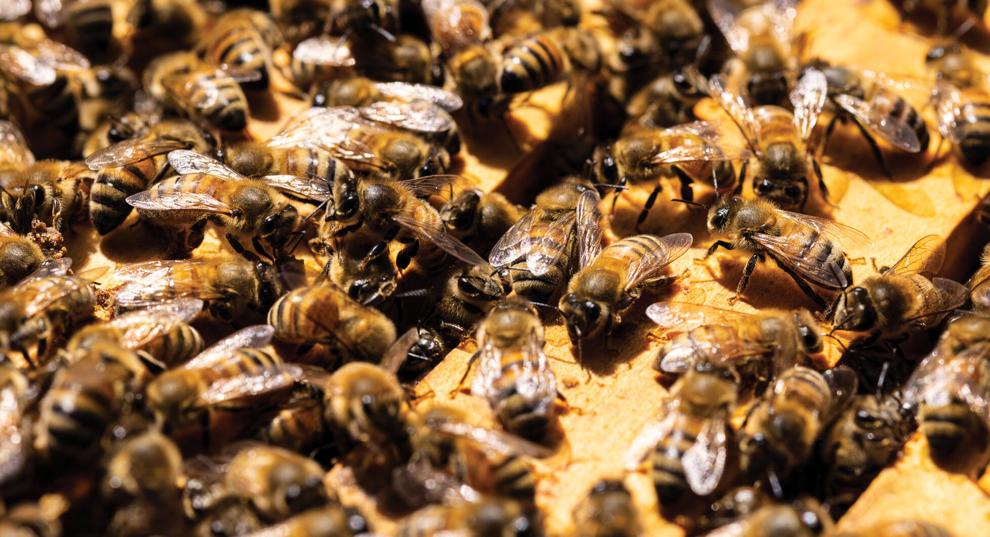 It had to 'bee' Door County
Roedl calls ending up in Door County a happy accident — one that's proven fortuitous.
"It's the perfect balance of community, tourism industry and a thriving agricultural community. That's when I really decided this would be the home for the business," says Roedl, who also lives in the county with his wife and four children.
Hatch's 7,300-square-foot facility in downtown Egg Harbor features a modern, industrial design and includes distilling space and a tasting room as well as a room available for special events. As a sign of its success, less than three years after opening, it's already adding on a cold storage barrel warehouse.
In addition to her day job in health care, Roedl's wife, Emily, does all the interior design, retail display and merchandising work at Hatch and is an important collaborator behind the scenes. Roedl's father, Russ, handles bookkeeping duties.
The distillery, which Roedl owns with his parents as financial partners, is one of only two manufacturing businesses in the village, which is filled with mostly tourism and hospitality businesses. The operations include a still house where fermentation and distillation take place, a processing room for processing and bottling, and a barrel storage warehouse — all whiskey must be stored in barrels.
"We have our space mimic what's happening, where tourism/retail meets manufacturing," Roedl says.
While alcohol can carry some stigmas, overindulging is not what Hatch is about, Roedl says. The tasting room is not a late-night establishment; rather it's designed to encourage people to slow down for a while and enjoy spirits in moderation.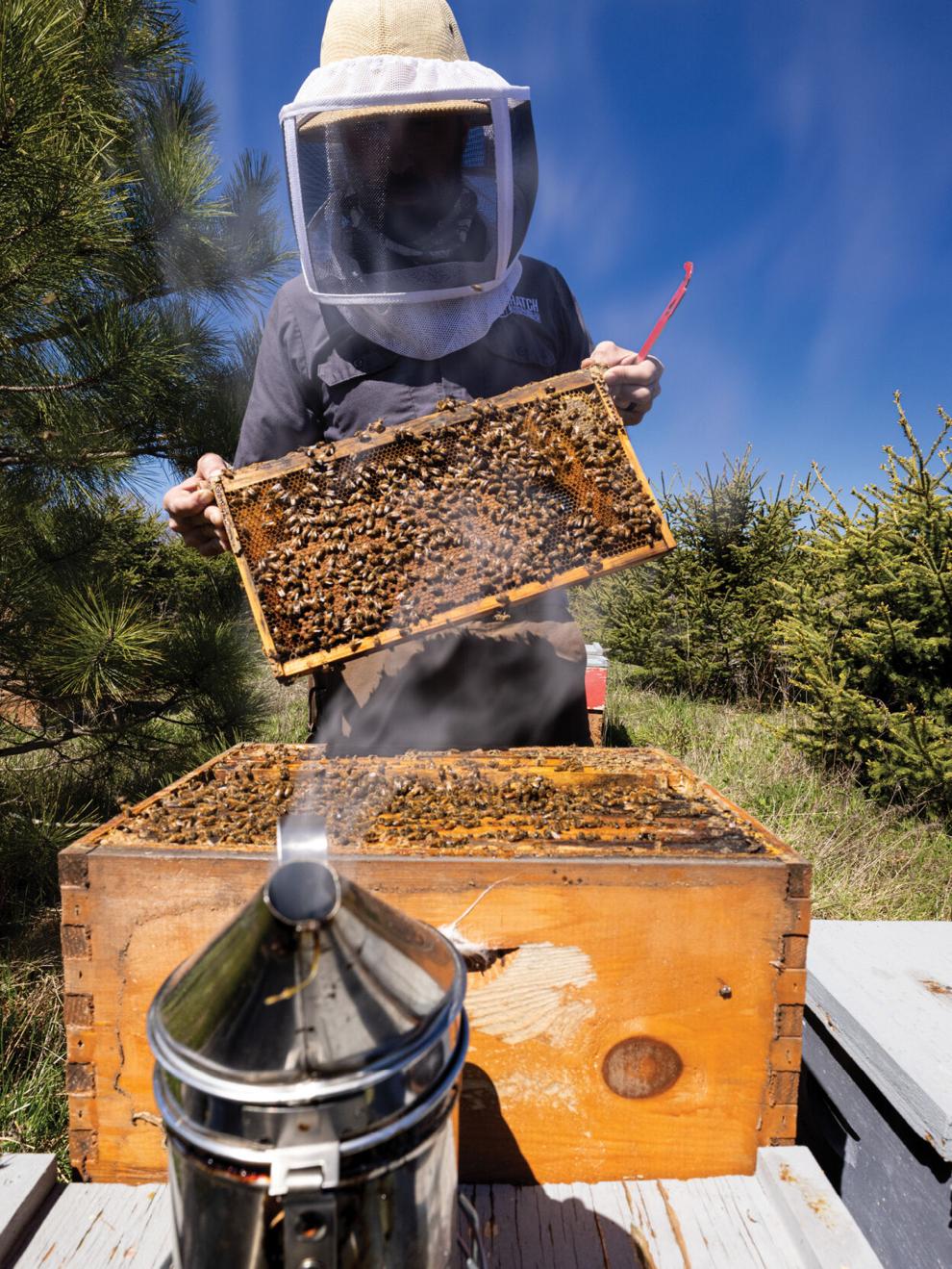 Unlike wineries, distilleries can't direct ship spirits. They're limited to a three-tier distribution system, and anything Hatch doesn't sell in its tasting room must go through a distributor. Hatch spirits are available throughout Wisconsin, and Roedl is working on a partnership that he hopes will get his product into neighboring states by the end of summer.
Caleb Despins, the distiller for Hatch, says the business's honesty and focus on local sourcing set it apart. The distilling industry often places a heavy emphasis on marketing and may take shortcuts or pawn off another company's product as its own, something Hatch would never do, he says.
"It's an interesting combination of an art and a science," Despins says. "I often tell people that distillation is not rocket science, but it is science. What you're creating and how you're creating is where the art part of it comes in."
Door County's tourism business allows Hatch to flourish, Despins says. The steady stream of customers from all over the state and beyond helps people find and fall in love with the product, which in turn creates word-of-mouth buzz.
"They are a terrific asset to the community. The people that own it and the people that work there are very civic-minded," says John Heller, village president of Egg Harbor.
The pandemic turned out to be a prime example of that civic mindedness for the Hatch team. The business was young and at a critical point in its ascendancy when COVID-19 and its ensuing shutdowns began to spread, creating an anxiety-provoking situation for Roedl.
As Roedl grappled with uncertainty and took up yet another new role — home school teacher for his kids, whose school had gone virtual — a new opportunity presented itself. The federal CARES Act allowed distilleries to switch their operations to make hand sanitizer.
Few will forget the frenzy surrounding hand sanitizer early in the pandemic and the store shelves wiped out of the product. "Really, we didn't know what to do and then the phone started ringing. It was kind of like being slapped in the face with a demand we couldn't ignore," Roedl says.
Hatch began with donating to Door County Medical Center, where Roedl's wife works as a dental hygienist, as well as elder care facilities. The phone kept ringing, so they kept donating as well as making sanitizer in bulk and selling it that way. "That's what really kept us going during the first few months of the pandemic," Roedl says.
The distillery held a community giveaway event where it took all the proceeds and donated them to hard-hit food pantries. It was Hatch's busiest day ever. Demand for the product has dried up, leaving Hatch with more than 1,000 gallons of hand sanitizer and Roedl fervently hoping to never have to make the stuff again.
By June 2020, Hatch was able to begin filling bottles with spirits, not hand sanitizer, once again. "(We were) just hoping and praying things would ease back to normal and they really did," Roedl says.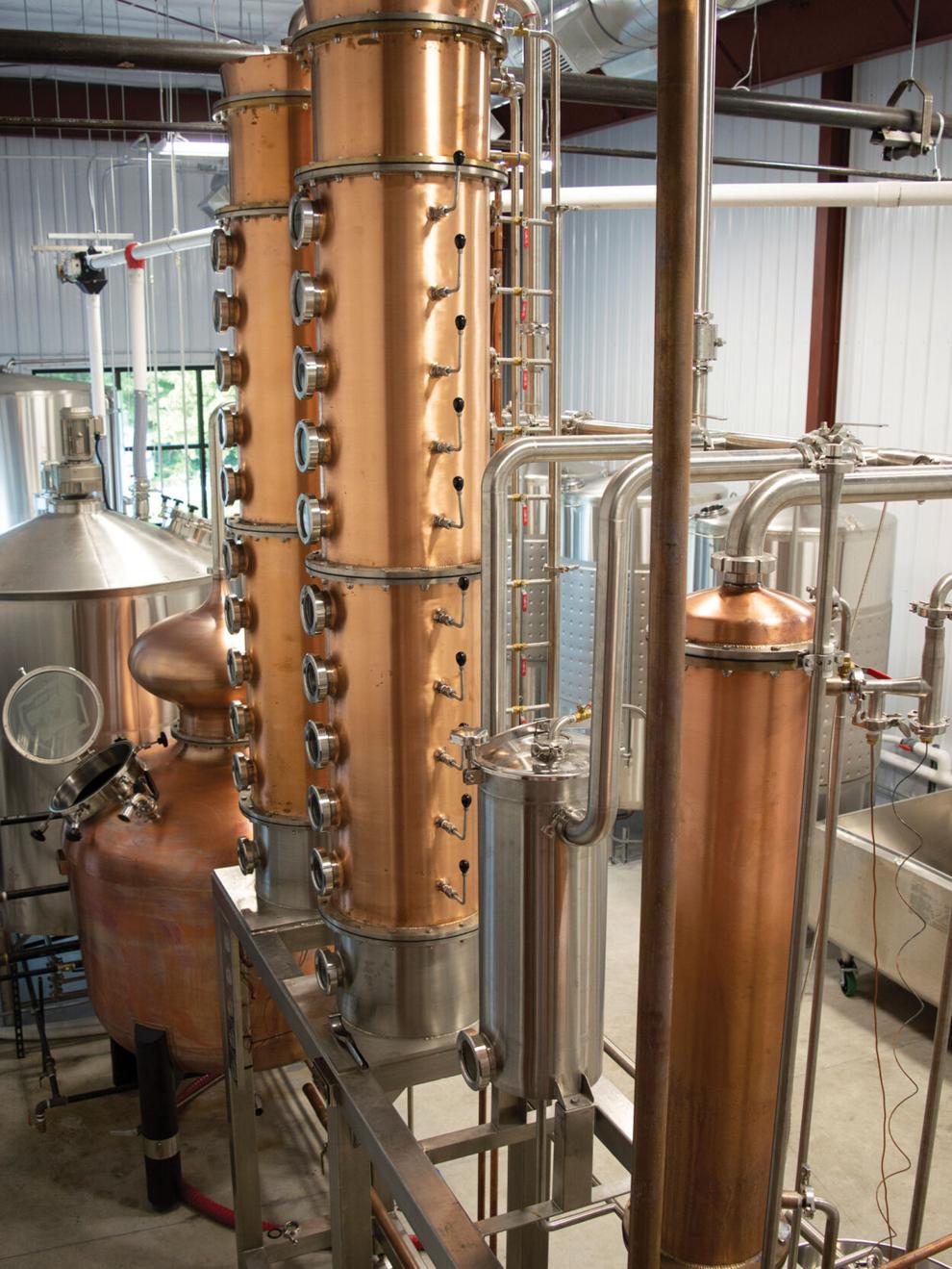 The new normal in 2020 meant a smaller tasting room business and decreased sales to restaurants, but demand for bottles from retailers increased. That demand, along with the hand sanitizer, kept Hatch at almost break even for the year.
While 2020 was not the year Roedl hoped it would be, he's grateful that Door County fared better than most places. When sales tax numbers for the county came out, it managed to eke out a year-over-year increase.
All signs show 2021 will be a strong year for the county and for Hatch — it's busiest in the summer as well as during the leaf-peeping month of October. "Our early indicators, all our metrics are telling us, it's going to be a really good year," Roedl says.
With business still in recovery mode, Roedl says he's looking forward to seeing the return of the distillery's pre-pandemic growth trajectory. In the long run, he'd like to see Hatch hit a threshold of business volume where the team can be comfortable and not so focused on year-over-year growth but rather maintaining a high level of quality.
For Roedl, though, a dedication to his community, employees and farming partners will remain the top priority. "Our mission is to craft spirits to celebrate people, place and time. We try to think back to our mission every time we're making a decision," he says.