Glance at any restaurant menu these days and you're likely to see chevre featured, whether crumbled on a salad, slathered on a sandwich or dotting a pizza.
The ascent of goat cheese, which often goes by the name of chevre, its most popular variety, is unmissable. And yet many people are still learning about the product — and hold preconceived notions.
LaClare Family Creamery in the small Fond du Lac County town of Malone has built its reputation on goat cheese, and the team there has encountered the whole spectrum of sentiments — from goat cheese fanatics to people who have never tried the product to those who have and are sure they don't like it.
No matter who walks into LaClare's shop, Retail Manager Jessi Schoofs is confident she can win them over. It just takes some finesse. For the goat cheese novice or skeptic, LaClare's award-winning Chandoka, a New Zealand-style cheddar made from a blend of cow and goat milk, can offer a goat gateway. For those bold and confident souls, chevre is the way to go.
"It is so versatile. Whether you're putting it on a cracker, a bagel, crumbling it on a salad, it adds so much flavor. There's so much you can do with that cheese," Schoofs says.
Goat products make up a small but growing share of the overall dairy market. The cow milk category is growing by 1 to 2 percent per year, while the goat milk category is increasing 12 to 15 percent annually, says Jim Ostrom, partner at Milk Source, which operates LaClare in partnership with the Hedrich family, the founders of the business.
Chevre, a soft, spreadable cheese of French origin and akin to cream cheese in texture, leads the goat cheese category and makes up 60 to 70 percent of LaClare's output. It comes in adorable little packages and many varieties — LaClare's flavors include blueberry-vanilla, maple-bourbon and everything bagel — and its popularity is the force behind the cheesemaker's growth.
In 2019, LaClare completed a $10 million expansion of its headquarters. The investment doubled the company's operational footprint, increased its cold storage and maintenance capabilities, and included adding French cheese presses, packaging equipment and other technology aimed at boosting its chevre-making prowess.
While Ostrom says LaClare is a small player in the goat dairy market, it's "growing as fast as anyone," and its reputation for superior-tasting products has competitors following its lead. "We're considered the best flavor profile and the best quality in the industry, and that differentiates us," he says.
Origins overseas
LaClare founders Larry and Clara Hedrich became interested in goat farming after traveling to Denmark and the Netherlands. Greg Hedrich, plant manager for LaClare and the second generation of his family to be involved in the company, says Europe is far more advanced than the United States in the goat products market — eating goat meat also is more common in Europe.
The family started the goat farm in Malone in 1978, and its name is a mashup of the La in Larry and Clare in Clara. As the farm grew, Larry and Clara's hardworking farming values guided them, Hedrich says.
Over the years, a hobby grew into a passion and then a business. The family began milking goats in the 1990s, a time when goat farming was becoming a more viable commercial option. Around 2008, LaClare made its first batch of cheese, and the business grew from there.
While chevre is now the star at LaClare, its first offering was a hard goat cheese. Evalon is a 100 percent goat milk cheese that includes gouda, parmesan and asiago notes. It remains a staple of the LaClare lineup.
"It was a way to differentiate us and get LaClare's name separated from everybody else that was doing chevre at that time," Hedrich says.
From there, LaClare continued to expand its offering, adding cheddar, jack, feta and mozzarella varieties. Throughout the years, the business has continued to amass awards. Most recently, it took first place honors in the 2021 World Dairy Expo Championship Dairy Product Contest for its Cave Aged Chandoka.
As for its chevre products, which are available nationwide, Hedrich understands some people's reticence to try them, especially reflecting on his youth and a time when many people thought goat cheese was strange. He also knows the "goat-y, barn-y" taste some people associate with the cheese and realizes why it's a turnoff.
Crafting a superior chevre required some reverse engineering, Hedrich says, and determining what quality milk looks like and how to get goats to produce that. Part of that formula means sourcing milk from a tight radius — most of LaClare's comes from a 20-mile radius — and keeping that milk at an optimal temperature and using it quickly.
"People are pulling milk from states away. We pull it from miles away. We get it here and typically make it into cheese within a day, and then it's packaged and out to our customers within that week," Hedrich says, adding that this process leads to a superior-tasting product.
Ostrom adds that LaClare resides in the ideal location, situated in the rolling hills and pastures of northern Fond du Lac County and on the edge of Calumet County. It's not only the heart of dairy country but also cheesemaking country and is home to major players including Sargento, Masters Gallery and Great Lakes Cheese, he says.
LaClare proves that dairy doesn't just mean cows, however. "I would go so far as to say this is the goat capital of North America. There are more goats in this little radius than there are anyplace on the continent and a lot of very good goat farmers in this area," Ostrom says.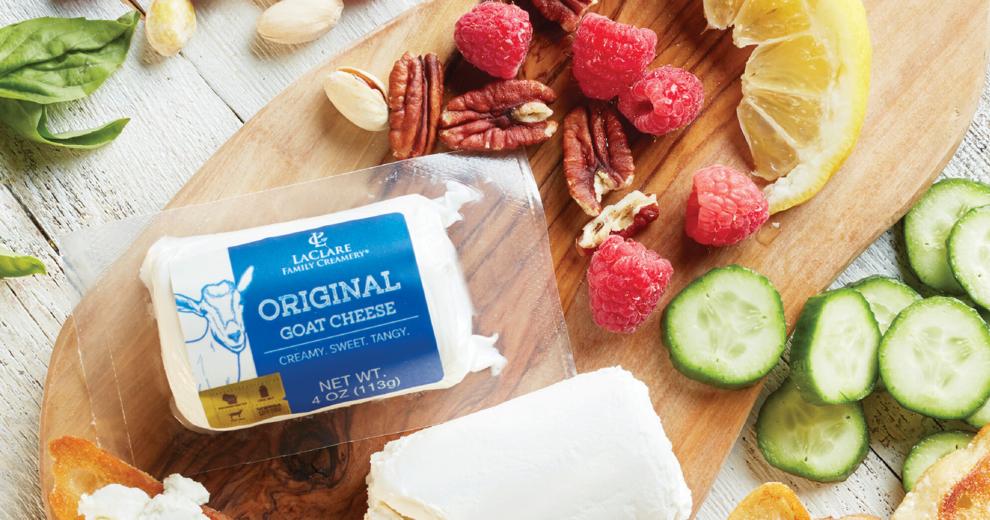 Cheese experience
From barn weddings to pumpkin patches and apple orchards to the Farm Wisconsin Discovery Center in Manitowoc, ag tourism is a big moneymaker for the state of Wisconsin, and LaClare is capitalizing on that trend.
"Not only do they raise and milk the goats in the area, but they also turn all of that delicious milk into many products right there at the facility. This contributes to the $2.2 billion that is generated from agriculture in Fond du Lac County," says Amy Ries, director of agricultural programs for Envision Greater Fond du Lac.
LaClare brings in about 90,000 visitors per year, and this year it's on track to see closer to 100,000, Schoofs says. Events like EAA AirVenture bring a lot of people through, and many stop on their way to Door County. The foot traffic speaks volumes about LaClare's reputation, as its location on a county highway isn't exactly a major thoroughfare. People go out of their way to visit.
Visitors to LaClare, first and foremost, get the cheese experience. The site is also home to Saxon Creamery, which produces a variety of cow milk cheeses. The No. 1 objective? Getting cheese into people's mouths. At any given time, LaClare's shop offers about six varieties of cheese to sample, but visitors aren't limited to that.
"Anything you want to try that's LaClare or Saxon, you're going to get that opportunity," says Schoofs, whose favorite cheeses include the plain chevre and the Evalon.
The space also includes a café, where diners can try features like the Avocado Turkey BLT, a roasted turkey sandwich topped with an avocado spread, LaClare's Honey Chevre, bacon, greens, tomato and aioli. Its Blueberry Vanilla French Toast is topped with LaClare's Blueberry Vanilla Chevre.
Other products available in the shop include goat milk bar soaps, lotions, candles and bath bombs, along with other locally crafted products including honey and maple syrup. A goat's pH is close to that of a human, so goat milk bath and body products moisturize especially well, Schoofs says.
While the cheese is a top draw, so are the goats. Visitors to LaClare, which is home to 700 goats, get to experience both. They can start outside with a stroll around the grounds, taking in the goat barn, pasture path and 26-foot-high goat silo, the sides of which goats Jolly and Rancher climb. Once inside, after visiting the shop and café, people can take a self-guided tour of the cheesemaking process.
LaClare also offers many events, the most popular of which is goat yoga. The activity is mutually beneficial to the human participants, who can destress, and the goats, which love interacting with people. Marji Lechner, supply chain manager for LaClare, says some people come more for the yoga, while others just want to interact with baby goats — and either is fine.
"If you go in a pen of goats, you have 100 new friends. They rush you. They want to know you," Ostrom says of the friendly and curious creatures.
This past spring, LaClare began offering tapas dinners, in which guests can enjoy small-plate courses paired with wine, all while learning about cheesemaking and the business's history. The dinners have become popular and sell out quickly. It also offers craft events such as painting classes with wine and cheese.
Families can take part in breakfast-on-the-farm events and kids' picnics, where kids get a boxed lunch and can eat it anywhere on the grounds, which include a newly completed garden center. This fall, LaClare held its first-ever Goatoberfest, featuring a pig roast, beer sampling, music and a car show.
"We really try to have a lot of variety in our events so we can engage with all different guests that come in," Lechner says.

Betting the farm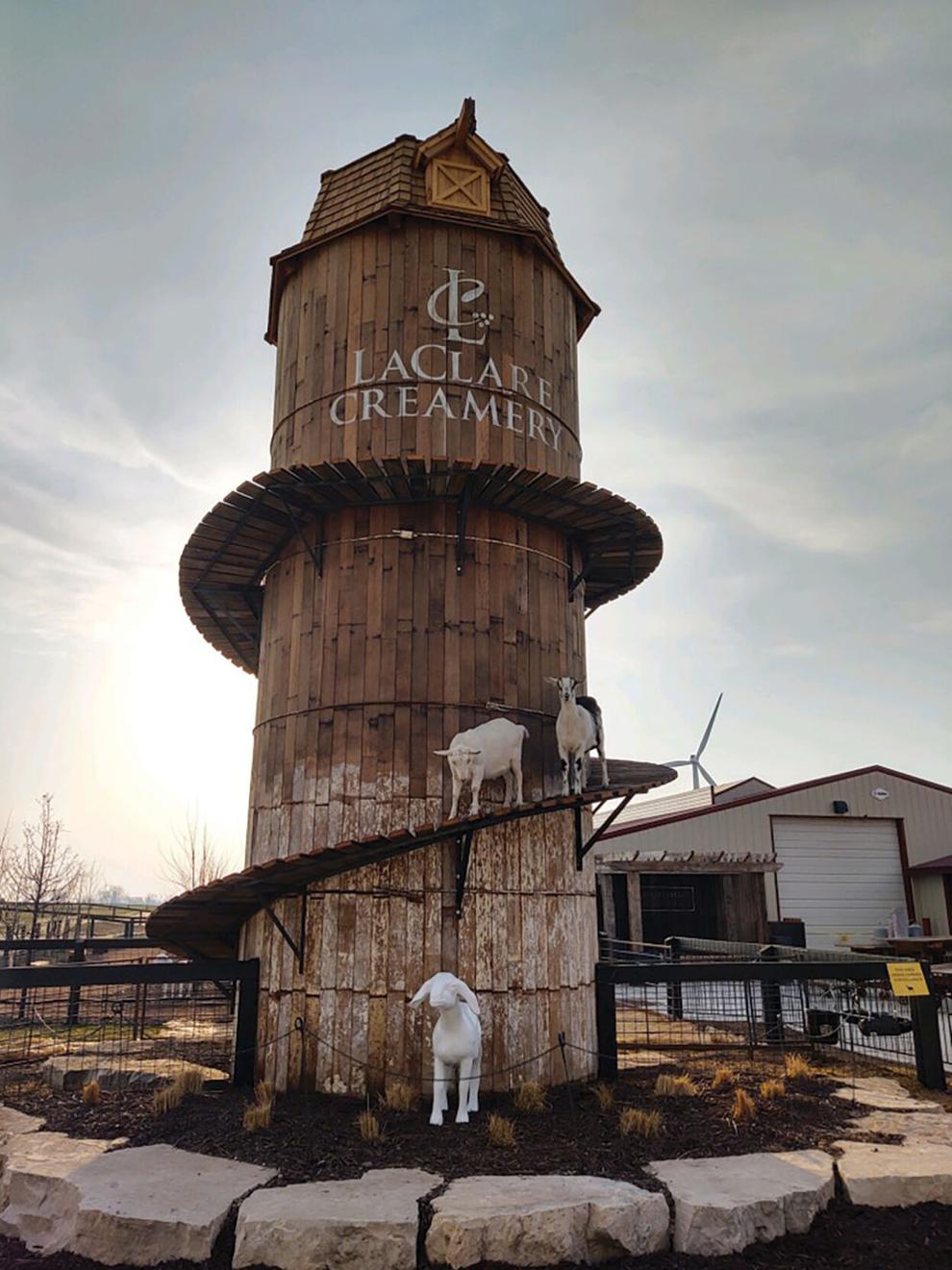 Ostrom predicts the goat cheese market will continue to grow. Consumers are more educated about and interested in the food they eat than ever before, and that benefits outfits like LaClare.
Demand is increasing for LaClare's products, and goat cheese buyers are becoming more discerning about the kind of cheese they want to buy. They're gravitating toward quality, and that's helping LaClare gain traction, with many consumers seeking its products by name, Ostrom says.
LaClare continues to add to its distribution footprint. Its products are available in all 50 states and are usually found in the deli section of grocers, with the specialty cheeses. Consumers seeking the product can reach out to the company to find the closest retailer that carries LaClare cheeses.
Feeding people's appetite for goat cheese brings its own set of challenges. LaClare needs more producers and farmer partners. "Goats do not give a lot of milk, so it takes a bunch of them to make a pound of cheese," Ostrom says.
Hedrich adds that while cow milk is mass produced and picked up daily, in the goat world, it can take three days to get enough milk to make cheese. A lot of goat farmers were former cow farmers, he says, and that experience is important because goat farming isn't easy despite some people's romantic notions about the animals.
As goat cheese becomes more popular, goat farming must also become more mainstream, Hedrich says. "We couldn't do what we do without what (farmers) do."
LaClare also needs more workers. To bridge the talent gap, LaClare Multi-Plant General Manager Adam Schrot says automation helps. Along with providing room to grow, the 2019 expansion brought in the latest technology. For example, teams used to manually make cheese, put it on trays or carts and push it around the plant, a process that's now more streamlined.
"It's made us more efficient, so we can grow and take on that additional volume without adding all the manual labor," he says.
For Ostrom, a dairy industry veteran with decades of experience, the whole process is just fun to witness. "We love the fact that we are leading the industry in quality. Very few times in your life do you get to do something where you get to be considered the best."
Milder milk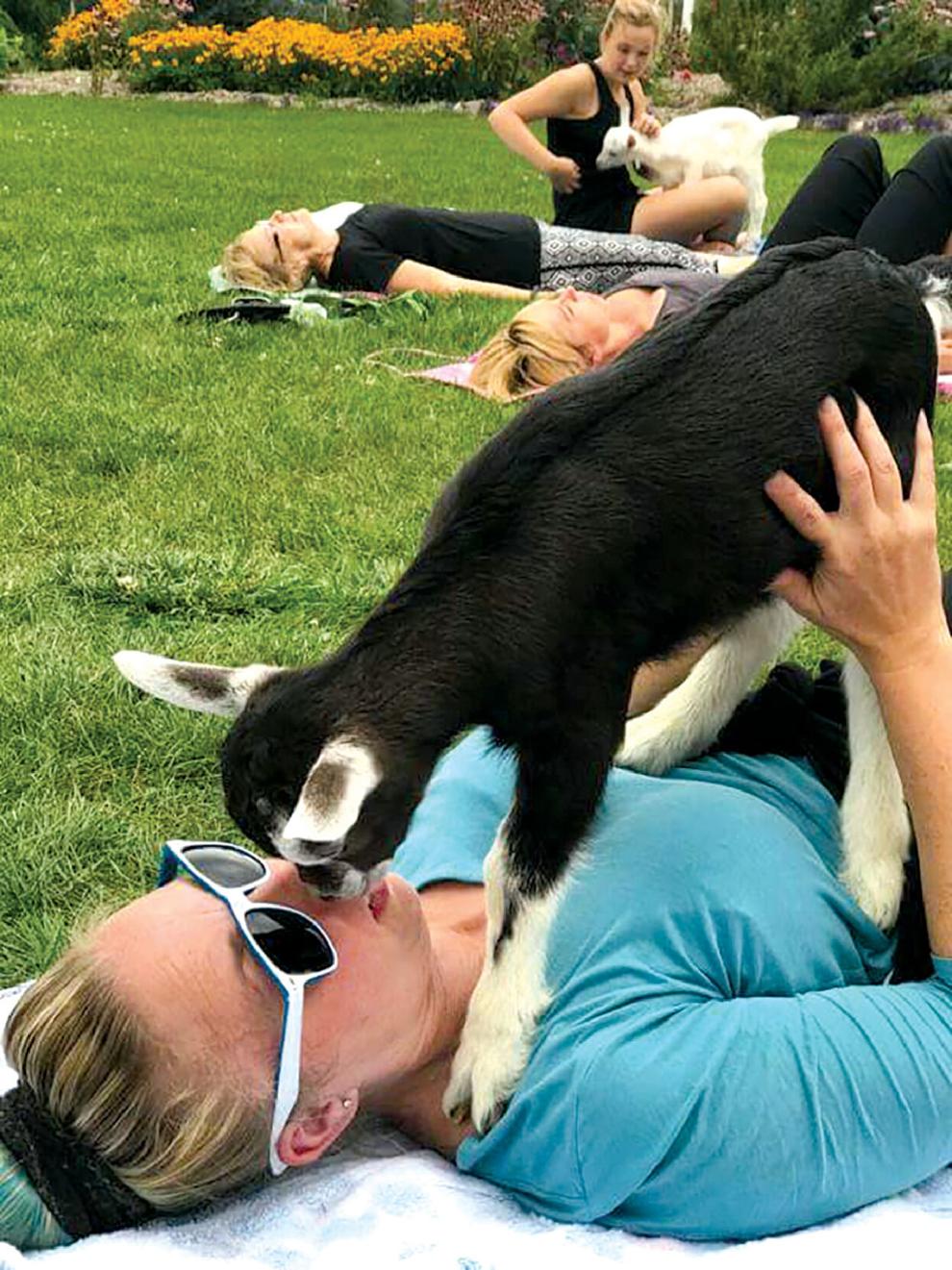 Though awareness of goat cheese and demand for goat dairy products is increasing, many people might not know that goat milk also offers an alternative for people who are lactose intolerant. Jim Ostrom, a partner with Milk Source, says while those who are severely lactose intolerant won't tolerate goat milk either, many people with the condition are reacting to a specific protein in cow milk.
Ostrom relates the story of a mother from Chicago who traveled to LaClare Family Creamery to purchase 20 bottles of goat milk to store and freeze for her daughter, who's lactose intolerant. The mother explained that LaClare's milk tastes so good, it's the only one her daughter will drink.
Other goat milk facts, according to LaClare:
• Goat milk is easier to digest than cow milk, and the fat globules in goat milk are smaller than in cow milk.
• ​Goat milk has higher levels of medium chain triglycerides than cow milk. These triglycerides provide energy without being deposited in fatty tissue of the body, all while lowering cholesterol, dissolving cholesterol deposits and preventing cholesterol deposits.
• Goat milk forms a softer curd than does cow milk.
• Cow milk contains the protein alpha S1 casein, which is an allergen. Goat milk has the protein alpha S2 casein, which is not an allergen.
​• Lactose is similar in cow milk and goat milk, but goat milk has less lactose.
• Goat milk supplies more vitamin A. The vitamin A in goat milk is not in the form of beta-carotene as it is for cow milk. This different form of vitamin A is what makes goat milk whiter in color than cow milk.
Source: LaClare Family Creamery