In the realm of college mascots, few are as apt as the University of Wisconsin-Green Bay's Phoenix. Like the mythical, immortal bird that gains new life through rising from the ashes of its predecessor, the school evolves to meet the needs of the students and community it serves.  
UW-Green Bay rises to the challenge, whether it involves working with partners to bring a much-needed engineering school to life, meeting talent needs in critical areas including education, nursing and IT, or assisting the community in its fight against COVID-19 through offering a site for testing and vaccinations.
At a time when many colleges and universities throughout the state and nation are facing enrollment declines, UW-Green Bay is bucking the trend. In the fall of 2020, it reported a 2 percent enrollment gain, the highest in the UW System that year. The school also saw a 70 percent increase in new fall freshman applications for the 2021-22 academic year. 
Dr. Michael Alexander, who became the seventh chancellor of the university in April 2020, says several factors account for the increase, including a logistical one. While Green Bay is the third-largest economic region of the state, for a long time, UW-Green Bay was the third-smallest school in the UW System. "Right-sizing" and expanding programming have helped the university grow, but Alexander says UW-Green Bay's success also goes deeper than that. The school's access mission is resonating with people, and rather than trying to compete with other universities, it's staying true to its own mission. 
"We think a vibrant UW-Green Bay means a vibrant UW System. It means that we've right-sized and are teaching the right percentage of the population in our region to help make sure the state can move forward," he says. 
All about access 
Like the university he leads, Alexander's story is one of evolution. Music was the upstate New York native's first passion, and he began his career as an orchestral conductor with the Georgia Symphony Orchestra.  
Alexander's conducting experience led him to take a director of orchestral activities role at Kennesaw State University in Georgia, where he later became interim director of the university's school of music. A new interest in leadership sparked within him as he watched the university grow and connect to the community.  
"I was really interested in how to connect more people to music and provide access to music," he says. Alexander still conducts when he can and carries on his love of music and soccer alongside his two sons. 
Following his time in Georgia, Alexander, who earned his master's degree in instrumental conducting at UW-Milwaukee and his Doctor of Music Arts degree at UW-Madison, spent four years as the director of the school of music at the University of Northern Colorado. 
When the provost position opened at UW-Green Bay, it was the school's access mission that drew his attention. "I was very interested in the mission the university had just embarked on. They had just declared to make themselves an access institution, and that really resonated with me," he says. 
Gary Miller left the chancellor position at UW-Green Bay in 2019 to become president of the University of Akron, and Sheryl Van Gruensven, now chief business officer and senior vice chancellor for institutional strategy, became interim chancellor before Alexander was named to the role. 
For Alexander, the university's access mission means making people feel welcome once they're at the school, working with anyone who wants an education and providing resources to help them find success. UW-Green Bay accomplishes that in several ways, including offering the convenience of four campuses — Green Bay, Manitowoc, Marinette and Sheboygan.  
The university also works closely with K-12 schools, including offering the Rising Phoenix program, which allows high school students to earn an associate degree at no cost while still in high school. Alexander is proud of the program and its outreach to students who may have thought college wasn't for them. 
UW-Green Bay's access mission is part of what drew Cordero Barkley, a former Phoenix basketball player who's now a partner and director at TitletownTech. He earned both a bachelor's degree and master's degree at the school.  
Barkley, a Racine native, was heavily recruited as a basketball player and says other schools viewed him as just an inner-city jock. UW-Green Bay's coaching staff was the only one that was also supportive of his interest in business. The smaller class sizes and personal attention at the school — available to all students, not just athletes — helped him thrive. 
For Barkley, it's gratifying to watch the university grow and become more diverse in both its student body — including drawing more minority students as well as those coming from urban, rural and underprivileged backgrounds — and areas of focus. 
"Chancellor Miller started it and then Chancellor Alexander is carrying in the torch, but the growth in the university, this area, this region being respected more as things begin to emerge, UW-Green Bay is a significant part of that," he says.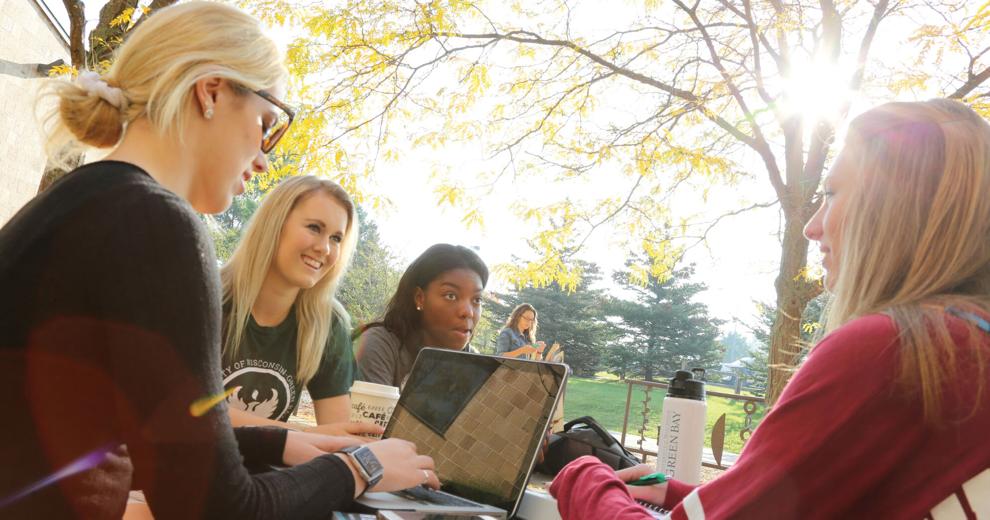 Adversity as adviser 
Walking into the leadership position at the beginning of a pandemic compounded the soft-spokenAlexander's incredulity at his own ascent — he says if someone had told him two years ago that he'd become chancellor, he would have laughed. Like many others throughout higher education, Alexander and the staff at UW-Green Bay rose to the challenges of implementing large-scale changes.   
Alexander says he doesn't believe the pandemic fundamentally changed academics but rather exposed issues that needed addressing. He sees providing more options for learning — whether in person, hybrid or online — as a positive. "People ask all the time, should education be online or in person, and my answer is yes. It should be. It's a question of what works for the student," he says. 
UW-Green Bay faculty also developed a greater understanding of who's in their classroom and the hardships students face. Alexander says the pandemic has shown recent graduates they can persevere in the face of whatever comes their way. But at the same time, he says the adversity has uncovered the need for better mental health support for both students and staff.  
"It showed the importance of access. It showed the importance of making sure that we have strong connections between our faculty, staff and students so that we can support each other through hard times and go through adversity and come out on the other side in a positive place," he says.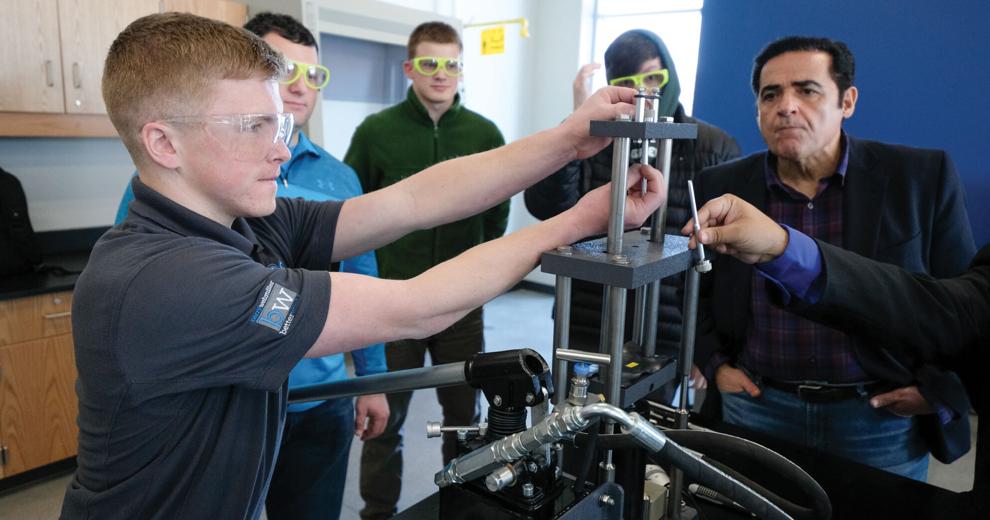 Engineering outcomes 
The 2019 opening of the STEM Innovation Center and Richard J. Resch School of Engineering on the UW-Green Bay campus was a win for the school, community and employers and showed the importance of partnering to accomplish goals. 
Funding for the construction of the 63,730-square-foot, $15 million center came through with $5 million from Gov. Scott Walker's 2017-19 capital budget, $5 million from Brown County and $5 million in donations through UW-Green Bay. 
Walker had appointed Brown County Executive Troy Streckenbach to the Council on Workforce Investment, which gave the leader early insight into forthcoming labor challenges. With a declining birth rate in Wisconsin and the state lagging in attraction and retention efforts, Streckenbach says he knew communities would need to create solutions. 
An important part of that was bringing engineering programs into Northeast Wisconsin. Studies showed the region had the highest need for engineers, and yet none of its colleges or universities offered four-year programs — UW-Oshkosh now offers engineering programs as well. "We needed to change that in order to protect our economy," Streckenbach says. 
The way stakeholders joined together to bring the center to fruition — 60 area CEOs also signed a letter asking the governor to include $5 million in the budget for the facility — proved persuasive to the Board of Regents. That collaboration lives on, as the center is home to the Richard J. Resch School of Engineering, UW Extension, Brown County's land and water conservation departments, and the Einstein Project, a nonprofit STEM resource center. 
UW-Green Bay's engineering program continues to grow. In addition to its mechanical and engineering technology majors, it will debut an electrical engineering program in the spring 2022 semester. "It's ahead of schedule, and I think it's a great symbol of when a community and a university work together," Alexander says. 
The dream doesn't stop at the STEM Innovation Center, however. With plenty of land to grow, the goal is to build a research park on the campus. Streckenbach says the center already has all the players and resources in place to address some of the region's — and world's — most pressing issues, including land-water use, food security and sustainability. A research park could draw both talent and funds to the region and help create the next generation of entrepreneurs and innovators, he says. 
UW-Green Bay also sits near a precious resource, Lake Michigan. Green Bay is the world's largest freshwater estuary, and the greater Green Bay region is in the process of achieving a National Estuarine Research Reserve designation. It completed the first step in 2019 and is in step two of the designation process, the evaluation of potential sites. The process includes six steps and usually takes at least four years to complete. 
Streckenbach says with the NERR designation underway, UW-Green Bay is poised to play a leading role in addressing global problems. "My thought was, why would we ever import that fix? Why wouldn't we create, generate, commercialize it and export it?" 
The NERR also intersects with the work of TitletownTech — agriculture, water and the environment make up one of its five verticals. "It's all become one collective ecosystem that's working together for the greater good," Barkley says of synergies between his organization, the university and powerful partners such as Microsoft and the Green Bay Packers.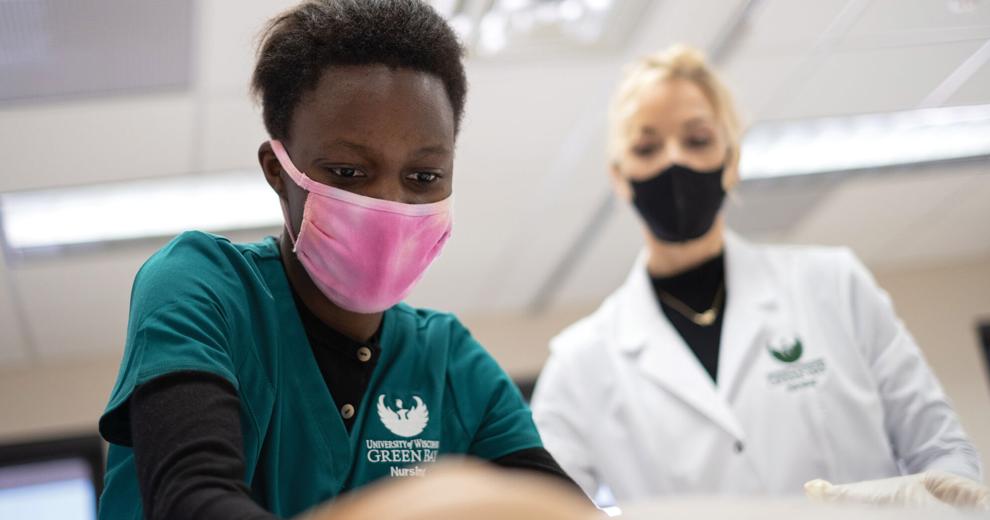 Metamorphosis continues 
Change continues at UW-Green Bay in ways both tangible and intangible. In July, the school celebrated receiving more than $102 million in funding in Gov. Tony Evers' budget. 
The funding provides $96.3 million to rebuild and transform the Cofrin Library into the Cofrin Research Center. It will use the remainder of the funds to renovate the Studio Arts Visual Arts Laboratory and the Mary Ann Cofrin/Wood Hall Health Care Skills & Simulation Laboratory. It also will use annual tribal gaming funds to expand its First Nations programming and summer camps. In addition, the school is embarking on building a new residence hall without state support by collaborating with University Village Housing, Inc. 
Alexander says the Cofrin Library project serves as a visual reminder of how education has evolved at the school. The library was built for a decades-old education model that assumed people needed to come to the university to obtain knowledge. That's changed, and the new facility will reflect that. 
"To me, it's the beginning of the modern UW-Green Bay. It's going to be a symbol of what modern education looks like. It's the hub of campus. It's a visual beacon in the community and will be a place where faculty, staff, students and the community can come together to learn, solve problems and grow," he says. 
UW-Green Bay also continues to unveil new programs and build on existing ones. In March, the school launched its Institute for Women's Leadership to address the region's need for a pipeline of women leaders and the distinct challenges professional women in the workplace face.  
The institute offers programming, networking opportunities and certificate programs for women at various stages in their professional life. In July, it completed a survey looking at how the pandemic has affected working women in Northeast Wisconsin. The results will inform the development of outreach and programs offered to help women. 
"Beyond policies and hiring practices, the institute will give rise to an environment that embraces diverse perspectives with the conscious intent of including everyone, particularly women," says Van Gruensven, who co-founded the institute with Joy Ruzek, assistant vice chancellor for the division of continuing education and community engagement.
The Austin E. Cofrin School of Business also continues to grow in scope and offerings. That includes establishing the Willie Davis Financial Trading and Investment Laboratory, which received a $250,000 impact grant from the Green Bay Packers in honor of the hall of fame player who died in April 2020. 
The school chose that area of focus because personal finance is an issue for everyone, and Alexander says the university should educate students as well as the community about its importance. "It's an equity issue. It's an issue that we should be part of and that our business school should lead," he says. 
UW-Green Bay is dedicated to meeting the needs of the community in other keys ways as well, including beefing up its education, nursing, cybersecurity and data science programs. That's vital because 70 percent of UW-Green Bay graduates never leave the area. 
Through the school's continuing evolution, Alexander remains focused on its mission of serving the region. His role, as a leader, comes back to his first passion. 
"As a conductor, you make no sound. You rely on everybody else to make that sound. That is important because it's the same thing at a university. I don't teach a class. My job is to really empower those who are doing the important work at the university to be able to do it well and to understand and hopefully believe in the mission we're trying to achieve."  
UW-Green Bay 
Year founded: 1965
Chancellor: Dr. Michael Alexander 
What it does: Four-year state university offering more than 200 programs at the bachelor's, master's and doctorate levels, as well as many certificates and continuing education opportunities. UW-Green Bay operates across four campuses: Green Bay, Manitowoc, Marinette and Sheboygan. 
Employees: Approximately 700  
Enrollment: 8,970. Numbers for the 2021-22 school year won't come out until later. While the university saw a 70 percent increase in applications, Alexander says the pandemic is leading to volatility and uncertainty around enrollment, with a lot of last-minute jostling expected.