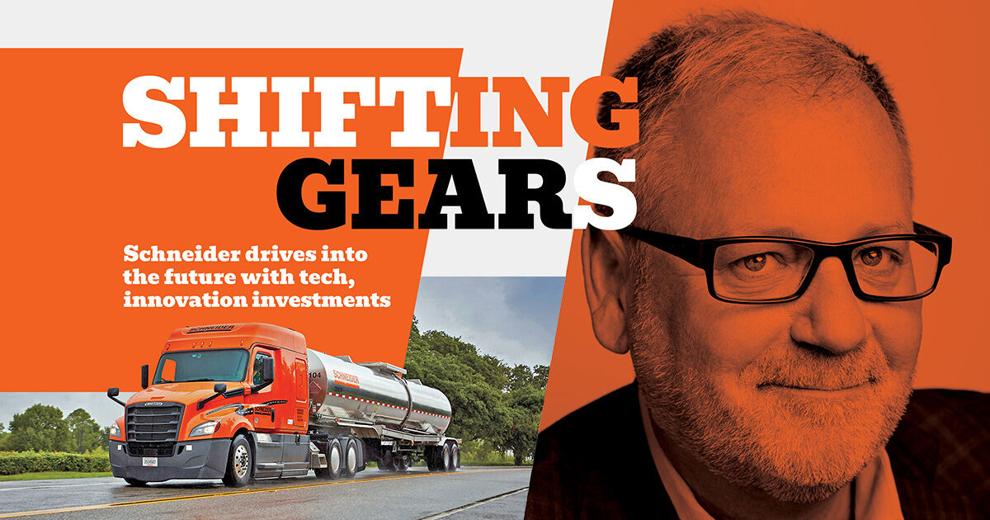 Think back to pre-2020 life. Consumers could walk into any store and expect to find shelves overflowing with toilet paper and an endless variety of cookies, chips and soft drinks.  
Up until that fateful time, the average person probably paid little mind to how goods reached store shelves. That all changed in short order as the pandemic set off a series of cascading crises that bedevil us to this day. 
What many of us took for granted for so long has become a front-and-center issue, with supply chain constraints touching every facet of life and playing a leading role in an inflation level that has reached a 40-year high. At the center of all that is the trucking industry. In fact, more than 90% of what people consume travels via truck at some point in its journey, says Mark Rourke, president and CEO of Ashwaubenon-based Schneider.
"We maintain that driving is one of the hardest professions in the world. It's one of the noblest professions in the world. We've all learned over the last couple of years what drivers mean to our economy," Rourke says.
 While the time has proved challenging for truck drivers — except for that brief yet glorious time period when roadways had much less traffic — Rourke says it did deliver a bright side. Society developed a new appreciation for essential workers, including truck drivers, who didn't have the luxury of working from home and on whom we relied to get the goods we needed — from medical supplies to toilet paper to milk.
Rourke describes Schneider's truck drivers and shop personnel as the heroes of the organization, but throughout this time the entire team has had to adapt to the new normal. Prior to the pandemic, transportation companies expected peak seasons around the holidays and a handful of other times throughout the year. That has changed, as the industry has struggled to keep up with six consecutive quarters of a "constant peak season."
As the supply chain crisis has played out, much of the focus has been on the ports, but all areas of the transportation sector are experiencing what Rourke refers to as "sand in the gears." In the past, a truck driver could drop a loaded trailer at a distribution center and expect it to be emptied and returned within two days, ready for the next customer. That timeline has now stretched to three to four days due to labor shortages and pandemic-related complications, which only creates further backups.
Moving into the future, companies will rethink how much inventory they hold as well as their supply chain partners, Rourke says. Schneider and its customers also have adopted a more partnership-oriented mindset as they have problem-solved together. That will remain important as additional issues — including worsening inflation and spiking oil and energy costs — continue to emerge.
"I think there'll be some fundamental learnings and adjustments that come out of this experience," Rourke says. "Everybody really had to lean on each other in a little bit of a different way."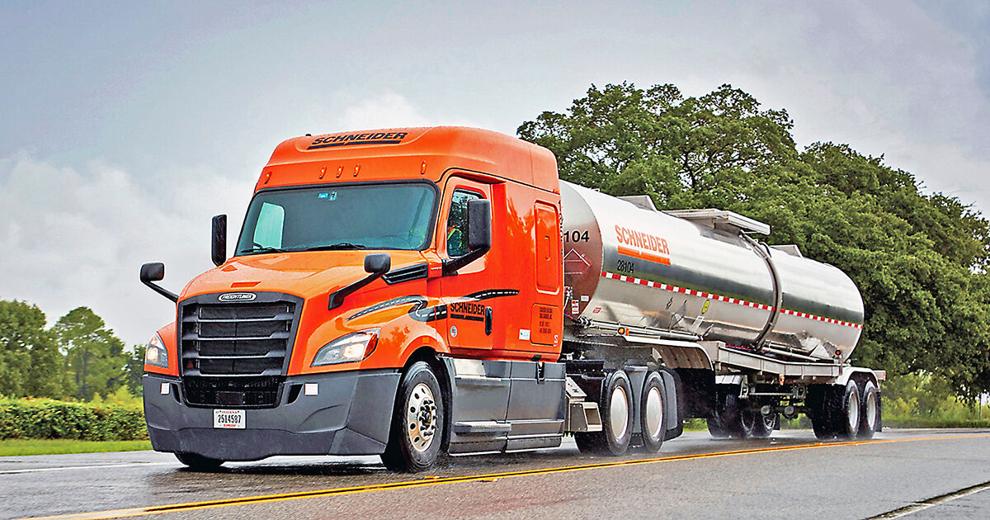 The long haul
Rourke has spent his entire professional career with Schneider. An Ohio native with a marketing degree from the University of Akron, Rourke began at the company's Akron, Ohio, location in a role supervising truck drivers. 
"It was a great experience because you learn the business from what really matters, which is the customer and the driver's view," he says, but then: "All roads lead to Wisconsin for our company."
Rourke moved to Wisconsin in 1995, and while he confesses that his sports loyalties remain with Ohio teams, he says the two states share similar Midwestern values. He and his wife, also an Ohio native, went on to raise two sons and a daughter in the Green Bay area.
Prior to taking over as president and CEO of Schneider in 2019, Rourke "got to do a little bit of everything," including customer service, operations, training, and working with both asset- and non-asset-based carriers. "What I've always liked about Schneider is that it's big enough that you can get various experiences without having to leave the company," he says.
Kelly Armstrong, vice president of economic development for the Greater Green Bay Chamber, echoes that sentiment. Her organization promotes the region's reputation as a shipping and logistics hub. In fact, it boasts the 18th-largest industry concentration in the nation.
"You have the concentration of the industry here. You can come here and build your entire career here. You can start as an entry-level person and work your way up," she says.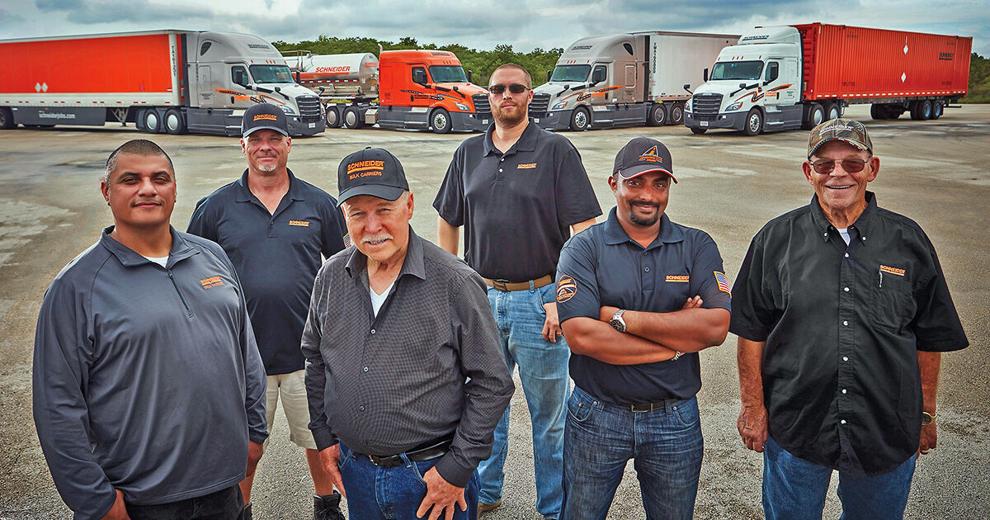 Throughout Schneider's 87-year history, the trucking and logistics industry has undergone massive changes. When Rourke came to the company 35 years ago, it was during "that innovative period of deregulation," he says.
The deregulation that came with the Motor Carrier Act of 1980 "resulted in a new business model, based on paying drivers for miles driven, as well as giving trucking companies and shippers the rights to negotiate rates to haul. The rise of low-cost, non-unionized carriers caused a doubling in operating authorities from 20,000 in 1980 to over 40,000 by 1990," according to FreightWaves, a supply chain, trucking and logistics news organization.
Prior to the passage of the act, Rourke says, Schneider was likely the only full truckload, heavily unionized company that went through a deregulated period in which "I think, at one point we had more lawyers than we had salespeople. You had to get authority from the government to haul a product from point A to point B in a wide-open, free marketplace," Rourke says.
The late Don Schneider, son of Schneider founder Al Schneider and president and CEO of the company from 1976 to 2002, was a visionary who saw the need to adapt in the face of change, Rourke says. Plenty of companies have been around for 80-plus years, but if all they do is play defense, other players will come along to disrupt them, he adds.
"Don just said, 'Nope, we've got to change. If it means that it disrupts the business that we're in today, we've got to do it because it's going that direction anyway. You might as well get in front of it and embrace it and go,'" Rourke says.
That forward thinking has helped Schneider, which is known for its fleet of about 10,000 iconic orange trucks, evolve throughout the years. The company began as a truckload carrier with a singular focus on providing service for regular routes. Today, it works across three large segments: over-the-road trucking; intermodal solutions, in which it combines its services with rail; and logistics, where it uses others' assets to manage and carry out work for customers. The business boasts an annual revenue of $5 billion across the three segments.
"We're not just truckers anymore. We love our trucking heritage, but we're also a top-three intermodal provider and one of the largest 3PL brokerage companies. Bringing all of those asset solutions together is really what our mission is every day," Rourke says.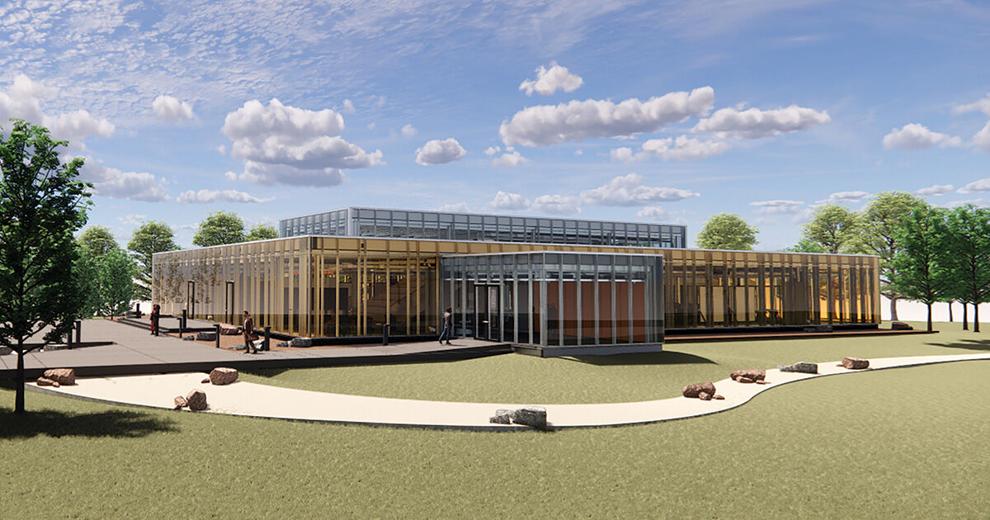 The next frontier
As Schneider continues to battle the challenges of supply chain, inflation and talent recruitment, it's also positioning itself as a leader in the areas of technology adoption and sustainability. For the former, that means preparing for a future that includes electrification of truck fleets and, later, autonomous vehicles.
Last July, Schneider announced plans to build The Grove, an innovation center, on its Ashwaubenon campus. The 20,000-square-foot building, slated for completion this fall, will house the newest collaboration and visualization technologies and allow Schneider associates to leverage artificial intelligence, machine learning, automation and user experience technologies.
Shaleen Devgun, chief innovation and technology officer for Schneider, says the facility itself offers exciting opportunities, but it represents something bigger. "To me, it's a physical manifestation of our history of pragmatic innovation," he says. "Innovation is something that's in our DNA. We've been doing it for the last 80-plus years."
"They could have made that investment anywhere, but they chose to make it here," the Greater Green Bay Chamber's Armstrong says of The Grove. "The more things you can create like that in a community, the more it pulls people in."
Visibility is critical within the industry, and technology can offer tools to enhance that, Devgun says. It can assist with information flow between suppliers, manufacturers and shippers as well as create transparency within freight, allow for more effective supply chain management, and provide ways to communicate with customers about order status. 
The pandemic has intensified the shift toward e-commerce, and that's creating new considerations — including how and where to store goods — and changing consumers' expectations. "I want something now, and I'm going to be able to use technology to order something that I want, and I can have it shipped to me in 24 hours or less," Devgun says, adding that technology can help harness useful information about the flow of goods. 
Improving conditions for drivers is a top objective for Schneider, and Devgun says the company is using technology to provide a best-in-class experience for the truck driver. The goal is to alleviate secondary concerns so drivers can focus on the task at hand. Technology allows drivers to check their benefits on a tablet in the cab and perform tasks in self-service mode, such as reserving a shower at a truck stop or pre-ordering a meal to avoid waiting in line. Those are in addition to comforts within the truck that include premium mattresses and refrigerators.
As for newer technologies, Rourke says an electric revolution has already begun within the industry, and the deployment of autonomous vehicles will follow later. "We're very early in those journeys, but they're certainly going to change the face of the industry again," he says.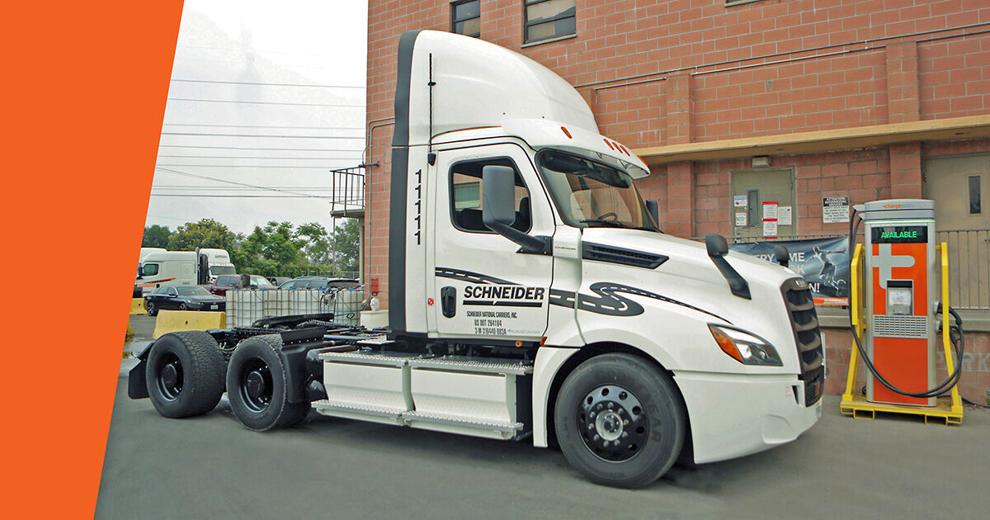 In August, Schneider announced it was adding 50 Freightliner eCascadias — the truck manufacturer's first commercial Class 8 battery-electric truck — to its southern California intermodal operations, making the organization one of the largest battery-electric truck fleets in North America. 
California's subsidies and warmer climate made the state a good choice for the investment, but Rourke says it also benefits the company's greater Green Bay operations. "The beauty is that our expertise of being able to learn how to do that at scale — and do that anywhere — will reside here in Green Bay. The knowledge will be here, although the execution may be more decentralized for a while."
Autonomous trucks won't come online for some time, but Rourke says the testing and technology are in play already. When the use of the vehicles does become widespread, it will help drivers because technology will be able to take over the hardest parts of their jobs and allow them to do more value-added work.
"That will fundamentally change everything that we do: if you and I can get used to looking up and seeing 80,000 pounds and nobody in the truck. I guess we all have to get comfortable with that," Rourke says.
The journey to autonomous vehicles also is paving the way for safer trucks now. Trucks today include collision-mitigation technologies, lane departure warning systems and cameras that eliminate blind spots, Rourke says.
On the sustainability front, in addition to embracing the electrification of fleets, Schneider educates customers about the benefits of intermodal solutions that can save carbon emissions. "As things become longer and more disbursed, there can be cost savings and environmental savings by converting a portion of [the journey] to an intermodal train," Rourke says.
In the long term, Rourke anticipates additional large-scale changes within transportation and logistics. Right now, the industry is fragmented, with thousands of full-truckload providers. That's in stark contrast to the small number of airlines, the four Class 1 railroads and fewer than 10 less-than-truckload companies.
Industry experts have been calling for some level of consolidation for some time, Rourke says, and this action would bring some advantages of size, scale and integration. He envisions a future in which large firms will control and coordinate with their own assets as well as others' and manage the movement of goods. Getting there will take some investment, but Rourke says he's seeing more inquisitive activity around consolidation.
Before reaching that point, the industry still has immediate challenges to tackle. As he leads Schneider through those, Rourke will draw on learnings from the past two years. "[During the pandemic], people knew every day they were making a difference. You have to lead from an authentic place. If you're not genuine, people sniff right through that pretty quickly."

President and CEO: Mark Rourke
What it does: Provider of transportation, intermodal and logistics services
Founded: 1935
Headquarters: Ashwaubenon
Employees: 16,050 worldwide
Freight miles moved per day: 9.3 million