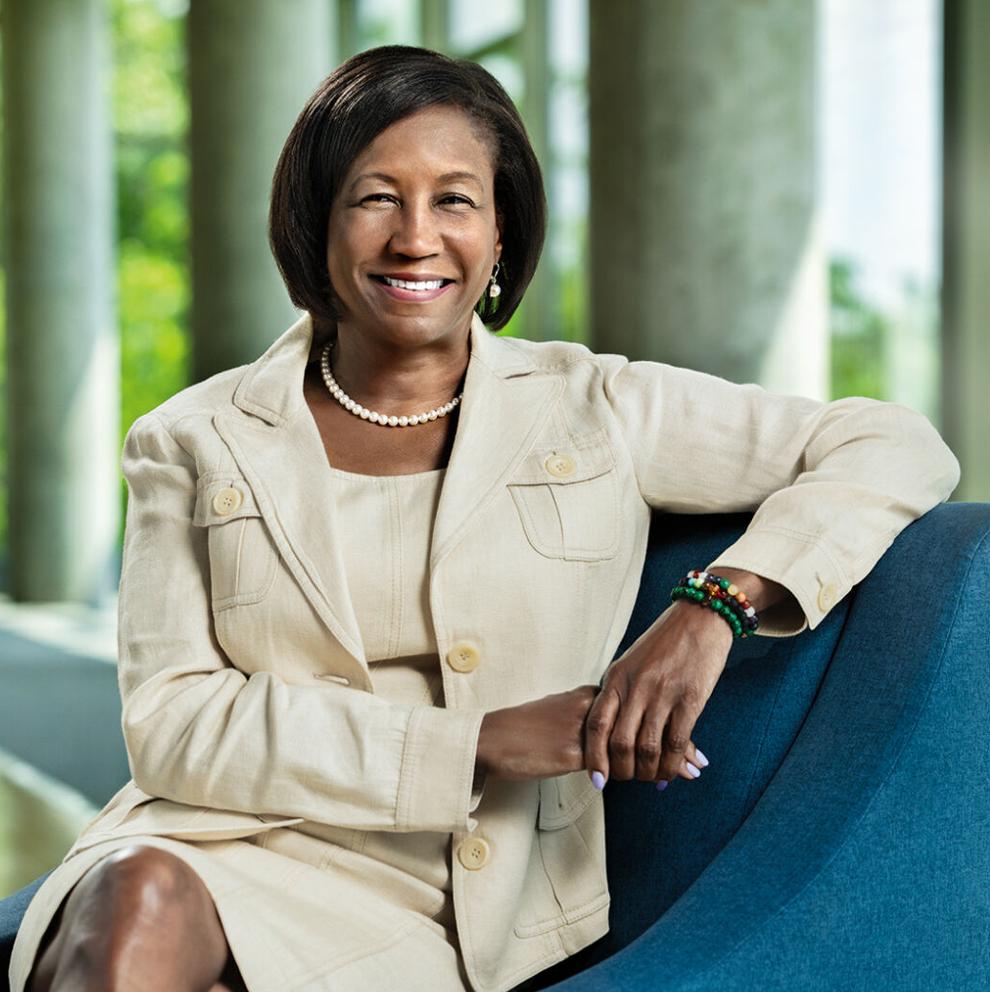 At her inauguration, Lawrence University's 17th president quoted Buddha. "Doubt everything. Find your own light." For a university whose identity has been tied to the concept of light for 175 years, the wisdom shines through on many levels. A liberal arts education teaches us to be skeptical and ask important questions while shining a light on new ideas and perspectives. And as the concept of liberal arts education is maligned by doubters who question its value, Laurie Carter is pushing back hard and shining a light on opportunities she says are fundamental to our society.
---
Beacon on the River
Standing on her inauguration stage at Lawrence Memorial Chapel May 13, New Jersey native Laurie A. Carter spoke passionately about Lawrence's national reputation for excellence and its history as a "beacon on the Fox River."
"This beacon's light called to me," she said. "This is why I am honored to be standing here today. I came to Lawrence University knowing a liberal arts education is exactly what today's society demands. It is what society has always demanded. For 175 years this beacon on the river has illuminated students' journeys of enrichment and exploration, igniting their passions and propelling them into meaningful careers that impact their communities, our nation and the world."
Carter's liberal arts evangelism predates her time at Wisconsin's top liberal arts college. In her previous role as president of Shippensburg University in Pennsylvania, Carter sat on the board of the Pennsylvania Chamber of Commerce and heard business leaders talk frequently about their search for employees with "soft skills."
"And I would sit there and think to myself that they are talking about liberal arts skills," Carter says. "They are talking about people who can problem-solve and think critically and communicate well and work across diverse environments. They're looking for people who have leadership skills and who know how to interact with people and can move agendas forward. So that really compelled me to come to Lawrence, and now I am compelled to share that message."
For decades, degrees in disciplines like psychology and history have been the punchline of jokes about unemployment, but Carter says reality doesn't match the pervasive narrative.
"When you look at top CEOs, ask how many were liberal arts majors," Carter says. "English majors, history majors, they're leading Fortune 100 companies. Yes, maybe they went to business school or did something else afterward, but that core, that foundation, is in the liberal arts."
Lawrence's music conservatory is among the nation's most renowned, but Carter says it's important to share messages about the university's opportunities outside of the arts. Today Lawrence boasts 65 areas of academic emphasis, including majors in anthropology, biochemistry, computer science and government; cooperative degree programs in public health, engineering and forestry; pre-law and pre-health professional programs; and an innovation and entrepreneurship program that features courses, practicums and the "LaunchLU" pitch competition.
"We have 200 students here this summer who are engaged in research with our faculty members, and we are always looking to place students in internships so they have the opportunity to work alongside people in business and industry," Carter says. "Lawrence is really a leader in providing the skills that are needed, and then it grows from there depending on the student's area of interest."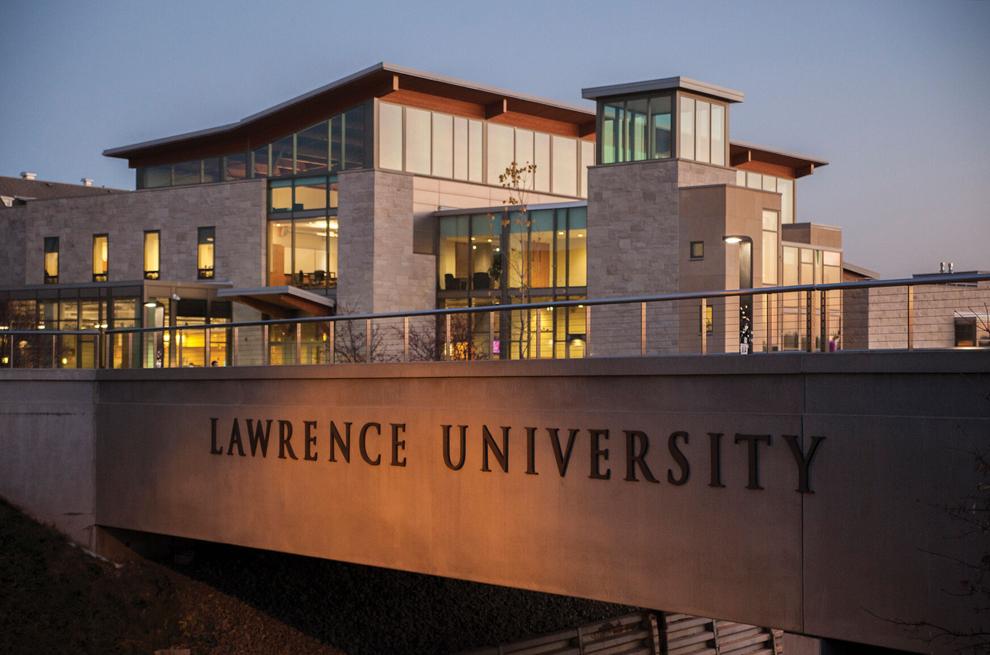 ---
Student focused
Carter had been Shippenburg's leader since 2017 when she was named Lawrence president March 4, 2021. Prior to being a university president, she was executive vice president and university counsel at Eastern Kentucky University. But the bulk of her higher education career has been spent at The Juilliard School in New York City, generally considered the nation's premiere performing arts college.
Carter, who had grown up dancing tap, jazz and ballet, had been working as a residence hall professional when her dance connection compelled her to answer a newspaper ad for Juilliard's director of student affairs job.
She was hired, and it became her responsibility to essentially create the institution's student affairs operation from the ground up — constructing and opening the first-ever residence hall, creating an orientation program and developing student activities. While working at Juilliard, she completed law school at Rutgers University.
"I had a very clear path. I wanted to become a prosecutor so I could get good training to become a criminal defense attorney," Carter says of earning her juris doctorate. "I literally had a job offer in hand to go to the prosecutors office when they asked me to stay at Juilliard."
She stayed, she says, because her boss Joseph Polisi — now Juilliard's president emeritus — expressed a strong belief in Carter's ability as a higher education professional, encouraging her to aspire to a future university presidency. Carter was convinced, she says, and went on to serve as the institution's general counsel and created its legal office. She then dipped her toe in the academic pond when she was asked to research, create and then co-lead a new Juilliard jazz studies program.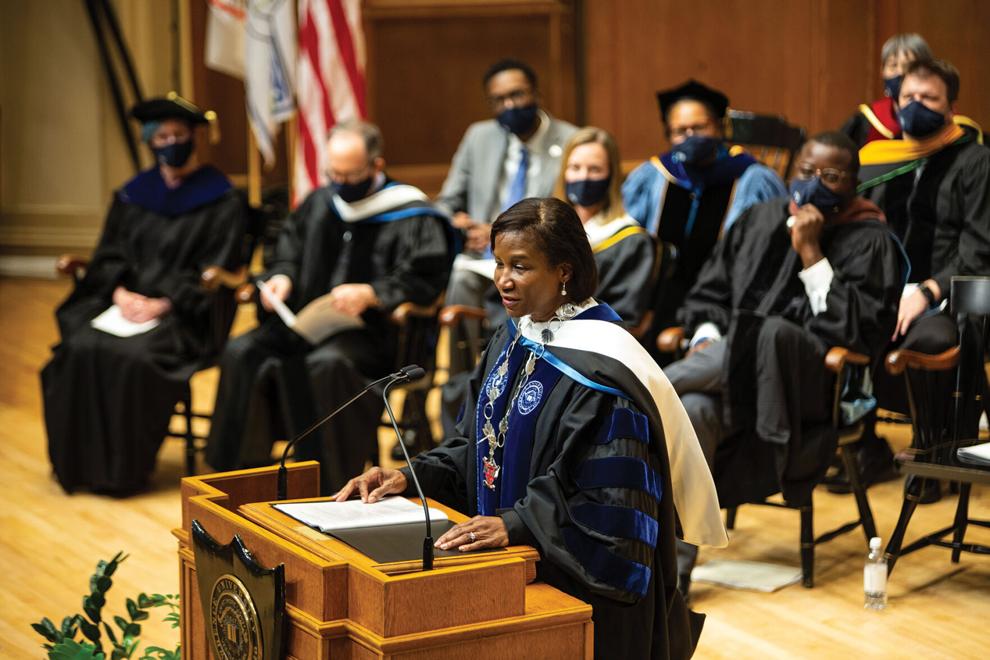 "She was instrumental in making our jazz program, now led by Wynton Marsalis, one of the most successful ventures of its type in the world," says Polisi, who spent 25 years working with Carter at Juilliard. "I saw [her] grow into an accomplished administrator and an exceptional educational and artistic leader."
Today, Carter says she has no regrets about her choice to stay in higher education. And while a passion for the student experience was what kicked off her career, today she is guided by a broader appreciation for the tenets of student success — inside and outside the classroom.
"I really am passionate about working with students," she says. "Today's students are more challenging in really good ways, and for someone like me who has spent my entire career in higher ed it just keeps me on my toes and keeps me motivated to make sure I'm doing the best I can for them."
In addition to quoting Buddha at her inauguration, Carter quoted Maya Angelou: "Maya Angelou said, 'Nothing can dim the light from within.' Experience has taught me that sometimes you need to help others find their internal light."
One who benefited from Carter's student-centered approach is Robert Battle, artistic director of the Alvin Ailey American Dance Theater in New York City. Battle was a dance student at Juilliard in the early 1990s while Carter was working in the administration. He traveled to Appleton to speak at his mentor's inauguration.
"She has this brilliant mind along with a compassionate heart that allows her to really see beyond the veneer and get the job done," Battle told the crowd gathered in Memorial Chapel. "You have a saying here — be the light, bring the light. I love that expression. When I think about Laurie Carter it's more than that for me. She is like a prism. She reflects the light in everyone she meets. She allows your light to be made visible. In other words, I have always been able to see the best of myself through her."
---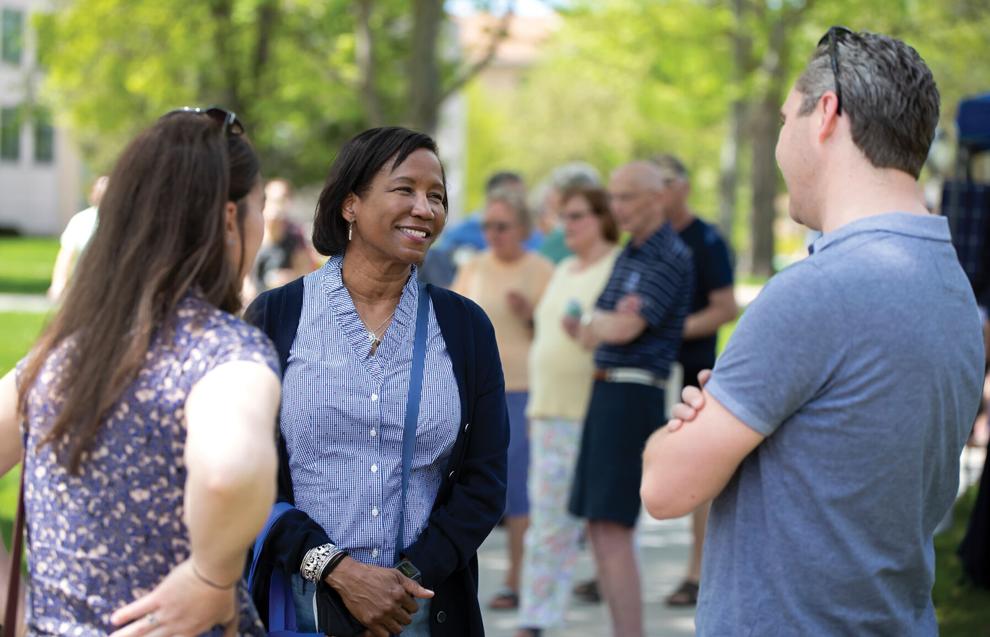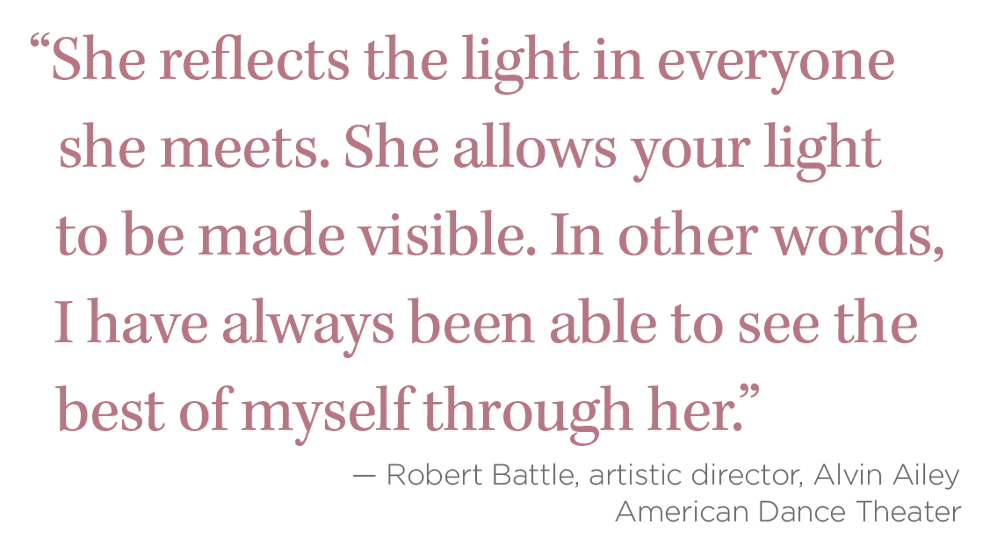 At home in Appleton
Carter says the students and staff at Juilliard are well aware of the reputation of Lawrence University, as top arts students are frequently admitted to both institutions. So when she received the phone call about the opportunity to lead Lawrence, she was honored and impressed.
"My first thought was, 'Wow, that's a great institution,'" she says. "My second thought was, 'In Wisconsin.' I had to process what that meant for my family. We had never lived in the Midwest."
Ultimately, the family embraced Appleton and hasn't looked back. Carter's immediate family includes her husband Gary Robinson — a retired detective — and the couple's son, Carter Robinson — a recent college graduate with a passion for marine conservation. Carter Robinson, his mother says, initially had zero interest in living in Wisconsin but has experienced a major charge of heart since arriving in the community. He has even begun happily referring to himself as a "regular," she says.
"It's just a community that embraces you. When I talk to people I talk about it as being a thriving community. There are not many communities this size that have all that Appleton offers. It's really a very special place in so many ways," Carter says, adding that her family hasn't felt the need to travel elsewhere.
"We came here last summer with the intention that we're going to take day trips," she says, "but we just fell in love with Appleton."
As an African American family in a city that is 84% white, Carter says the experience has been warm, welcoming and wonderful so far — but she acknowledges that hasn't always been the case for families like hers. She sees it in the response to her distinction as Lawrence's first African American president.
"It means a lot to me because I know that it matters to students and it matters to alumni," Carter says. "Alumni have told me with tears in their eyes how much it matters to them that I'm here and the message it sends about Lawrence and where it is today versus when they were here."
Speaking at her inauguration, Carter said she is "confident we can do better" and added the university is actively working to become an antiracist institution.
"This work is consistent with the values of our founder, abolitionist Amos Lawrence," she told the audience. "A demographic shift is taking place in this country. It is forecast that more students of color will be attending college in the coming years. In addition, the number of first-generation students is on the rise. We must be prepared to receive these students and provide them with a sense of belonging."
---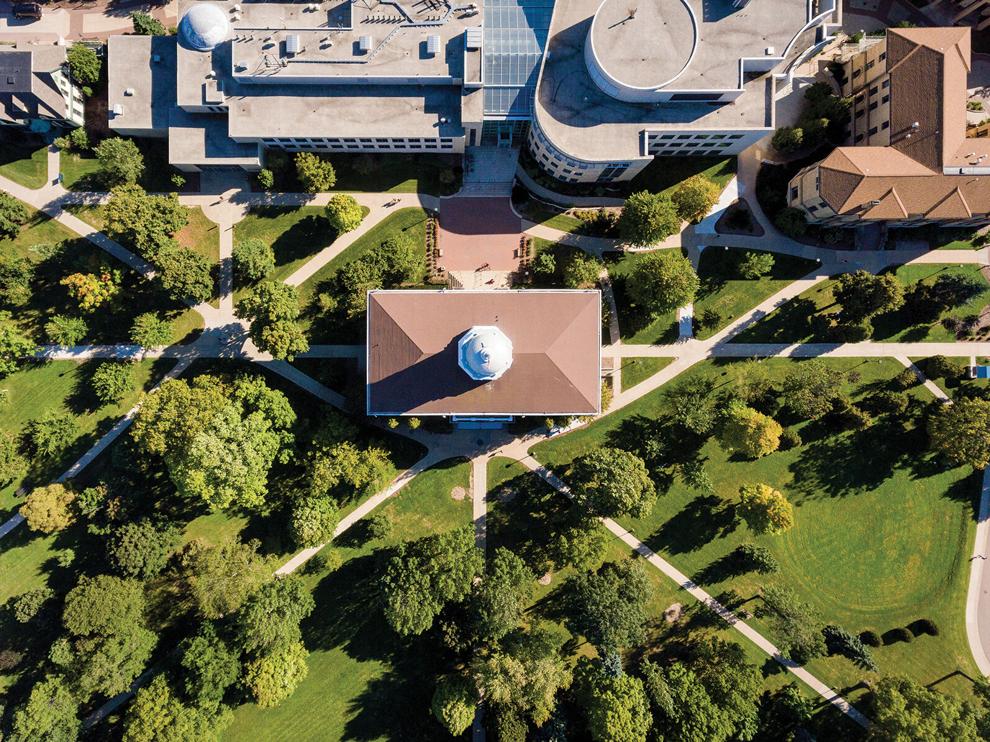 Bright future
Carter says the challenges facing Lawrence University are no different from those facing U.S. higher education in general, including the impending 2025-2026 enrollment cliff — a phenomenon in which U.S. institutions are likely to see their pool of prospective students shrink dramatically about three years from now.
But, she says, selective liberal arts institutions like Lawrence are better positioned than most schools to weather the storm. Lawrence has settled in comfortably at an enrollment of about 1,500 because of campus housing availability, she says, and Lawrence's student/faculty ratio is approximately 8:1.
"Right now we're doing the work in terms of our enrollment process to make sure we're well positioned for the future. We're looking at programs we need to bolster, provide more support for or create in order to meet the needs and demand of students and their families," Carter says.
This involves upgrading infrastructure and facilities — including work on its residence halls this summer; improving its career center; expanding diversity, equity and inclusion programming; enhancing technology; increasing its digital marketing footprint; and exploring more partnerships with both industry and Lawrence alumni. Carter says she envisions the development of a leadership institute at the university within the next few years.
The university also completed a recent review of its student life operation — including the availability of wellness programs, both pandemic-related and otherwise, modern students desire.
"Students have come through this pandemic and it has changed their young lives in significant ways," Carter says. "We cannot do what we were doing prior to the pandemic and think that's going to be enough. We have to be very mindful of people coming in in a different place than they were."
And then, there's the opportunity to keep telling Lawrence's story.
"That's my goal: for folks to understand that Lawrence is not just the conservatory," Carter says. "There is this liberal arts core of everything we do that is really compelling. I think using the same language matters — for business and industry to realize that the 'soft skills' they are talking about are liberal arts. So how can we engage with business and industry in ways that will help them develop their leaders?"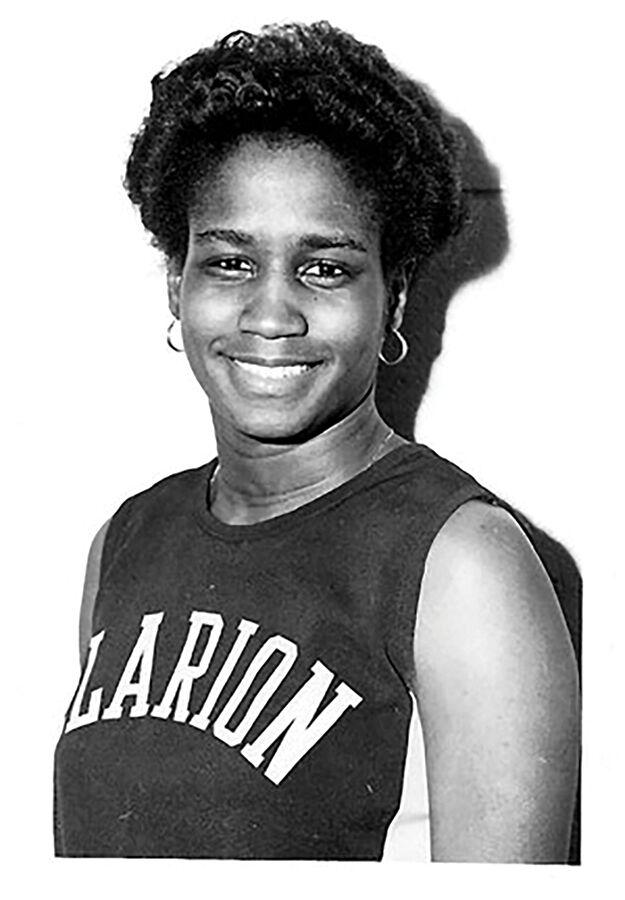 Carter says she's optimistic about continuing that conversation.
"I've really gotten the sense that the Fox Valley is a community that is interested in keeping pace with what society needs and not just resting on its laurels," she says. "Folks really care about this community and want it to continue to thrive."
And from the very beginning, Appleton Mayor and Lawrence alumnus Jake Woodford says, the university and city share a rich, joint history.
"Without a doubt, neither the city nor the university would exist in its present form without the other," Woodford said in his welcome remarks at Carter's inauguration ceremony. "Sustaining and growing communities requires commitment, partnership and toil."
That demonstrated commitment is why Carter says she took the leap of faith that landed her in Wisconsin.
"You hear all the rhetoric about higher education and the liberal arts and you want to [make sure you're a] part of an institution that really has a firm view of the future and is looking to provide the kind of education that will help students thrive in the world," Carter says. "Lawrence has always been that kind of place."