It's a little ironic that the service line J.F. Ahern Co. is best known for — fire protection — was started to help win a contract at the Janesville General Motors plant in 1981.
GM was looking for a contractor to handle both large mechanical and fire supression. At the time, Ahern did not offer fire protection, but company leader John Ahern Jr. was committed to starting the service line to win the bid.
"We started our fire protection division with that one job, and our fire protection service line quickly grew from there," says Tony Ahern, the Fond du Lac company's president and chief operating officer and John's son. "Mechanical contracting remains the largest segment of our business. However, people see the Ahern name nearly daily in their businesses on fire extinguishers and other fire protection products, so that is what springs to mind."
During the past 140 years, Ahern has grown from a steam heating and plumbing company to a large specialty contractor and service provider with approximately 1,300 employees working from 14 offices across the Midwest. Tony Ahern and his brother, Tripp, chairman and CEO, are the fifth generation to run the business, which provides products and services in mechanical contracting, fire protection, pipe fabrication, industrial service and building controls.
Tony Ahern says steady, sustainable growth has been key to the company's success through the years. "We're truly a full-service specialty contractor company," he says. "I can't think of an industry we're not in. Eighty percent of our work is with repeat customers, which shows the quality of our work and our employees' dedication to providing great customer service."
Tripp Ahern credits that repeat business to the company's employees.
"I attribute our company's success to hiring great people who share our vision of taking care of our customers, solving problems and standing behind our work," he says. "We are committed to doing things the right way, and that has a way of working out very well in the long run."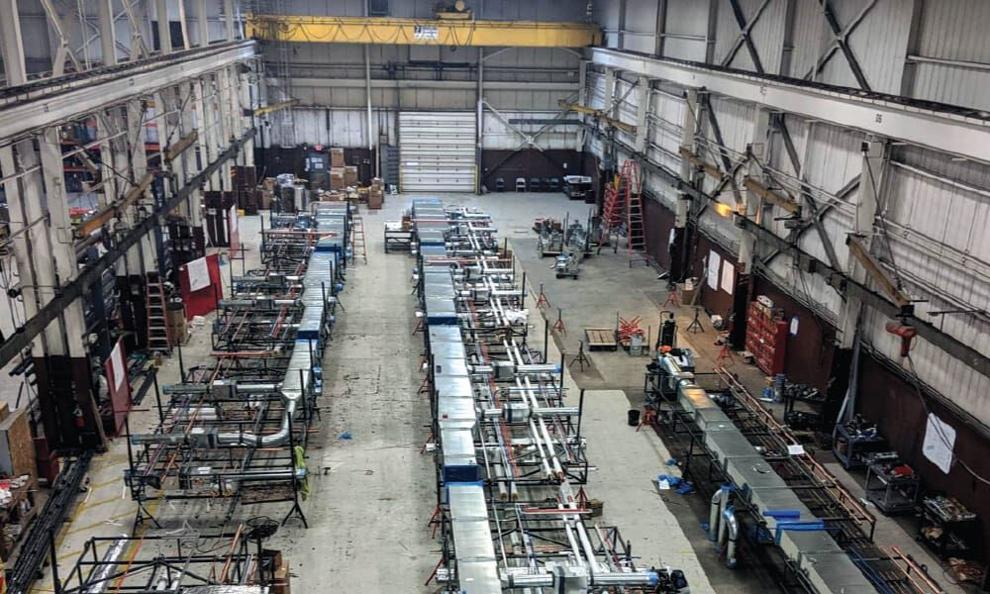 Driving change
The Ahern brothers are the latest generation of the family to run the business. Both worked for the company growing up, whether it was sweeping the floors, cutting the grass or doing other odd jobs. While the siblings eventually returned to the family business after college and working elsewhere, they didn't feel pressure to do so.
"I always wanted the opportunity to eventually come back to the family business," says Tripp Ahern, who joined the family business as project manager and estimator after working in New York City for a mechanical contractor.
Tony Ahern agrees that working for the family business was something he wanted to do after gaining experience elsewhere.
The company started in 1880 when David Ahern opened a small steam heat and plumbing shop in Fond du Lac's downtown. His sons, William and J.F., later joined him in the business, which focused on selling to the residential market.
J.F. Ahern's two sons, Don and Tom, were the next generation to lead the company. Don Ahern's two sons, John and David, took over in 1971. David Ahern retired in 1991, with John staying on as CEO until Tripp Ahern was named CEO in 1997.
John Ahern, who died in February 2019, stayed on as chairman until 2018 when he was named chairman emeritus and Tripp was named chairman. At that time, Tony was named president and chief operating officer.
Between the brothers, Tony Ahern has responsibility for day-to-day operations, all P&L units and support functions operations, while Tripp Ahern focuses on overall strategy and works closely with the entire management committee.
While Ahern initially focused on the residential market, the company entered the commercial market in 1920 and never looked back. The decision allowed it to get involved in new industries, including health care, education, government and more.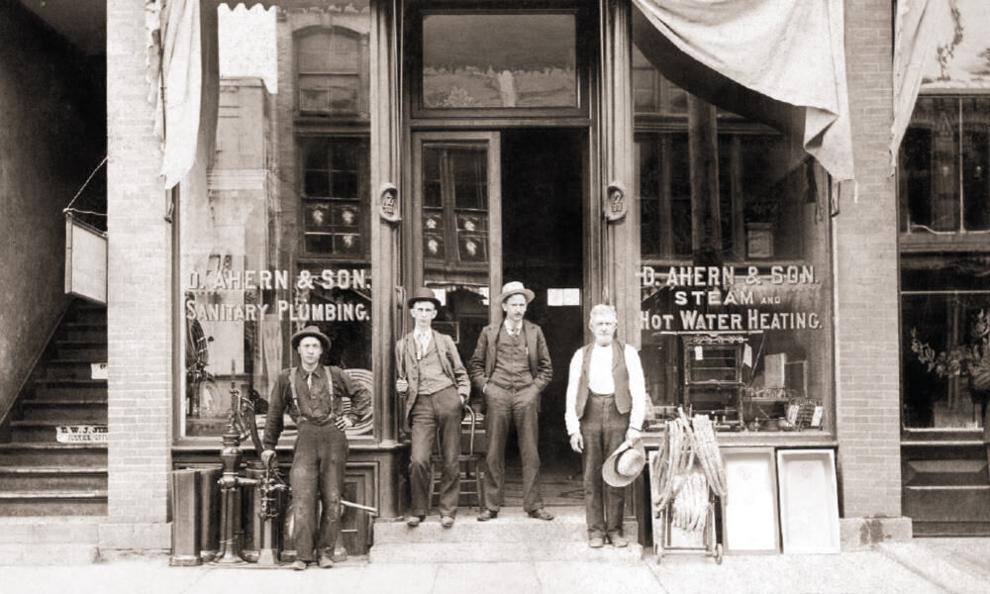 During the Great Depression, Ahern — along with other businesses — struggled, but the business rebounded and saw additional growth during and after World War II as it took on additional construction projects, such as military barracks and hospitals. The diversity of projects allowed Ahern to put down roots in other parts of Wisconsin and other states.
"Today, we are in nearly every industry sector," Tony Ahern says. "And as those industries change, we've changed right along with them."
Ahern's list of long-time clients is lengthy and includes Advocate Aurora Health, Agnesian HealthCare, the State of Wisconsin, Mercury Marine, Kraft Foods and Harley-Davidson. In addition, the company completed work for the Lambeau Field renovations, Camp Randall Stadium in Madison and Oshkosh Corp.'s new corporate headquarters. Ahern also recently received a mechanical contracting assignment for the Foxconn project in Racine County.
While the company has compiled a list of loyal clients through the years, Tony Ahern says nothing is taken for granted. "We're working to gain more efficiencies in our work, and we're optimistic about the future. We have to compete every day," he says.
Ahern recently completed a buildings control project for West Bend Mutual Insurance. Kyle Roux, facility engineer with the company, says Ahern played a vital role in helping the insurer's headquarters run as economically and sustainably  as possible.
"Throughout the project installation, we were impressed with the professionalism of Ahern's technicians as they worked to complete this considerable install on such an aggressive timeline as well as our noise and distraction constraints," he says. "From the engineering of the project to electrical and mechanical installation, and right through to air balancing and cleanup, we have high regard for the level of technical knowledge of Ahern's technicians and consideration for our associates as this project was underway."
With construction jobs in multiple states, Tony Ahern tries to visit 20 to 25 sites annually. "I enjoy being out on the sites — both big and small — and get that unfiltered feedback from the field," he says. "It's important for the employees to see us (the leadership) out there."
While the decision to diversify products was pivotal to Ahern's growth, so was the decision to service those products, Tony Ahern says.
"We're truly full service. Whether it's installing mechanical and fire protection systems in a large hospital or providing a $50 fire extinguisher in your office, it needs to be serviced," he says. "Adding service and additional capabilities also opened the door for more opportunities for our associates since they can grow and learn additional skills."
Servicing the different product lines also provides fairly consistent business. A slumping economy may lead to a decline in new construction or remodeling projects, but businesses still need to have their fire protection or building systems serviced to keep them running at an optimum level.
As for the company's growth into markets outside Fond du Lac, Tony Ahern says it has been gradual and intentional. "We're opportunistic. If we're in a new region doing a job, and there are good people to build business around, we'll stay," he says. "Sustained, controlled, profitable growth is the model that has served us well."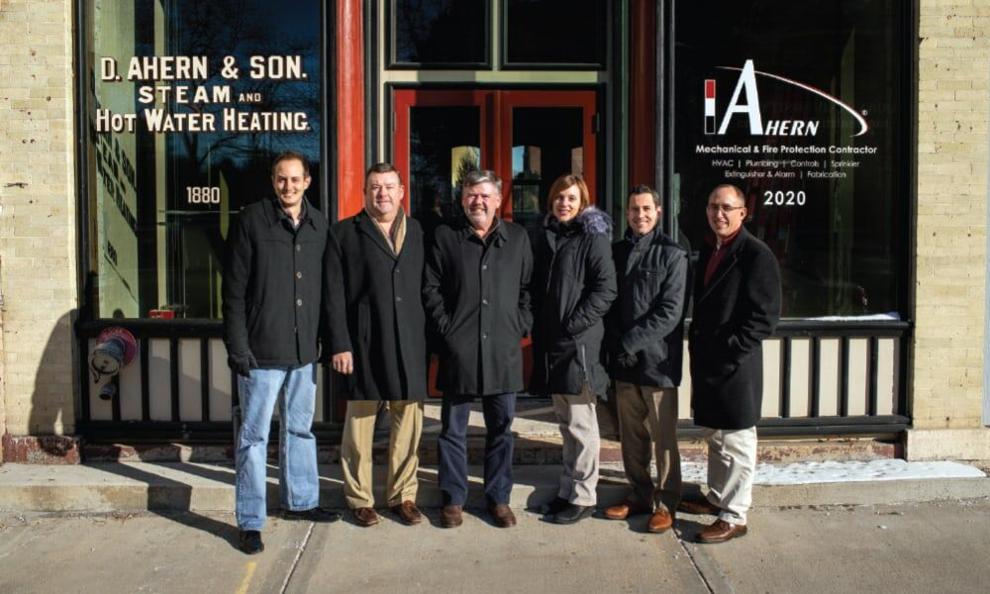 Employee investment
Ahern's employees are what makes the company stand out from its competitors, Tony Ahern says. To that end, the company invests in training, processes and equipment so employees have what they need to do their jobs effectively and efficiently, providing customers with the best possible service and products.
The decision to invest in employees is a differentiating factor, Tony Ahern says. For example, during the late 2000s when construction spending declined, the business took the opportunity to invest in its employee training and technology, so when the industry came back, it was well prepared.
"We came out stronger," he says of the time following the recession. While the construction business is now booming, "investing in employees and equipment remains important today."
Along with investing in its employees, innovation — whether it's in process or products — is another key principle. The company began working with air conditioning in the 1930s and added radiant heating to its capabilities in the 1940s.
Another example of the company's innovation is its early adoption of prefabrication, which is now common in construction. Ahern began doing prefabrication work in the 1950s, which allowed the company to improve turnaround time and help keep projects on schedule. Today, the company prefabricates piping systems in Appleton and Fond du Lac and then ships them to their own construction projects and other contractors across the country.
"The more that can be done in a controlled facility, the better," Tony Ahern says. "We do prefab plumbing, piping and fire protection. That way, everything is done in a controlled environment, which has many advantages versus doing this work on site."
He adds that prefabrication improves safety — something the company is committed to. "Safety is first and foremost on our minds, whether it's the shop or a job site or servicing products," says Tony Ahern, adding the business has won numerous safety awards including the MCAA/CNA Insurance Safety Excellence Award – Category 5, which meant Ahern had more than 1 million work hours without injury in 2019.
When technology is combined with innovation, the end result benefits Ahern employees and customers, Tony Ahern says.
"We realize you need to be competitive and stay at the forefront of industry trends and technology to compete on jobs," he says. "Investing in technology also provides our employees with the latest equipment, which allows them to do the best possible job."
While Ahern is celebrating its 140th anniversary this year, Tripp Ahern says the company isn't slowing down any time soon.
"Over the next five years, I see our company continuing to evolve and grow to match the needs of our customers," he says. "We have made substantial investments in training, facilities, software, tools and equipment to improve safety, efficiency, engineering, design, prefabrication and communication. We will continue to do so."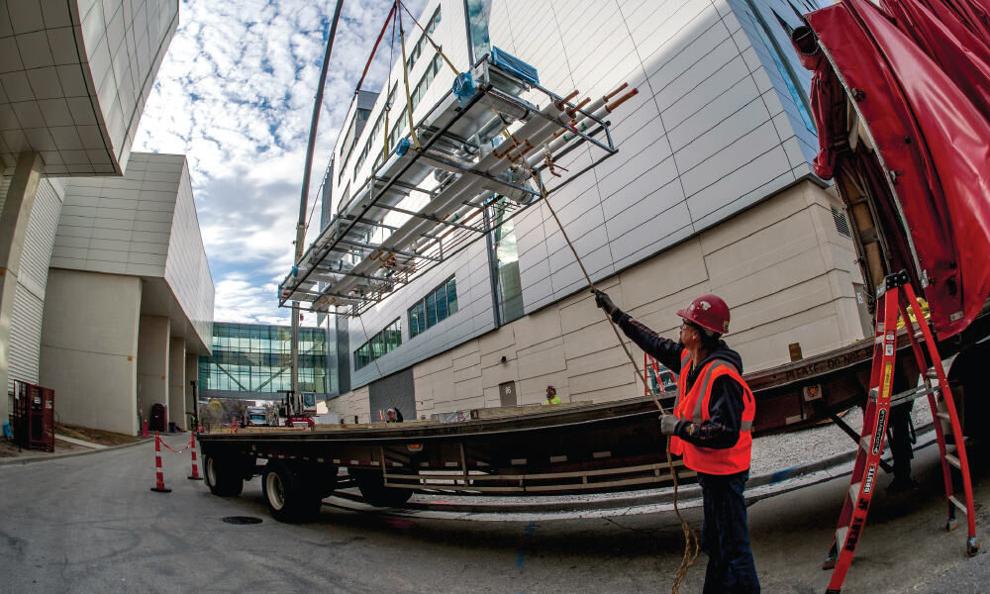 Humble beginnings
The phrase "you can't go home again" isn't always true — especially for J.F. Ahern Co., which repurchased the company's original storefront at 17 S. Main St. in downtown Fond du Lac.
What once was a small steam heat and plumbing shop before going through other owners was remodeled to showcase Ahern's heritage and the company's evolution.
Tony Ahern, president and chief operating officer, says the location will function as a museum and a meeting space for the company to connect with its employees, customers and the local community.
"We had the opportunity to purchase it and thought it would be a great way to respect the past while paying tribute to the future," he says. "We have a lot of historical items and archives, so this provides us another meeting space and a place to put them. We respect our history and all those who helped build the company over the past 140 years."
The remodeled building is expected to open this spring.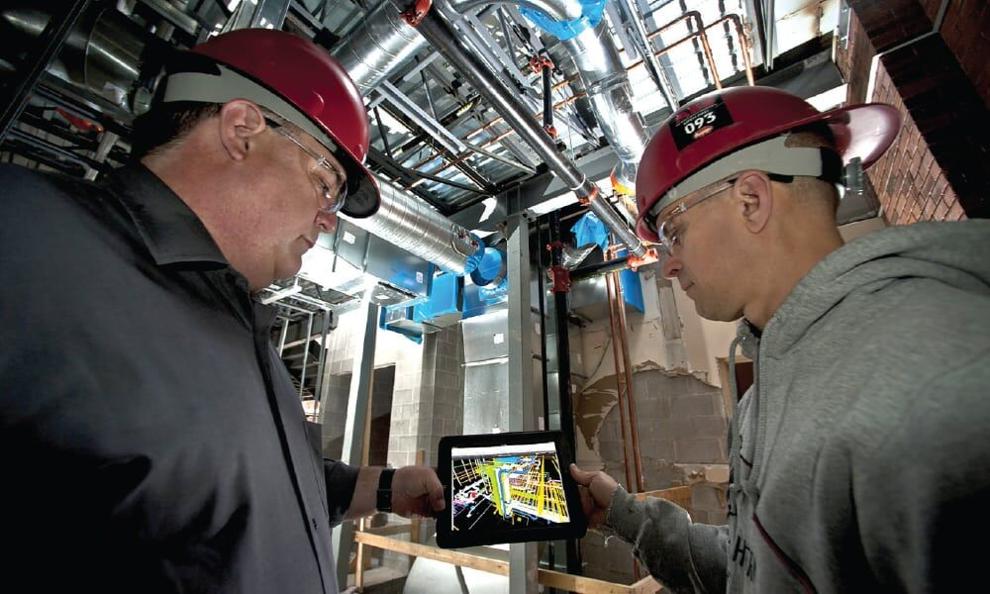 J.F. Ahern Co.
Headquarters: Fond du Lac
Leaders:  Tripp Ahern, chairman and CEO; Tony Ahern, president and chief operating officer
Year founded: 1880
Number of employees: 1,300
What it does: Provides integrated, multi-trade solutions for service and construction projects