In the early 2000s, JR Machine president and owner Tim Tumanic experimented with a model for recruiting new workers for his Shawano manufacturing company after hiring his son, Parker, and Parker's friend, Shane Kunschke, directly from high school.
"We started hiring (more) kids right out of high school," Tumanic says. "And they were juniors, seniors. They progressed, and at the end of their senior year, we offered them a full-time job. We saw that as a sustainable model going forward, and it was a successful model. Today, it still proves to be successful. So, the next thing was, how do we expand on that?"
That led JR Machine to look at the source of those workers: local high schools in Shawano and Bonduel. Both schools had dedicated tech ed programs, but they needed more capacity and newer equipment.
In 2012, JR Machine helped Shawano High School add a CNC mill and CNC lathe to its tech ed department, doing the same for Bonduel High School in 2018 and investing about $100,000 in each school. Additionally, JR Machine supports both programs annually with tools and books.
"(It was) not necessarily that we were going to be drawing employees directly out of the classroom, but we were going to create a manufacturing awareness in the high schools, exposing them to new technology," Tumanic says.
That effort, as well as the company's 55 percent growth over a four-year period to reach about $12 million in sales in 2019, are among the reasons Wisconsin Manufacturers & Commerce named JR Machine a 2019 Manufacturer of the Year.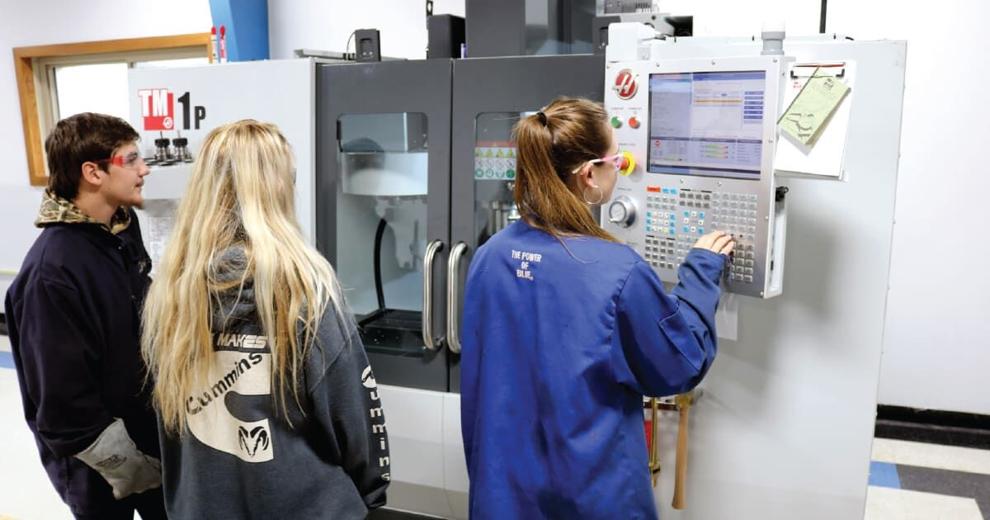 Investing in the future
A precision machine shop, JR Machine serves about 50 original equipment manufacturer clients around the country, manufacturing parts and providing some assembly for industries and items that include hydraulics, fire protection, building security, snow plows, heavy equipment, oil, gas, defense and pumps for the fracking industry.
Shawano is at least 40 miles away from larger cities that offer their own manufacturing job opportunities, such as Appleton, Green Bay and Wausau. Tumanic sees the distance as an advantage since that leaves him with a built-in population of students, many of whom grew up on farms and learned early the importance of showing up each day and doing a job right.
JR Machine's commitment to facility and equipment updates helps it retain workers. Since 2006, the company has invested $5 million in plant and equipment upgrades, including another $1.4 million in a new automated work cell in 2019 to help it stay competitive and reduce the needed manpower on those machines. That investment allows employees to build their automation and robotics skills.
The company is on a 10-year program of replacing equipment, says Kunschke, who was hired right out of high school and is now production manager. He works with all new employees and the tech ed teachers at the schools.
"We actually stay up on the edge of technology," he says. "That way, things are always new, and employees see that we're … replacing the old stuff, and it just keeps everything moving forward."
JR Machine, which runs two 10-hour shifts with about 36 employees, offers on-the-job training, and even entry-level employees start out at a competitive wage, which ensures they stay put in Shawano and don't take a job 45 minutes away.
"That's the No. 1 thing in the Shawano area. There's a lot of good, hard-working kids," Kunschke says. "Everybody thinks you have to go to college these days, and that's not necessarily true. As long as you're a good, hard worker, you can make really good money at a job like this."
New employees receive a dollar-an-hour increase every six months for a two-year period during their training program, which starts with job shadowing to help them get fluent with the machines. New employees are paired with senior operators on first shift, then move to nights.
"Being on second shift for two or three years when you're young isn't always the most appealing thing," Tumanic says. "You want to be out with your friends on Friday night, and sometimes that's not possible. At the end of that two-year period, if someone sticks with it, it tells us a lot about the employee that we have for the long term."
JR Machine employees qualify immediately for a quarterly gain share program, which provides workers a percentage of revenue above the company's baseline goals. "In 2018, the average gain share was equivalent to an extra $4 an hour per employee," Tumanic says. "That's pretty huge."
In addition to the quarterly gain share, JR Machine provides employees with regular business updates, including financial information. Tumanic says it serves as a good incentive.
"That's the culture we're building there. You've got to do that through transparency, letting the employees know where we stand as a company, what our goals are, and get them all to buy in," he says.
Kunschke agrees. "Everybody is really looking out for the company because they know if the company is doing good, they'll do good, and that's the philosophy for everybody," he says. "And that's been put in everybody's head right from the top down, right from Tim and his son, Parker (JR Machine vice president)."
The company also has a referral program for recruiting, which works well in finding capable workers, because employees are "very careful on who they bring in, because it could affect their gain share," Tumanic says.
"The majority of our employees are the (average) age of 28, they all own their own homes," he says. "So, they made the decision to anchor in Shawano. That's really important. They're buying boats, automobiles, trucks, you see them living a good life where they want to live."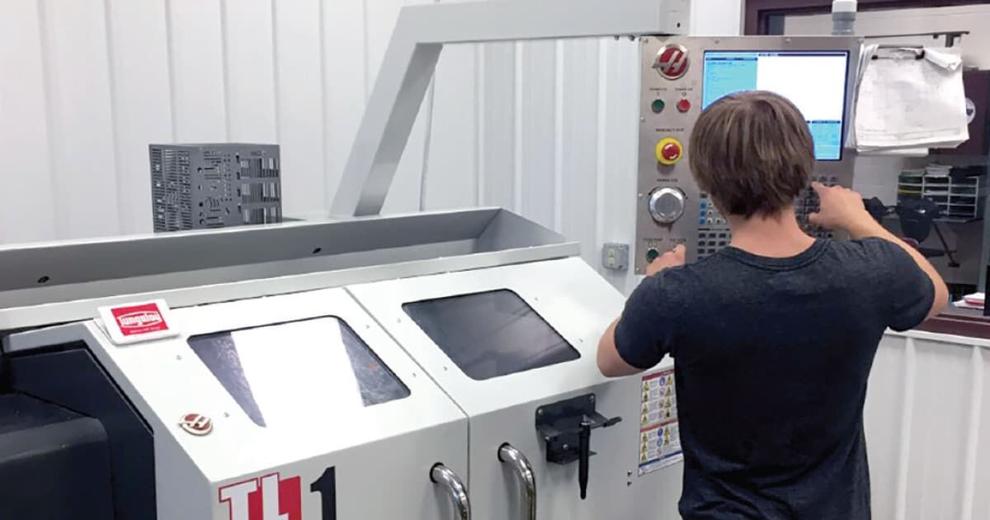 Investment in students
Fifteen years ago, Tumanic visited Shawano High School and was surprised at the lack of space set aside for students to learn about manufacturing.
"I looked at the area that was dedicated to manufacturing, machine shop and welding. In my mind I said, 'This is it?' … I'm not blaming the educators at all in this. It was a trend. Everybody thought manufacturing was dead in the U.S. That's when we made the decision to build the first CNC lab."
At about the same time, Shawano High School added on to its technology department, including more space for its automotive and welding programs, says Greg Brown, the head of Shawano High School's tech ed department.
"It ended up being a really, really good fit … We decided that we wanted to create a specialized room for the CNC equipment," Brown says. "It was real easy for us to do that with the layout that we already had. And we were able to just create this atmosphere for that equipment."
JR Machine continues to be a strong partner, creating opportunities for company tours and providing input and assistance on class projects, says Jason Eggert, a Shawano High School tech ed teacher.
"Anytime I need help with pretty much anything I could think of — if I have a question or a programming concern or might need some material for the machine, (JR Machine) is always there to help out," he says.
That includes program development, tool charts and step sheets for projects. "Like they would use in industry — what material to pick, measurements, what sort of material and then list the steps," Eggert says. "And then the students will follow through that."
Brown says the upgrade not only gave students an opportunity to learn about CNC equipment and how to use it, but also allowed the school to expand its opportunities such as offering dual-credit courses with Northeast Wisconsin Technical College.
Shawano High School has been able to enhance program offerings overall with the help of several local company and organization partnerships, including the Shawano County Job Center Board, which purchased the school's SolidWorks software that's used with the CNC equipment from JR Machine.
"We strongly believe in working with our local community, our local business leaders. We believe in creating a curriculum that will be an asset to our community," Brown says.
Before JR Machine purchased the CNC machinery for Bonduel High School, tech ed instructor Travis Schindel says his school used a mobile CNC lab provided by NWTC, but only had access to it four hours a week, limiting the class enrollment to 12 seniors.
The equipment additions from JR Machine are "a huge benefit to the students, the school, to everybody involved," Schindel says. "It's really opened up exposure to careers" and allowed the program to open to all high schoolers as well as eighth-graders, who get the chance to write G-code for the CNC machine and see the machine draw out their initials with a marker.
"It gets the students exposure to what CNC machining is and what manufacturing is, and they really get to see actually how clean it is," Schindel says. "It's not a dirty, greasy environment."
Bonduel's renovations included adding a glass garage door that allows students walking by in the hallway to see what's going on in the tech ed class.
"I think kids thought (manufacturing) was very hands-on and manual work. Now they're really getting to see how computers are tied into it," Schindel says.
The CNC equipment opens up possibilities for students who prefer to write code or work with technology — including more girls, he says. "They're used to (using computers), they're comfortable with that, and that kind of breaks down that barrier of the trades area."
Within the high school classes, students develop projects from raw pieces of steel, using the lathe and mill, and then assemble it.
"So, it's a complete thing, just as you see in the manufacturing work setting," Kunschke says. "It's from start to finish. We made some chess boards, we made some hammers, vises, and just made some other small projects for around the school."
Schindel says it's important that younger kids get engaged in career exploration early on. "It's a great way to get kids introduced and get them excited about the trade," he says.
JR Machine starts students early to get an idea of what kind of worker they are, Tumanic says. "Are they proficient at the tasks given to them? It also helps us to mentor them along," he says, adding students start at JR Machine by helping out around the shop, cleaning, clearing scrap or doing simple maintenance such as chilling machines with coolant.
"We've hired most of our employees right out of high school. So, they go through that class a little bit, they get a liking for it, and then they can come here and actually do the real thing," Kunschke says. "It puts them right in a work environment, so they tend to get more familiar with it."
Tumanic says by the time they're seniors, the company decides whether to offer them a full-time position.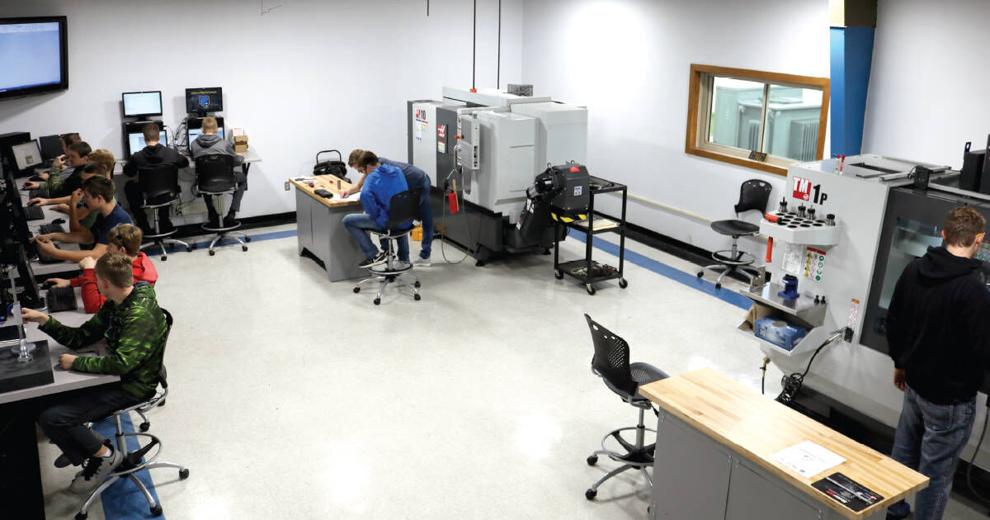 Growing to the future
JR Machine has come a long way since Tumanic bought the company from his stepfather in 1992. At that time, it was a small shop in a rented stall at the Chevrolet dealer in Shawano.
"I started it with about $700 in the checkbook and a $30,000 loan," he says.
The company moved to its current location on Beauprey Road in 1994 and started out with only 2,500 square feet of space. Since then, JR Machine has completed multiple expansion projects, including its most recent that added 10,000 square feet in 2019. JR Machine now has 30,000 square feet for its operations.
Tumanic, who worked in manufacturing for most of his career, took a five-year break in the late 1980s and early 1990s to work in the outdoor sports industry, where he fished professionally and did marketing and event management for outdoor companies.
"Then I decided that I wanted to be home more," he says. "I decided, 'I'm going to go back into manufacturing.' It was something that I knew. I talked with my stepdad, and I said, 'Well, why don't I buy this, and you can continue to work here as long as you want for something to do.' That's how JR came about."
Tumanic's son, Parker, is now JR Machine's vice president and runs the day-to-day operations. He's poised to take over when Tumanic retires.
Ultimately, donating equipment to the schools wasn't only about attracting new employees, Tumanic says, "but the more people we can educate in the school system about manufacturing and what it looks like today, that's what these programs are really about."
Tumanic hopes to get more parents involved in the process. "When do you have most parents captive in a building — parent-teacher conferences, right? So we have an open house in the machine tool labs to get parents to come back and look and see the things that their kids are doing and talk about careers in manufacturing.
"They never knew that there were these kind of machines. They never knew that this type of opportunity was in Shawano. So that's the awareness that we're working with here."
For the students who don't end up in manufacturing, they've at least gained some skills and awareness, Tumanic says.
But Brown sees the end result of the program when he visits the JR Machine plant. "I'm proud when I walk through the facility and the number of kids that I've had as students over the past 20 years who are working there," he says. "They're buying houses; they're buying cars; they're contributing to society in a good way. So, I'm proud of the fact that (JR has) been willing to help us all with it."
Schindel says JR Machine has gone above and beyond in exposing students to careers and getting them involved. JR Machine is a leader "to show other businesses, 'We should help these schools out and partner with them, and see where that partnership goes.'"