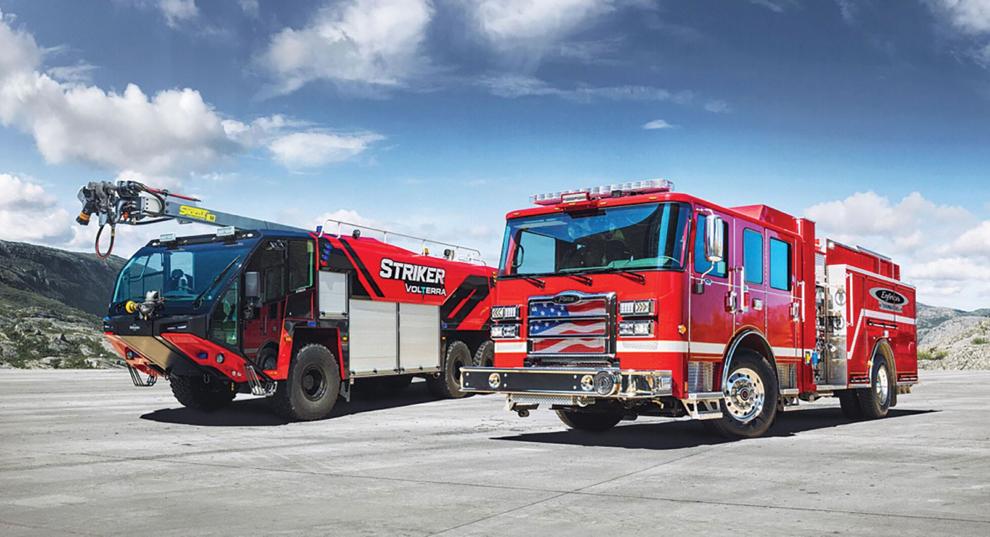 Oshkosh Corp. has been developing its electric product line since the mid-1990s, and with the current turning toward embracing more electric alternatives, the manufacturer has responded accordingly. 
In February, Oshkosh Corp. learned it had won the contract to produce next-generation delivery vehicles for the U.S. Postal Service featuring zero-emission battery electric vehicles and fuel-efficient, low-emission internal combustion engine vehicles. The company didn't wait long for its next big announcement, the June unveiling of its Volterra platform of electric fire and emergency vehicles.
The line includes the Pierce Volterra zero-emissions pumper and the Striker Volterra hybrid airport rescue firefighting vehicle, both featuring Oshkosh Corp.'s battery electric vehicle and hybrid vehicle technologies. 
"With that proven technology as a foundation, the development of the Volterra platform of electric vehicles for the Oshkosh fire and emergency segment was driven by the anticipated future of government emissions regulations, a close review of the initiatives of municipalities in North America and around the world, and listening to the progressive vision of our customers," says Jim Johnson, Oshkosh Corp. executive vice president and president of the fire and emergency segment.
The first Pierce Volterra zero-emissions pumper was placed on duty with the City of Madison Fire Department, becoming the first electric fire truck in service in North America. The Volterra pumper is serving front-line duty at Station 8, Madison's busiest fire station, supporting a population of over 250,000. The Striker Volterra performance hybrid ARFF vehicle is expected to be showcased at airports across the United States.
"With more than two decades of electrification experience, we will continue to introduce electric vehicles and products that are environmentally responsible and purpose-built to enhance safety, productivity and performance," said Oshkosh Corp. President and CEO John Pfeifer.                  
— Jessica Thiel