The Ryder Cup is still a few weeks away, but Tom Nye of The Blind Horse Restaurant & Winery in Kohler can't wait for it to arrive. 
"We have never seen anything like this. We've had other golf events in the region, but this is something special," he says. "We're about 90 percent booked for that week, which is fantastic. It's going to be unprecedented."
The Ryder Cup — golf's largest event, which pits U.S. golfers against those from Europe in a unique team setting — is coming to Whistling Straits in Sheboygan County Sept. 21-26. The first few days are practice rounds before the competition heats up.
The Ryder Cup attracts fans from around the world, and looking at previous tournaments held in the United States, the Sheboygan area could see $135 million in economic impact from the event. The Ryder Cup was originally scheduled for September 2020, but the pandemic pushed the event back a year. Tournament Director Jason Mengel says that hasn't dimmed the excitement.
"The Ryder Cup is special. The golfers are playing for country or continent. There's an extra level of excitement for golfers, caddies and the audience," he says.  
The tournament is the latest in a list of several major golf competitions held at Whistling Straits, which is owned by Destination Kohler, the hospitality arm of Kohler Co. It includes not only golf courses but also hotels, restaurants and spas, and is well prepared to welcome this year's guests, says Christine Loose, vice president of lodging and wellness at Destination Kohler.
"We've learned a lot from the previous tournaments we've hosted, but this will be the biggest yet," she says. "We're very proud of our five-star service and we'll focus on that as we greet everyone. It will definitely be all hands on deck here. Some employees from non-hospitality areas will also be helping us out."
Nye predicts the bump from the Ryder Cup will last for a while. "I think we'll see a long-lasting positive effect. This area is so underrated that I think people will be blown away. They'll want to come back," he says.
Mengel agrees, adding this Ryder Cup will mark only the second time the tournament has been played on a public U.S. course. That is sure to attract golfers who see the course on TV and want to play it.
"The Ryder Cup is a live 28-hour tourism video for the area," he says. "It's broadcast worldwide and people will see the natural beauty and what's all here and they'll want to visit. Or if people attend the Ryder Cup, they may want to return to play golf on the course or explore the area more."
Brian Doudna, executive director of the Sheboygan County Economic Development Corp., says people will learn more about the area, including that it's home to several large, multinational companies. 
"They'll see we're close to larger metro areas and the great lifestyle we have here," he says. "Sheboygan County is a dream and now we'll share it with the rest of the world."
Welcoming guests
An event the size of the Ryder Cup will bring thousands of new visitors to Sheboygan County and the surrounding region, and Brittani Meinnert, head of Lakeland University's hospitality management program, says it's time for businesses to shine.
"Anytime you can bring outsiders to a location for the first time, it's a great opportunity," she says. "It provides a wonderful way to showcase our Midwest hospitality, and if people come and have a good time, they'll want to come back and they'll tell their friends about it."
Some Sheboygan area businesses that were around when Whistling Straits hosted the PGA Championships in 2004, 2010 and 2015 have an idea about what to expect. Harry Latifi, who owns Harry's Diner and Harry's Prohibition Bistro near Blue Harbor Resort, says he's taking into consideration what he learned in the past when planning for this year's visitors.
"We're really excited. We usually close the bistro at 9 on weeknights and 10 p.m. on the weekends. We discovered that wasn't late enough for our guests," he says. "Some people didn't get back to the hotel until later and they were hungry and looking to have a drink."
Latifi plans to open his restaurants a little earlier and stay open a bit later. "After the PGA Championship, we saw an increase in business for about a year as people visited the area," he says. "We're expecting that to happen again this year."
3 Sheeps Brewing Co. owner Grant Pauly is seeking to create a fun vibe and raise awareness about his brews during the Ryder Cup. The Sheboygan brewery partnered with Golf.com, which will have staff based there during the week.
"It will be good for them to meet people and for people to meet them," he says. "We're going to immerse ourselves in golf culture for the week and have some fun."
Pauly says many travelers are interested in locally crafted beers and that's where he hopes 3 Sheeps will set itself apart.
"We will also do what we can that week to raise our exposure. We'll have 26 tap lines going," he says. "While people can't buy our beer outside of Wisconsin or the Chicago area, we hope they'll remember us if they see us in a store down the road and pick us up."
Sheboygan County is home to multiple cheesemakers — Plymouth calls itself the Cheese Capital of the World — and Johnsonville Sausage. For many Ryder Cup visitors, the event may be the first time they have the opportunity to try a bratwurst. 
"We're excited to welcome visitors to the Johnsonville Market from all over the world," says Stephanie Dlugopolski, associate director, earned media for Johnsonville. "We'll not only have our sausages available — and we hope people give them a try — we also have some swag for sale that I think many people will like."
Travelers are always interested in local foods and beverages, Lakeland's Meinnert says. "Restaurants and stores should expect a lot of questions about what we offer," she says. "Many people haven't had a bratwurst before."
For visitors and local residents who don't have access to tournament tickets, the Village of Kohler is setting up watch parties with giant screens that will show the event. There will also be food trucks on hand and interactive exhibits. In the evenings, there will be live music, says Loose, adding it's a great opportunity for the village's businesses.
Businesses are concerned about having enough help during the Ryder Cup, Meinnert says. 
"Many are already working down and now this event is coming in and will bring in more people," she says. "Businesses just need to focus on their service and have an all-hands-on-deck attitude. Providing quality service and using our good Midwestern manners will be essential and bring visitors back."
Nye from The Blind Horse Restaurant Winery says he is over-hiring to make sure the restaurant will have enough people on hand to work during the tournament. "We'll be busy and want to make sure our customers' needs are met," he says.
Lasting impression
Whistling Straits was awarded the 2020 Ryder Cup in 2005 and Mengel and his team have had onsite offices since 2017. Preparing for the event is a huge undertaking with construction of temporary structures.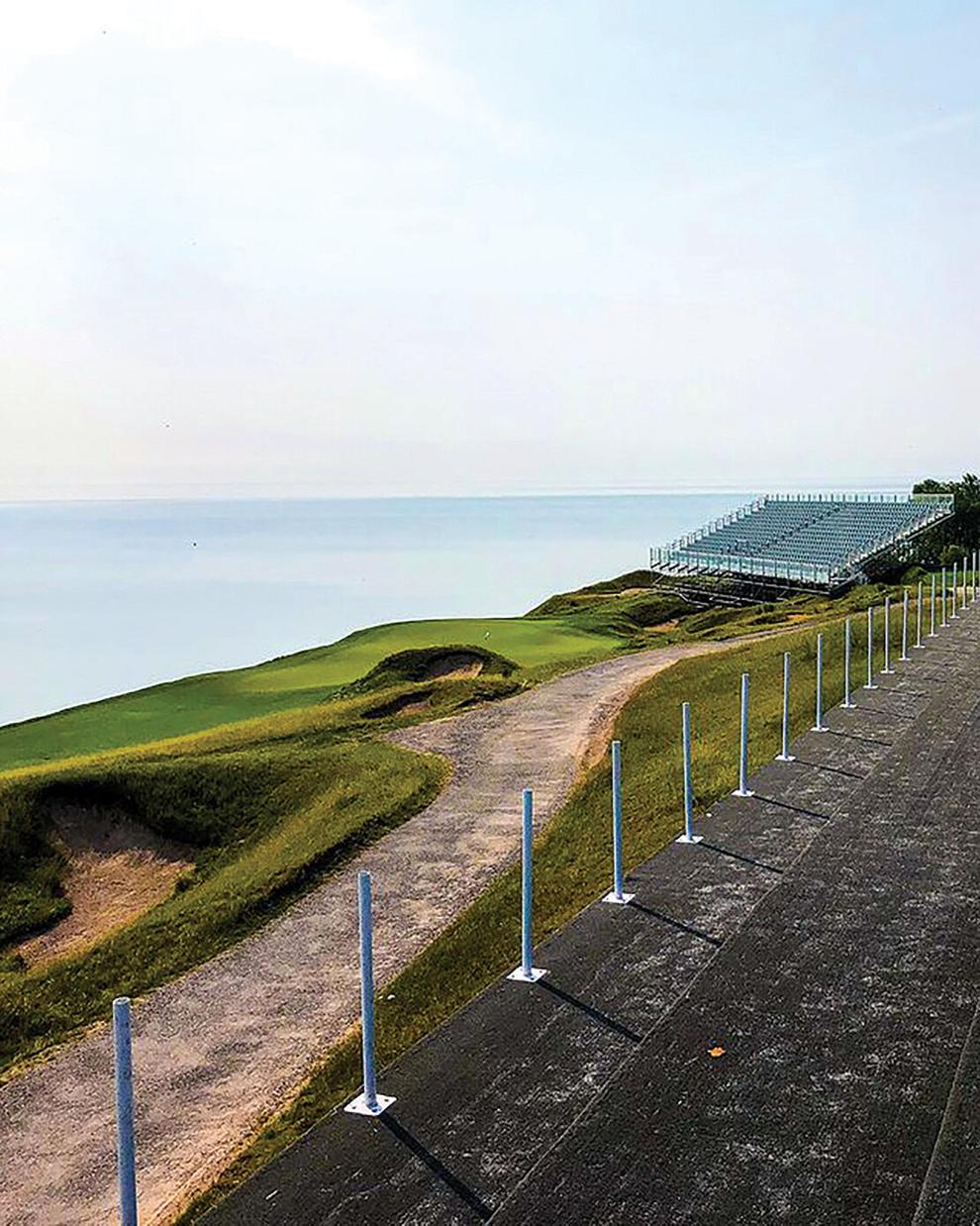 "We're constructing 1.3 million square feet of structures for the Cup. We began construction back in May and afterward, it will take us to after Thanksgiving to remove them," he says.
The Ryder Cup will reach an estimated 500 million households worldwide, and that will provide great exposure for the region, says Kohler's Loose. "People are going to see what a gem we have here and I think that will spur future travel."
Looking forward to 2022, Loose says booking numbers are strong, and she expects that to grow as more people watch the tournament on TV or this year's attendees decide to return for another visit.
Hosting the Ryder Cup, along with the number of international companies headquartered in Sheboygan County, led the Sheboygan County Airport to add its own customs facility.
"That's really going to have a long-lasting impact on the community as private jets stop there to gain clearance before either staying here or moving on somewhere else," Doudna says. "You can't buy the publicity of hosting the Ryder Cup and that global exposure it gives to the community."