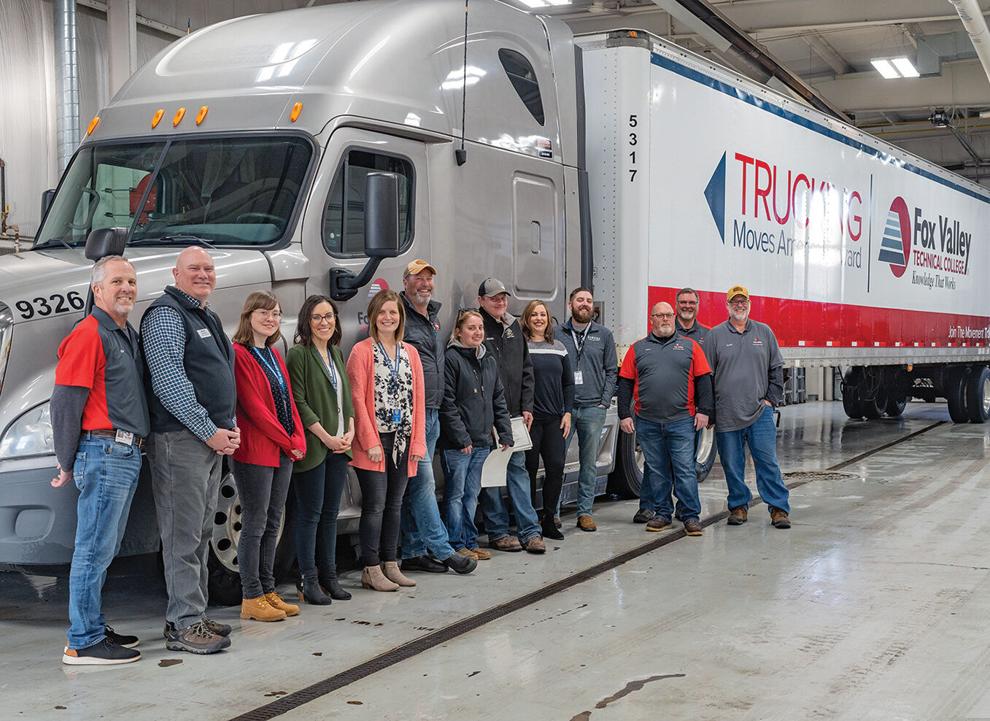 The pandemic had a dramatic effect on Northeast Wisconsin's workforce — exposing issues and inequities in broadband, child care and physical health. But it's the impact of mental health that has driven the work of a new partnership between Goodwill Industries of North Central Wisconsin, Rawhide Youth Services and Fox Valley Technical College.
The concept of Career EXCELerate was always a good idea worth pursuing, says Kayla Countney, director of programs and partnerships for Goodwill NCW, but a three-year, $6.5 million Wisconsin Workforce Innovation Grant has brought the program to life quickly.
"I think this was, in a way, a long time coming," Countney says, noting the multiple ways the three organizations have partnered successfully in the past. "And if you've experienced trauma, stress, anxiety or any increase in mental health struggles and you are interested in obtaining and maintaining employment, we [collectively] can offer that for you. As we started talking, we just got really energized. We were like, even if we aren't awarded this grant, we have something great here that we need to run with."
Thanks to the grant funding, Career EXCELerate got up and running in January with its first cohort of students seeking careers in one of eight in-demand fields: nursing, early childhood education, woodworking, pipe trades, welding, industrial manufacturing tech, truck driving and diesel maintenance. With the exception of truck driving, up to 12 students can participate in a given program at one time. Instruction is provided at no cost by FVTC faculty and supported by a Rawhide "navigator" specializing in mental and emotional support. In addition, Career EXCELerate provides direct services for a full year, even though training and coursework itself can take as little as eight weeks — a comprehensive but accelerated program aimed at helping address workforce shortages.
"Our three agencies work together once employment is obtained to continue that case management and wraparound support for a full year to help navigate the same things we were helping them navigate when they started their educational pathway," Countney says. "I think employment services can feel fragmented to people at times, so as much as we have been able to pull resources together has been a real benefit."
Among the collaborators on Career EXCELerate have been Northeast Wisconsin employers. Countney says 10 organizations wrote letters of commitment when the program launched, including Absolute Plumbing, Apple Tree Connections Early Learning Center, AriensCo, Black-Haak Heating, Brewster Village, Gulfstream, Karl's Transport, Kingsbury, Pierce Manufacturing and TEAM Industries.
Countney says barriers to employment come in many forms, and serving individuals through a trauma-informed care lens can be the difference for many.
"Maybe you logged on and some of the technology didn't work for you, and you used all your energy to get that far," she says. "It's easy to give up at that point. We're saying, 'let's do this together; you don't have to navigate this alone.' We won't just give you a phone number; we're calling with you."
Among the other testaments to the program's early success have been job placements, student referrals from participants who have already completed the truck driving program as well as requests from employers to utilize Career EXCELerate to upskill staff.
"We have a goal of seeing 460 Wisconsinites trained and placed through this program, and our long-term goal is to learn from this, to spread it throughout the state," says Chris Hess, president and CEO of Goodwill NCW.
With the "three-legged stool" of Rawhide, FVTC and Goodwill NCW bolstering the program, Countney is confident in Career EXCELerate's potential.
"That's been part of the magic: Being able to see what happens when we collaborate and combine all our strengths and expertise to how we can serve the whole person," she says.
Learn more: CareerExcelerateWI.org