When entrepreneur and talent specialist Ian Abston launched Forward 48 in 2020, he couldn't have foreseen that the first cohort of the program, which he envisioned fostering meaningful in-person conversations between Milwaukee's current and aspiring community champions, would end up being held only online.
But, says Forward 48 President Maurice Thomas, "we realized people actually liked virtual." Technology also gave the organization, which started as a partnership between the Greater Milwaukee Committee and Abston's Hoan Group, the confidence to grow quickly and think bigger.
So last fall, as the program engaged its fifth cohort of civic-minded 25- to 40-year-olds, it doubled in size thanks to new partnerships with the Madison Region Economic Partnership and New North, Inc.
Thomas says the expansion is improving the experience for all involved, including access to Forward 48's renowned leadership faculty. While professionals in the New North may have plentiful opportunities to hear from leaders at TitletownTech or the Green Bay Packers, for example, that they might take for granted, those are remarkable opportunities for leaders from other parts of the state. Likewise, he says, hearing from executives of the Milwaukee Bucks or Sprecher Brewery are opportunities that don't come along every day in the New North.
Words of wisdom from powerful executives and leaders is central to Forward 48, of course, but Thomas says the experience is designed to not just be a "sit and get." Each three-hour session includes one hour from the faculty speaker followed by two hours of reflection on the inclusive leadership topic.
"First we unpack what we learned from the speaker, and the next part we have what we call 'home team,' a smaller group of six people you meet with every time we have a session," Thomas says. "They can share something vulnerable, personal or professional. It usually ends in hugs and tears. We've created an environment where you can bring the personal into a safe environment with six people you trust. I don't know what happens in these conversations; I just hear the reflection afterward and know it's working."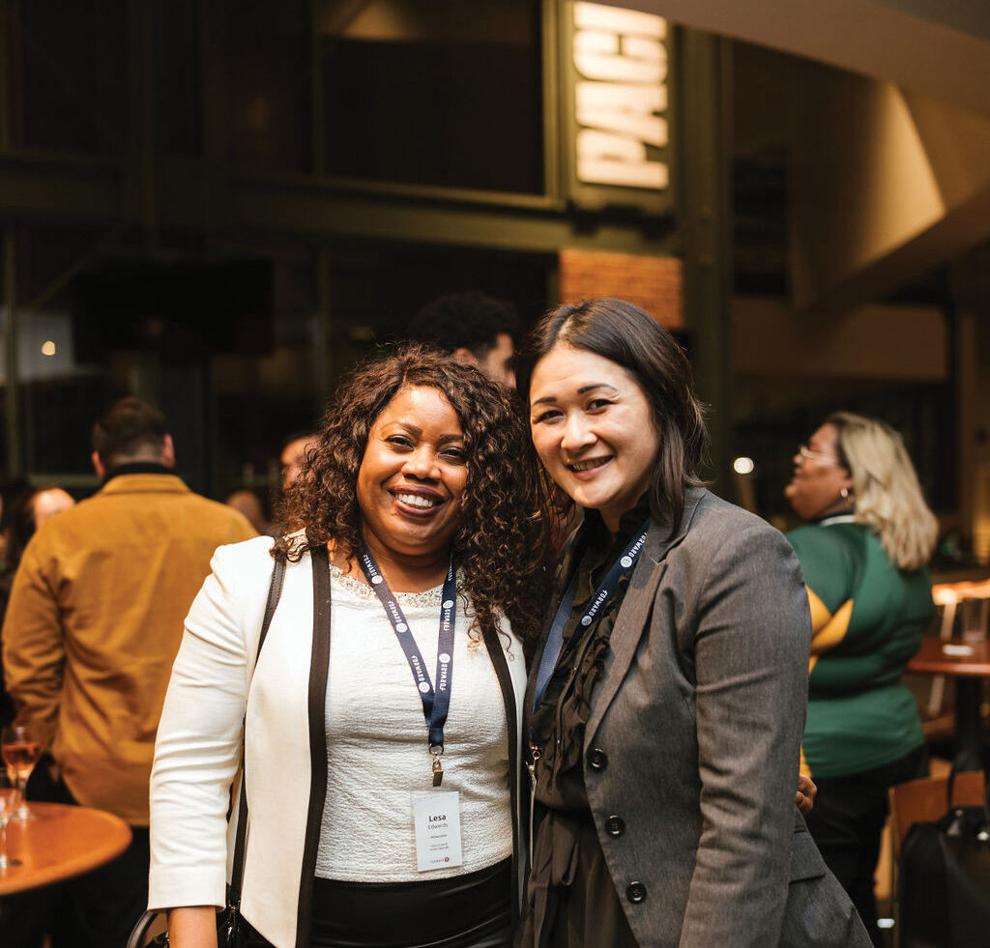 Furthermore, Thomas says, Forward 48 is working to build an alumni network that will help solve Wisconsin's biggest challenges in ways that transcend political affiliations. For example, he says, a Forward 48 alumni task force is currently working to address the issue of gun violence.
"How do you get something done that's divided red and blue? You get people together at 25, 35, 40, so that when that conversation comes up it's not red or blue — it's 'that's my friend Jack who is now governor or my friend Mary who is now mayor of my city,'" Thomas says. "What we really want to do with Forward 48 is have a succession pipeline in our cities. Who are the people who are going to lead? Get them in a room together, break bread, learn from the people who are currently doing it so they don't make the same mistakes."
For Barbara Koldos, one of the 23 emerging leaders from Northeast Wisconsin who participated in the first expanded cohort last fall, building relationships with other high achievers has been a source of energy and inspiration.
"It was that vulnerability piece, knowing that everyone else is kind of on the same path," says Koldos, who works as vice president for business development at New North, Inc. "We were not the 'quiet quitters.' We were moving forward as loudly as we could."
Koldos and Thomas say Forward 48 is for emerging leaders, however one defines the term, and no one's checking IDs at the door. Furthermore, Thomas says New North, Inc. CEO Barb LaMue emphasized the importance of diversity when initially agreeing to partner with Forward 48. And while the program is definitely open to everyone, the organization has maintained a healthy emphasis on elevating leaders who are women, veterans and people of color.
"To this date, 52% of people who have done the program are people of color, 33% are Black and 55% are women," says Thomas, adding that Forward 48 will maintain its presence in Madison and the New North and is looking to expand into Racine and Kenosha with a total of 120 participants per session in coming years.
Forward 48 is recruiting now for participants in its spring cohort, which will again be a series of three-hour sessions, a mix of in-person and virtual, every Thursday for six weeks. And while some busy professionals may see Forward 48 as a major time commitment, Koldos says it's well worth the investment.
"Make the time," she says. "It's your leadership journey, and it's for your leadership development. Self care is not selfish; leadership is not selfish."