Construction is one business sector that slowed little during the pandemic, but that doesn't mean the industry hasn't dealt with its own challenges.
For more than a year, companies have seen material delays and soaring costs as problems have rippled through supply chains. Issues have ranged from severe weather that made it difficult to procure enough material to crippling transportation delays. At the same time, construction companies are busier than ever.
"Someone with a crystal ball couldn't have predicted this would happen," says Tim Kippenhan, chief operating officer of Miron Construction Co., Inc. in Neenah. "Initially (during the pandemic), things were going well. Then fall 2020 hit and we started seeing limited material availability and cost increases."
Joe Truehart, vice president of construction at Hoffman Planning, Design and Construction, Inc. in Appleton, says lead times for materials have increased, especially for manufactured materials, such as doors. "Material costs are all over the board."
Skyrocketing lumber prices have attracted the most attention. In March 2020 as the pandemic hit, Truehart says lumber prices were $244 per thousand board feet. At their highest point, they were $1,670 per thousand board feet. "There's been a lot of peaks and valleys with material costs," he says.
Lumber and manufactured products are just two examples of in-demand supplies. Resins, fiberglass and other materials that come from Texas were affected by severe winter storms that temporarily knocked some companies out of business. They are now slowly increasing their production levels, Kippenhan says.
"We've really tried to be proactive in our scheduling to avoid some of these shortages," he says.
Paul Martzke, president of Immel Construction in Green Bay, has never seen material delays last this long before. "Design and construction have always been about finding solutions to get things done," he says. "Now, it's out of our control and across the board, which is frustrating."
Immel has looked to alternative building materials to keep construction moving, such as taking what was planned to be a steel building and switching over to a masonry structure. "The good news is that demand is strong for construction and financing is low, which makes building more attractive," Martzke says.
To avoid supply issues, Keller, Inc. in Kaukauna works closely with its suppliers and subcontractors. "We really treat them like family. We strategically plan with them to make sure we have what we need, and with our suppliers, that they set aside time for us," says Mark Nysted, regional manager. "Costs are through the roof, but people are still interested in getting contracts signed and moving ahead with their projects."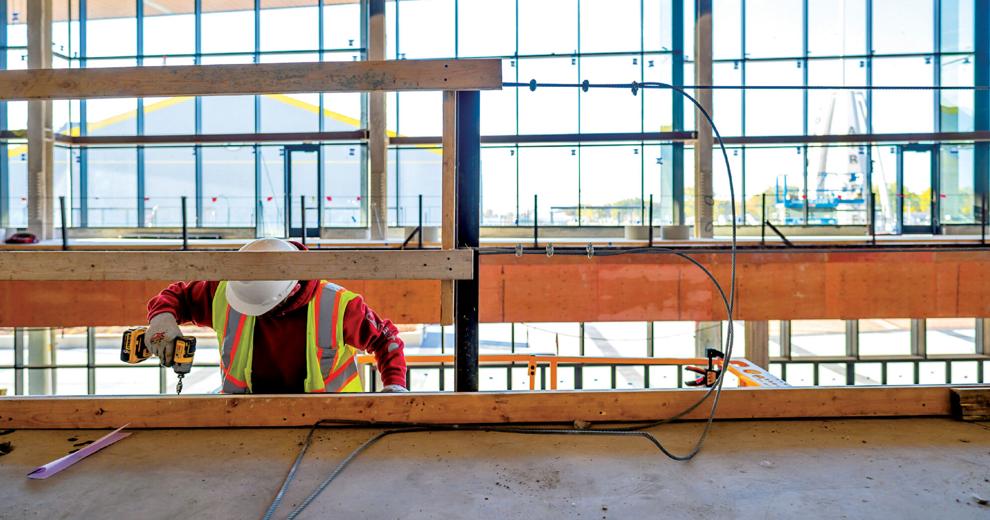 More than supplies
While the construction industry grapples with having enough supplies, companies also need additional employees. Across the industry, tradesmen are getting older and retiring. At the same time, the number of new employees entering the field is not enough to offset the retirements.
"Everyone is looking to add employees. We need more help in the office, and we're always looking for field workers as our workforce is aging," Kippenhan says.
The Boldt Co. adopted modular construction for some of its projects, and President and CEO Dave Kievet says that setup allows the company to "do more work with fewer people."
"For example, we can have one journeyman teaching and supervising multiple apprentices because they are all working in the same area on the same type of work," he says of modular projects under construction in a former Manitowoc manufacturing plant.
The construction industry has known for a while it would face a labor shortage, Martzke says. "It's hard to overcome the shortage since you can't create skilled workers overnight. They need a lot of training," he says.
Nysted says finding workers is taking longer than before, but as an employee-owned company, Keller offers a lot of incentives to attract and retain employees.
"We know there's turnover with the baby boomers retiring, and we are constantly talking to high school and college students about careers in construction," he says. "Some people don't understand the variety of jobs available."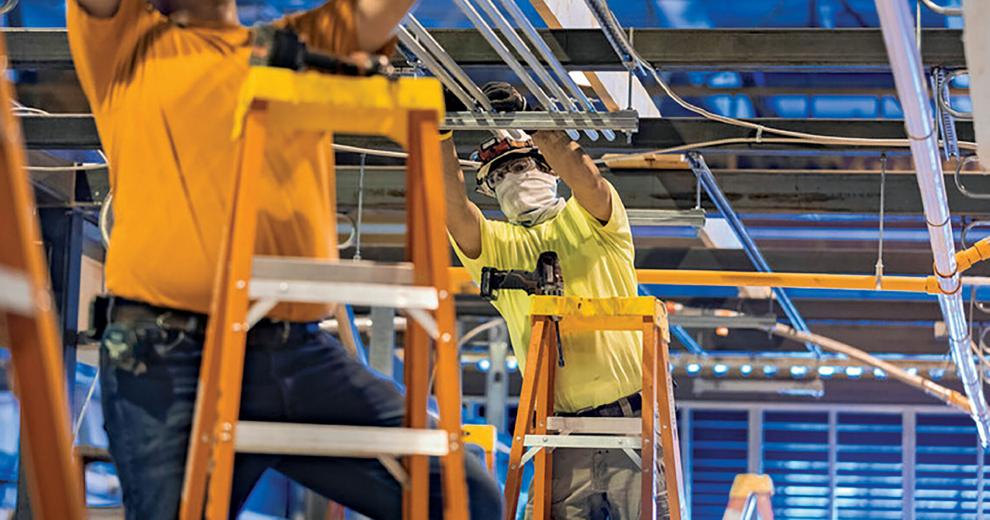 Large-scale construction
Boldt was already involved in some modular construction projects in March 2020, but the pandemic led the Appleton-based builder to dive deeper into the concept. First, the company realized the modular units it was constructing for Advocate Aurora could be transported easily to a new location. This opened the door to health care providers looking for ways to better treat the rising number of COVID-19 patients.
Boldt and designer HGA developed the STAAT Mod critical care unit, which could be built entirely at a single location and shipped to sites where health care providers needed more room to treat COVID-19 patients or to provide testing and, later, vaccinations. The Federal Emergency Management Agency and similar organizations also can use the units.
"We've been exploring modular construction work for years," Kievet says. "During the pandemic, we saw a way to grow that business."
For Boldt, that included opening the Manitowoc location, where modules can be built more efficiently and at a lower cost through employing manufacturing techniques. Kievet says the modules roll down an assembly line, which allows teams to handle various details, whether it's subflooring or installing wiring for electricity.
"It's a new era of construction. Building remotely costs less than conventional construction," he says. "It's allowing us to rethink how buildings are put together. What we can do now in a matter of months would have taken years if we had built onsite."
Kievet adds that foundation work can begin at a location as modules are built in the production facility. They can then be transported to the construction site and put into place.
"If a unit is prebuilt, it takes less time to install," he says.