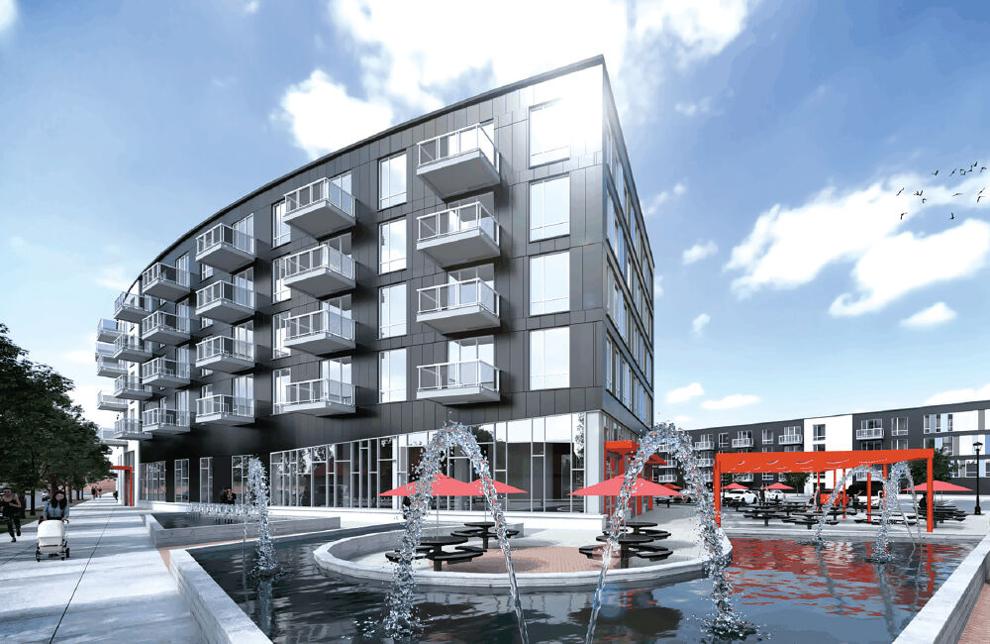 A $22 million development featuring 172 new apartments, eight townhouses and a grocery store is just the latest project increasing the housing stock in downtown Green Bay.
Green Bay's city council recently approved a development agreement for the project on a city-owned parking lot along Monroe Avenue and Quincy, Pine and Cherry streets. Main Oriental Market, which is located across the street from the project, is planning to move into the grocery store space and expand its product lines. The University of Wisconsin-Green Bay has also showed interest in space, allowing the school to offer continuing education courses from a downtown location.
"It's not just about adding housing units, but making sure we're meeting the demand and providing options for what people are looking for," says Brian Johnson, executive director of On Broadway and a Green Bay alderperson. "Housing is such a big demand in Green Bay and it's great to have these options."
Construction on the project should begin in the latter half of 2022.
The Monroe Avenue project is just one of several housing developments in the works or recently completed in the city's downtown.
In the Shipyard redevelopment, Merge Urban Development plans to build a 225-unit multifamily complex. Two buildings will be constructed and strategically placed so each unit has a view of the Fox River. The common space between the buildings will be used for gatherings and connections to the riverfront trails.
The city is prepping the site for the development, including constructing a $2 million lift station and adding soil to raise areas that are below the flood plain. In addition to the Merge project, the Shipyard will include a public park with floating docks, a kayak launch, outdoor recreation amenities and a plaza with a container park. Construction on the $21 million project should begin next year, says Neil Stechschulte, Green Bay's director of economic development.
Nearby, Impact Seven, a community development nonprofit, is looking at constructing another housing development targeted at residents with middle incomes.
"The developers behind the Monroe project, Merge and Impact Seven, are very skilled and it's exciting that they are so focused on Green Bay," Stechschulte says.
Broadway Lofts, a downtown residential development at the corner of Bond and Broadway streets, is now open and leasing its 107 units.
"There's been such a pent-up demand for housing, and we expect that demand to remain strong," Johnson says.
Having more people living downtown is great news for business owners since more people leads to more walk-in traffic, Johnson says. "We've been able to restart our events, which we didn't have last year due to COVID, and we're really creating a place where people can live, work and play," he says.
He adds that there's a high demand for retail space in the downtown.
"We have seen a spike in new businesses forming and more openings, which is exciting," Johnson says. "I'm very bullish about downtown."
After many years of waiting, Stechschulte says the coal piles along the Fox River may soon be moved, creating 21.4 acres of space for new development. The county has gained control of the former WPS site, so the piles could be moved to the mouth of the river, where they would be more accessible to ships, he adds.
"Once those piles are moved, we'll need to do remediation on the site and make it development-ready," Stechschulte says. "This is prime real estate along the river."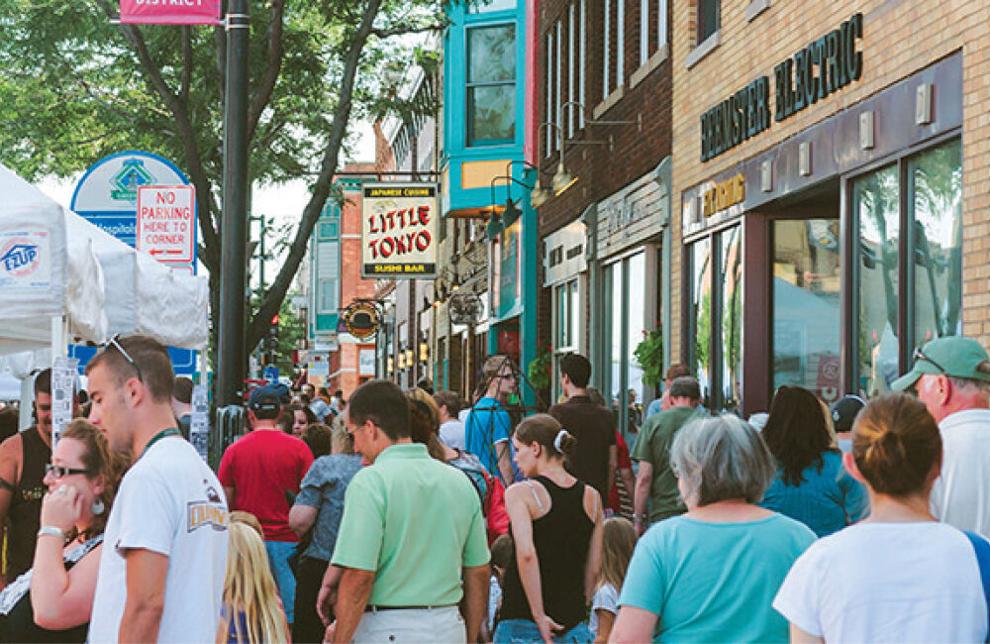 Away from downtown
Change is happening at East Town after several years of stagnation. GB Real Estate Investments, LLC purchased the former mall and is converting the back half of the site into production space for American Tent, which will be able to triple its tent production space with the move. Bath & Body Works and the incoming Planet Fitness and two additional spaces are at the front of the building and only accessible via external entrances.
Garritt Bader, principal at GB Real Estate Investments, grew up not far from East Town and witnessed the many stops and starts of redevelopment ideas for the site. When looking at the building, he envisioned it as a giant empty box — one that could be used for light industrial work. Bader also knew American Tent was looking for more space.
"It all fit together. There is a huge demand for light industrial space and it is so expensive now to build new," he says. "My thought was to take an available space that wasn't being used and turn it into something useful."
American Tent will open its new location in early January.
Bader also owns a few properties adjacent to East Town and is looking at options for them as well. "We have some out lot space that I'm talking to a few people on. I think a year from now, it will look so different from how it now looks. I'm excited about it," he says.
Stechschulte praised the project, calling it unique. "Garritt is batting a thousand on this project. It takes what was empty space and is converting it into use for a fast-growing company," he says. "It's a great reimagining of a mall space."
Stechschulte says the city's I-43 business park has just 40 acres of available space, so Green Bay may begin looking at ways to expand it. Keller Inc. of Kaukauna is constructing a spec building in the park. "There is such a demand out there for space, and this building will be ready to go for a company looking to grow," he says
Job creation
While the Greater Green Bay Chamber is always on the lookout to attract new companies to the area, Kelly Armstrong, the chamber's vice president of economic development, points out that 80 percent of job growth comes from businesses already located in the area.
"That's why we focus so much on business retention. We meet with 160 businesses a year. We learn about their needs, successes and challenges," she says.
The area's growing manufacturing base has led to multiple expansions, but most employers are looking for workers. Armstrong says a partnership with Mission Wisconsin to help recruit military veterans to the area is one way the chamber is looking to help with the hiring woes. Another offering, the chamber's concierge program, arranges visits around Green Bay for job seekers to get a feel of the community and what it offers.
"The concierge program has been busy and helps recruits get used to the area," Armstrong says.
Helping entrepreneurs and startups flourish is another way to help grow the local economy, Armstrong says. The chamber operates the Startup Hub and the Urban Hub, a modern coworking space in the Rail Yard Innovation District. The Urban Hub recently added a new program manager, signed four new tenants and added Wipfli and Greenleaf Bank as partners, which means it has staff on hand to answer questions for Urban Hub tenants.
"That's a huge resource for our businesses," Armstrong says.