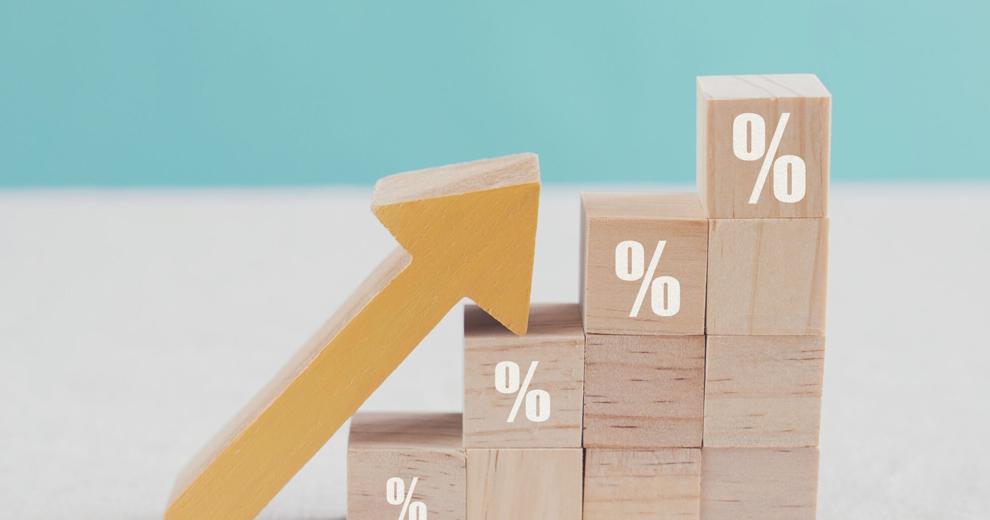 For Matt Jacobson, president of Manitowoc-based Heiden, Inc., a lot is going well with the business: Sales increased 30% from 2020 to 2021, and demand for the manufacturer's products is soaring. Amid that success, though, inflation is becoming an increasing concern and exacerbating the long-standing challenges of supply chain and workforce. 
"What's crazy is it's sort of mixed in with supply chain disruption and labor shortage. If you throw all those together, it's really chaotic," he says.
Heiden, a custom metal fabrication shop that also has a division devoted to manufacturing below-the-hook crane attachments, has seen the cost of its raw materials increase to never-before-seen levels. It works with carbon and stainless steel and aluminum. Over the past 18 months, the price of carbon steel has increased from 40 cents per pound to $1.15, while aluminum has jumped from $1.10 per pound to $2.85. Stainless steel has leapt from $1.60 per pound to as much as $4.80, if his team can even find it.
Jacobson says his purchasing manager devotes a lot of time to searching for the best possible price, and when he finds it he buys extra to ensure the company can meet customers' demands. That's led Heiden to hold 60% more inventory than it did a year ago. And where it used to work with 10 suppliers for a given product, it now seeks quotes from more than 20 as the purchasing department reaches farther and wider.
"The other thing inflation does is it forces us to pass it on to our customers. We can't eat that price increase," Jacobson says, adding that it's important to maintain communication with customers about the need for price increases.
Despite the challenges Heiden faces, Jacobson is optimistic. He sees positive moves toward reshoring, which would benefit the company in its role as a supplier to original equipment manufacturers. And while the 30% sales increase the manufacturer saw in 2021 was due in part to a slower 2020, Jacobson says he anticipates a 10% increase in sales in 2022 versus 2021.
An increasing concern
Many manufacturers could share a story similar to Heiden's. First Business Bank and WMEP Manufacturing Solutions were among the organizations that conducted end-of-year surveys on the sentiments of Wisconsin business owners. At the time, inflation was high on the list of concerns for respondents in both surveys but didn't come out as No. 1. 
George Bureau, vice president of consulting services for WMEP, says inflation is likely becoming an increasing concern. Issues for manufacturers began with a rapid series of price increases for materials and subcomponents — and the rising cost for transportation has only compounded problems, Bureau says.
"They got a double whammy: the inflationary impact on the raw component and the transportation component that's now become much greater," he says. "COVID and supply chain issues are adding up to inflation, and inflation then puts pressure on cost, which puts pressure on margins."
Nancy Johnshoy, senior vice president – portfolio manager and market strategist for First Business Bank, says that through fall 2021, the Federal Reserve took the position that returning to full employment was the priority and that inflation was transitional and temporary. In late fall, it acknowledged that inflation was higher and stickier than previously reported. Indeed, inflation hit its highest point in 40 years in January, with the consumer price index reaching 7.5%.
"Consumers are really feeling it because it's broad based. It's across all categories, especially the big three categories that everybody has to participate in: food, shelter and energy," she says.
The price increases are unmissable, from the grocery store to the gas pump to utility bills, Johnshoy says. Food costs overall are up 7% over last year, with the price of staple proteins like poultry, fish and eggs up 12.2%. Energy costs hit the Midwest hard in the winter, and the crisis in Ukraine is sure to galvanize inflation and drive fuel prices even higher.
David Fuller, associate professor of economics at the University of Wisconsin-Oshkosh, says inflation could worsen the workforce issues manufacturers are facing. Communities in the New North have unemployment rates between 1.6% and 1.8% — less than half that of the national rate of 4% — making the competition for workers fierce.
"[Inflation is] going to make that problem much more acute," Fuller says. "Now with rising prices, workers are going to want even higher wages in order to work."
Course correction
Johnshoy says that in a typical environment of increasing inflation, the Fed would respond by raising rates to cool down the situation and make borrowing costs higher, but we're in anything but a typical environment. She says some experts are concerned that the Fed won't act quickly enough, while others worry that it will do too much too quickly.
"We're in a situation where the Federal Reserve is really trying to thread the needle with raising rates enough to cool inflation, which is admittedly too high, and yet not so much that they dampen growth to the point where we lose momentum in our recovery — or worst case, we enter another recession," Johnshoy says.
Fuller says the Fed likely will raise interest rates steadily over the next couple of years. Indeed, early this month, Fed Chair Jerome Powell told Congress he supported a quarter-point interest rate increase. While the action should
bring inflation down, the concern is that higher rates increase the costs of doing business and dampen consumer demand, thus reducing economic activity.
Given the uncertainty, it's important for manufacturers to understand how inflationary cost increases are impacting profit and loss and to take steps to recover as quickly as possible, Bureau says. That will include passing on price increases to customers, identifying efficiencies, embracing automation as a solution to labor gaps, and looking at their cost structures to find ways to do more with less.
 "That's how we'll structurally attack, but I don't see a cure right now," Bureau says. "It's going to take multiple efforts. The idea is to be able to navigate through this successfully and not come out so financially injured, you're suddenly unprofitable and have drained your cash reserves."