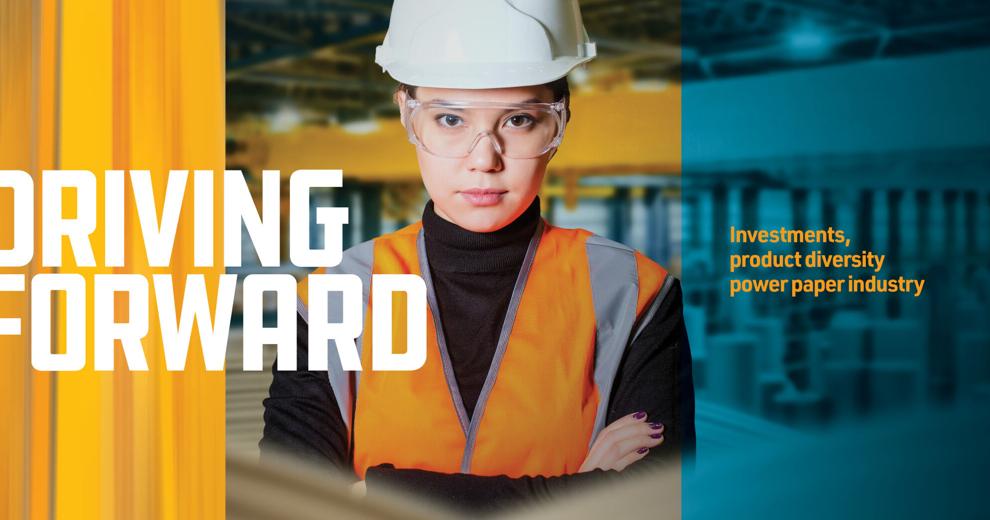 What do dog food packaging, cardboard boxes and diapers have in common? They — along with thousands of other products — all got their start in a paper mill. The paper industry has played an integral role in the state's economy since the first mills were built along the Fox River more than 160 years ago.
While the industry has had its ups and downs during the past century as some plants consolidated and closed, the variety of paper-related products made in the New North and companies' investments in their facilities have positioned the paper, packaging and converting sector for continued success. 
"Wisconsin is home to the No. 1 paper industry in the country. We make the widest variety of products, and it's a thriving, growing industry," says Susan Stansbury, a paper industry consultant and writer and the former owner of industry group Converting Influence, which created the annual Converters Expo event. Industry stakeholders gathered for the conference in August at Lambeau Field.
Although the industry is strong and poised for growth — Green Bay Packaging recently opened the state's first new paper plant in several decades — some companies struggle with decreased market demand or the difficulty of remaining price competitive.
"It's so varied how the industry is doing. Some sectors are not doing well for a number of reasons, while others are doing really well," says Scott Suder, president of the Wisconsin Paper Council, a Madison-based trade association for the state's paper, pulp and forestry industries. 
Wisconsin's paper industry is diverse — manufacturing hundreds of specialty paper products used for packaging and processing, hygiene, medical and personal products, pressure-sensitive liners, industrial and technical papers, high-tech manufacturing, clothing and communications. 
"That variety sets us apart from competitors in other states and allows us to compete in the global marketplace," Suder says. "There's a great deal of opportunity for the industry and the future looks strong."
He says the wide range of products also means the various sectors of the industry can't be lumped together easily. For example, while Green Bay Packaging opened a new $500 million plant in 2021, two Northeast Wisconsin paper companies, Clearwater Paper Corp. in Fox Crossing and Neenah Paper, Inc. in Appleton, announced they were closing. That shows success isn't universal.
Clearwater Paper Corp. announced plans in June to close the facility because the company decided it would no longer produce paper products for home consumers, while Neenah Paper, Inc. made public its plans in July to close its Appleton plant, saying it was no longer cost competitive. 
"Some industry sectors, such as packaging and tissues, are running strong. Other areas, such as specialty papers and newsprint, are struggling. It's such a varied portrait," says Bryan Hollenbach, executive vice president of Green Bay Packaging.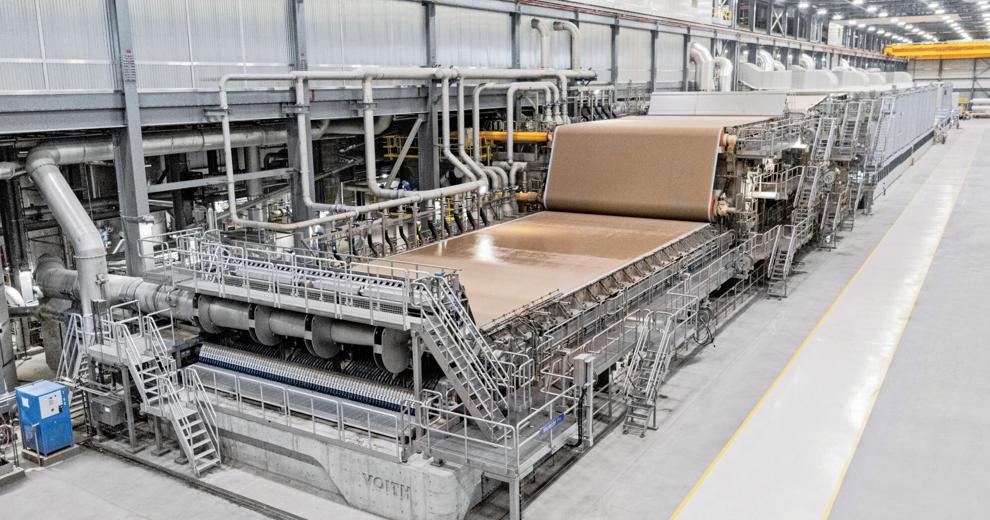 Investing in the future
A few years ago, Green Bay Packaging looked at its paper plant built in 1947 and realized it was nearing the end of its lifespan. That left the company with some tough decisions to make, Hollenbach says.
Green Bay Packaging faced three choices: stop making paper for the packaging plant and outsource it, build a paper plant more centrally located in the Midwest, or build a new plant in Green Bay and use the company's current workforce.
"We chose the third option. Our legacy is in Green Bay and our new plant cements that," Hollenbach says. "We worked with the city, county and state to make this happen."
Green Bay Packaging's state-of-the-art mill recycles used cardboard boxes into paper, more than doubling the company's paper production capacity. Construction began in August 2018 and the new plant opened in June.
"The new mill is a major upgrade. Our old run was 164 inches wide, and the new one is 300 inches wide and runs faster," Hollenbach says.
The new plant is also sustainable, with natural gas boilers and a system that recycles its wastewater rather than sending it into the Fox River. "Plus, what we make can be recycled again and we do use some recycled products in our products. The Kress family (Green Bay Packaging's owner) is committed to environmental friendliness," he says.
As a whole, Suder says the industry focuses on sustainability. "Our source for our products is trees, and they are a renewable resource. We need to do what we can to sustain them," he says. "Today, with better forestry management, we have more trees than we did 100 years ago."
Sustainability played a key role in the changes Georgia-Pacific Corp. has made to its Green Bay mill. The manufacturer announced five years ago its plans to switch from coal-burning boilers to ones powered by natural gas. The change is now complete, dramatically cutting the plant's greenhouse gas emissions, says Public Affairs Manager Mike Kawleski.
The company plans to spend an estimated $14 million to take down the mill's smokestack, remove its coal-handling systems and take out obsolete equipment in 2021 and 2022. 
"Taking down the 400-foot smokestack — it's kind of a landmark in the area — will be a visible reminder of what we've done to the plant," says Kawleski, adding Georgia-Pacific's other sustainability initiatives include recycling two-thirds of the water the plant uses and reducing electricity consumption.
Georgia-Pacific also is growing its footprint in Northeast Wisconsin by building a new 1.1 million-square-foot warehouse and distribution center on American Boulevard in De Pere. The proposed building is about 10 times the size of the Amazon distribution center in Greenville.
"We currently lease space and this will allow us to consolidate into one facility," Kawleski says. "Our parent company (Koch) is committed to investing in our facilities."
Kimberly-Clark Corp., one of the Fox Valley's oldest paper companies, completed a major expansion of its Fox Crossing plant in 2020. The company spent more than $115 million to build a new 135,000-square-foot warehouse and add four production lines. The project came in response to a deal struck between K-C and former Gov. Scott Walker in 2018 that the company would receive $28 million in tax credits if it retained 2,400 jobs in Wisconsin and invested $200 million in upgrades and expansions within five years. 
Earlier this year, the Dallas-based company announced plans to move 250 marketing, sales and executive jobs to Chicago at the start of 2022; K-C says it will still employ 2,400 people in Wisconsin after the move.
Just over a year ago, Rockline Industries in Sheboygan announced plans to build a $20 million production line expansion. The new line will nearly double the company's production capacity and will be one of the largest production lines for disinfecting wipes in the private brands wet wipes industry. At Rockline, the large increase in demand for its products can be traced to the pandemic as more people pay attention to ensuring surfaces remain clean.
Stansbury says companies like Rockline, which are involved in converting, are the ones doing the best right now. Converting involves taking the master roll of paper that's created during the papermaking process and cutting the flat piece of paper to transform it into a three-dimensional product. 
"The demand is definitely higher for converted products, especially now in the hygiene and medical space," she says. "Those companies are doing very well."
Another growth area is packaging. As its name implies, Green Bay Packaging makes packaging products — namely the cardboard boxes used to ship products. With more people shopping online due to the pandemic, that business has grown, Hollenbach says. 
"Our products are the best way to get those items to your home," he says. "Packaging is a great industry. We expect continued growth due to e-commerce and are happy with growth rates between 2 and 5 percent annually."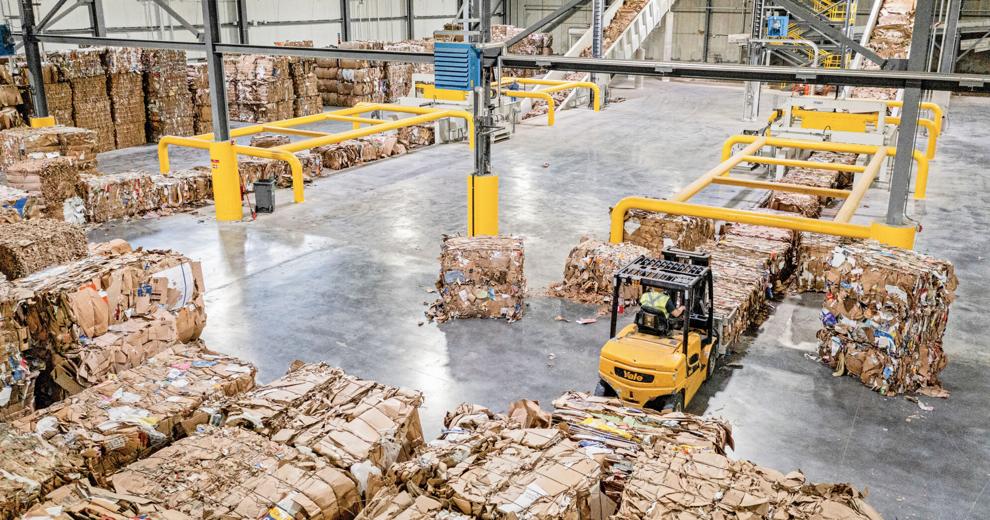 Finding new workers
Like nearly every other manufacturing sector, the paper industry is in dire need of workers. Realizing the industry is facing a silver tsunami as more workers near retirement age, the Wisconsin Paper Council teamed up with the University of Wisconsin-Oshkosh's Center for Customized Research and Services for a comprehensive workforce development study of the state's papermaking industry.
Funded by the WiSys Ignite! Program, the study includes surveys as well as in-person meetings to gather input from paper industry executives, Suder says. Discussion topics include workforce, sustainability and innovation issues the industry faces and possible solutions. Meetings have been or will be held at several locations around the state to gather input.
The research project also involves collecting data from the paper industry about workforce challenges, Suder says. Wisconsin companies in the paper industry and the supply chain are encouraged to take the survey at uwo.sh/wpc-survey.
Once input from the meetings is pulled together with the collected data and research, a final report will be issued this fall, says Jeff Sachse, UW-Oshkosh's CCRS interim director.
"The first stakeholder session confirmed much of our research regarding the importance of engaging students and building awareness of the opportunities and sustainability efforts throughout the industry," he says.
Stansbury says she frequently hears from companies that they want to expand, but "the people aren't there. It's definitely holding back growth."
Suder agrees, but adds to attract younger workers, the industry needs to be more proactive.
"These are well-paying, high-tech jobs. We're doing what we can to make the jobs and industry more appealing, but we're fighting the image some people have about what we do," he says. "It's not your grandfather's paper mill."
By the numbers
The paper industry is a major driver for Wisconsin's economy:
Home to about 35 pulp, paper and paperboard mills
Provides nearly $2.5 billion in payroll to the state's economy
Produces $13.8 billion worth of paper annually

Source: Wisconsin Paper Council