Growing up since the mid-19th century around Wisconsin's preponderance of Cambrian- and Ordovician-age sandstones has been a metal industry that employs nearly 20,000.
"It's called Wisconsin White," says Waupaca Foundry President, COO and CEO Mike Nikolai, whose company today includes sand mines within its robust portfolio that also features six iron foundries across the U.S. "It's used in fracking, but it's also the main reason the foundry industry is a benchmark in Wisconsin."
Thanks to both its sand as well as its powerhouse manufacturing workforce, Wisconsin today maintains the fifth-most foundries of any U.S. state, and the New North region is home to both the largest iron foundry company in the world — Waupaca Foundry — and one of the industry's most recognizable brands, Neenah Foundry.
But like any manufacturing sector, overseas competition has historically threatened U.S. foundries. The Buy American Act of 1933 and the Buy America Act of 1982 — the latter of which applies to road and rail transportation — are designed to support the industry, and most recently the Trump and Biden administrations have imposed tariffs and purchasing mandates, respectively, to further buoy U.S. iron and steel amid geopolitical tensions, increasing competition and even product dumping by other countries — particularly China.
"You also have the [U.S.] Department of Transportation, the EPA and USDA, all with regulations related to American iron and steel. They're all basically the same regulation but written into specific codes," says Neenah Foundry's Joe Falle, who estimates that more than 70% of his company's business goes toward public infrastructure. "Without those programs, I don't know that any American foundry would be in business."
Heavy competition
Neenah Foundry was among the entities that helped create the Municipal Castings Association, a lobbying consortium of U.S. manufacturers that works to ensure the quality and protection of American-made metal products. Falle, who serves as director of research, development and application engineering for Neenah Foundry's infrastructure group, says his firm, which among other products makes cast iron manhole covers, street grates and bridge drainage products, began seeing an influx of competition from India in the 1980s.
Following a 2007 New York Times exposé on the unsafe working conditions in India's foundries, New York-based utility Con Edison stopped buying manhole covers from the country. But, Falle says, "India still sells quite a large amount of castings in the United States, though in general those are only sold on projects that don't require 'buy American.'"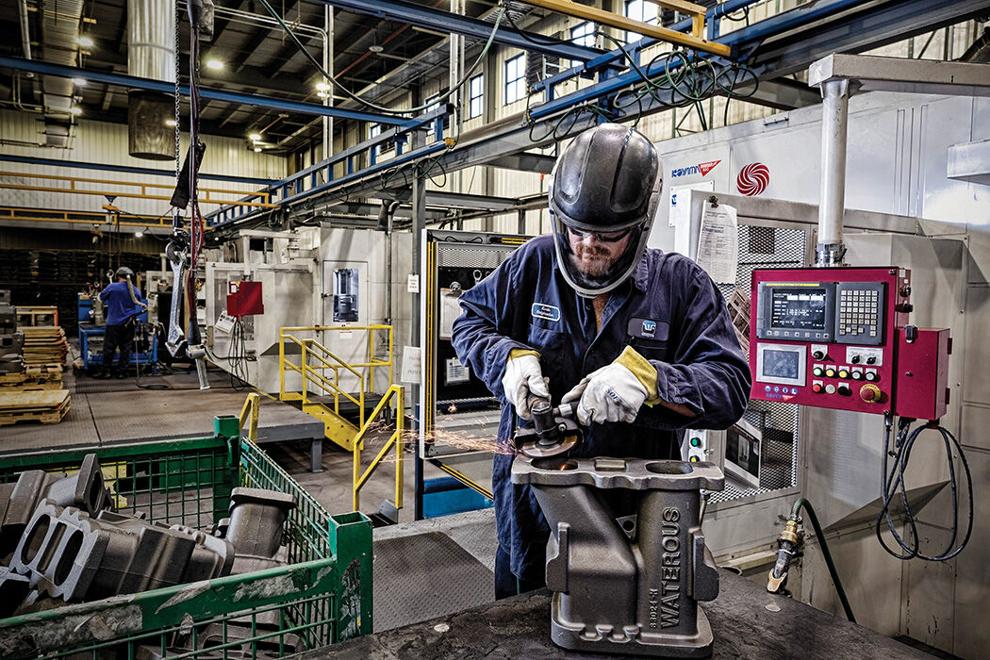 Waupaca Foundry also considers federal mandates critical to its success. Decades ago, Nikolai says, the foundry witnessed the automotive aftermarket brake rotor industry move 100% of its grey cast iron parts to China. Federal action, including the Section 232 tariffs of 2018, helped bring business back to the U.S. "It is critically important that we continue to produce these parts here in the U.S.," Nikolai says.
Jay Woldt, associate professor of supply chain management at the University of Wisconsin-Oshkosh, is helping to train the next generation of problem solvers in this area. He says demand from domestic manufacturers for graduates of the program is through the roof; he gets at least one email "every single day looking for a supply chain grad."
An expert on manufacturing reshoring, Woldt says that while U.S. manufacturing suffered broadly from the Asian offshoring boom of the 1980s and '90s, there are reasons to rethink offshoring today. Metals, in some respects, are low-hanging fruit for reshoring.
"There have been a number of geopolitical issues, taxes, tariffs and supply chain disruptions like COVID that put companies in difficult planning positions," Woldt says. "But then there's also shipping. If you talk about products that take up a large cubic volume of cargo space, just think of the weight and volume metals take up."
Indeed, Nikolai says port delays and container prices that recently climbed as high as $20,000 have been motivating factors for Waupaca Foundry's domestic customers.
"The good thing for castings, it's hard to ship them long distances because they're heavy," Nikolai says. "So we do benefit from that localization, especially when you see the global transportation system break down."
Forging partnerships
From his office in Kiel, Amerequip Vice President of Sales and Engineering Tim Dorn speaks from experience when he talks about local foundry products.
Shortly after landing at the custom equipment manufacturing firm 12 years ago, Dorn began working with Amerequip's supply chain manager on a plan to source as many castings as possible from North America. Waupaca Foundry's Marinette facility has proven to be a trusted partner in that effort.
"Marinette is an hour and a half away from us," Dorn says. "To have such a critical supplier that close to us to be able to collaborate is gold. It makes a world of difference."
Yes, Dorn says — of course price matters to his customers, but the current global supply chain crisis has shifted priorities in the OEM marketplace.
"It's become the great equalizer," he says. "Now delivery trumps pricing. If it's manufactured in the United States it costs more, but now you're going to save on transportation time; you're going to be much more nimble to get the product in time. I mean, it has really eliminated some of the advantages everybody thought manufacturing had going over to China. It's a different world now."
But Amerequip's commitment to creative, domestic solutions predates the pandemic. Because of his materials science and metallurgy background, Dorn has pushed the company to seize on the trend of converting weldments to cast iron, which saves time and money by reducing the need to weld individual parts in production. The company has won two of the last four American Foundry Society's "Casting of the Year" awards by partnering with Northeast Wisconsin foundries.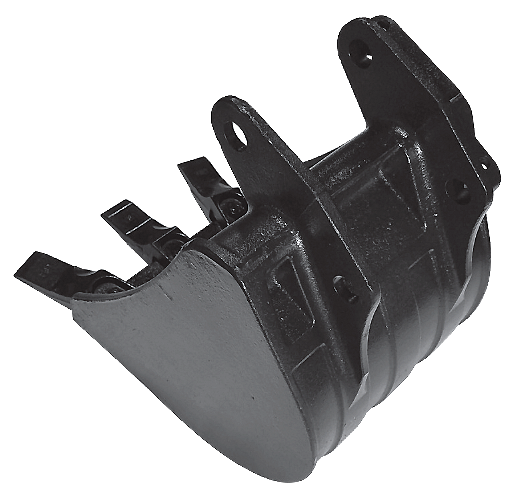 In 2019, Amerequip teamed up with Neenah Foundry on a swing frame for a John Deere compact utility tractor backhoe attachment that simplified an 11-piece steel weldment down to a single ductile iron casting. Then, in May, it received the honor again for a partnership with Waupaca Foundry on an innovative 12-inch bucket attachment — also for the Deere compact utility tractor.
"We were mainly challenged with the bucket teeth — pretty much the world supply comes from China, and the supply was dwindling," Dorn says, adding that there were entities that bought up the supply.
So Amerequip worked with Waupaca Foundry to create the world's first cast-iron bucket — an innovation one American Foundry Society judge described as "a conversion that will inspire others." Dorn says a patent application is in the works.
"Our livelihood is cutting steel and forming it and assembling it, but as we continue to grow we start to eat up the capacity and now we've got that as a limiting factor to our growth," Dorn says. "That's where conversion really becomes much more important."
A malleable industry
Conversions are just one of the ways the American foundry industry is leading toward the future, according to Sara Timm, Waupaca Foundry's director of marketing and media. Timm says Waupaca Foundry is not only invested in conversion solutions but is also laser-focused on lightweighting initiatives, additive manufacturing, and value analysis and value engineering, or VAVE — "which is really taking waste out of the supply chain stream," she says.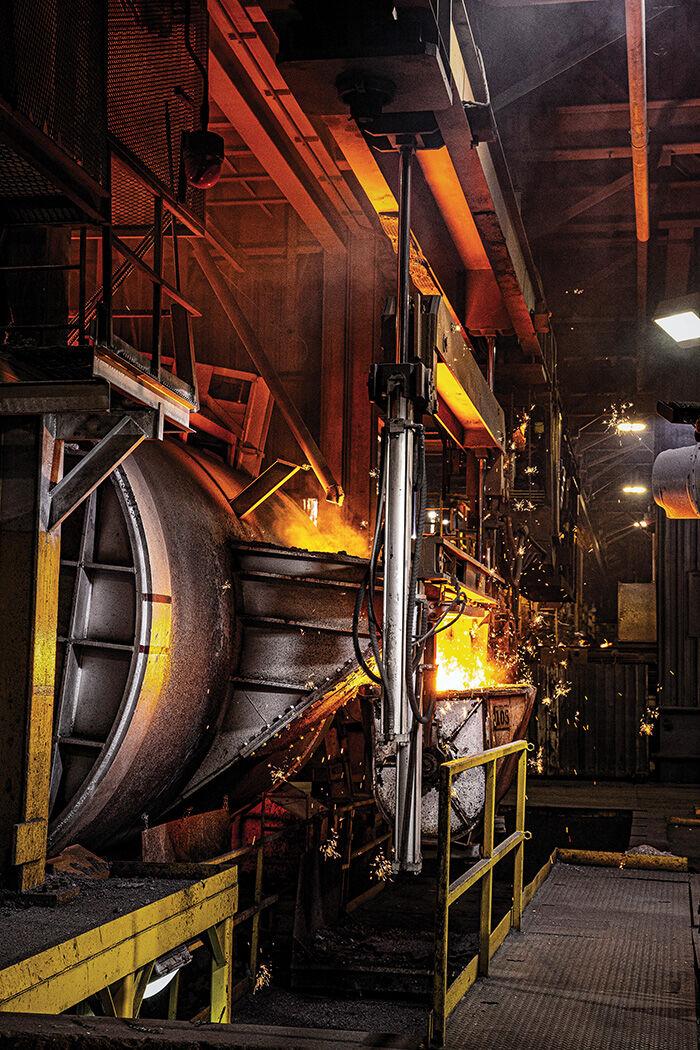 Nikolai says he's proud that Waupaca was the first foundry to file a sustainability report and that one of its biggest environmental initiatives is sand recycling — Waupaca Foundry reuses more than 800,000 tons of sand annually. Bryant Esch, the foundry's director of environmental engineering, says a single grain of sand at Waupaca Foundry is reused 40-50 times. Then, the "spent" sand is diverted again out of landfills when it goes to construction and agriculture uses.
In general, the perception of foundries as dirty leads to exacerbated labor challenges for the industry, Nikolai says.
"I think we have done a lot over the last 20 years to considerably improve the workplace," he says. "Are we through? No. We still have a long way to go, but we've been able to overcome that, and I think when people walk through our facilities they are surprised."
Automation is not an easy solution to labor shortages in the industry, either. Because a facility like Waupaca Foundry that does a significant amount of work for the automotive industry has more than 5,000 part numbers, the capital investment required for automation doesn't pay off.
"We are investing particularly in flexible automation with CNC grinders," Nikolai says. "The main reason for that isn't a cost savings, but with the workforce availability issues it does make the environment for operators much improved."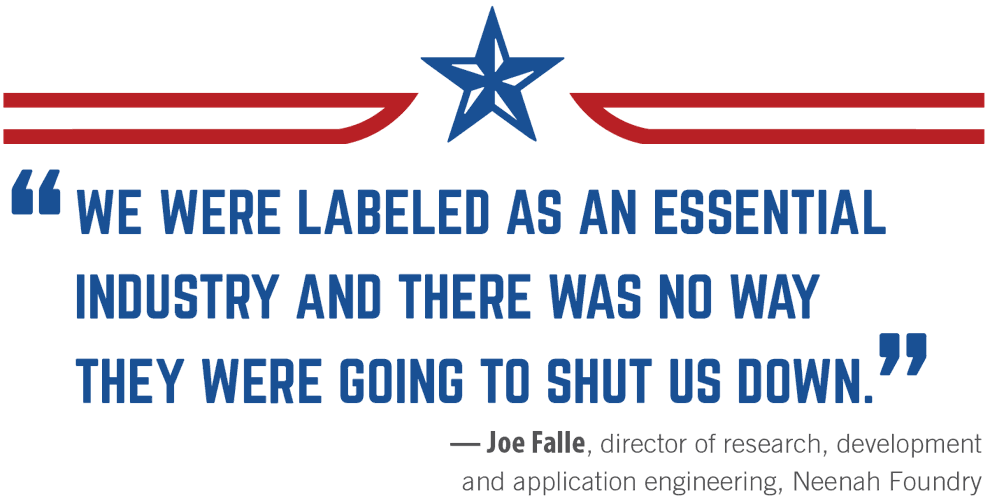 Steeling for the future
New challenges lurk around every corner, and, as Woldt notes, "iron and steel is a very cyclical product, subject to the boons and busts of the construction industry." But Falle and Nikolai share optimism for the industry's future.
"Demand is up," Falle says. "With COVID, of course you saw a little dip and projects were pushed out, but we were labeled as an essential industry and there was no way they were going to shut us down. You have to fix roads and we're seeing a lot more projects; it's been good."
"The future of iron castings in the U.S. is strong," Nikolai says. "All leading global manufacturing companies are embracing sourcing products and services locally. They're using Midwest and Wisconsin suppliers because we have a quality workforce and are geographically close to the goods and services critical to their operations."