Microchips have been described as "the new oil" - and for good reason. From smartphones to the stock market, the modern world runs on microchips.
Behzad Bahraminejad, an instructor of electrical and electronics engineering technology at Fox Valley Technical College, says the small but mighty microchip fuels virtually every electronic device we encounter.
"Hundreds of thousands of electronic circuits are surrounding us and coursing inside of every single device you can see in your home, in your car, in your phone," he says. "You can find the impact of microchips everywhere."
Semiconductors are critical in the manufacturing of microchips, which measure smaller than a fingernail and contain billions of transistors. Bahraminejad says to think of semiconductors as switches that can receive commands input by the user and control different processes of the devices they are in.
"Every time you see a touchpad, digital display or LCD, there is at least one chip inside," he says.
Given the ubiquity of microchips, the global semiconductor shortage — exacerbated by COVID shutdowns and increased consumer demand — has had devastating impacts on nearly 200 different industries, with automotive, consumer electronics and home appliances being some of the hardest hit.
Adam Rupp, co-founder and president of Wisconsin Lighting Lab, Inc. (WiLL) in Fond du Lac, is one of many New North manufacturers affected by the global shortage of semiconductor chips.
WiLL specializes in the design and manufacture of high-output LED lighting, light poles and wireless lighting controls which all contain semiconductors. On a monthly basis, Rupp says his team turns approximately 60,000 parts into a couple thousand full product assemblies. This high mix of products and parts creates deep challenges when supply chain disruptions occur.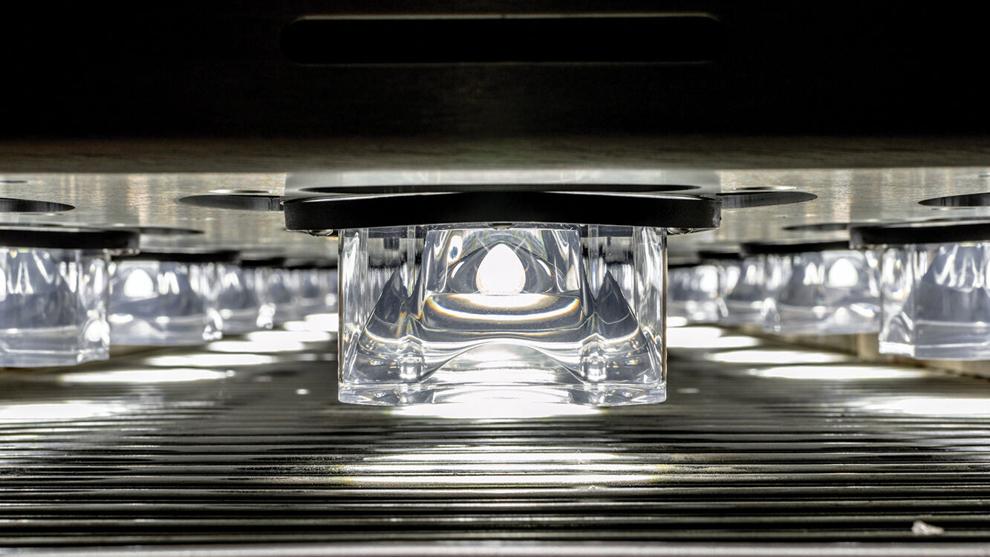 "It's affected our business in ways that I wouldn't have even imagined," Rupp says. "We had certain parts in certain components that went from an 8-week lead time to a 2-year lead time over the course of three months."
Brillion-based AriensCo, which encompasses several brands in the outdoor power equipment industry, faced similar challenges. Pat Weller, AriensCo vice president of operations and supply chain, says the prevalence of microchips in the company's mowers and snow blowers was surprising, even for him.
"There are chips in a lot more things than I ever expected, but the biggest one is our engines," he says. "We make a fully electronic commercial zero-turn [product] with components that have chips that were pushing out over 18 months. That's come back closer to a year, so the lead times associated with the chips we use are shortening. It's not great, but it's better."
Over the last two years, Rupp estimates at least 60 percent of every WiLL employee's time has been spent managing supply chain issues, compared to roughly 10 percent prior to the onset of the semiconductor shortage.
"The unintended consequence of that is not being able to focus on [developing] new products or engineering, because suddenly everyone is shifting toward the supply chain. The projects where you explore new markets, that time just isn't there like it used to be," he says. "[Supply chain] became the most important thing."
It also became priority No. 1 for policymakers in Washington. On Aug. 9, President Biden signed into law the Creating Helpful Incentives to Produce Semiconductors (CHIPS) and Science Act of 2022, which provides the U.S. Department of Commerce with $50 billion for programs to strengthen the nation's position in semiconductor research, development and manufacturing.
The bill aims to restore the United States as the world leader in microchip technology by investing in research and engineering, as well as reshoring semiconductor manufacturing.
"I think the world has learned its lesson that you cannot make 99.9% of mission-critical parts on the other side of the planet and have no alternatives," Rupp says. "You can't ship and recognize revenue and keep money coming in if there is one part that's holding you up."
---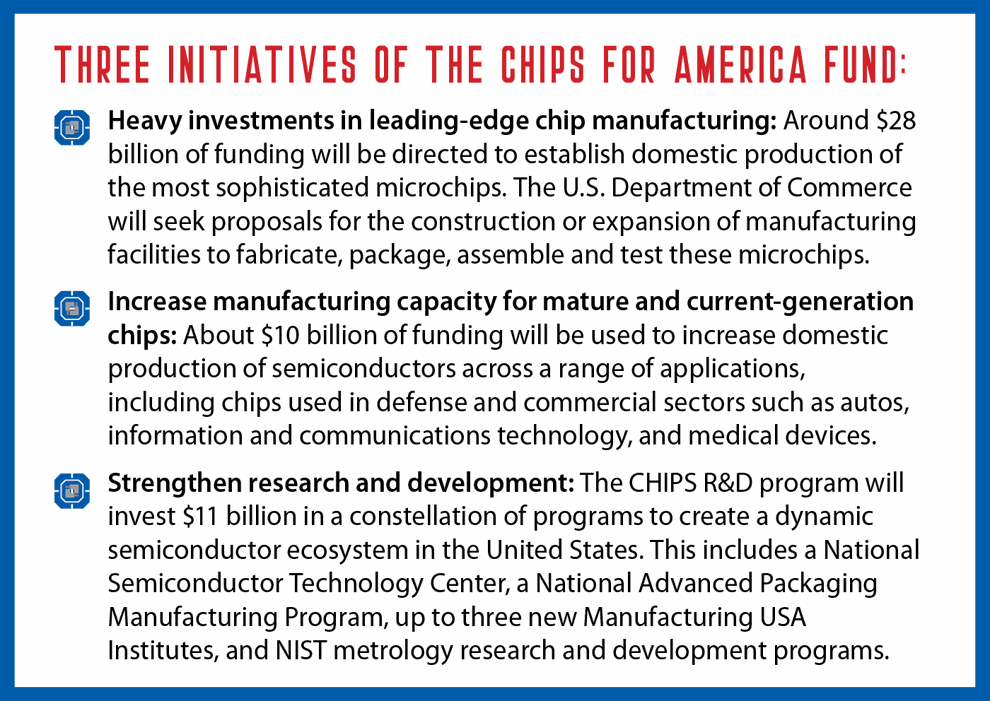 The cost of offshoring
Since the first transistor was invented by Bell Labs in 1947, the U.S. established itself as the unrivaled leader of microelectronics and microchip technology.
"The U.S. by far was the pioneer and dominant power in designing and developing those technologies," Bahraminejad says. "But we have two different stories in the production of chips and microelectronic devices. The first part of the story is having the technology. The second is mass production."
While America excelled at developing the technology, it lagged in production. Prototype production of new generation microchips happened inside the U.S., but mass production of chips was moved overseas — specifically to Southeast Asia and Taiwan. This has put the U.S. at risk of losing its competitive edge, with big political, economic and technological implications.
Amulya Gurtu, professor of supply chain management at the University of Wisconsin-Green Bay, says the decision to offshore semiconductors, as with any manufactured item, involved a complex variety of factors including lower labor costs, access to new markets and talent, economies of scale and government incentives, to name a few.
In his 2019 paper, "Offshoring Decisions: A Comprehensive & Conceptual Framework," Gurtu explains that "one of these drivers alone may not be persuasive enough to impact the final determination to outsource offshore. However, combining the economic advantages and benefits against the slightly higher cost of logistics often leads to a business decision in favor of offshore outsourcing."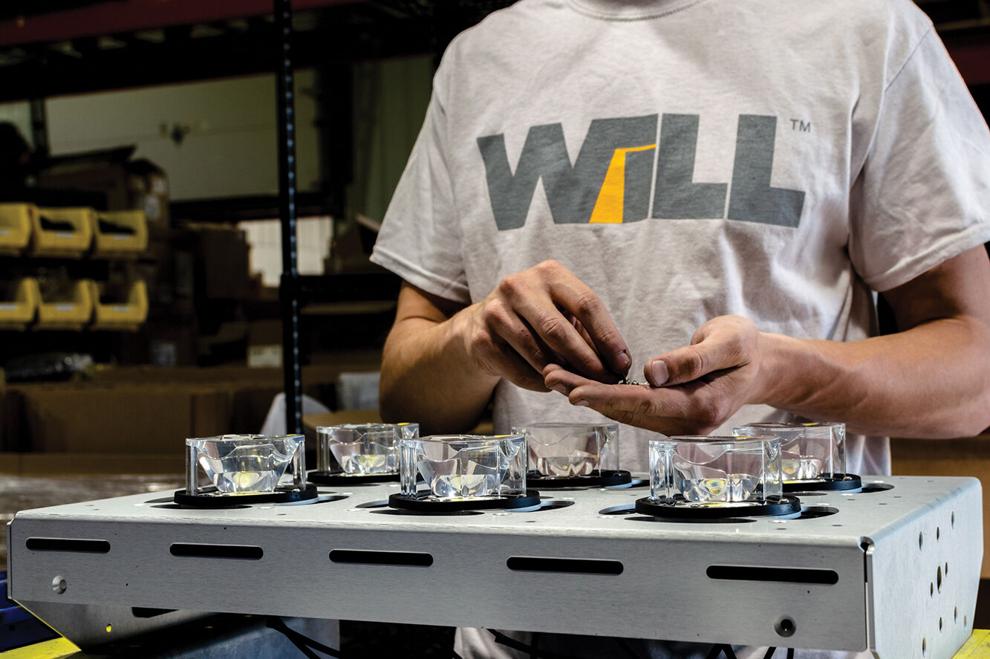 But offshoring semiconductor manufacturing came with consequences. The U.S. market share within the semiconductor industry has been declining for the past three decades. According to the National Institute of Standards and Technology (NIST), in 1990 the U.S. accounted for around 40% of global semiconductor fabrication capacity. By 2019, that number had decreased to about 11%. Today the U.S. fabricates only 10% of global chip capacity and provides only 3% of global packaging, assembly and test capacity, according to reports by the Semiconductor Industry Association and Boston Consulting Group.
At the same time, China and Southeast Asia began emerging as leaders in the semiconductor industry. Currently over two-thirds of the world's most advanced semiconductor chips are produced in Taiwan. One company in particular, Taiwan Semiconductor Manufacturing Company, produces more chips than any other company in the world.
Since 2020, NIST reports that nearly 75 percent of new capacity for certain mature nodes has been added in China, which spends more money — $350 billion in 2020 — importing semiconductors than it does oil.
President Biden's recent order to limit the export of chips and chip technology to China is an effort to thwart the country's industry dominance, but that only addresses half the equation. The other half lies in the CHIPS and Science Act, which aims to bolster U.S. leadership in semiconductors by providing billions in funds to reinvigorate the manufacturing sector and create jobs.
"The U.S. still is a pioneer on the front line of microelectronics, but … right now there is competition and other countries are working hard, so we need to keep that industry and technology inside the U.S. to keep that privilege," Bahraminejad says. "The [CHIPS and Science Act] can help us to overcome and get rid of so many problems if we act fast."
---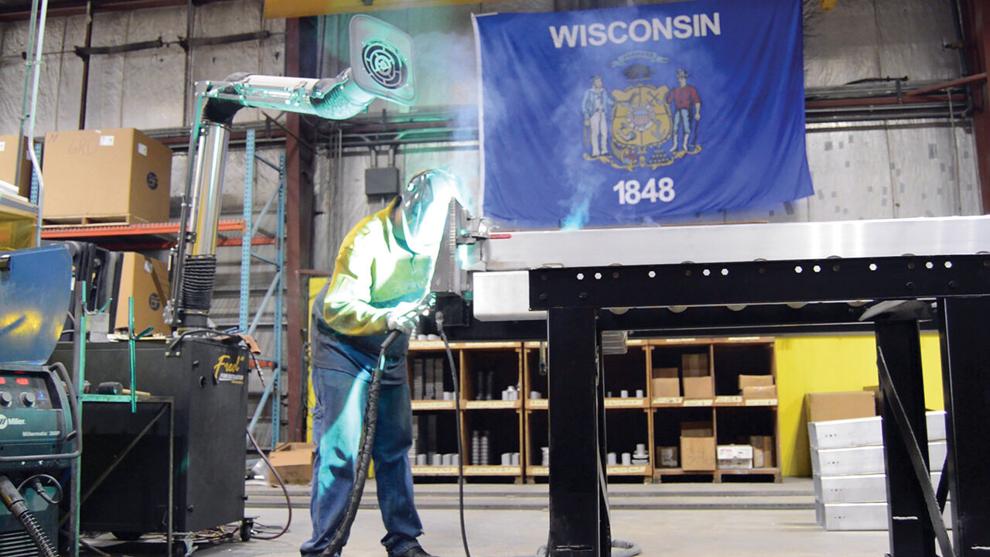 Wisconsin chips in
The demand for semiconductors continues to grow across industries. A recent McKinsey & Company study projects that the global semiconductor industry is poised to become a trillion-dollar industry by 2030.
The CHIPS and Science Act intends to capitalize on this by working to construct semiconductor manufacturing facilities, or "fabs," within the United States. Wisconsin is ready to participate, says Buckley Brinkman, executive director of the Wisconsin Center for Manufacturing and Productivity.
"The number one thing we are trying to do is to get a disproportionate amount of [CHIPS funding] to Wisconsin," says Brinkman, who adds that the state was recently a finalist to host Intel's two latest $20 billion leading-edge chip factories that broke ground in Ohio last month. "We are looking to see how we can position Wisconsin both to host one of those fabs [and] develop whatever supply chain there is to be built here."
Without concrete criteria from the U.S. Department of Commerce, Brinkman says it's too early to draw specific funding proposals; however, he points to strengths such as Wisconsin's proximity to the Great Lakes water source and a strong university system to support R&D as key advantages. Brinkman is anticipating the Department of Commerce will issue a request for proposals (RFP) to apply for CHIPS Act funding within the near future.
Weller is approaching the CHIPS and Science Act with cautious optimism and is hopeful that the bill will make it possible for affordable chips to be manufactured domestically.
"It's always a great idea up front, but at the end of the day it comes down to cost," he says. "I'm not saying it has to be cheaper than overseas, but it has to be reasonable for our product. When you are in a price-sensitive industry like we are, we can't afford to pay double."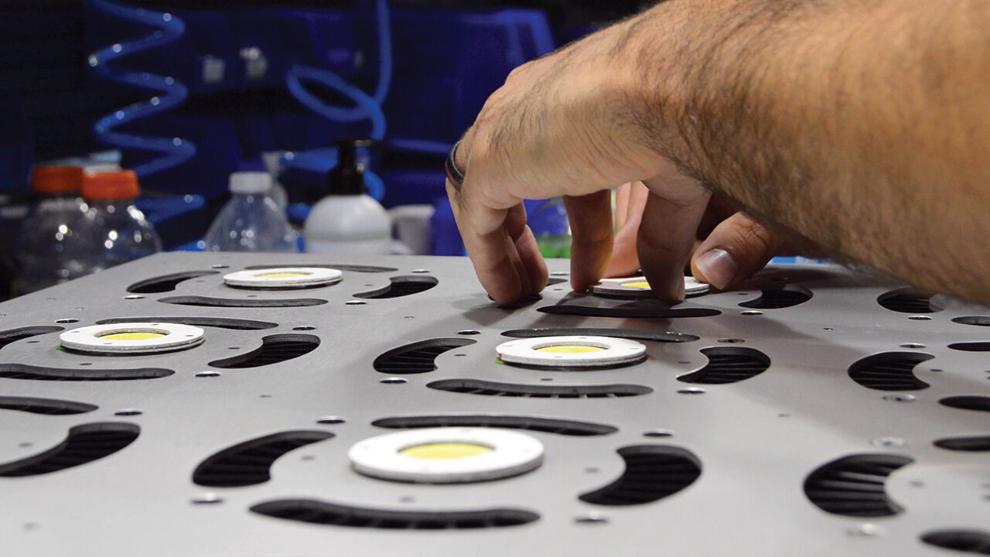 The big advantage of onshoring from Weller's perspective is it cuts out the complex logistics of overseas shipping. He references the hundreds of container ships that were stuck at U.S. ports last year, a result of supply chain backlog.
"If it's built in the U.S., I need a truck. I don't need a ship," he says. "That piece of it eliminates any unknown related to shipping and gives you some peace of mind that it's in the U.S. and you can get it in a fairly short time period."
The chip market is softening overall, but that doesn't mean it's business as usual. While certain chips have caught up to demand, many have not. There are many different kinds of chips, and those required by the automotive, medical device, telecommunications and cybersecurity industries have yet to catch up with demand.
As the chip industry shows some signs of stabilizing, Brinkman hopes the lessons learned as a result of the semiconductor shortage can be applied to manufacturing overall.
"This movement back to reshoring these critical items is vital," Brinkman says. "All of a sudden it hits microprocessors and we have a lot of action around that when, in reality, we should have a lot of action around a number of critical areas across manufacturing."