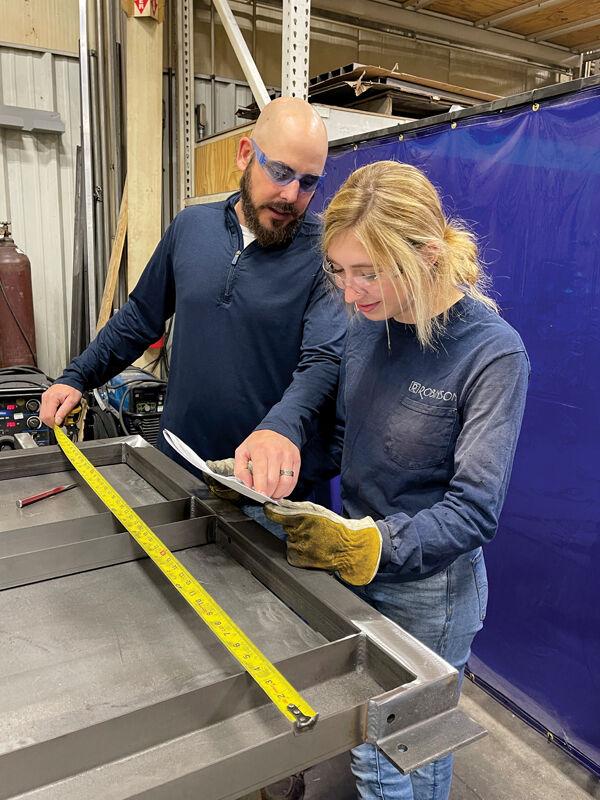 Manufacturers are increasingly embracing new ways to fill open positions and find the talent they need — even when that means creating part-time roles.
Programs like Earn & Learn, launched in 2019 by Northeast Wisconsin Technical College and Fox Valley Technical College, offer one of those part-time pathways for high school students to take courses while earning an income. Earn & Learn is not only a way to train the next generation but also appeals to those young workers who seek a more flexible opportunity to get started in a career.
The program grew out of discussions between the colleges and the NEW Manufacturing Alliance as a way to connect manufacturers with high school students in advanced manufacturing courses. The students, who take dual-credit courses at area technical colleges, get on-the-job training from manufacturers, many of which also pay a portion of their tuition. The students work a part-time schedule while going to school, similar to traditional youth apprenticeship programs.
"Most of the students that I work with — they have to work," says Allyson Baue, Earn & Learn coordinator at NWTC. "They help contribute to the household. The notion of a student not working while they're in our welding or machining classes is almost unheard of."
With recruiting a top concern for manufacturers, offering the flexibility to work while going to school seemed a natural fit. Most Earn & Learn students also have their tuition at least partially paid by the companies they work for.
Creating part-time opportunities can be challenging for manufacturers, as many need a certain number of bodies on the floor. But those who are making the effort to think unconventionally — such as allowing split shifts — are benefiting from the opportunity, Baue says.
Colleges, in turn, are working to make education more accessible, such as offering weekend or hybrid classes, says Steve Meyer, manager of STEM Education for FVTC. "We're always looking at the data: Do more people prefer something in the morning? Do they prefer it in the afternoon? Can we offer a summer course? Just to provide, on our side, more of an opportunity for someone to live their life outside of school."
Jim Koronkiewicz, general manager at BPM, Inc. in Peshtigo, is working with three students in various programs, including one through Earn & Learn. The student, who is in an engineering program, will become a certified water treatment operator and work in BPM's new $5 million water resource recovery facility, which is under construction.
"He has been here since groundbreaking and design of this facility," Koronkiewicz says, adding that by May 2022, the student will graduate with partial certification, and six months later, will become a certified water treatment operator. "At the same time, my current environmental manager is set to retire, so it's a transitional thing for us."
Koronkiewicz worked directly with the student's NWTC instructor to coordinate his work-school schedule. Other students at BPM are working in production, learning to become machine operators or assistant machinists. "We pay them good wages, and we work around their schedule at school, and they work within our schedule here and structure here."
He says the extra attention and investment are worth it, and the goal is to see those students transition to full- time work at BPM.
"It takes a little bit to figure it out and say, 'OK, does this make sense? Does this not make sense?'" Koronkiewicz says. "And it might take a little bit to get through that process, but once you're through that process, it definitely makes sense."
Programs like Earn & Learn help raise students' awareness of opportunities and allow them to get a taste of what it's really like to work in manufacturing. At the same time, companies have the chance to build the needed skill set among new workers, Koronkiewicz says.
"Back in the '70s, '80s, you graduated high school, then you went to work in a paper mill or wherever else," he says. "Today, it's not that way."
Robinson Inc. has about 10 students working through programs like Earn & Learn, laboring side-by-side with the company's 600-plus employees. Students go through a formal interview process and are matched with often-hard-to-fill careers that fit their interests and abilities, says Jessica Banker, Robinson's human resources manager.
"Those are discussions around what shop classes do you enjoy? What hobbies do you enjoy?" Banker says. "A lot of the students start in the cutting center support area. They get experience with a lot of different things other than just welding."
In that department, students might learn how to operate a press brake or a laser. "A lot of those students have only been exposed to it once they get here, so they don't know that type of operation could be a really successful career for them, too," Banker says.
The company offers a robust training feeder program set up to help fill high-demand positions such as fabricators.
"I think one of the biggest things there is really exposing them to all the vast opportunities that are there," says Chris Nielsen, corporate recruiter for Robinson. "You hear about welding. You hear about being a forklift driver, but within forklift driver, there are tons of different avenues they can go."
The company works with students to ensure their schedule allows for success both at work and in school.
"School is No. 1; we focus on that," Nielsen says, which might mean students will work after hours or on weekends, provided the right mentors are also working with them. "There becomes a logistical jumbling that has to happen for the managers, but they are more than willing to do that."
On the recruitment side, Robinson has created three 12-hour shifts — paying workers 40 hours for 36 hours of work — to allow for a better work-life balance, Banker says. Robinson offers part-time positions for retirees, teachers wanting summer work or students who are home for the summer.
Both Robinson and BPM have been more deliberate about creating part-time or flexible opportunities — a shift from the way things were in even the recent past.
One of the fastest-growing supplies of part-timers is employees of retirement age — Koronkiewicz himself included — who aren't ready to quit altogether. They, in turn, can train the newer employees who might only be willing to work part time.
"It can't be the same old structured, here's your job, 7 a.m. to 3 p.m., pack your lunch, here's your breaks, here's what we pay you, now don't bother me anymore, just do your work," Koronkiewicz says. "It's not that way anymore. The competition out there for skilled employees is fierce."