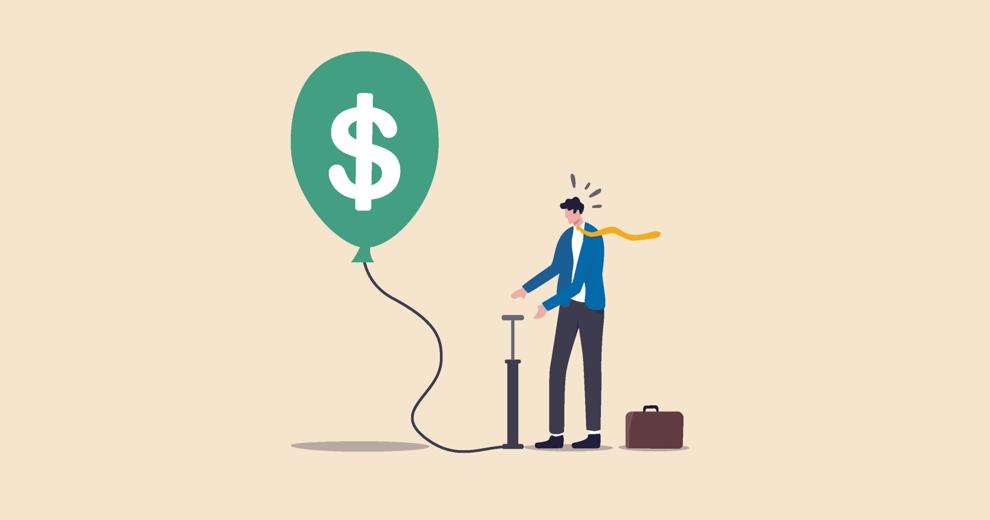 There's good news and not-so-good news about how the manufacturing sector is faring. The good news is that it continues to grow rapidly, shaking off any pandemic-related sluggishness. The not-so-good news? Inflation is creeping up.
"We're seeing definite concerns around inflation, especially in metals and plastics," says George Bureau, vice president of consulting services for WMEP Manufacturing Solutions. "The tightness of supply is making the price go up."
Inflation happens when the general level of prices rises, meaning that a dollar effectively buys less than it did previously.   
In July, the manufacturing sector grew for the 14th consecutive month, according to the Manufacturing ISM Report on Business. "For the past 18 months, manufacturers have held it tight and tried not to increase their prices too much, but it's getting harder for them to absorb it," Bureau says. 
David Fuller, an associate professor of economics with the University of Wisconsin-Oshkosh, says the Producer Price Index — which measures the average change in prices received by domestic producers for their output — has increased lately, providing another signal inflation is happening. According to the Federal Open Market Committee, the personal consumption expenditures inflation rate for 2021 is predicted to be 2.4 percent.
"There are multiple potential sources for inflation — shortages in supply and labor. When demand outstrips supply, costs rise," he says. "At first, a lot of the shortages in raw materials were related to COVID-19."
Widespread supply chain problems are causing many manufacturers to have trouble accessing the materials they need to make finished goods, Bureau says.
An example is the shortage of tiny semiconductor chips used in making cars and trucks. As the pandemic hit, demand increased rapidly for the chips since they are also used in personal electronic equipment, such as cellphones and laptops, which saw sales rise as people spent more time at home. The chip shortage means automakers are waiting for their arrival, and until then, productivity has slowed as tens of thousands of new vehicles wait for the computer chip so they can be completed.
Fuller says the raw materials that manufacturers can purchase cost more than they did before the pandemic, driving up the per-unit cost to produce an item. "Some materials are just hard to get for one reason or another," he says. "And if you do find them, the cost is usually higher than it was before the pandemic."
The labor shortage also plays a role in higher prices. As manufacturers struggle to fill jobs, they've increased starting pay and have begun offering bonuses, and then that ripples through the company. Companies recoup the higher wages by raising prices, Bureau says.
There's also more money in the economy thanks to pandemic-related stimulus payments and the new monthly advance tax credit payments for many families. 
"Let's look at exercise equipment," Bureau says. "People got checks in the mail and their gyms were closed or they were worried about going to the gym so they decided to buy their own piece of equipment. Demand outstripped the supply. Costs increased and products were on back order."
The Federal Reserve also has increased the money supply, which keeps borrowing rates low, and encourages larger purchases.
"Low interest rates mean homeowners may do a home equity loan or refinance and take that extra money for home improvements, a car or whatever," Fuller says.
Not all bad news
While inflation, over time, can slow the economy, Fuller says this round is rooted in the pandemic as the virus closed manufacturing plants and ports around the world and some manufacturers switched from making their usual products to making personal protective equipment.
"I really think this is a temporary event," he says.
Bureau says manufacturers can take many steps to keep inflation in line, including diversifying supply chains so they're not relying on a single company to provide them with key components.
"If you buy from just one source, if they have an issue, your hands are tied," he says. "I'm definitely bullish on manufacturing, but it may take a while to get through this."  
Bureau says manufacturers also can look at their operations to make them more streamlined, whether it's improving efficiency or using more automation so employees can be redeployed in new areas. 
And putting today's inflationary pressures into a historic perspective, Fuller says "this is nothing like the 1970s or early '80s."