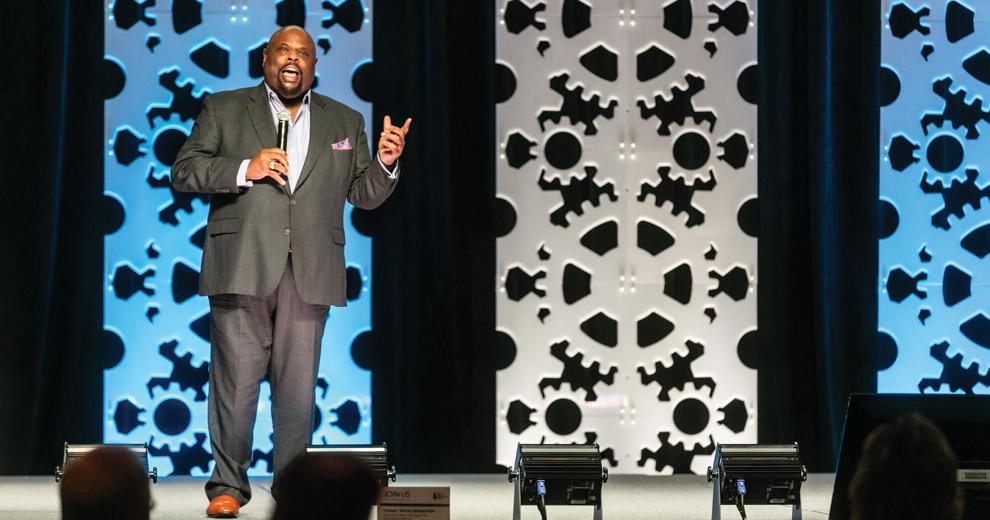 The Manufacturing First Expo & Conference returned as an in-person event this year, delivering attendees a message of hope and strength at a time when businesses are facing many challenges, from talent shortages to supply chain constraints.
The 11th annual event, which took place in late October at the KI Convention Center in Green Bay, kicked off with a talk from Emma McTague, senior vice president and chief human resources officer for Oshkosh Corp. She shared that the manufacturer's biggest challenge is attracting and retaining production talent.
"We are facing a talent shortage, one like no other we've seen," she says.
The data is daunting. Nationwide, there's a deficit of about 8 million workers. Throughout the pandemic, 3 million baby boomers have retired, which was 1 million more than forecast. College and technical school enrollment are down 13 percent, the labor participation rate is down 62 percent, and the turnover rate has reached 33 percent — good is considered 10 percent or lower.
McTague says all these trends are playing out at Oshkosh Corp., which loses more than 50 percent of its new hires in the first year. Making matters more complicated, the younger generation of workers wants a different work experience that may not include working overtime or undesirable shifts. And Oshkosh Corp. has seen its retirement rate increase 88 percent since 2019.
Despite the adversity, McTague says she feels confident Oshkosh Corp. will prevail with strategies that include retention efforts, reskilling incumbent workers, recruiting labor from other geographies including Illinois, the West Coast and Mexico, and reaching out to veterans with opportunities both on the floor and in offices.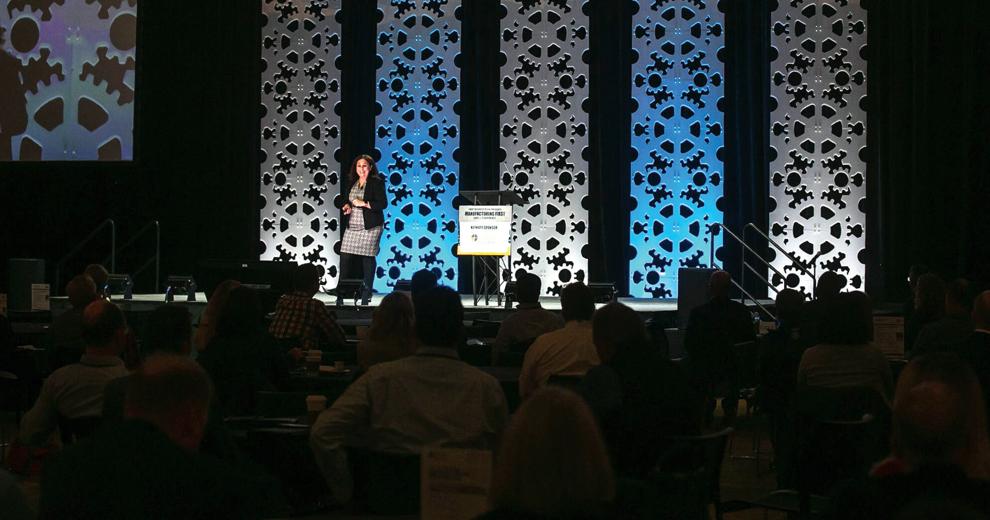 Succeeding will require focusing on the employee experience, she says. "Culture within our plants matters. We need recognition programs. We need to make sure benefit suites are contemporary and that we have flexibility and experiences that the production team members of today and tomorrow are going to ask more and more of."
Following McTague's speech, keynote speaker Dr. Rick Rigsby, president and CEO of Rigsby Communications, took the stage. The energy and engagement from attendees were palpable as Rigsby urged the audience to embrace ambiguity.
He acknowledged that uncertainty is uncomfortable, and that certainty brings predictability. However, that same quality can bring a lack of energy that leads people to lose their hunger.
"Nothing prepares you for greatness in manufacturing like uncertainty," he says.
To illustrate how uncertainty can inspire people to reach the next level, Rigsby recounted the 2003 story of Green Bay Packers great Brett Favre choosing to play a game against the Oakland Raiders the day after his father died suddenly of a heart attack. Favre went on to play one of the best games of his life.
To grow as leaders, Rigsby urged the audience to execute the basics, which include telling the truth, giving people the benefit of the doubt, refraining from judging, doing what you say you're going to do and listening.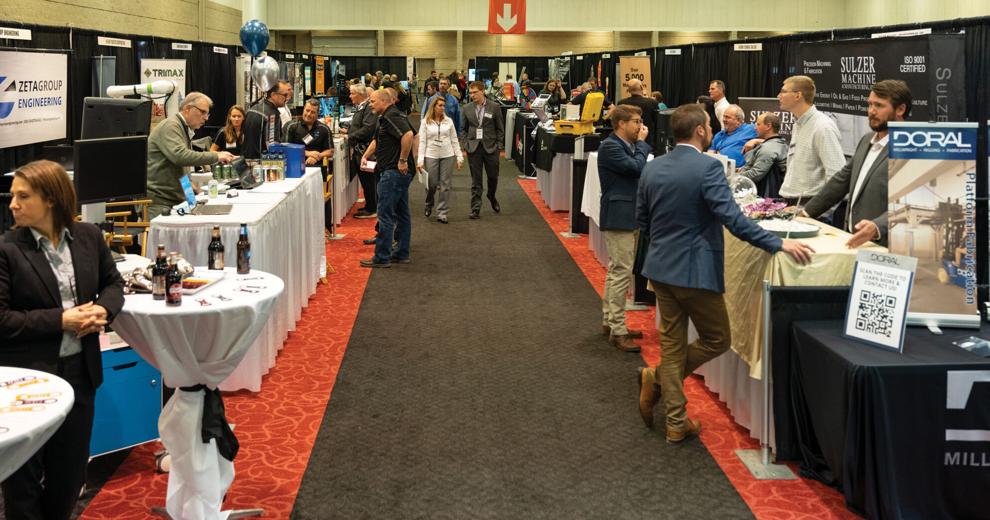 As for that last basic, Rigsby says leaders need to give people a reason to listen. "If you're the kind of leader who doesn't expect more out of yourself every day, you don't have the credibility to place a demand on somebody else," he says. "You are what you repeatedly do; therefore, excellence ought to be a habit, not an act."
Rigsby concluded his speech sharing the story of when his first wife died of breast cancer, leaving him to parent their two young sons on his own. Before she died, she made it clear that what mattered was how she had lived. Rigsby implored the audience to ask themselves the question, "How you living? How you live will determine how you lead."
In addition to the keynote speeches, the day included several breakout sessions, including First Business Bank presenting "Tackle Your Talent Shortage with Work-Based Learning Solutions," a roundtable discussion led by GPS Education Partners President and CEO Stephanie Borowski.
GPSEd, a nonprofit, is a work-based learning solutions provider and advocate that represents students, businesses and communities. Borowski says the organization helps students plan for what's next. "Many students struggle to make the connection between their academics and that real-world application and the real world of work."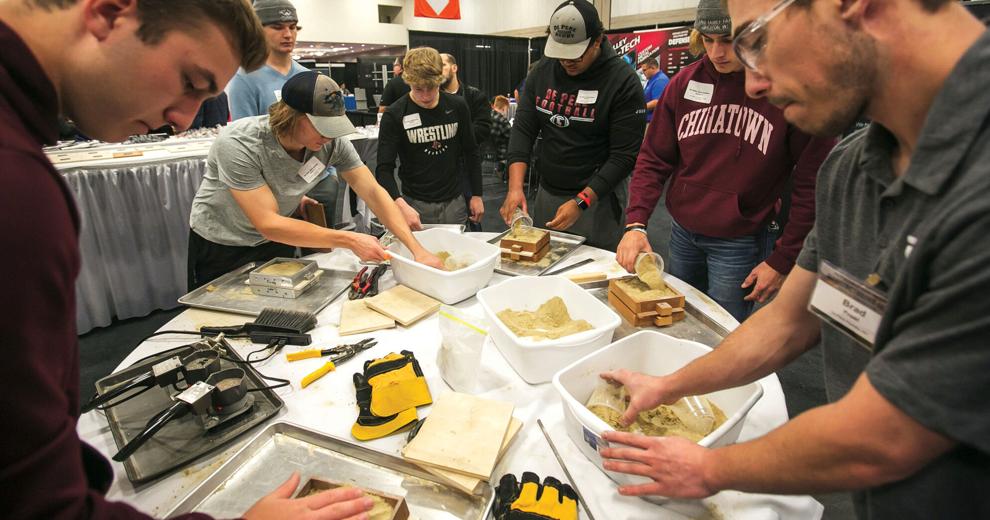 Panelist Kristoffer Olson, business developer for Express Employment Solutions, shared how his two sons and stepson are all participating in GPSEd. The program has helped all three develop confidence and work skills. It also provides an alternative for students who might struggle with the structure of a traditional school environment and would rather work with their hands, he says.
That was the case for panelist Serenity Howard, a class of 2022 high school student working through GPSEd with Menasha Corp. "Normal high school was hard for me, just sitting in a classroom for eight hours. I'm a very hands-on person, so just sitting down, I couldn't concentrate," she says, adding that the program has given her accountability, responsibility and a way to earn money.
Panelist Joshua Johnson, director of the Center for Apprenticeship and Work-Based Learning at Jobs for the Future, says apprenticeship provides a way for employers to not only meet their talent needs but also further their diversity and inclusion efforts. To do so requires intention, he says.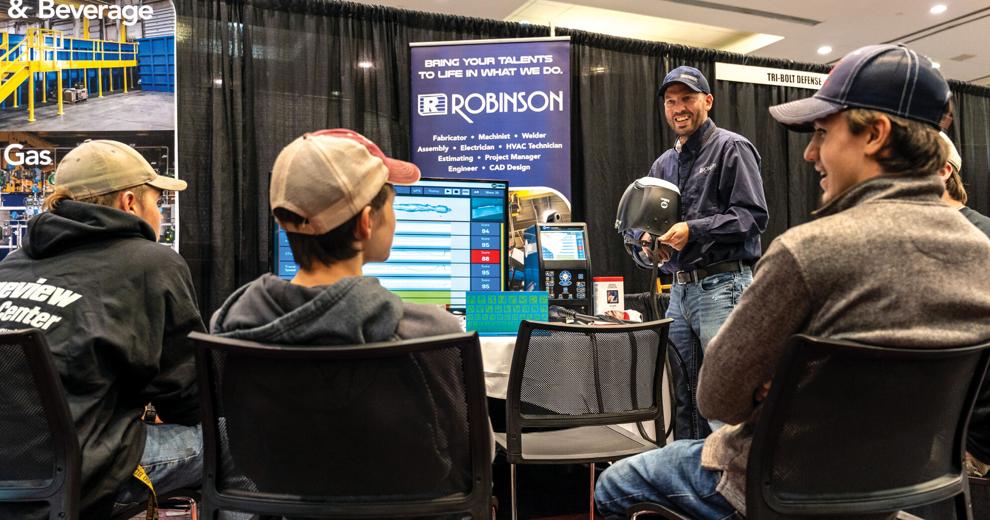 "The first thing an employer needs to do is really look across their boardroom. They need to look in their management and across the floor, and if they are setting their goals, they need to see if those individuals they're trying to attract are represented in those areas."
Around 1,000 people attended this year's event, which also included an expo floor featuring nearly 200 exhibitors. The floor was open to high school students in the morning, giving exhibitors a chance to make connections and provide hands-on learning opportunities.
The evening prior to the event, the NEW Manufacturing Alliance held its annual Excellence in Manufacturing/K-12 Partnerships Awards, where it raised $17,000 for scholarships. Since its inception, NEWMA has provided more than $375,000 in scholarships.