The COVID-19 pandemic exposed chinks in the global supply chain. Nowhere was this more evident than in semiconductor manufacturing — only 10% of which currently occurs within the United States. The other 90% takes place in China and Taiwan.
But the federal government is hoping to change that. In an effort to reshore and reinvigorate the lagging U.S. semiconductor supply chain, last August the White House signed the CHIPS and Science Act. The act appropriated $52.7 billion for programs to strengthen the nation's position in semiconductor research, development and manufacturing.
The majority of those funds — $39 billion — is being allocated to manufacturing incentives.
Ann Franz, Northeast Wisconsin Manufacturing Alliance executive director, says if nothing else, the pandemic renewed interest and investment in the country's manufacturing base.
"The best part of COVID was the reemergence of buying U.S. products," Franz says. "[The CHIPS Act] gives our American companies an opportunity to enter a market that maybe they felt they wouldn't be able to be competitive in."
In February, the U.S. Department of Commerce released application guidelines for the first round of CHIPS funding focused on semiconductor commercial fabrication facilities, or "fabs." The department is seeking proposals for projects to construct, expand or upgrade production facilities in the fabrication of leading-edge, current-generation and mature-node semiconductors.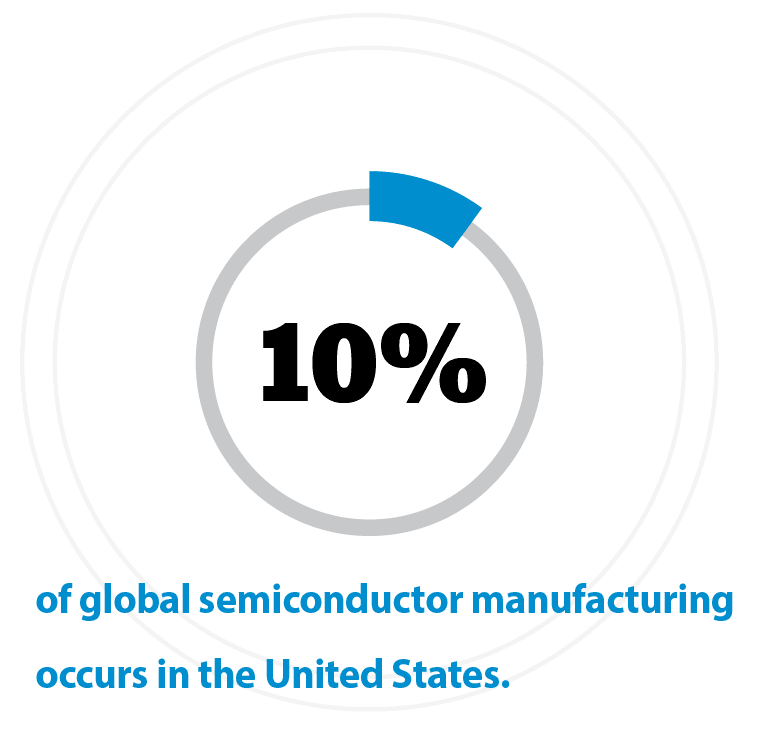 Mike Schmidt, director of the CHIPS Program Office, told Bloomberg News that applicants will be evaluated according to six criteria: economic and national security objectives, commercial viability, financial strength, technical feasibility, workforce development and broader impacts.
According to a report by labor market data analyst Lightcast, for the U.S. semiconductor industry to meet the goals of the CHIPS Act, it will need to add more than 236,000 individuals to its workforce.
"In round numbers it takes about $20 billion and 2,000 workers to bring one of these leading-edge chip plants up in five years, and the majority of that money is involved with the insanely technical equipment that's required to make these advanced chips," says Buckley Brinkman, executive director of the Wisconsin Center for Manufacturing and Productivity. "Those 2,000 workers are not going to be easy to find."
But they might be slightly easier to find in the New North. Lightcast ranked the Appleton area No. 22 in its Regional Labor Force Readiness Ranking out of the top 200 metros for semiconductor labor force readiness. Despite the region's position of strength, deploying enough skilled workers to support the semiconductor industry will be one of the biggest challenges. Franz says continued automation and digitization could hold some of the answers.
"Companies are needing to do more with fewer people. Part of the solution is working very diligently on productivity gains. We have a lot of companies that we are helping explore Industry 4.0," she says. "Computers aren't going to take all the jobs away; they can help support the shortage of not having enough people. Once everything does get connected … we're going to have a lot more data that in turn will give us information to make better decisions, and make people more productive."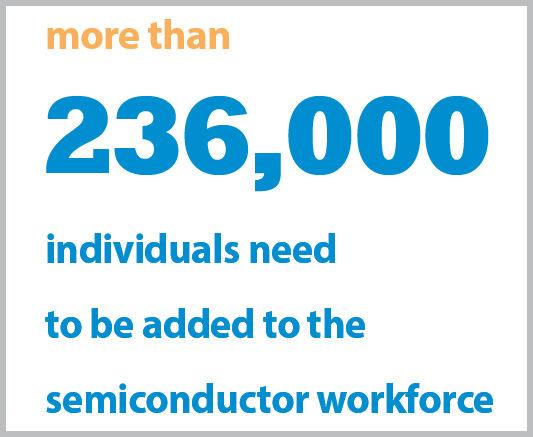 Franz anticipates some New North companies — like electronics manufacturer Plexus Corp., for example — could reposition some of their work to meet the needs of a U.S. chip industry. Reskilling and upskilling current workers will also be a key component in meeting the enhanced workforce demands created by the CHIPS Act.
"That's why it's so important that we start talking about this even before the money comes in," Franz says. "It takes time for colleges and schools to offer new certificates or degree programs. There's such great value in [NEWMA] working in relationship with these colleges in order to tell them what [manufacturers] need to be more proactive than reactive."
Some of the conditions attached to the CHIPS Act are intended to support the recruitment of a diverse workforce. As part of a new provision, manufacturers seeking more than $150 million in CHIPS Act funding will be required to provide employees with access to affordable child care. This could include building child care centers near new plants or offering stipends to employees to pay for care at existing sites.
"Applicants have to submit a workforce plan, and lack of access to affordable child care is a barrier to getting the broad, diverse workforce you need in this system to achieve our objectives," Schmidt said in the Bloomberg interview. "We view child care as part and parcel of the broader set of objectives we have around workforce."
Critics say the CHIPS Act child care requirement will only slow down efforts to establish a U.S. semiconductor ecosystem that is already woefully behind competing counties. But Brinkman says most of the act's funding requirements are aligned with wraparound services — like transportation, child care and on-the-job training — currently offered by many advanced manufacturers.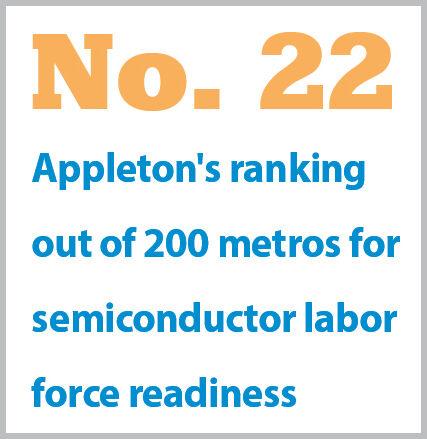 "Those are things that are pretty standard approaches of people who are really trying to make the most out of their workforce now," he says. "This new provision is a unique try at [getting] more people, especially disadvantaged women, to participate in what will be some really great jobs."
Later this year, the CHIPS Program Office will release additional funding opportunities for semiconductor materials, manufacturing equipment facilities and R&D facilities.
While the clock is ticking on the nation's race to reshore chip manufacturing, Brinkman says building a supply chain of this scale takes time and manufacturers need to play the long game.
"It's not an easy lift. It's a lot more complicated than pouring some concrete, erecting some girders and installing some equipment," he says. "It's not going to happen fast. It takes five years to create one of these plants, so we're probably a decade away from being self-sufficient here if we do everything right."
Learn more: www.chips.gov