Companies across the U.S. are watching for the Federal Securities and Exchange Commission's forthcoming rules on emissions data reporting — a proposed sweeping attempt to hold businesses up and down the supply chain accountable for seven different types of greenhouse gas emissions.
"If you're in the supply chain of a company that's filing, you'll be asked to give your data," Hillary Vedvig, an environmental attorney with Milwaukee-based Foley & Lardner, explained to attendees at the annual Wisconsin Sustainable Business Council conference in November. "It's very broad-reaching, and it's something a lot of companies are currently preparing for — getting consultants lined up to capture this data. And some are gearing up to sue the agency."
Calling the proposed actions both exciting and scary, Vedvig says companies who get ahead of the rule and start tracking and reporting data may find themselves in a better position — both in financial and public relations terms.
"A lot of people [were] saying [the proposed rule is] against the purpose of business, which is to maximize profits, and we had a lot of people saying certain types of industries should be exempt," Vedvig said. "But the whole point of this rule is that everyone is going to be accountable for their emissions, and that is going to give investors [the ability] to focus on things that are material to the return of a company."
---
Know your audience
Indeed, when it comes to sharing sustainability data and initiatives, manufacturers are no longer just talking about the government. Money talks. People do, too.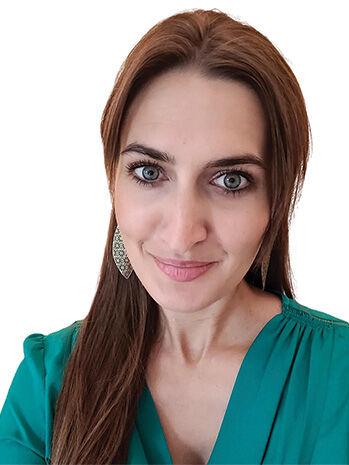 Fox Cities-based consultant Stephanie Krubsack owns Purevant Living, through which she creates a magazine and podcast called Person and Planet, as well as offers certified zero-waste consulting services, sustainability audits and marketing expertise to a variety of small- to mid-sized companies — including manufacturers.
She says that, of the many motivations clients have for seeking out Purevant Living's services, the top one right now may be talent attraction.
"Prospective employees are asking about it — what are you doing in sustainability, what is your wellness program," Krubsack says. "I think that question wasn't always asked before, but now [job-seekers] can be more selective."
Oshkosh Corporation has long worked to position itself as an employer of choice, and Vice President Kevin Tubbs told attendees at a WSBC conference breakout session that one of the main audiences for his company's public-facing sustainability report is employees and prospective employees.
"We have a sustainability SharePoint site, articles in our Oshkosh Today newsletters, webinars that we do for our people that educate people about sustainability and what the company's doing," explained Tubbs, the company's chief ethics, compliance and sustainability officer.
Speaking on the same WSBC panel, Kohler Co. Project Leader Kayla Buszka said that many Kohler associates, particularly its more than 800 sustainability champions, are laser-focused on promoting and communicating sustainability values internally.
"New talent is a critical pipeline to consider when you're talking about buy-in," she said. "Your culture is something your company inherently has, so focusing on the talent that's coming in is a great opportunity to be screening for people who are more environmentally minded and can help drive sustainability into that top leadership role."
---
Support at the top
Executives, investors and corporate boards are also major audiences for sustainability communications, Tubbs said, adding that he meets quarterly with Oshkosh Corp.'s senior leadership and gives regular presentations to the company's board of directors around sustainability goals and performance.
"Sustainability is often referred to as the triple bottom line," he said. "Environmental is important, but economic is important, so you need to be able to make the business case for what you're doing around sustainability. And it doesn't have to be 'either/or;' it can be both."
When it comes to communicating sustainability messages to executives and investors, Buszka offers the following advice: "Be brief. Be bright. Be gone. A deck of 100 slides is just, no."
She also says it's important to talk about not only return on investment, but what leaders are missing out on by not investing.
"Our leaders at Kohler are super excited about innovation. We want to be the most environmentally friendly brand, and to do that we need to allow for innovation, which can also mean a little bit of risk, too," she said.
But the "risks" of incorporating sustainable business practices are going down every day, Krubsack says. She recently helped a company host a community event at which it was serving drinks; recyclable cups were the same price as regular plastic cups, she says. And initiatives like reducing waste and energy consumption have clear economic upsides. In short, making the business case for sustainability has become exponentially easier in the last decade.
Another reason for leaders to pay attention to sustainability, Tubbs said, is the thing that should motivate them every day: It's what customers are asking for.
---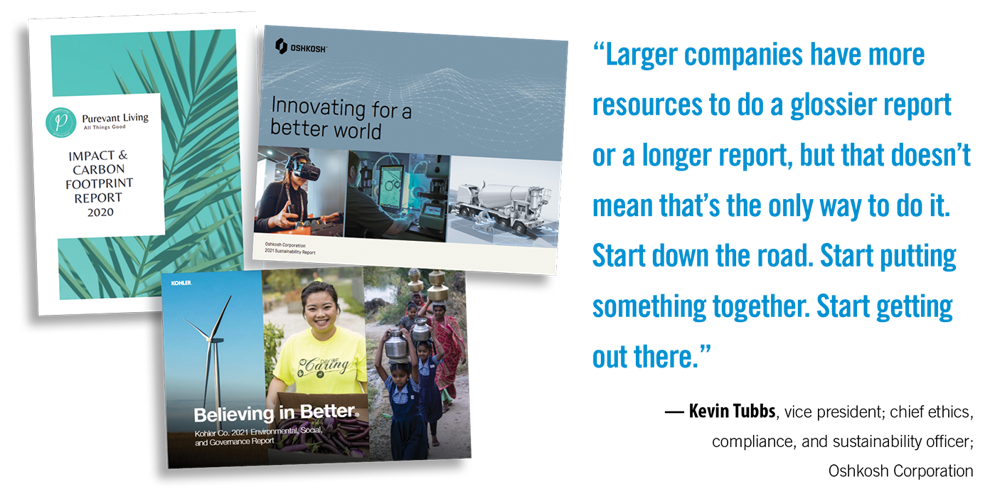 Consumer demand
Tubbs said an Oshkosh Corp. marketing executive who admits he may have previously been bored in Tubbs' sustainability presentations recently said he's Tubbs' "best friend now." The exec told Tubbs "he can't go into a meeting with a customer that the customer's not asking about sustainability."
Major companies like Oshkosh Corp. may have personnel and resources to concentrate on high-impact, customer-facing communications, but it's important for companies of all sizes to tell their sustainability stories, Tubbs said.
"Larger companies have more resources to do a glossier report or a longer report, but that doesn't mean that's the only way to do it," he said. "Start down the road. Start putting something together. Start getting out there. The sooner you start, the better you're going to get at it."
Krubsack suggests video as a sustainability storytelling platform for manufacturers to leverage.
"Any type of video will have the most organic reach on social media," she says. "Show an insider perspective. I know some facilities may not want to show their machines, and I definitely get that. It doesn't have to be a fancy, scripted video — just people talking from the heart about what they care about."
Concerns about greenwashing or accusations of greenwashing — referring to manipulative communications disseminated by an organization to convey an environmentally responsible public image — can hold companies back from sharing sustainability messaging, Krubsack says.
"Even though a company may be taking sustainable actions, they're not telling people about it because greenwashing is a fear," she says. But with solid commitment and solid data, Krubsack says companies should march forward with confidence in 2023.
"It will inspire others," she says. "We need to collectively share what we're doing, what's working and be transparent about the tools we're using to get there. We can all learn from each other, and we're all kind of learning here, right?"