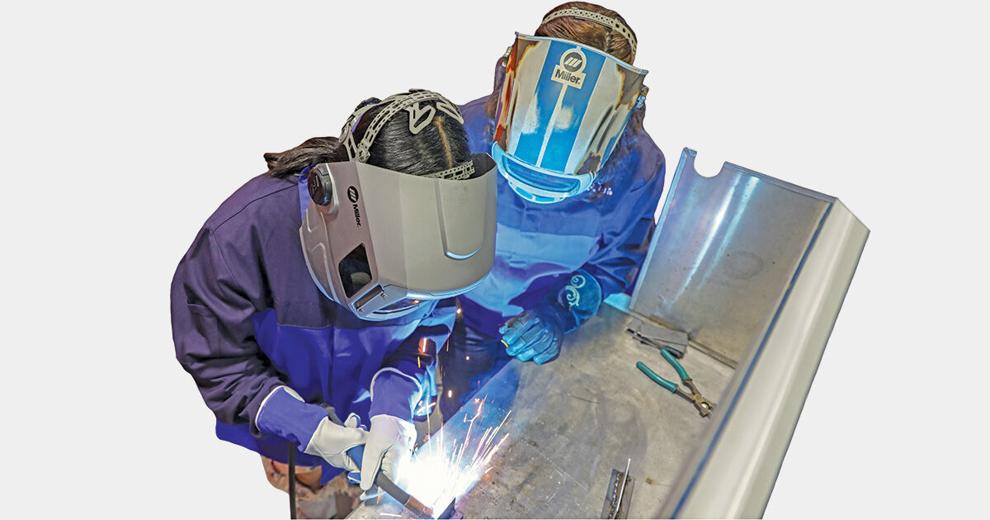 It's a calm, clear-skied March evening in Kaukauna. Guests file expectantly into the sprawling Plumbers & Steamfitters Local 400 Union Hall, carrying colorful brochures and clutching bright pink T-shirts promoting "Women in the Pipe Trades. "Teen girls settle in next to their cross-armed and note-taking parents, who sit alongside whispering groups of college classmates dotted with curious women who have carefully arranged their purses and coats on the chairs next to them.
UA Local 400 has organized its first-ever International Women's Day event featuring a panel of female experts on welding, rigging, soldering and pipe threading. As the evening goes on, panelists and union members describe and demonstrate high-paying career paths that don't require college degrees. 
The girls and women in attendance have one thing in common: Just by being there, they've taken at least one step toward different.
__________________________________________________
"Different" is how Olivia Hanson's teachers at Little Chute High School have been known to describe her. She says she was initially steered toward classes in computer programming and medical arts, but her freshman year welding class was what captured her imagination. And now, as she prepares to graduate high school and complete her youth apprenticeship at Appleton's The Boldt Co., she's ready to launch her career as a union ironworker. Her female friends don't understand, she says.
Kristen Vera also was nudged down a medical career path. She was on the waiting list for occupational therapy school when her brother started bringing her to UA Local 400. Today, she's a fabricator journeywoman working at De Pere-based Tweet Garot Mechanical, where she wears her welding gear to her office job on the company's virtual design and construction team, ready to weld at a moment's notice. "I love it," she says. "I am able to do anything, really."
Both Hanson and Vera were the lone females in their welding classes. Both are small and lightweight —the physical opposite of a stereotypical construction worker. Hanson admits that the first time she pulled up to a job site, she was scared. And yes, working with mostly men has been challenging — but she is gaining confidence every day.
"I try and work as hard as I can at those job sites, and I get my respect," says Hanson, who has worked on multiple Boldt projects rigging steel, welding and tying rebar for foundations. "For the most part, [my coworkers] have been super supportive of me getting into this trade."
A sisterhood
If anyone can relate to Hanson and Vera, it's Marsha Nebel — a now-retired International Brotherhood of Electrical Workers Local 158 journeywoman electrician who was one of the first female electricians in Wisconsin and the first in Green Bay. Nebel recently launched a Northeast Wisconsin chapter of empowHER, an organization aimed at attracting and supporting women in the construction trades.
"It's important for women in the trades to have their own sisterhood; there's so much value in bringing women together," Nebel says. 
Northeast Wisconsin empowHER is open to all women in the building trades. The organization travels around the region promoting careers at job fairs and community events and hosts meetings that function like support groups. Emotional, verbal, sexual and financial harassment and discrimination are still common, Nebel says. Simply having other women to talk to about the experience is important.
"When a man comes on the job, it's expected that he will do well. When a woman comes on the job, you have to prove that you will do well," Nebel says. "It's a lot for someone to be expected to carry on their shoulders every day. But I mean, we have a female vice president, for goodness' sake; we can have female construction workers."
Nebel and Vera agree that women are not only just as capable as men on the job site, but in many cases, they are better — and not just at fitting into tight spaces, though Nebel acknowledges her smaller hands were indeed a unique asset during her 42-year construction career.
"I don't want to bash men because I work with a lot of great guys," Vera says. "But women are really good at being open to learning and developing new skills when men can be more hard-headed. [Women] also have more attention to detail … they just care a little more about how clean and perfect a weld is. It feels good having the guys come up to me in the shop and say, 'Wow, how did you do that?'"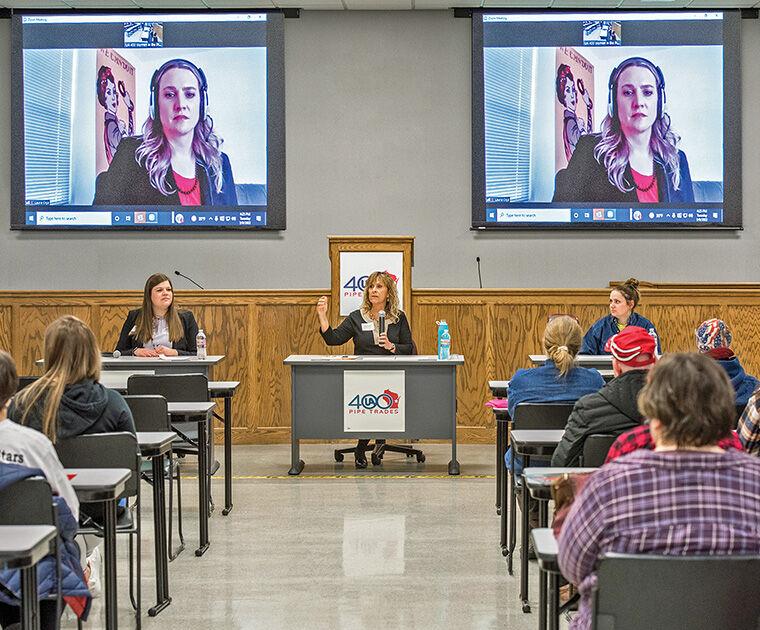 Numbers game
With workforce shortages gripping every Wisconsin industry, leaders say recruiting more women to traditionally male-dominated jobs is just common sense. UA 400 Business Manager Trevor Martin says his organization's "Women in the Pipe Trades" event was the first step in building a workforce that better resembles the community and casts a wider recruiting net.
"The numbers aren't allowing the industry, or manufacturing in general, to be selective," Martin says. "To say my target audience is 6-foot-tall males who worked on farms their whole lives and are big and burly, the demographics aren't allowing us to do that anymore."
Speaking on the "Women in the Pipe Trades" panel, Bassett Mechanical President and CEO Kim Bassett said her company used to lean heavily on family connections to fill its labor pool; today, she says, "we need to invest in everybody. For anyone who wants to learn and try, the opportunities are endless."
Martin says that increasing the number of women in the trades isn't just beneficial to employers but also to the women themselves, especially if they have experienced wage inequality in the past.
"This new generation wants to work, so this creates an opportunity for us to show what we have to offer," he says. "There are so many people competing for the same pool of people, so we want to emphasize that we don't have separate wage scales for men and women. Our apprenticeship is a paid apprenticeship program. If you start at 20, by the time you're 30 you'll be making in excess of $42 an hour."
But, Martin admits, female membership in Local 400 is still low. Buy-in must come from the union as well as the employers who hire its workers. Thinking is slow to evolve, and more "aha" moments are still needed, such as when UA 400 added maternity benefits just a year ago. 
"It was something where we one day just said, 'Why don't we have this?'" Martin says. "If we're going to truly focus on recruiting women, we can't say, 'Come be a woman construction worker and we don't care about the challenges you have.'"
Inspiring the next generation
Vera and her husband are raising five children together, and in the last three years she has welded through two pregnancies and breastfed her infants with Tweet Garot's support.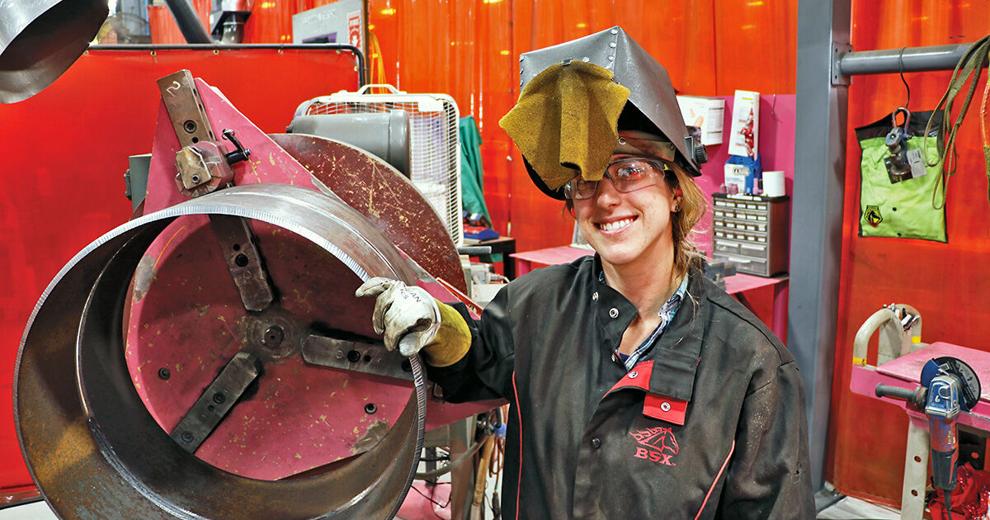 "I would recommend [the trades] to anyone — especially women," Vera says. "You can afford to take care of your family and have a good life."
Today Vera carries the health insurance for her family and loves chatting with her 15-year-old stepdaughter about her high school welding class — where she's not the only girl. Vera says girls are slowly learning that, even if they're "girly," trades like welding can be for them.
But to truly inspire the next generation of women in the trades, Vera says, girls have to be able to see themselves in the roles, and not every girl is lucky enough to have a welding mom.
"I can tell you now, if I didn't know anything about it and were to see a [career fair] booth with two welders who were male, I probably wouldn't walk up to it," Vera says. 
Events like "Smart Girls Rock!," which was started in 2014 by Tiffany Carter and Cindy Lillge of Miller Electric Manufacturing and is now a program of the Fox Cities Chamber of Commerce, are designed to connect teens with mentors who look like and can relate to them. The traveling mentorship event highlights all varieties of STEM careers, including welding and construction trades. 
For her part, Nebel says she is jumping at every opportunity she can find to share empowHER's message at schools and career fairs, but few events are specifically targeted at girls and women. And Martin says he hopes to make "Women in the Pipe Trades" an annual event — and wishes it had been thought of earlier. 
After all, there's a lot of ground to make up. According to California-based Tradeswomen, Inc., women make up only 3% to 4% of the U.S. building trades workforce.
Laura Ceja, a national training and outreach representative for UA International who spoke at the UA 400 women's event, says that although current representation is low, women have a storied history in the trades that dates back to Rosie the Riveter.
"Women have been a part of this organization for a very long time, since the UA Journal announced it was hiring women in 1943 when the men went off to war," Ceja said. "And these women were great welders and it was a fantastic job. Today, the problem is that women don't know about this."
"If there's a girl out there who wants to do it, she'll do it," Vera says. "She'll find a way and she'll do it."