NEW NORTH—Nominations are open now through Feb. 15 for Insight Publications' first-ever 40 Under 40 Awards, which will be presented in May and featured in a special section of Insight magazine.
Honorees will be recognized based on professional and civic accomplishments and must be younger than 40 years of age as of June 1, 2023. They must also live or work within the 18-county New North Region (Wisconsin's Florence, Oconto, Marinette, Menominee, Shawano, Door, Waupaca, Outagamie, Brown, Kewaunee, Waushara, Winnebago, Calumet, Manitowoc, Green Lake, Marquette, Fond du Lac and Sheboygan counties).
Nominations are open to all at www.insightonbusiness.com/40u40. Self nominations are also encouraged.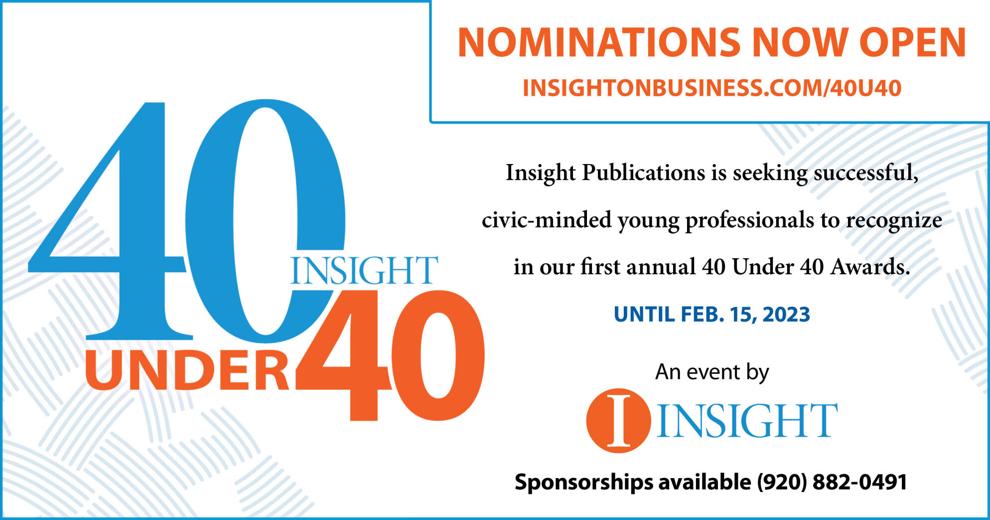 "On the heels of our many successful Insight events that have engaged so many people throughout the New North Region, we are excited to be adding 40 Under 40 for 2023," Insight Publisher Brian Rasmussen said. "While many of our partners throughout the region already have some great programs and traditions recognizing young professionals that we are proud to support, we are confident this new award will only broaden the scope and reach of those programs by bringing a regional perspective."
Nominations must be submitted online by Wednesday, Feb. 15 at www.insightonbusiness.com/40u40. A panel of reviewers will then select the final recipients in March. More details about the May 2023 recognition event and publication are forthcoming.
Meanwhile, questions may be directed to insightawards@gmail.com or via phone to (920) 882-0491.
Multiple sponsorship opportunities are also available. For more information or to become a sponsor, please contact Stephanie Crowe (scrowe@insightonbusiness.com) or Libby Vandergeeten (lvandergeeten@insightonbusiness.com) at (920) 882-0491.