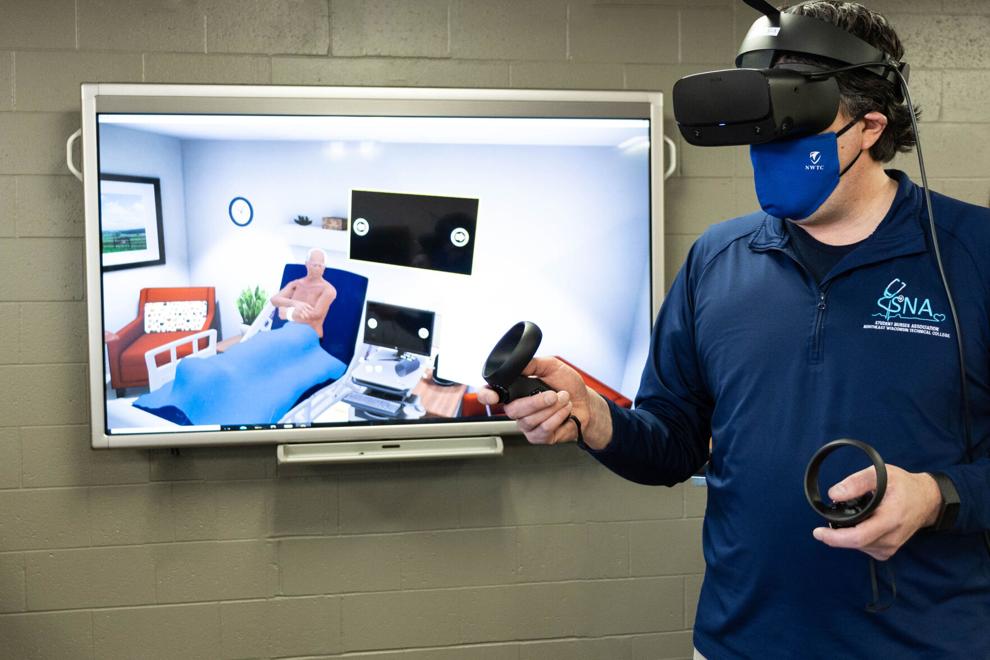 We live in a technology-driven age that impacts our lives every day in various forms. Individuals, educators and employers must consider their approach in preparing future generations to meet the challenges and opportunities set by the rapid advancements in technology. What does this mean for the education system? With a targeted focus on innovative Industry 4.0 initiatives, institutions like Northeast Wisconsin Technical College are adapting inside and outside the classroom. 
Industry 4.0, or the fourth industrial revolution, connects technology and digital innovation across all industries. While there is an entire ecosystem of enabling technologies that impacts the larger picture of this digital transformation, NWTC is aligning academic programs and training to the three key pillars of Industry 4.0: additive manufacturing, augmented and virtual reality (AR/VR), and Internet of Things (IoT).
"Many employers want to incorporate Industry 4.0 but don't know where to start," said NWTC President Dr. Jeff Rafn. "These new technologies provide opportunities to help businesses not only survive but thrive, now and post-pandemic. By instilling this skill set and knowledge at the beginning of the learning process, our graduates will be well-prepared to adapt and enhance their qualifications within Industry 4.0 technologies."
3D printing 'creating new norm' within manufacturing
Manufacturing businesses can experience limitations to current processes and structures, from complexity of parts to customization. Additive manufacturing provides an integrated and digitally optimized solution to those challenges.
Also known as 3D printing, additive manufacturing plays an essential role for factories in adapting to the needs of the emerging market. Additive manufacturing is an economical and sustainable process with less creation of waste and lower assembly costs. 
"While there are still learning curves, the maturity of this technology and wide range of possibilities offered by 3D printing is creating a new norm within manufacturing," said Jill Thiede, associate dean, NWTC Trades and Engineering Technologies. 
AR/VR changing the way we learn
AR and VR are changing daily operations in many industries. Studies show individuals retain more 
information and can apply what they have learned better after participating in a VR simulation. Providing the user with real-time data to apply to real-world scenarios, AR/VR technology is enhancing employers' logistics, maintenance and training operations. Whether providing a virtual workspace for automotive technicians to troubleshoot remotely or simulation training for nursing programs, AR/VR is changing the way we learn both in the classroom and on the job. 
NWTC is already incorporating this essential equipment into the classroom with Oculus Quest 2, HoloLens 2 and HP Reverb headsets. "AR/VR is a new way of learning that provides an experience, and experience is how you learn," said Jason Trombley, instructor in NWTC Trades and Engineering Technologies. "These advancements have lifted the boundaries of traditional curriculum to a whole new level. Whether it's fostering collaboration or enhancing virtual learning, the opportunities are endless. This is an exciting direction we are headed."
IoT brings different technologies together
It is believed that within the last two years alone, nearly 90 percent of the world's data has been created. IoT makes this possible by embedding objects with sensors, software and other technologies for the purpose of connecting and exchanging data with other devices and systems. The key technologies of IoT include smart sensors, cloud data transfer, data analytics, machine learning and so much more. 
To provide students with real-world IoT experiences, NWTC is partnering with area companies. Some of the opportunities include OEM manufacturing internships that allow students to leverage data analytics for future innovations and using predictive maintenance to NWTC's own HVAC systems through collecting data internally. "The notion of IoT brings together different technologies that many times educators and industries have kept separate," Thiede said. "But now with this revolution of digitization, we are looking at the larger picture and how the processes fit together — starting from collecting data to taking action and all of the steps in between."
Leading the way in Industry 4.0 education and training
NWTC also is leveraging industry cohorts to share and learn from its network of national industry partners. For example, NWTC is a participant and grant recipient in HP/EDUCAUSE Campus of the Future — a multiyear research project exploring the benefits of AR/VR technologies and 3D printing. NWTC is the only technical college involved in year four of the grant project, which is being made possible by HP and EDUCAUSE.
Major research universities, including Yale and Stanford, will be providing research and developing technology for the Campus of the Future project, while NWTC will be working to integrate the latest devices into technical training and education. "This is a significant partnership for NWTC, as it will help shape the future of industries. In turn, it provides the opportunity to mold our students as innovators, critical thinkers, and help our businesses be competitive — which is a true advantage," said Sue Zittlow, associate dean of NWTC's College of Business. 
To demonstrate Industry 4.0 to our youth, NWTC is creating career awareness within K-12 by hosting prototype and design seminars and interactive boot camps in areas like artificial intelligence, mechanical design and engineering. With industry partners, NWTC offers workforce advanced training grants to help businesses
gain Industry 4.0 skills within their own teams.
NWTC is continuously reviewing its curriculum across multiple program areas to infuse this new technology into areas such as nursing, engineering, HVAC, landscaping and many more. The options are limitless and will change our learning environments and experiences in a positive way. In addition to supplementing its current curriculum, NWTC is developing new offerings in data analytics, visualization, and additive manufacturing — all designed to address immediate needs within the current and future workforce.
For over 100 years, NWTC has supported and advanced education in Northeast Wisconsin. Today, NWTC continues to lead in educational innovation and provide the highly skilled workforce needed to fuel our local, state and national economy. The advancements NWTC has made in Industry 4.0 are leading the way for future careers and market advantage. To learn more about NWTC's Industry 4.0 programs and training opportunities, visit nwtc.edu/Industry4-0.
Company: Northeast Wisconsin Technical College
Innovation: Equipping students today with skills for tomorrow
Website: nwtc.edu