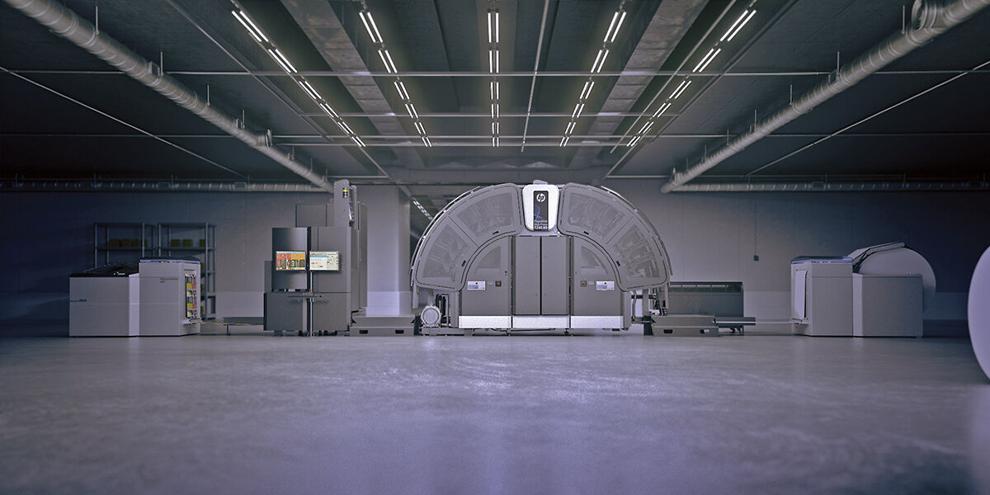 The story begins in Green Bay, Wisconsin, in 1884, at a time when the city was becoming a key industrial center, attracting skilled craftsmen dreaming of a brighter future. It was here that Seaway Printing opened its doors as a book manufacturer, building a reputation for expert craftsmanship, service and reliability.
Over time, technology and equipment have continued to evolve, leaving many printers struggling to keep up with the rapid pace of innovation. With an unwavering commitment to customers and its craft, Seaway Printing continues to be a leader in print, building upon a legacy 138 years in the making.
"We know our role is more than simply producing a finished product but also delivering it in a way that helps publishers strengthen reputations they've worked so hard to earn," says Seaway President Kevin Heslin.
Innovation comes in many forms.
For Seaway, innovation is a way of thinking. It's how the work gets done. Principals Kevin and Lynn Heslin have built a company culture around problem-solving and efficiency. It's their approach to the work that has enabled Seaway to stay on top of an industry that has seen more than its share of printers come and go over the years.
It can be tempting to try to be all things to all people. Publishers have come to trust Seaway for its unique positioning in the market as a printer designed around serving their specific needs. Having a clear focus on this valuable segment of the print market enables the company to respond quickly to challenges and develop innovative solutions to support customer needs.
The importance of quality, speed and consistency is critical to publishers, whose growth depends on meeting deadlines and matching expectations of their readers. Creating the infrastructure, partners and process to exceed these expectations isn't something mastered overnight.
From accounting and marketing to production and sales, identifying and implementing small, incremental improvements is what helps Seaway build and maintain momentum. It's this type of thinking that has made the company an industry leader with an ever-growing demand for its services.
Seaway's production focus is more on process flow, not just on job flow. It has carved out a competitive advantage by looking for similarities within processes and then building on those instead of constantly addressing differences.
By focusing on being a leading low-cost print manufacturer, Seaway has been able to remain competitive, but it's the company's focus on bringing that to the right market that has helped it grow market share and cement a bright future.
Having the right technology and equipment partners is an essential piece of the puzzle as Seaway continues to elevate the levels of quality and service for existing customers while positioning the company to capitalize on its ambitious plans for the future.
Over the past five years, all of the company's capital expenditure purchases have been justified by existing business to create efficiencies that enable the company to further lower the cost of production.
"They have become an innovative manufacturer," says consultant Mike Philie of the Philie Group. "Through their investment in the latest technology, they have decreased bottlenecks and increased the velocity of the work going through their plant."
At the beginning of 2021 Seaway added an HP PageWide Web Press T250 HD with HP Brilliant Ink, which has led to a significant boost in productivity. In a period of just a few weeks Seaway was able to move almost all of its work off of cut-sheet digital to the HP T250, giving it better productivity and shorter time to market.
The T250 made an immediate impact. A job that used to run on a cut-sheet in 14 or 15 hours will run on the T250 in roughly an hour, giving Seaway significantly better throughput. The installation of the inkjet enabled it to go from 8 million pages to over 20 million in just a few months. This leap in productivity was a shock to a lot of people in the industry. And with the brilliant inks, there's no quality trade-off. Seaway has the flexibility to run a job on the T250 or on the offset presses and effectively deliver the same quality customers rely on.
The latest addition to an expanding list of equipment investments is the P-Stacker by Heidelberg. Seaway is the first printer in North America to install this state-of-the-art robot technology, which increases the company's output by up to 50%. Remarkably, the P-Stacker retains the folding quality and process because there is no need to increase the machine speed. The P-Stacker can move a weight of 7 tons every shift, which is about the equivalent to a large, fully grown elephant!
Heidelberg has been synonymous with quality and future viability of the printing industry for more than 170 years. Like Seaway, it is a company with a long tradition, focused on defining the future trends in print thanks to cutting-edge technologies and innovative business ideas. Felix Mueller, president of Heidelberg USA, shared how partners like Seaway help inspire Heidelberg to find new ways to make the manufacturing process easier. "Kevin and the team at Seaway are the kinds of partners who help us grow. He's always challenging us and pushing us to the limits, which is exactly the right thing to do. That helps improve what we bring to the market for all of our customers," Mueller says.
The technology is becoming so advanced that the machines are now doing most of the printing. This is creating a shift in needs and skill requirements from traditional press operators to talented machine managers.
With forward-thinking and the support of strategic partners like HP and Heidelberg, Seaway has seen a 20% compound annual growth rate over the past seven years. The company continues to look toward future investments to keep up with growing demand.
It's been said that luck is what happens when preparation meets opportunity. "As an entrepreneur, we rarely know when something great is going to happen or when market forces are going to open up new opportunities for growth. If that opportunity doesn't show up, we're still a better company than the day before and able to weather challenges. But when opportunity does present itself, we have to be ready to act. And we are," Heslin says.
With all of the awards, accolades and success Seaway has enjoyed, the company believes it is just beginning to see all of the hard work, investments and preparation pay off.
Seaway has always seen itself not as a printer, but a valued partner who has built a reputation on simply doing what it says it's going to do. It focuses on helping people solve problems. It's as simple as that. This enables it to continue supporting the community, creating job opportunities and building upon the legacy it is carrying forward. And the team is clearly having a lot of fun doing it.
The story began in Green Bay, Wisconsin, in 1884, when Seaway Printing opened its doors as a book manufacturer, building a reputation for expert craftsmanship, service and reliability. It's now in the hands of principal owners Kevin and Lynn Heslin, who share a keen understanding of the responsibility that comes with that kind of legacy. "Seaway is 138 years old. When you have a company with that kind of legacy, you really don't own it — you're simply taking care of it for a period of time. It's our responsibility to build upon that legacy and leave Seaway better than we found it."
Innovation is a way of thinking.
And it's thriving at a remarkable print manufacturer in Green Bay, Wisconsin, called Seaway Printing. 

Company: Seaway Printing Company
Innovation: World-class printer's leap in productivity with no quality trade-off
Website: seawayprinting.com