* Photograph by Shane Van Boxtel / Image Studios
C.D. Smith Construction
When Holly Brenner graduated from the University of Wisconsin-Oshkosh with a bachelor's degree in marketing, human resources and entrepreneurship, she had a decision to make: accept a high-paying corporate gig with perks or chase her dream of working for an advertising agency. On paper, she says, there was zero reason to accept the latter opportunity. But she did anyway.
"You have to think logically, but don't discount your intuition," Brenner says. "It was definitely the right move for me. It set me on a path of sales, marketing, business development and growth."
It was six years later that the Fond du Lac native trusted her intuition again. This time, it came in the form of a voice in her head as she gazed out at the Pacific Ocean from a California hotel balcony. Despite its many thrills and successes, she was done with the road warrior life. She was homesick.
The first in a series of unexpected conversations that have since shaped Brenner's career was a call from a man named Steve, who wanted her to consider working in the printing business back in Wisconsin. She didn't know anything about the printing industry, Brenner says, but Steve reminded her of her grandfather — a salesman and entrepreneur she had always admired for his "uncanny ability to connect with people." She took the job. She learned a lot, experienced success, got more involved in the community and even collected an MBA along the way.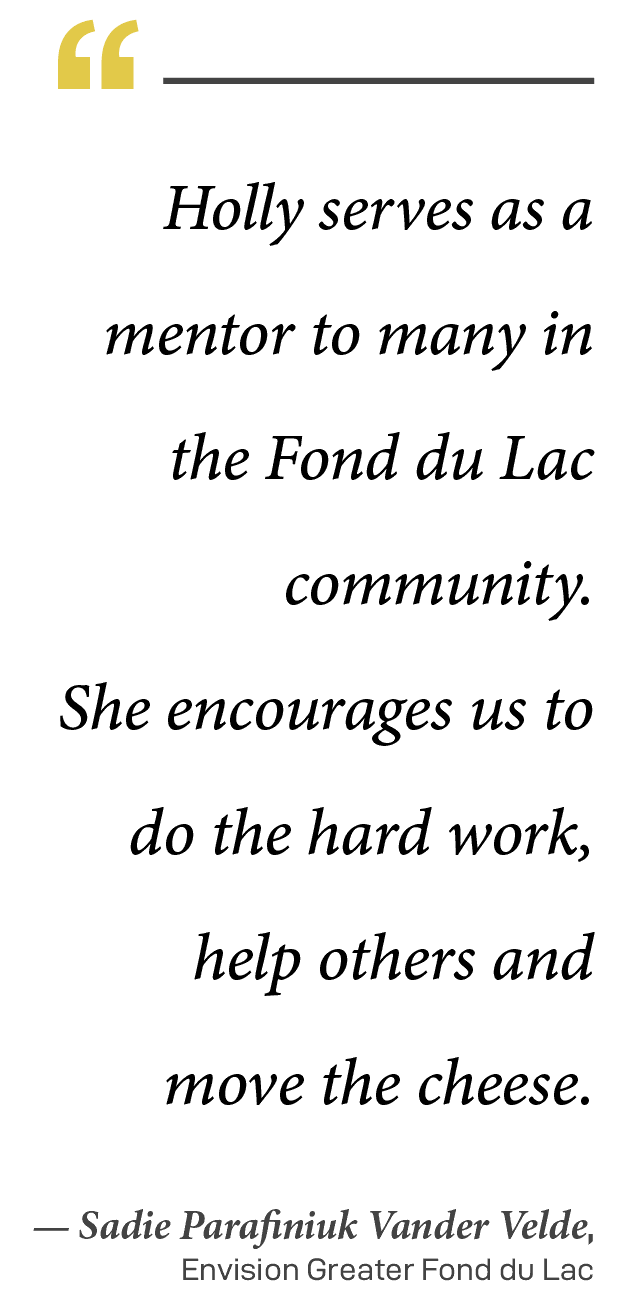 Today, Brenner's list of service activities bleeds onto a second page. Among her most notable achievements has been helping to successfully merge Fond du Lac's chamber of commerce and economic development corporation into what is today Envision Greater Fond du Lac. It was Brenner who led more than 450 business leaders and community stakeholders in creating a 20-year strategic plan for the organization. She has embraced her hometown wholeheartedly; Brenner loved her eight years at SSM Health and was serving as regional vice president and president of the Agnesian HealthCare Foundation in 2019 when she was recruited by homegrown contractor C.D. Smith Construction to become the company's senior vice president.
"It's a great company. Always a pillar of the community, quality reputation, everything you would want in [an employer]," Brenner says. "But I don't know anything about construction."
But, just like when she jumped into the printing industry, Brenner's appeal wasn't rooted in what she knows but what she does. She was someone who made things happen, and leaders like C.D. Smith CEO Justin Smith had taken notice.
"I think the biggest defining thing for me in my career has been getting involved. Put yourself out there and don't be afraid to do work you don't know how to do when you set out," Brenner says. "I think very few people are 100% qualified for anything when they start, so don't let that be your barrier. Jump in."
"Holly serves as a mentor to many in the Fond du Lac community," wrote nominator Sadie Parafiniuk Vander Velde, Envision Greater Fond du Lac's president and CEO. "She encourages us to do the hard work, help others and move the cheese."
Call it cheese moving or something else, Brenner says "growing things" has been a theme of every role she's held.
"I grow things; that's what I do," she says. "Throughout my career, every path I've been on has been about taking an idea or a thread of an idea and turning it into something cool."